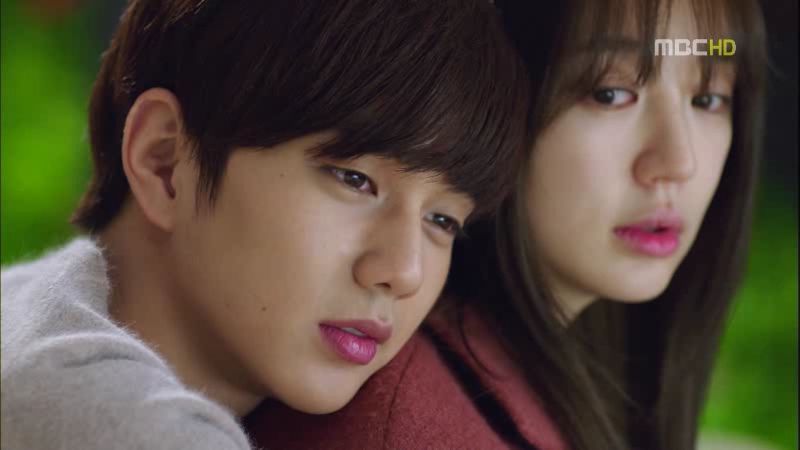 Episode 10 of Missing You finally pushed the characters forward in tangible ways other than Jung Woo wallows in guilt and Soo Yeon quivers with unresolved fright. Since the characters transitioned to their adult selves, this was the first episode I loved everything about Jung Woo. If I want to keep watching MY (which I do), then there is no need to belabor the points I've made already about the shoddy characterization of making Jung Woo filled with a shiny heroic streak and Hyung Joon all shifty and evil. The drama would benefit more from painting both men into less polar opposites and showing their strengths and weaknesses so Soo Yeon can have two viable choices, as opposed to picking which guy sucks less (that would be Jung Woo). But since the writer wants to go there, I'll have to roll with the punches. This episode finally shows us the side of Jung Woo that I can root for when it comes to a future with Soo Yeon – he respects her choice to not reveal herself to him at the playground and he follows her to the pojanmacha and watches from afar and is just happy that she's alive and moving forward with her life.
He has always been a class act surrogate son with Soo Yeon's mom and continues to tug at my heartstrings with he's with her in any scene. But now he's finally stopped self-flagellating over his "guilt" about running away when Soo Yeon needed him and started doing something in the present to help her life. Conversely, Hyung Joon's insecurity and fears, coupled with his revenge plot, is starting to create chasms in his relationship with Soo Yeon, and that is all his doing. I'm sure she loves him as he loves her, but that 14 years of love and shared experiences is about to be flushed down the drain soon if she discovers he's keeping so much from her, and ultimately ensnaring her in his dubious attempts to understandably get some payback from Han Tae Joon. Revenge is a double-edged sword, and in the end I'll be happy rooting for Soo Yeon to be a successful fashion designer and reuniting with her mom and working through their shared mistakes in the past. Love lines aside, that's the ending that will mean the most to me.
Episode 10 recap:
Soo Yeon's mother tearfully asks if she's Soo Yeon? Soo Yeon gets out of the car and tells her mother to get in. Poor Mom nods and stumbles her way to the passenger seat without ever moving her eyes from Soo Yeon, as if afraid she'll vanish.
At the police station, Jung Woo and Hyung Joon have a conversation about not able to be friends because Jung Woo has a one-sided crush on Hyung Joon's girl Soo Yeon. They are too civilized, a drag out fight would settle this quickly.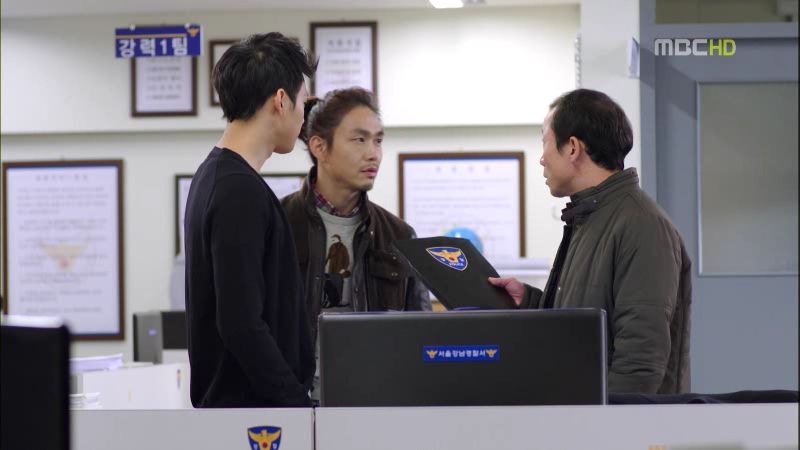 Jung Woo finds out from the captain that Soo Yeon is prohibited from leaving Korea for the time being, namely the next 10 days. Hyung Joon is upset to learn that Zoe is stuck here. He informs them that he will confer with his lawyer about this Jung Woo also learns that the first phone call made by the rapist when he stole the phone was to Han Tae Joon's personal number. He leaves to talk with his dad. Jung Woo's partner is shocked to learn Jung Woo is Chairman Han's son.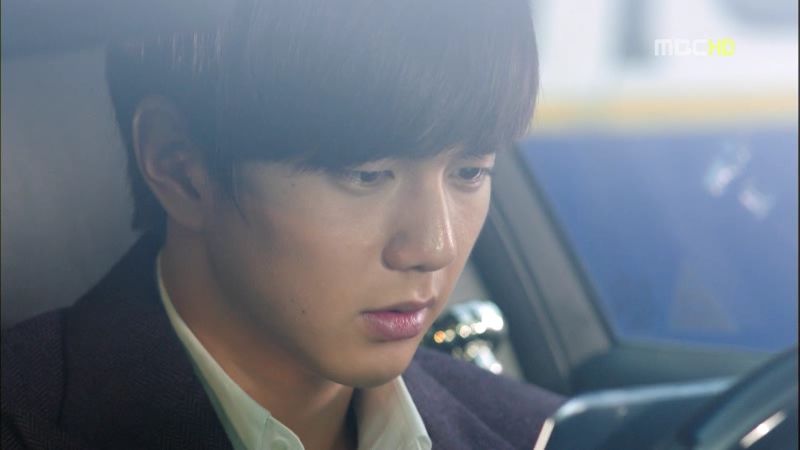 Hyung Joon sits in the car and calls his lawyer, upset that Soo Yeon can't return to France. The lawyer asks if Zoe is fine since she was supposed to meet him but never showed. Hyung Joon quickly flips on the CCTV feed from the house and sees Soo Yeon walking into the living room with her mom.
Mom follows Soo Yeon in and nervously takes off her shoes, putting it near the front door. Gah, this is so sad to watch.
Mom and Soo Yeon sit on the sofa and Mom breaks the ice first by remarking on how beautiful Soo Yeon has become, with soft skin and wearing beautiful clothes and living in a luxurious mansion. Soo Yeon reverts to her teenage tendency and blurts out "I was wrong."
She keeps repeating "I was wrong" and Mom flashes back to how teenage Soo Yeon kneeled before the angry neighbors and kept saying "I was wrong" while Mom hit her and said that both of them ought to die for being related to a murderer.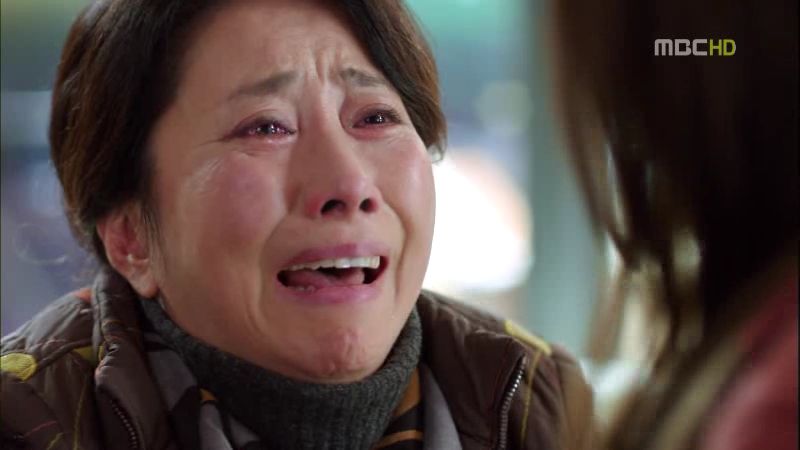 Mom gets overwhelmed and quickly tells Soo Yeon that she didn't do anything wrong! She is just happy that Soo Yeon is alive. Soo Yeon calls her omma and says she doesn't want to go back to that, she doesn't want to go back to being Lee Soo Yeon. Mom cries that she misses her so much, and then asks if no one now knows who her dad was and what happened to her? Soo Yeon shakes her head. Mom understands and says she never saw Soo Yeon and Lee Soo Yeon is dead. She begs Soo Yeon not to cry anymore.
Mom gets up to leave and Soo Yeon calls her mom but Mom tells her not to follow. Mom runs out of the house without her shoes on.
Once she's running down the driveway, she suddenly remembers Jung Woo. She falls to ground, hurting about Jung Woo waiting for Soo Yeon to return but knowing Soo Yeon will hurt too much to return.
Soo Yeon sees her mom's shoes on the ground and she runs out to give them to her. Her mom is gone by the time she gets to the street. Hyung Joon's car drives up then and he sees Soo Yeon looking around holding shoes in her hand. He's about to get out of the car when he sees Soo Yeon hailing a taxi and getting in.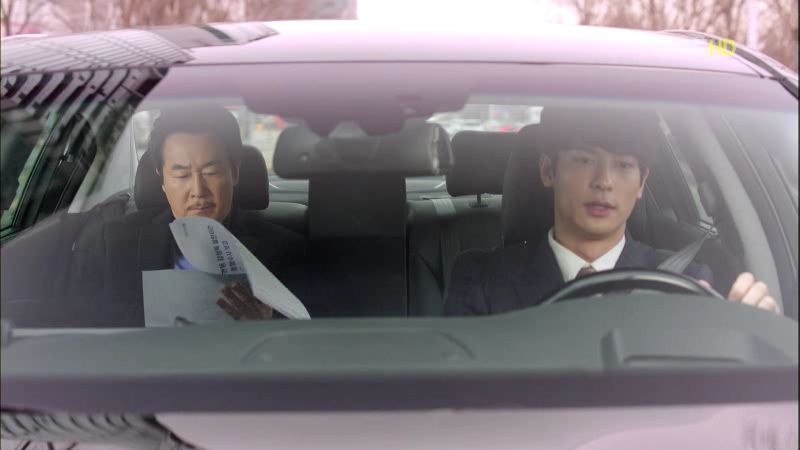 Han Tae Joon is being driven to work and he reads the police file on the rapist's murder, which includes all the private notes from the detectives. He asks his driver secretary to investigate Hyung Joon and Soo Yeon, he wants to know their background before doing business further with Hyung Joon. When he gets to work, Jung Woo is there and wants to talk with him. He claims not to have a son.
Jung Woo cuts to the chase and asks him what he talked about with the rapist for 5 minutes that night. His dad says Jung Woo never tried looking for Lee Soo Yeon anyway. Jung Woo knows what his dad did back then in breaking his phone and lying that Soo Yeon was dead – it wasn't just because of Jung Woo, right? Jung Woo says he will send cops tomorrow to talk with him. Han Tae Joon storms away.
Jung Woo gets a call from Eun Joo that Soo Yeon's mom is dead drunk and also has frost bite on her feet. He rushes home to take care of her. She's tossing Jung Woo's clothes while Eun Joo insists that Zoe is not Soo Yeon. Jung Woo asks Eun Joo to step aside.
Jung Woo tells Soo Yeon's mom that it's all his fault for not finding Soo Yeon. She needs to hit him like she did when he was a kid. Soo Yeon's mom weakly hits Jung Woo and he tells her to use force like she used to.
Soo Yeon's mom falls asleep and Jung Woo curls up with her. He tells her that he'll be right here and all those years filled with pain isn't going to be resolved so quickly. He wants them both to be patient and wait. He is happy that she's finally crying and releasing her pain, but wants her to promise him that the next time she wants to cry, she'll have to do it with him.
Jung Woo leaves the house and walks past the wall with Soo Yeon's "I Miss You" scribble. He tells the wall that he likes Lee Soo Yeon the most. Soo Yeon walks through the old neighborhood to return her mom's shoes.
She sees Jung Woo under their street lamp cheekily talking to it. Jung Woo tells the street lamp to behave and not flicker out. He says the lamp doesn't listen to him just like Soo Yeon doesn't listen to him. Soo Yeon watches him and smiles.
Jung Woo goes to their old playground and plays on the see-saw. He gets up and then walks across the board balancing himself. Soo Yeon follows and watches him. When he almost falls, she looks like she wants to go help but stops herself.
Soo Yeon hears Jung Woo get on top of the jungle gym and start singing for Soo Yeon. He doesn't care if she hates him, can't she just think about him for at least a minute a day. She turns around and swallows her tears. Jung Woo spots her and follows her from a distance as she walks away.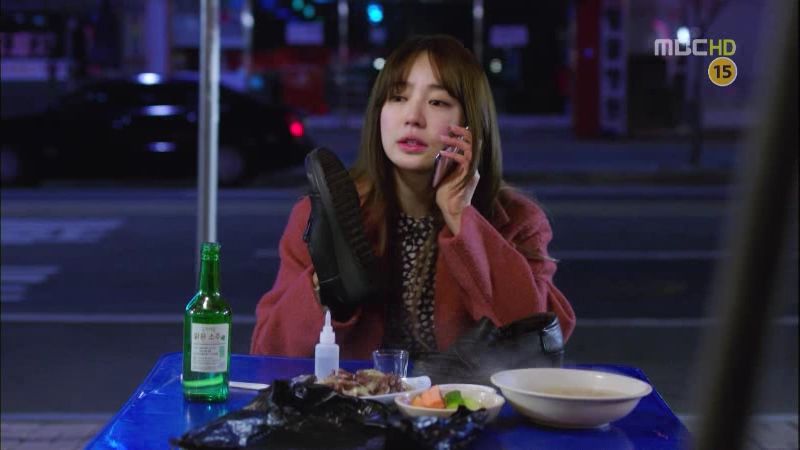 Soo Yeon sits at a pojanmacha drinking. Hyung Joon calls her and offers to pick her up but she declines, saying she's somewhere he doesn't like. She'll be home soon. He tells her to be careful and hangs up, and we see that he's actually in a car watching her. Soo Yeon is trying to repair her mom's scuffed up shoe.
He smiles knowing that she didn't tell him the truth, content to just keep watch over her. Soo Yeons's chases after a plastic bag that she used to carry her mom's shoes and Jung Woo walks up to her empty table to pick up a fallen shoe and put it back. Hyung Joon realizes Jung Woo is also watching Soo Yeon from a distance.
When Soo Yeon returns, she resumes drinking. Jung Woo watches her with a smile, knowing she must be happy to have reunited with her mom. He tells her to throw away the bad memories and make new happy memories. Jung Woo is like the worst detective ever, if he can't see Hyung Joon sitting in a car 5 feet away from Soo Yeon.
Hyung Joon watches where Jung Woo is standing and sees him make the memory erasing hand gesture. He is shocked to realize it's the same one Soo Yeon has been using with him. This is almost too much for Hyung Joon to bear and he has to work at controlling his unhappiness at learning this fact.
Soo Yeon comes home and finds Hyung Joon sleeping on the sofa with his headphones on. She goes over to cover him with a blanket. She makes the memory erasing gesture over his face and wishes him a good night sleep but he grabs her hand and she realizes he's not asleep anymore.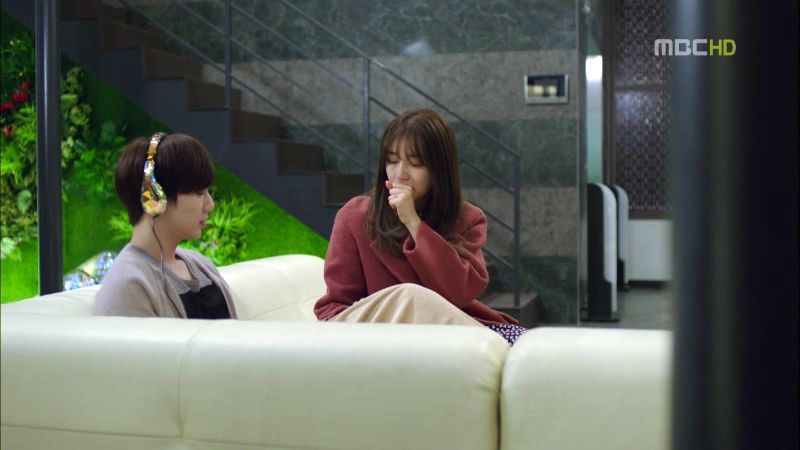 Hyung Joon kcan smell that she's been drinking and offers to accompany her to the pojanmacha next time. Soo Yeon thought he didn't like those places and Hyung Joon says he'll go because she likes it. After all, he's all she has in this world now. Hyung Joon asks where she went and Soo Yeon says she went to walk around since she's leaving tomorrow for France.
Hyung Joon back hugs Soon Yeon informs her that she's been put on the no-fly list for 10 days. Soo Yeon doesn't seem upset and Hyung Joon thought she would be upset since she wanted to go back to France. Hyung Joon asks if she'll go with him tomorrow to meet someone. He wants her opinion on whether the person is a good or bad guy. Soo Yeon agrees.
Soo Yeon goes back to her room and silently apologizes to Hyung Joon. She puts her mom's shoes deep inside her closet. She feels relieved and happy (about seeing her mom). She also looks at Jung Woo's coat in her closet and how Jung Woo said he doesn't lend out his clothes easily. Hyung Joon is inside his secret lair and staring at a picture of his mom. He reaches for her and calls out "Mom."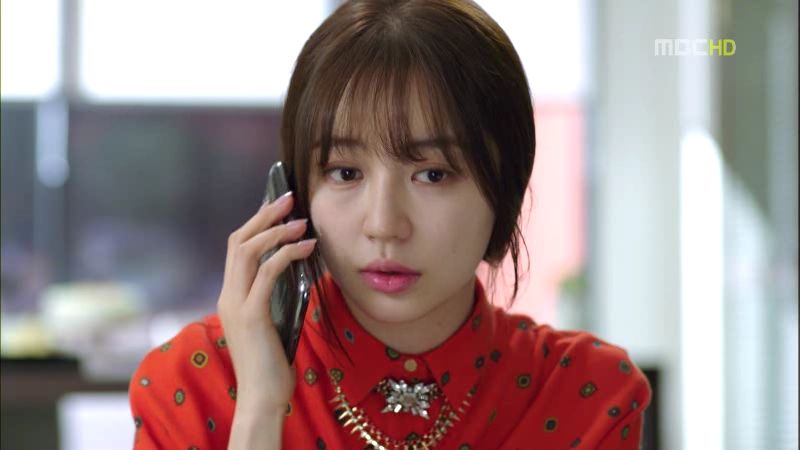 Jung Woo continues his investigation and wonders where his partner went. His partner is at Soo Yeon's house and showing her some pictures from CCTV footage that show the murder but not the face. Jung Woo calls his partner and Soo Yeon takes the phone. She tells him to find the real murderer and he promises so she needs to wait (inside hoping she won't return to France).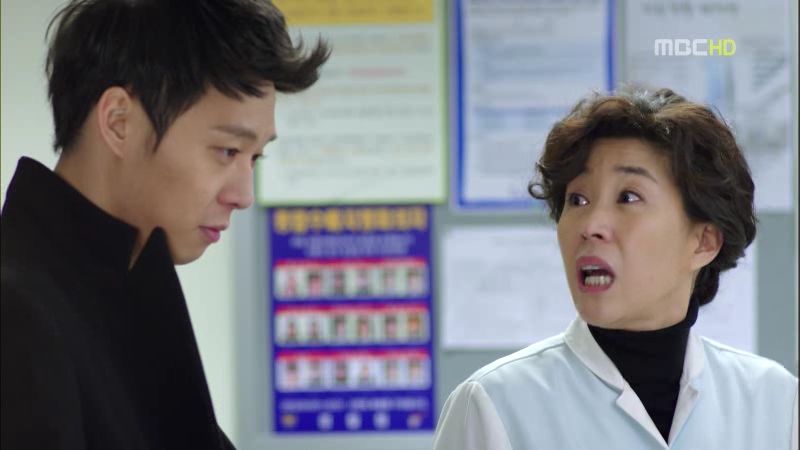 After he hangs up, he smiles that Soo Yeon sounds just the same on the phone. Jung Woo chats with the cleaning ahjumma about the latest findings. She already knows that the police have discovered that the murderer was likely the first person who delivered the package to the rapist, claiming the cops talk too loudly. He asks her to keep it confidential.
Jung Woo's partner says Soo Yeon can't be the killer because she's too voluptuous and the killer is slender. Jung Woo's partner continues talking Soo Yeon, who uses her eye as a designer for looking at body types and surmises that the killer in the pictures is not a young woman, but an older woman. He's about to leave when Soo Yeon asks him to wait.
The partner returns to the police station and hands Jung Woo back his coat. He asks if Jung Woo is disappointed but Jung Woo says no. He puts on the coat and finds his button from earlier in the coat pocket. His partner can't stand this anymore and tells Jung Woo again that Zoe is not Soo Yeon. The get news that the IP address the murdered used Jung Woo's computer at the police station to order the package. They don't have footage from the time of the use (strangely it was shut off) so Jung Woo asks that footage from that morning be pulled.
Hyung Joon and Soo Yeon arrive to Han Tae Joon's house and Soo Yeon is surprised to be greeted by Stepmom. She reminds Hyung Joon that this woman copied her design. Hyung Joon asks if she's uncomfortable and wants to leave? He claims not to know she was Chairman Han's wife. He asks her to quickly decide and Soo Yeon decides to stay and thanks them for the invitation. Han Tae Joon welcomes them to sit down, especially with Hyung Joon's bum leg.
At the dinner table, Stepmom praises Hyung Joon and Soo Yeon as looking like a couple stepped out of a painting, they are so beautiful together. She specifically prepared Korean food since they live abroad in France. Hyung Joon thanks her for the thoughtful gesture, inviting them next time to his place since he can cook as well. It's macabre to think that either way, whether Soo Yeon chooses Jung Woo or Hyung Joon, these horrible people are by family ties going to be her in-laws no matter what. Ugh.
Hyung Joon sees Chairman Han ignoring his wife and tells him straight up to treat her better. Han Tae Joon is affronted by his gall asks Hyung Joon how old he is? Hyung Joon claims he wants to show his real self since he wants to be friends with Chairman Han. He doesn't know how to treat people but he knows how to make money, otherwise how did he achieve success so young? Han Tae Joon smirks and says Hyung Joon would be an interesting friend to have.
Hyung Joon goes to speak privately with Han Tae Joon, and offers them an investment opportunity. His fiancee wants to go back to France and the only thing more important than money is that woman. So he wants to quickly wrap up things here in Korea. Han Tae Joon announces that he's decided to trust Hyung Joon this once. Hyung Joon asks if he's not curious about his leg injury, and reveals that Soo Yeon designed the cane he uses. The inscription reads "Please save us, God, my Lord."
Soo Yeon sits in the living room with Ah Reum and Stepmom. She's not happy and makes Stepmom apologize for stealing her design and agree to take it down. Stepmom asks that her husband not be told about her blackmail and design stealing ways. Ah Reum scoffs at her mom's lack of integrity. She is happy to have met Soo Yeon and turns to leave.
Ah Reum walks into the kitchen and asks the ahjumma to pack up leftovers for her Jung Woo oppa. Soo Yeon hears it and the flicker of recognition is seen by Stepmom. She asks if Soo Yeon knows Detective Han Jung Woo? Before Soo Yeon can answer, Hyung Joon walks out and says he's done with business. Soo Yeon gets up and they leave.
In the police station, Jung Woo sees the cleaning ahjumma looking at print outs from the copy machine, which includes a picture of her from outside the police station captured on the CCTV there. Jung Woo tells she can't leave now – anyone caught on the CCTV needs to stay for questioning. Ahjumma says she has to go home, her daughter is waiting for her. If her daughter gets angry she's scarier then even the police captain. Jung Woo asked what she did that day, she explains that she cleaned left early because the thugs came by, then she returned around dawn to finish her cleaning.
Afterwards Jung Woo looks at the picture and things don't add up. He questions everyone on the CCTV and gets their alibi. He remembers from his partner that Soo Yeon suggested by looking at the body type that its not a young woman but an older woman. He rushes out and we see the cleaning ahjumma keeping an eye on Jung Woo from a distance.
Ah Reum catches a ride with Hyung Joon and Soo Yeon. In the car, Hyung Joon reaches out his hand and Soo Yeon puts her hand in his. Ah Reum asks if she's interrupting them. She asks if they are getting married? She announces that Hyung Joon is just her type. Ewwww, he's your uncle, sweetie, so please destroy that thought immediately. Hyung Joon laughs and tells Soo Yeon that here is proof that he's quite popular with the ladies. Ah Reum wonders why neither is all that nervous about the other? Hyung Joon reveals they live together already.
Back inside the car, Soo Yeon's phone rings from Jung Woo and Ah Reum hears it and says it's the same song her oppa loves and uses as his ring tone. Hyung Joon remarks on Soo Yeon changing her ringtone. They arrive the police station and before Ah Reum gets out, she tells them both that her brother is Detective Han Jung Woo and to call him if they ever need anything from the police.
After Ah Reum leaves, Hyung Joon asks Soo Yeon if they should grab a drink at a pojanmacha? Soo Yeon is upset and asks if Hyung Joon knew already? If he did, why did he take her to Han Jung Woo's house to eat with his family. Hyung Joon asks her why it matters, since she's not Lee Soo Yeon, she's Zoe, right? Since she likes him and wants to be with him, he asks her to stay by his side until he takes care of what he needs to do. You are starting to show your crazy face and that's not good..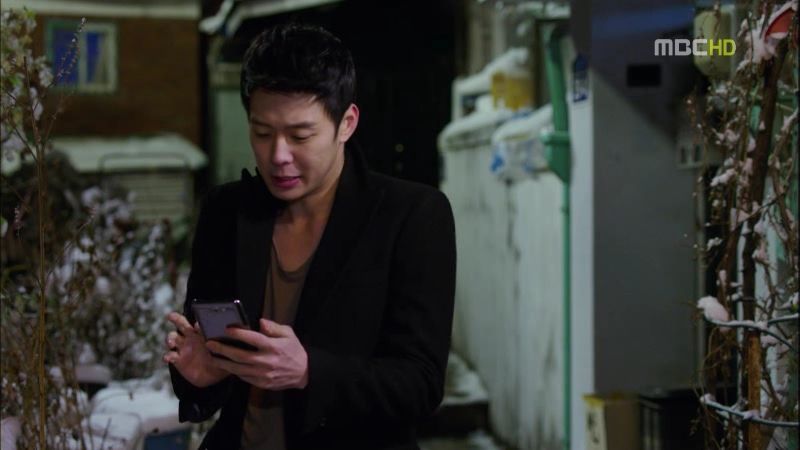 Jung Woo calls his partner and asks that a background check be run on the cleaning lady immediately and to let him know ASAP. What? The police hire people to work around confidential materials without running background checks? Major fail. Ah Reum calls Jung Woo who is about to answer but sees the cleaning ahjumma ducking away. She discovers him and invites him inside. Nooooo, don't go with her, Jung Woo! Call for back up, dude.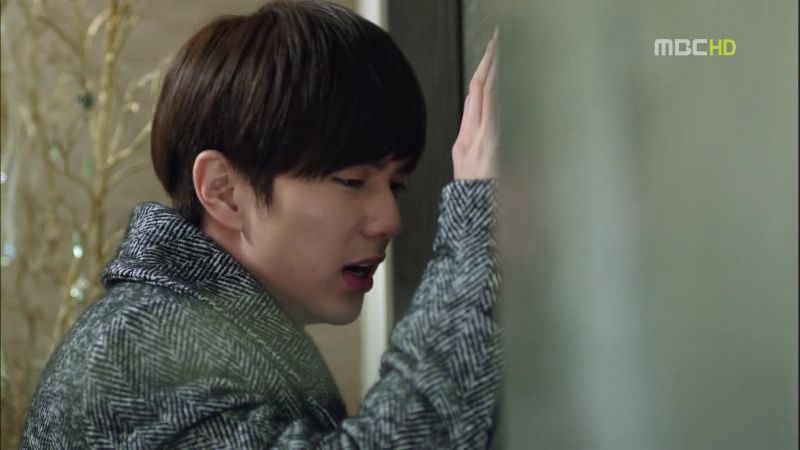 When they get home, Soo Yeon goes to her room and locks the door on Hyung Joon. He knocks and apologizes, promising to be more considerate in the future. Hyung Joon is so frantic he keeps banging on the door.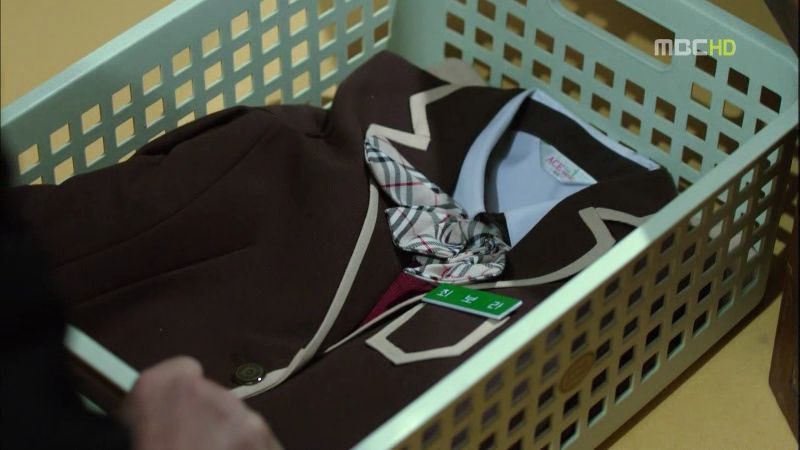 Jung Woo goes inside with the cleaning ahjumma. He notices that her place is pretty run down, with wallpaper ripped and rather bare. She asks him to get tape from the drawer to fix the wallpaper rip. He pulls out a basket from below and it's a teenage girl's school uniform with a name tag Choi Bora on it. The ahjumma says that her daughter wore that when she went to school.
Jung Woo gets nervous and secretly pulls out his handcuffs. He opens another drawer and sees the same rope and tape used to tie up the rapist before he was murdered. He turns around and the cleaning ahjumma calmly and coldly tasers him. Jung Woo collapses on the ground.
Thoughts of Mine:
I have to first get this off my chest – whatever the production is doing to Jang Mi In Ae, who signed on to play the second female lead Kim Eun Joo in this drama but has been relegated to one scene an episode, sometimes mere seconds of screen time even in her one scene, that is just plain wrong. I can name tons of side characters with more screen time each than her (Jung Woo's partner, the captain, Secretary Nam, Stepmom, Ah Reum, even Han Tae Joon flower boy other secretary/driver). What gives, MBC? Did you guys really cave to the unprofessional demands by Yoochun's fans in Korea who objected to her acting opposite their star, hence instead of switching her out you keep her in but relegate to such minimal screentime it's a blink-or-you-miss it cameo role? I'm really angry on her behalf, because that is just a shit thing to do, especially because they are acceding to the demands of immature fangirls (even Yoochun stepped in and told his own fans to cut it out, he did not agree with their demand). I'm also angry as a viewer because now there isn't a solid Eun Joo-Jung Woo relationship built on 14 years of friendship and the shared loss of Detective Kim. They were supposed to be the flip side of Soo Yeon and Hyung Joon, but now it just doesn't exist and the narrative feels like its missing a crucial element of a character that had so much potential (young Eun Joo was awesome) and ought to fit into the greater adult narrative. So unless Eun Joo turns out to be the ultimate mastermind behind everything, hence she's purposely getting no screentime to set the stage for her grand ascendance to main antagonist in the second half, this douchebaggy behavior by MBC makes me want to puke. Either switch the actress or write the role like it was intended.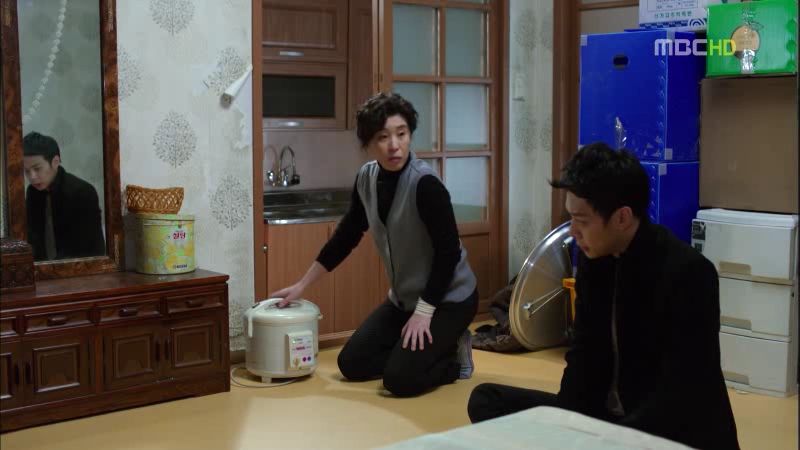 Back to the story up to episode 10 – am I a sleuth or what since I totally called the murderer right as the cleaning ahumma! Actually, the clues were laid so heavyhanded it was only missing a neon arrow pointing at the cleaning ahjumma's head when she was randomly introduced in episode 6 with the wrist injury. Yes, Kim Mi Kyung could be making a cameo appearance in MY much like Cha Hwa Yun's role as Hyung Joon's mom in the childhood portions, but all signs pointed to her playing a key role rather than as Jung Woo's fangirl who just so happens to clean the police station. Seeing the folded school girl's uniform, looks like my first theory is correct and the daughter she keeps talking about is likely dead and probably at the hands of the rapist as well. Cleaning ahjumma probably made it look like all clues pointed to Soo Yeon's mom to divert suspicion from herself and pin it on someone she knew had an equally strong motive. That is probably why she loves Jung Woo so much, because they share the same hatred of the rapist. I do wonder why her identity is being revealed so quickly, unless its to wrap up the rapist death mystery and move on to Hyung Joon's revenge and Soo Yeon working through her issues with Mom and Jung Woo. Which is fine by me. The whole detective mystery portion of this drama has always been clunkily written and elementary to the point of being laughable. Let's get Jung Woo out of this crazy ahjumma's clutches and put her in jail and move on to more character development on the people we care about.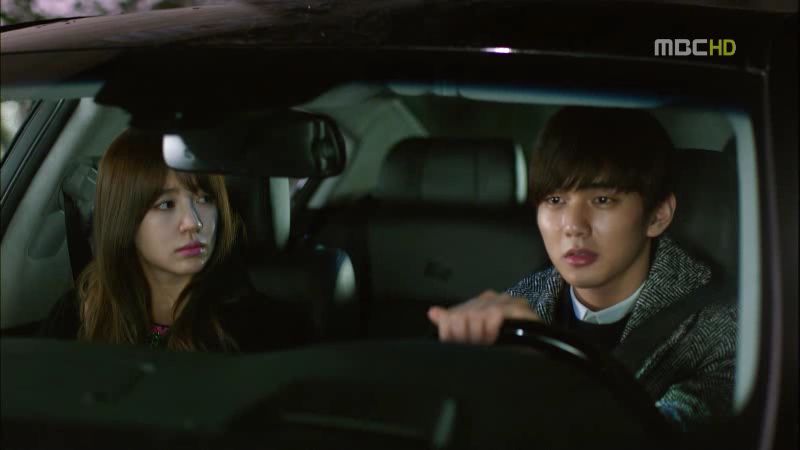 It's clear now that the writer is starting Hyung Joon's full descent into evilness so I'm hoping he at least gets a flaming death scene at the end to go out with a burst of glory. I actually feel so terrible for him and understand his misguided revenge plot and his unhealthy attachment to Soo Yeon, so if he loses her to Jung Woo then I'd rather he go to Heaven with his poor omma and not stick around to be all gimpy and mopey alone. This kid's ultimate fear since childhood was abandonment, and its going to break my heart to see how his actions, and Soo Yeon's unresolved feelings with Jung Woo, are going to split them apart. Give this poor woobie his release, will ya? I do love seeing Soo Yeon lock the door on him, because why should she accept that he's playing games around her by bringing her to Jung Woo's parents house without letting her know in advance. Badly done, Harry, badly done. Go grovel now for her understanding. Start by showing her your mommy secret lair and tell her your tale of woe. Btw, simmering with anger Hyung Joon is pretty scary, except when Yoo Seung Ho plays it, I just want to LOL because it's like a kid trying to be an angry adult. He's adorable, but about as scary as a baby porcupine trying to get its spikes up. As much as he's trying his best, there are still moments he comes off like the 19 year old he is in real life.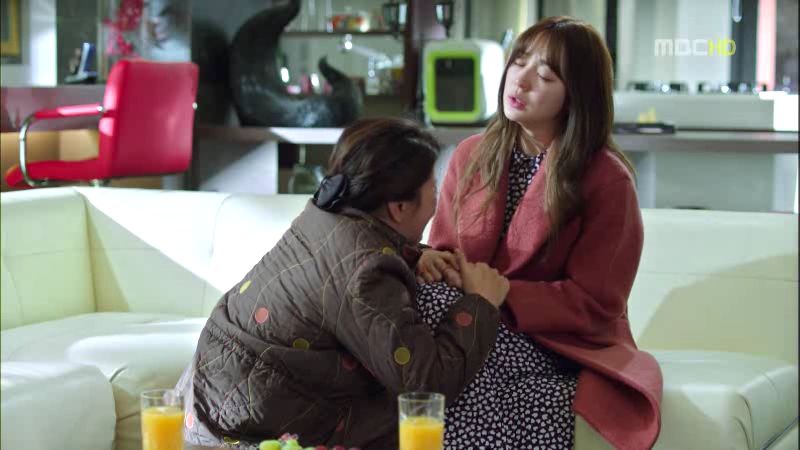 My favorite scenes in this episode was Soo Yeon's reunion with her mom and her walk down memory lane watching Jung Woo playfully reliving his memories of her. What heartbreaking moments that were so meaningful in showing us that Soo Yeon does miss the people who used to be in her life, but at the same time its clear it hurts too much for her to go back to them. It'll take time, but she isn't rejecting it ought right, only needing time to take baby steps back. I love how her mom immediately told Soo Yeon to not come back, to step back and put Soo Yeon's feelings first. It took Jung Woo 3 episodes but he's also come to that realization and acceptance and now I can finally not want to shake some sense into him. I am looking forward to this process of healing between Soo Yeon towards her mom (the pain caused by her poor parenting) and Jung Woo (the pain caused by his desertion). Just because Jung Woo and Mom have been living in guilt doesn't mean that is reason enough for Soo Yeon to let her feelings of betrayal and loss and anger go. But it does mean Soo Yeon needs to give them a chance when she's ready, and together they can work through the issues and take baby steps towards a future where they can be in each other's lives in whatever capacity.
Watch here to watch Missing You.