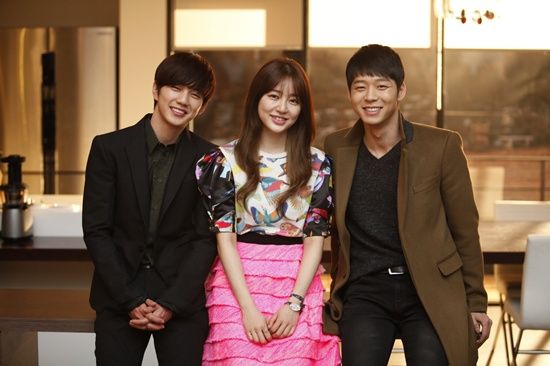 The three leads of Missing You attending a media day event on Monday to drum up more interest in their drama, which has a slight lead over its competition in The Great Seer and Jeon Woo Chi. There is no reason why MY shouldn't be in double digits when going up against the sheer incompetence and terribleness of the two sageuks. During the interview each lead dropped a few highlights – Yoochun doesn't think this drama could possibly have a happy ending and despite not knowing how it will end thinks it'll be sad, Yoo Seung Ho said he is having a hard time playing his character because he doesn't quite grasp the dichotomy of cold to everyone but warm to Soo Yeon and vengeful in his lair (don't we all, baby boy, we feel your pain), and Yoon Eun Hye said that after seeing pictures from 6 years ago when she and Yoo Seung Ho showed up at the same awards show and he was still a baby she's been having a hard time doing the romantic scenes with him (don't worry Eun Hye, he's all grown up now).
Yoo Seung Ho said that he hopes the writer will turn Hyung Joon psycho after Soo Yeon leaves him to return to Jung Woo, he'd love to play it like that. Shit, stop it with this nonsense, cutie pie. I still am praying for an attempt to develop Hyung Joon and Soo Yeon with just an ounce of depth so I don't feel like the drama has turn into the Jung Woo-one-man show. I love that Yoochun is giving it his 120% since Jung Woo is the only character being developed and if he wasn't acting his tight pants off then there would be no show to speak of. And finally I'll end with a public announcement – looks like Wednesday's episode of MY will be preempted due to the presidential debate so look to catch both episodes on Thursday. Oh boy, double dose of….whatever it is the writer has in store going forward.
Not a fan of Yoochun's new hairstyle but love his new outfits. Very masculine and simple, like a chic cop.
Love love love Yoo Seung Ho and Yoon Eun Hye's outfits at the media day. He looks droolworthy in that suit, and I love her fun yet high fashion puff-sleeved flower print blouse paired with a bright pink tiered skirt. Very pretty and different, as befits a fashion designer she's supposed to play. Yoo Seung Ho did also reveal that Eun Hye noona is his favorite female co-star he's ever worked with. Tee hee, why am I not surprised. They are adorable together in BTS videos and its clear their good onscreen chemistry was because of getting along in RL, because otherwise the huge age gap is hard to bridge.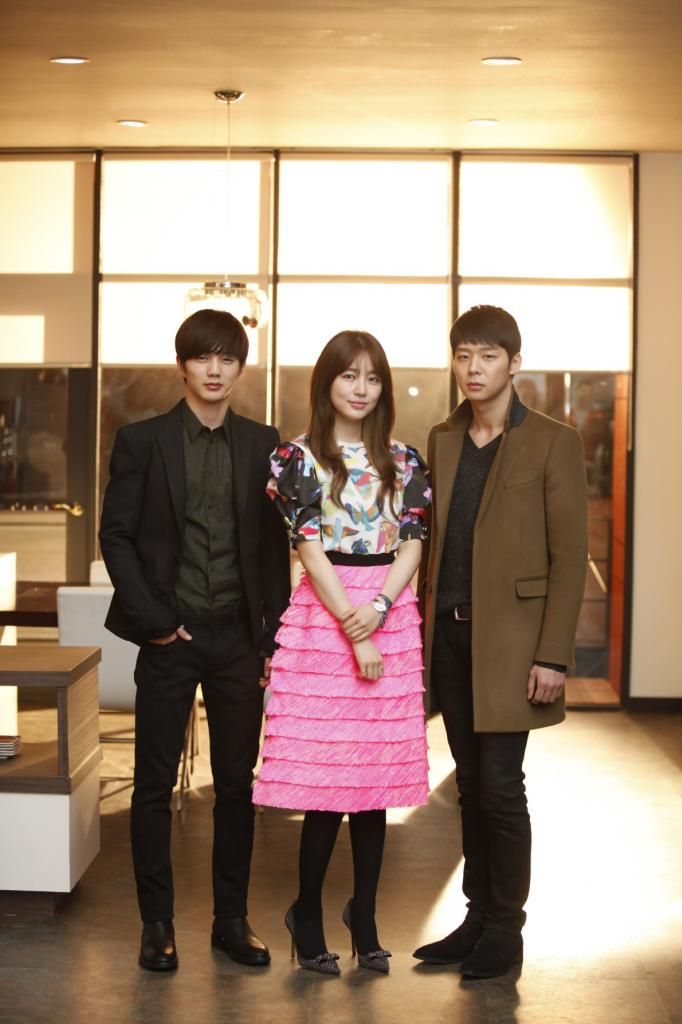 These three look gorgeous together! But poor Jang Mi In Ae, not even invited to media day. It's seriously like SHE DOES NOT EXIST in this drama, despite being in the poster and getting shiny mopey character stills like the other three leads. I'm glad I'm not her fan and am not vested in her getting supremely shafted. Reminds me of Eun Hye's last drama Lie to Me, where Sung Joon was rather interesting in the beginning and then totally and completely disappeared in the second half of the drama.
Why does everyone look so bipolar below – laughing one moment and bored the next? Please don't extend this drama, MBC. Let it end the way the writer intended and then everyone can get kudos for all the crying they did and move on. I don't even advocate flaming death anymore, just let the OTP make their magical healing unicorns and rainbows simply by being together and everyone can call it a day.