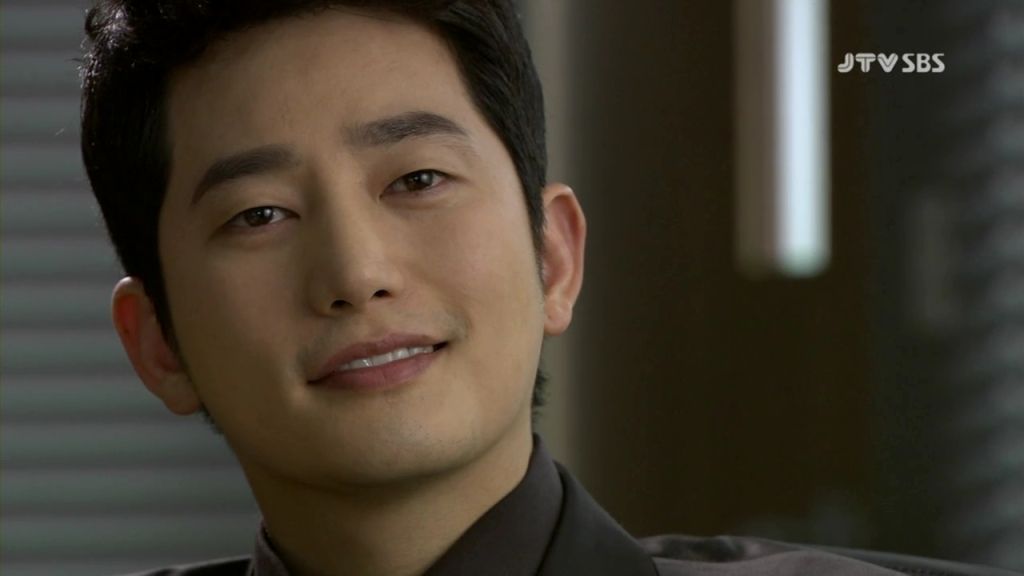 I've officially given up on Cheongdamdong Alice, though I'll probably recap to the end since it's almost done. Episode 13 confirmed for me that this drama has completely lost its marbles and I'm going to have to approach it like its some delusional fantasy rom-com otherwise I'll go crazy. At this point I'm shipping Se Kyung with Tommy. I'm not joking – he knows who Se Kyung really is, warts and all, and appreciates and admires her. When I look at Seung Jo, I see this guy with the EQ of a child and the inability to live in the real world. I used to pity him for dealing with an overbearing father and a very traumatic failed relationship with the first woman he loved. But now the entire universe of the drama appears to treat him like a fragile glass doll that needs to be handled with care to the point that even Seung Jo's dad is begging Se Kyung and In Hwa to keep up the pretense. DA FUQ? Does the writers of this drama fail to understand that they are heightening the issues surrounding Seung Jo when if you reduce it to its barest minimum we are talking about a man WHO HAD A REALLY BAD BREAK UP. That is it.
We are now three episodes into "let's keep the truth from Seung Jo" when really Seung Jo needs the truth because otherwise he will never ever grow up. EVER. He will continue to be shielded from the vagaries and disappointments of life and cling onto his belief that women are either bad golddiggers or super good saints. I'm so fed up with this drama's bullshit, especially in light of how fantastic it was initially. All the tension is gone, especially the sizzling romantic frisson between Seung Jo and Se Kyung. Now he resembles a little boy being led around by a leash held by his very insincere older sister. It doesn't matter that Se Kyung loves Seung Jo for real (though I now longer feel that either), what matters is that this drama is being disingenuous and tiresome in trying to sustain a love story where neither the love nor the story feels remotely real. I've actually reached the point where I just want to see where this crazy train is headed. I'm sure its somewhere with a happy ending but one that doesn't remotely resonate with me or say anything meaningful to ponder over.
Episode 13 recap:
In Hwa sends Seung Jo the incriminating video of Yoon Joo and Se Kyung but he's distracted by Se Kyung modeling her wedding dress that he doesn't watch it. Talk about a split second save. Tommy rushes to the wedding dress shop and calms himself before walking into the changing room. He notices the phone on the table and the video playing. I'm confused why there was no sound on the video, other than that would make it impossible for the drama to continue keeping the truth from Seung Jo. Tommy trades a pointed look with Se Kyung while Seung Jo notices his presence and asks why he is here? Tommy makes the excuse that he wants to congratulate them on the upcoming marriage. Se Kyung gets the hint and distracts Seung Jo long enough for Tommy to swipe his cell phone. Tommy may have a third career as a cell phone thief.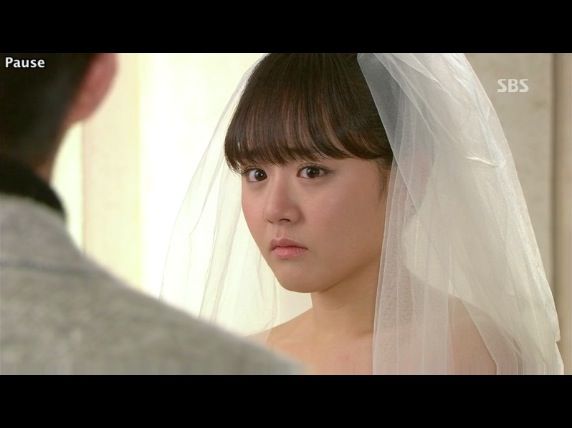 Tommy rushes out with the cell phone and deletes the video. He then heads back in with the excuse that as a fashion designer he would like to help with the wedding. Seung Jo says hells no and Se Kyung once again distracts him so Tommy can put the phone back. Ugh, can this pointlessness end and get to Seung Jo finding out Se Kyung isn't rainbows and unicorn and learning to deal with it.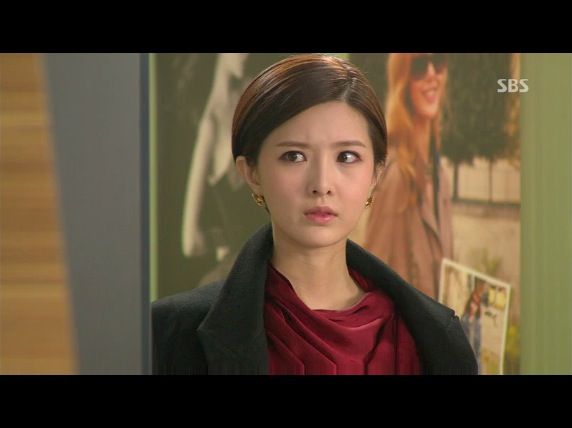 Elsewhere, In Hwa goes to see her brother and is surprised and he and Yoon Joo seem perfectly fine. Yoon Joo rushes off and In Hwa gets the clue that her video bombing got thwarted.
Se Kyung and Seung Jo finish wedding dress shopping and she excuses him from driving her home, saying she needs to do something. Seung Jo cluelessly is fine with it and raises his hand for a high five. Okay Seung Jo, can you please stop acting like a clueless kid. Please. It's driving me nuts.
Yoon Joo rushes to Tommy's store and is furious and scared to death about In Hwa possessing the video. Tommy says In Hwa stole it before he got around the deleting it. They discuss whether to hack into In Hwa's tablet to delete it but Se Kyung arrives and says In Hwa probably has it stored in a hard drive elsewhere.
Which is when In Hwa also arrives and the party is officially underway. Yoon Joo decides to beg for clemency and gets down on her knees to ask In Hwa to let her go this time. Even Tommy bows his head and begs In Hwa to please not reveal this. In Hwa says she is merely bringing justice down upon them for their wrongdoings. What will happen when everyone finds out is that both gold diggers will go back to their original form, having nothing. Se Kyung just stands there quietly watching.
In Hwa sneers and calls Yoon Joo and Se Kyung snakes who thought they could come into their world and take what doesn't belong to them. Ugh, what a hypocrite and a snob. When In Hwa is about to leave, Se Kyung stops her and asks why In Hwa thinks she is any better than them? She wanted to make a business marriage with Seung Jo herself to increase her wealth and power. How is that any different than what Se Kyung and Yoon Joo are doing? All that is different is that In Hwa had money to start with while Se Kyung doesn't. But their motivations are the same. To In Hwa, Seung Jo is merely one of many business marriage prospects, but to Se Kyung he is everything.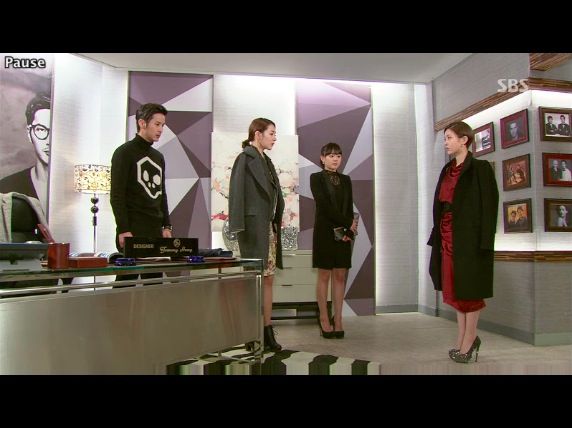 Se Kyung points out that In Hwa sent the video anonymously to her brother and Seung Jo so that she doesn't need to take responsibility for ruining what they have. What motivates In Hwa isn't a sense of justice, she's just angry that even with money and background she still lost Seung Jo to Se Kyung. In Hwa says that if she fails, she hasn't lost anything. But if Se Kyung and Yoon Joo fails, their entire world is over.
After In Hwa huffs off, Yoon Joo yells at Se Kyung for riling In Hwa up. Yoon Joo says the only way is to beg. Se Kyung begs to differ, begging will only make In Hwa want to crush them more. She might toy with them until she gets tired but eventually the truth will come out. Yoon Joo blames Se Kyung's appearance in her life for ruining everything.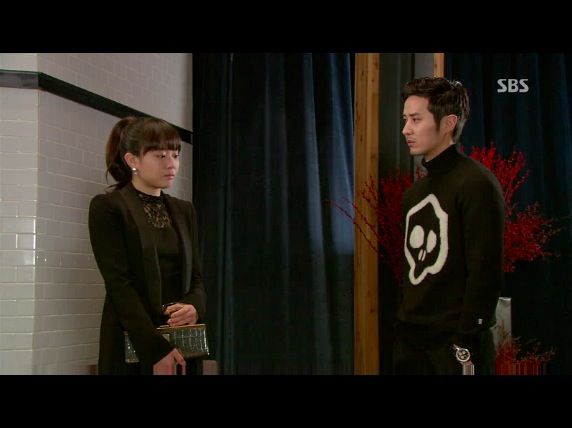 Tommy goes to talk with Se Kyung after Yoon Joo leaves. He asks if she is planning to confess before In Hwa reveals all? Se Kyung says no, she will have to admit she'll only telling the truth now ahead of In Hwa, so if Seung Jo hears it from In Hwa, at least he can decide on his own whether to forgive Se Kyung or forsake her. Se Kyung asks if Tommy regrets picking her side? He admits being scared but realizes that's just the way the dice rolls. Se Kyung gets a call from Seung Jo, revealing he still is clueless, and she heads home.
The foursome of In Hwa, Se Kyung, Yoon Joo, and Tommy go back to their respective abodes and ponder the next steps. Witness Seung Jo is not involved in this adult brooding and plotting session, as he's probably off blissfully playing with his rabbits and planning his dream wedding. Se Kyung's family sees the news report on President Robert visiting Korea and think that President Cha might like Se Kyung now and change his mind about the marriage.
President Cha goes to the bakery and asks to speak with Se Kyung's dad, confessing that he now approves of Se Kyung as a daughter-in-law and asking Se Kyung's dad to consent to the marriage of their kids. Wow, winning over Seung Jo's dad was easy peasy. Too bad Yoon Joo never got a chance to try since Seung Jo went all commando in cutting off ties with his dad first. President Cha promises to fix his issues with Seung Jo so that Se Kyung's dad will have nothing to object to.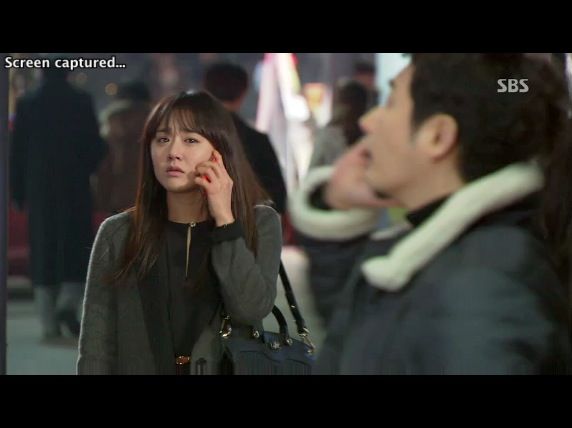 Seung Jo presents a present to Se Kyung from President Robert, happily planning already to hang it in their newlywed home. My god, Seung Jo seriously runs before he walks, doesn't he? He registers Se Kyung's less than enthused expression and assumes she's worried about her dad's objection to the wedding. He vows to win her dad's support. They both gets calls from their respective dad's to come out.
Se Kyung and Seung Jo separately go meet with their own dads, only to realize they are arriving at the same place, a noraebang. They enter to find the dads singing together, and both dads are drunk and happy. The four of them sit down to drink and sing some more.
Seung Jo drives his dad home later and his dad asks him to bring Se Kyung home for dinner tomorrow night for a simple family meal. Se Kyung tells her dad about the dinner tomorrow and her dad supportively tells her that she will need to work hard to help that lonely family feel loved.
Se Kyung gets a call from Tommy who is worried since she was MIA all day. Se Kyung confesses all is going super swell – Seung Jo still doesn't know, and their two dads have suddenly become BFFs and they all spent the night carousing happily at the noraebang. Tommy chides her for not telling him earlier since he was worried all day, supposedly because his future is tied to hers. Liar, you totally like her and want her to not get hurt. Despite how well things are going, he can tell from her voice that Se Kyung isn't happy about it.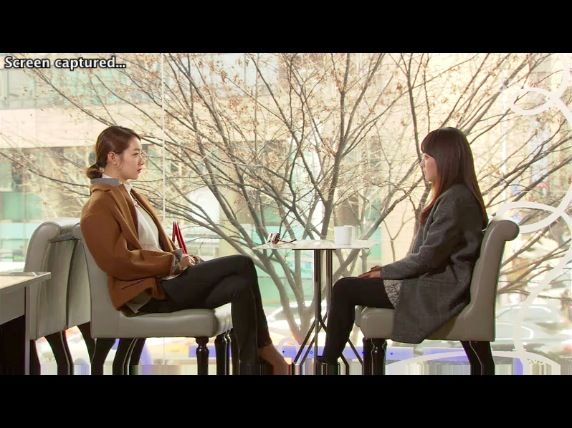 Se Kyung meets with Yoon Joo and wants to know what happened in Paris after she left Seung Jo? Yoon Joo says he used revenge as a motivation to survive the break up. But if he breaks up with Se Kyung, that motivation won't work again. She suggests Se Kyung talk with Dong Wook, who knows all about what Seung Jo went through in Paris.
Yoon Joo finds Min Hyuk at work and he warmly asks if she has a problem and can he help her? He can tell something has been bothering her lately, assuming that its her brother. He wants to help and doesn't like seeing her so worried and stressed. Yoon Joo suddenly asks if he loves her? Yoon Joo is about to come clean when In Hwa enters and asks to speak with Yoon Joo about an urgent matter.
In Hwa won't let Yoon Joo confess and use her tears and feminine wiles to win her brother's forgiveness. She is actually grateful Yoon Joo interrupted her plan to send the video to her brother. She agrees that revealing the video anonymously is cowardly and that is not Shin In Hwa's style. Yoon Joo realizes that business is still In Hwa's top priority and if the truth comes out, the business arrangement between the three companies will be kaput. Yoon Joo is impressed with how calculating In Hwa is.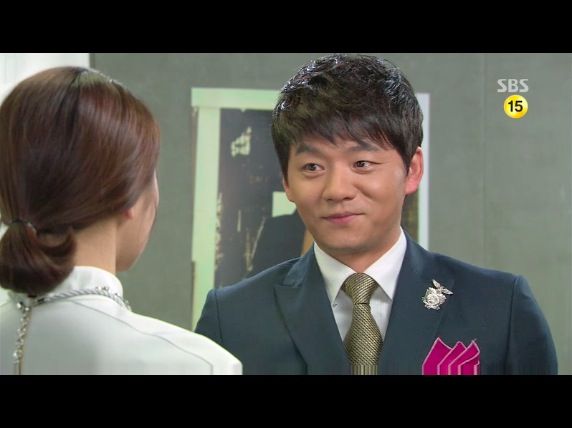 Min Hyuk finds Yoon Joo and tells her that he does love her. He hugs her and asks her to come to him if she has anything that is bothering her. Se Kyung calls Dong Wook and schedules time to meet with him.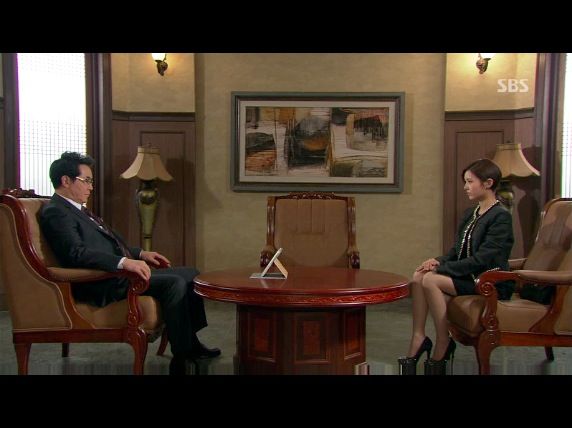 In Hwa goes to see President Cha to discuss business but then ends with showing him the video. Yoon Joo is now the Shin family's problem, but she wants to save President Cha from taking Se Kyung as a daughter-in-law. President Cha asks her as a business partner to keep this secret. Seung Jo will not be able to handle the truth and if he finds out, the entire business arrangement will be over.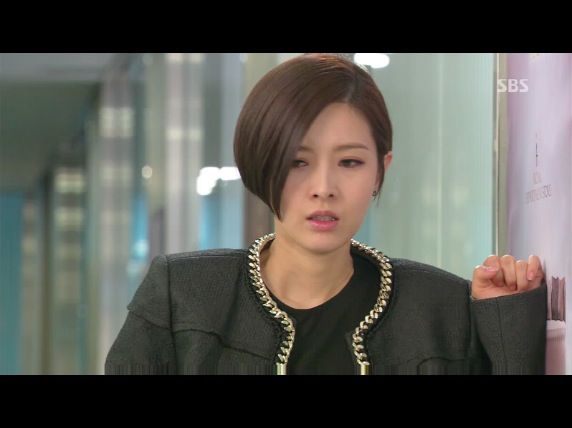 In Hwa staggers out of that meeting in shock that President Cha is willing to accept Se Kyung as a daughter-in-law. I'm in shock that President Cha's reason is to keep Seung Jo from facing reality, however ill-equipped he is to handle it. Seung Jo is surrounded by enablers up the wazoo. His dad sits in his office and says "poor chap" about Seung Jo.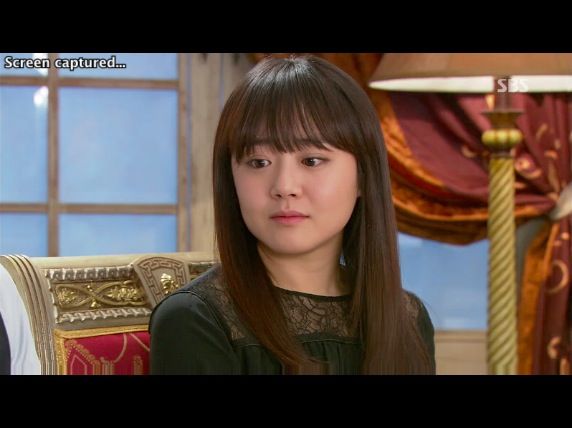 Seung Jo drives Se Kyung to dinner and tells her not to worry. Se Kyung isn't worried since she gets along with his dad now. During dinner, Seung Jo happily reveals Se Kyung's dad has selected wedding dates and his dad wonders why so soon? Seung Jo says he would get married right away if he had a choice since his heart knows what he wants. After dinner Seung Jo wants to show Se Kyung around his childhood home but his dad offers and Se Kyung agrees to go with him.
Seung Jo's dad takes her to a room filled with Seung Jo's old toys and revealed that Seung Jo once ran away to bring back all the toys his dad threw out. Since then he realized that Seung Jo cannot deal with being abandoned or losing something he loves. Seung Jo lacks love so he found something else to put his love into. The doctors told him to talk with Seung Jo every day but he couldn't do that.
Seung Jo's dad asks if she can do that every day going forward with Seung Jo? If she can stay beside Seung Jo for the rest of his life? Se Kyung says yes. He then asks if she can keep the secret from Seung Jo for the rest of his life? He reveals In Hwa came to him with the video but he cannot use his own wishes to kick Se Kyung out because that will destroy Seung Jo. Se Kyung wants to respond but he tells her to shut up! If it was up to him he'd tell her to get lost and not see Seung Jo get hoodwinked. He tells Se Kyung to keep this secret forever and use the rest of her life to make it up to Seung Jo. Seung Jo's dad says he will never forgive her if she becomes weak willed and tells him the truth. Se Kyung cries and agrees to do just that.
In Hwa is trashing her desk in her fury at Se Kyung winning over her and how even President Cha is willing to let it go all for Seung Jo's sake.
Se Kyung goes to see Tommy and reveals that even President Cha knows but wants to continue everything and accept her. Se Kyung says she did it, there is nothing else for her to worry about anymore. Tommy suddenly asks if she wants to go to Paris? He will pay for everything and clean up the mess left here? He points out that because of desire and failure and poverty she set off on this path. But now she doesn't seem to be living like that now. She's supposed to be merely a tool yet she still retains her pride. Everything she says right now is the genuine truth about her intentions, so what will happen to her if it all comes crumbling down?
Se Kyung looks lost while Tommy stares at her with concern. She asks if he's scared of her failing? She brings up 2009, at that coffee shop, the incident Tommy told her about when he failed. She refuses to think about failure because when it arrives there is nothing she can do about it. Tommy smiles ruefully and asks if she had him investigated about that incident. Se Kyung says she won't consider failure and takes her leave. Tommy sits down and realizes that this is the first time he's considered what will happen if there is failure.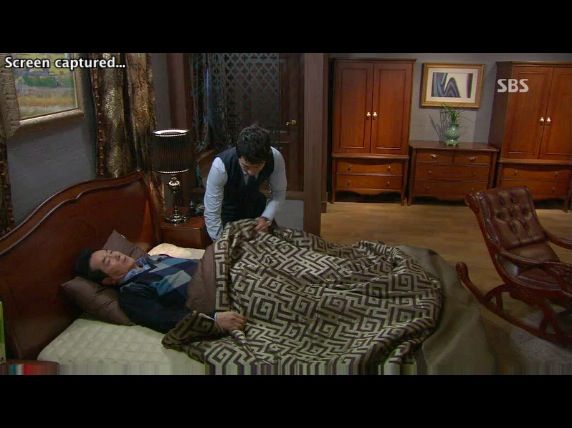 President Cha asks Seung Jo to stay home tonight and Se Kyung encourages him to do so. Father and son have a drink and Seung Jo's dad asks if he really likes Se Kyung. Seung Jo says yes, she has a lot to give to people like them (lonely distant people) and asks his dad to please like and accept her. Seung Jo later tucks his drunk dad in bed. Dad cries that his mom left not because of not loving Seung Jo, it was because Dad was too cruel to her. He apologizes to Seung Jo and both guys cry. It's like suddenly Dad and Son are talking for the first time miraculously because of Se Kyung's arrival into their life, but its all so easy one wonders why it never happened before?
Se Kyung sits at home and gets a text from Seung Jo in his old bedroom and responds back saying he did a good job. In Hwa slowly puts her office in order and looks determined.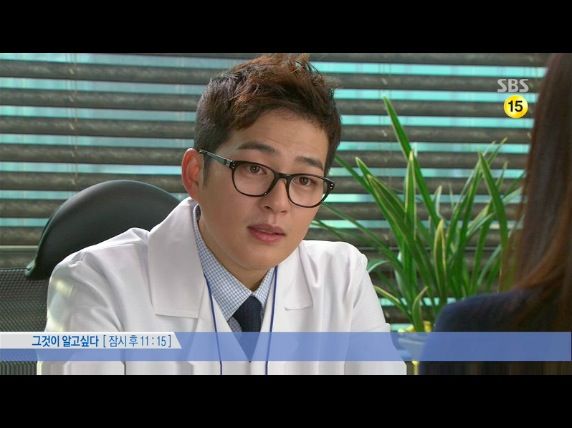 In Hwa asks Min Hyuk to send her to the meeting with Artemis. Yoon Joo gets called by Tommy to meet. Se Kyung meets with Dong Wook, who congratulates her on the upcoming marriage. He wants to thank her because he never imagined Seung Jo would be getting married and would be reconciling with his dad. Se Kyung asks him about what happened in Paris after he broke up with his ex-girlfriend?
Tommy tells In Hwa that even President Cha knows but intends to keep quiet about it and asks In Hwa to bury the truth. But he knows In Hwa will have a hard time stomaching the thought of Se Kyung becoming the daughter-in-law to Royal Group. Tommy gets a call that In Hwa is headed to a meeting at Artemis and Yoon Joo reveals that the meeting was supposed to be attended by Min Hyuk. Yoon Joo realizes that In Hwa may be a businesswoman, but first and foremost she is a woman. Yoon Joo says they have failed because they didn't take into account that In Hwa's base jealous as a woman would trump her business acumen.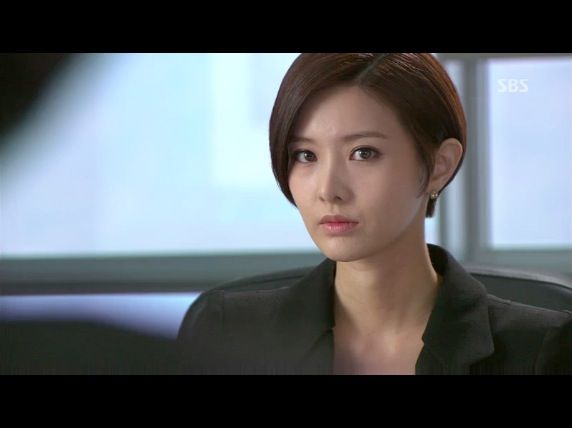 Seung Jo is reading news articles about him and Se Kyung happily. He meets with In Hwa for the meeting and apologizes for any discomfort caused by their failed marriage prospect. In Hwa brushes it off as no big deal.
Dong Wook tells Se Kyung that Seung Jo dealt with the break up by pretending it never ever happened. They went on vacation and he acted like everything was fine, but he had actually broken up with Yoon Joo a few weeks before. Dong Wook says that by pretending nothing ever happened, that was how he was able to survive.
In Hwa projects the video of Yoon Joo and Se Kyung on the screen during the meeting and Seung Jo watches intently. When the video ends, In Hwa looks expectantly towards him but he smiles and asks what that was? It's so strange that there are two people on screen who look so much like people he knows.
Thoughts of Mine:
Okay, is anyone else sensing that this drama has devolved into Much Ado About Nothing? The entire narrative spins around "Seung Jo cannot deal with being disappointed in love so he must be shielded from any hard truths no matter what." Seriously? Wow, this drama has completely lost its way now. What happened to the zippy humor? Where did all the interesting side characters go? Dong Wook is now trotted out 3 minutes an episode to play the exposition fairy? And Tommy has taken a sharp left turn and clearly has a crush on Se Kyung (totally understandable but should have been there like 6 episodes ago) and wants to protect her. Seung Jo has turned into a total pointless plot device, the reason for which people act a certain way but completely devoid of any semblance to reality. He is like the Bubble Boy and the world revolves around keeping him germ free. I have rarely seen a leading man I find less worthy to be a lead. What happened to his personality? Where did his smarts go? How could all those people know that Seung Jo is freaking DELUSIONAL in order to function think that he doesn't need dedicated therapy? How could Dong Wook be happy that Seung Jo is getting married when nothing about his personality and emotional hang ups are ever addressed or fixed. It's like sticking a bandaid on a hacked off limb. Except the limb was hacked off simply by Seung Jo tripping. Nothing about his severity of emotional trauma makes sense, so the reaction of everyone around him dealing with it makes less sense. PTSD for a bad break up? PTSD is horrible shit that happens about getting deployed to Afghanistan, after seeing your entire family murdered before your eyes, after losing a limb in an industrial accident. It's not what happens after your girlfriend dumps you.
I wish this drama could have understood its central purpose before delving into creating the world of characters. Seung Jo was written as such a far-out character that now the story revolves around his idiosyncrasies without any basis in reality. I can hardly be made to care for whether Seung Jo and Se Kyung get together and overcome all odds because nothing they say or do make any sense to me anymore. I don't think Se Kyung needs to tell Seung Jo because she needs to "come clean" with him or that she "owes him". That's romanticized hog wash. A person does not need to bare their soul to their significant other and there are lots of things that couples keep from each other but that doesn't mean they don't love each other genuinely. This idea of candor to the max is something young folks idealize but in reality marriage and a lifetime requires so much more than that. On top of love, it requires compromise, it requires consideration, it requires loyalty. I know Se Kyung has all of that towards Seung Jo, so I want her to come clean because that is better for Seung Jo than to have him continue to live in his ridiculous dream bubble. As his future spouse she needs to work to heal him from inside as opposed to continuing the charade that he has constructed himself.