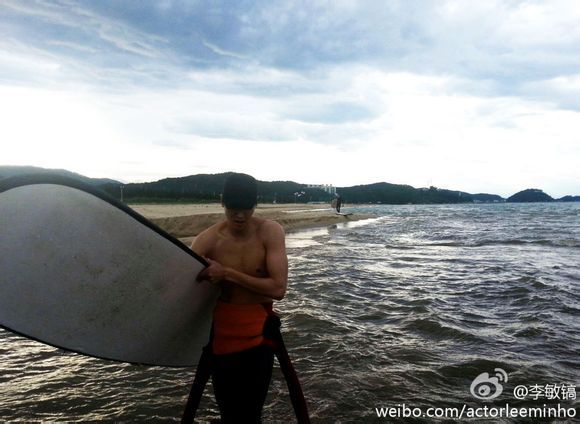 The leaked script pages for the first two episodes of Heirs clearly reveals the overarching Hana Yori Dango influence, but the recently scrounged up character descriptions shed color on the details and its there I see the Gossip Girl bent. Lee Min Ho's Kim Tan and Kim Woo Bin's Choi Young Do is clearly modeled off of Serena and Blair, respectively. Both rich, best friends but also rivals, with Tan doing Serena's I-could-care-less thang while Young Do has Blair's plot-and-conquer written all over him. Of course this makes Park Shin Hye's female lead Cha Eun Sang the gender-reversed Lonely Boy Dan, and the detailed character description for Eun Sang that I read and translated below confirms this for me. She's the outsider looking in, the perpetually poor girl with dreams that can't come true, trying to keep her head above the water when thrown in with the sharks at Empire High. My one worry about Eun Sang is the one I always have with Kim Eun Sook dramas – I mostly detest the way she writes her female characters. Most start off on the surface with a strong and capable profession – a female stunt woman, a doctor, a successful screenwriter, a top actress, a diplomatic attaché – but when you scratch below the surface all the stereotypical female insecurities come out in their personalities and Kim Eun Sook then writes it so that her quirky and super hot male leads ultimate complete the woman and make her life better.
City Hall was the exception for me, but female lead Shin Mi Rae also bucked the Kim Eun Sook trend and started off as a lowly civil servant and the drama was her trajectory towards becoming a powerful and successful mayor. Yes, she needed ALL the help from super hot and perfect male lead Jo Gook, but I did buy their slow and well-developed relationship so CH is good in my book. But so many of Kim Eun Sook's leading ladies have deep down wet napkin personalities, needing lessons in self-esteem and not letting love cloud their minds and muddle with their careers. And some need to stop crying so much, especially towards the end of the drama. So with that said, I really like what I'm reading about Park Shin Hye's Cha Eun Sang. She reads like a normal (*gasp*) teenage girl with a temper, insecurity, but a good head about her shoulders carrying the burden of taking care of the household for her deaf mute mother. Lee Min Ho posted the above picture yesterday which shows him surfing (look at his biceps!), clearly preparing for the start of Heirs filming. A few of the main leads are headed to Australia in early August for the first location shoot, which used to be a Kim Eun Sook specialty that she hasn't used in a few dramas now (Lovers in Paris – Paris and Nice, Lovers in Prague – Prague, Lovers – Hainan Island, China; On Air – Taipei and Sun Moon Lake in Taiwan).
Cha Eun Sang (18 years old):
Her motto is "Be a rich while still young, or at least someone with a goal in mind."
"Cinderella's glass slipper fell off and in the end she got to marry the prince." 7 year old Eun Sang read this and thought that Cinderella must be someone who was quite calculating. Eun Sang firmly believed this, and faced with a deaf mute mother, she had to grow up quickly.
Since she was small she took care of everything for her mother – taxes, loan papers, insurance, there is nothing Eun Sang doesn't know how to do as the de facto head of the house. But at the same time, she is embarrassed to be seen in public using sign language with her mom, so she instead uses Kakao talk even when they are face-to-face. She is just an 18 year old girl with the same insecurities.
She dislikes having a mom who can't talk, she hates that her mom is the housekeeper for a wealthy family. But what Eun Sang hates the most is that her responsibilities and duties in life make it impossible for her to travel abroad. She seems like a strong and sunny person, but in the deep recesses of her heart there is a small corner that is resentful.
Every weekend she sees her friends on Facebook post about going to a steak house or a club, but all she does is head to ceremonial halls and convenience stores, of course those being the places where she works part time. When the same-age folks are dreaming of becoming doctors, teachers, and celebrities, Eun Sang dreams about "a stable office work job that pays 2 million won a month." Only by becoming a rich young person can she have ambition.
Eun Sang gets an international call from her older sister, who is in the US with the help of Eun Sang's financial assistance. She claims to have met a rich guy and is getting married. Eun Sang sees her older sister as her pride and joy, a role model. Eun Sang seizes this rare chance and uses the excuse that she's personally delivering the money her mother prepared to give her older sister. But Eun Sang boards that plane to the US with a thought that she's never going back to Korea.
But the older sister she sees in the US is just a bar maid living with a perpetually drunk white guy. Forget about getting married, it's all just a lie. Eun Sang's dream illusion is shattered and she feels betrayed. She has a huge fight with her older sister and takes off. Eun Sang, who has nowhere to go, gets embroiled in a really preposterous incident and encounters Kim Tan. She ends up staying at his place.
Eun Sang walks into Kim Tan's apartment and thinks that this is what Cinderella must be thinking when she stepped foot in the Palace. The huge square footage and the luxurious decorations make her feel unable to breathe. Suddenly a girl arrives unannounced. She is his fiancée, how crazy that two 18 year olds could be engaged at this age?
Who knows if its good fate or ill omen, when Eun Sang returns to Korea and on the first day she transfers schools, Eun Sang runs into Kim Tan again. With all the heirs running around Empire High School, Eun Sang can only claim to be the heir to the poor. And with that, her uneasy school life begins……