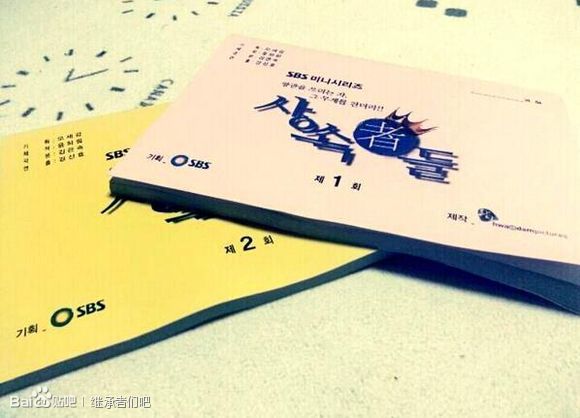 I'm not surprised there are so many leaks and spoilers for the upcoming Kim Eun Sook drama Heirs. Even if just Lee Min Ho was cast, that alone would mobilize his legions of fans to stalk the forums and listen for the latest rumors about this project. Add to it Park Shin Hye, that then doubles the interest. And as of this week, it's pouring fuel on a burning fire by the confirmation of the rest of the young and beautiful cast to include Choi Jin Hyuk, Kim Woo Bin, Kang Min Hyuk of CNBlue, Kyrstal of f(x), Kim Ji Won, Park Hyung Sik of ZE:A, Im Joo Eun, and Kang Ha Neul. Did I miss anyone, cuz that was one hella recitation to say in one breath. With the leak of pages from the script, which I translated already, above is the picture of the first two shooting scripts for episodes 1 and 2. DC fans are really abuzz with how thick episode 1 is, apparently it's like double the pages of most shooting scripts. From what I know about Kim Eun Sook, from her own self-parody in On Air and from all the reports about her style and substance from doing so many hit dramas, she is a very very organized and thorough screenwriter. She's one of the few who has more freedom to write as she wishes without the dictates of the network brass, though of course she needs to stick in the PPL and cast a few up-and-comers to make the advertisers happy. But narratively she gets a longer leash than most of her colleagues who don't have the resume of hits that she has under her belt, plus unlike the Hong sisters who work with all three networks in equal measure, Kim Eun Sook ONLY works with SBS.
So SBS knows her well and lets her do her thang for the most part. With that said, she always has a lot more finished scripts beforehand than others, even as the scripts get tweaks after the PD gets a hold of it and filming starts. But for her dramas, the general outline is set and will not change unless she wants it to change. And here she's doing a Hana Yori Dango crossed with Gossip Girl high school story, so by gosh that's what we're going to get. I've just read the character description for the third female lead Lee Bo Na, played by either Krystal or Kim Ji Won. It's probably Krystal because apparently she wrote on Twitter that she's not playing Rachel (Kim Tan's fiancee). These character descriptions are what Kim Eun Sook created to help the actors understand their roles, with background information and past history, and aren't part of the shooting script. I'm waiting for all of them to drop because I hate bringing it piecemeal but it's better than nothing, right? And each character description also sheds light on other characters so that's cool. And one final update – apparently the SBS crew is right now scouting location shoots in Los Angeles and San Francisco, because while it was meant to be filmed in Australia, due to it being Winter over there the location shoot is being changed to California. Can I have a collective OH HELL YEAH! Who's with me to go stalk Lee Min Ho and Park Shin Hye next month? I will need a getaway driver.
Lee Bo Na (18 years old):
Optimistic and eager to improve, precocious, good at masking her real intentions, with a great talent for making a big deal of things. Her dream is to be a perfectionist, but in reality she's a klutz who messes up her own plans at the critical moment.
All the kids look forward to receiving a birthday invitation from Bo Na, because there they can meet all the celebrities. Bo Na is pleased with her fabulous lifestyle. Open the papers, turn on the news, log on to a computer, the world is interested in the entertainment world, and the power in the center of the entertainment world is none other than Bo Na's dad. It might not be a company passed down through generations, but Mega Entertainment currently represents the top singers and actors in all of South Korea.
The person that constantly has a spotlight shining on ought to be her, but compared to Rachel she's still one step away. The person who ought to be wearing a wedding dress ought to be her first, but compared to Na Eun she's one step late. The person who ought to be the most loved ought to be her, but even her boyfriend doesn't love her.
That boy's name is Kim Tan. To the self-absorbed Bo Na, the good looking, confident, and selfish Kim Tan fits her as perfectly as two shoes making a pair. It's like destiny. But Kim Tan doesn't even say a fare thee well and heads off to study abroad. So Kim Tan becomes Bo Na's storybook first love, and a total mean bad guy!
Just as the fever of first love is finally dissipating, Bo Na meets Chan Young. His warmth heals her wounds and opens her heart again. Just as she's about to totally move on from Kim Tan, he comes back. He's back with an even more melancholy look in his eyes, and an even more impressive physique.
The knives of revenge, she ought to be sharpening them but……..Kim Tan's heart has completely been given to that weird girl Eun Sang. Who is this girl who is around both her ex-boyfriend and her current boyfriend!