I'm genuinely sad that I don't love The Master's Sun. I was one of the few that actually loved Big, warts and nonsensical incomplete plot and all, and that was because that drama had one central narrative emotional hook tied to a character I loved from the get go. Male lead Kang Kyung Joon in Big was a kid adrift without a family who gets a chance to grow up, experience love and loss, and deal with very difficult painful experiences. There wasn't too much else distracting from his journey so I was emotionally hog-tied to it and accepted all the narrative lameless from the Hong sisters along the way. TMS is the weakest start of all the Hong sisters dramas I've seen, it fails to establish a central character to anchor the emotional weight of this journey and then wastes time on a ghost story per episode that is cribbed straight from after-school-special levels of writing. Gong Hyo Jin is perfection as she tries so hard and succeeds so much in making Taeyang endearing and pitiable, with her unwanted ghostly ability. But she's written with just her ability and not much else, so I can't get a sense of her personality beyond it and therefore I cannot connect with a caricature. So Ji Sub is equally as talented as Gong Hyo Jin in trying to elevate his Joogun above asshole rich chaebol, but his reaction and interactions with Taeyang are so ridiculous it fails to form the basis of a growing bond. There was no way in hell a normal person would have continued to talk and interact with someone as seemingly off-her-rocker as Taeyang in all their scenes so far. I can accept the ghostly sight ability, but it's impossible to love characters that behave illogically as human beings outside of very specific narrative quirks given to them for the purpose of a story. He can be a traumatized jerk and she a worn down scared ghost seer, but TMS fails to create a main leads that talk, walk, and think like normal people outside of their hang ups. Without that, and with very flimsy ghost story morality tales, TMS is both boring and lame right out of the gate.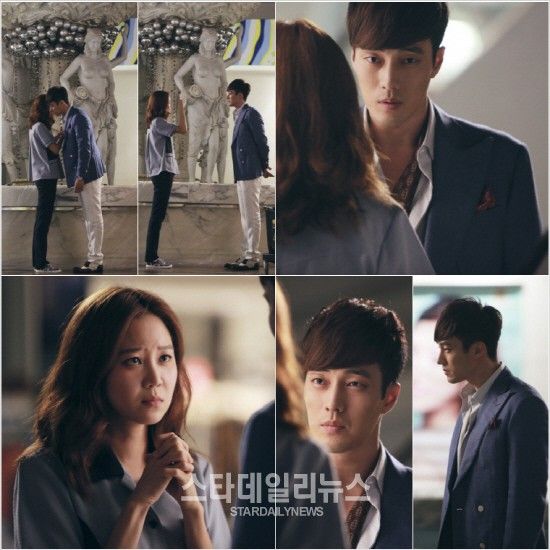 I really love Gong Hyo Jin and So Ji Sub's performance of their characters and their chemistry is beyond yummy. I can see them loving the chance to act together. And this drama premiered to such great ratings I'm happy for their careers. I will likely continue to follow along in case the narrative rights the ship and takes off in the subsequent episodes, which is possible with 14 more episodes to go. These two can sell romantic smolder like you wouldn't believe, I can probably endure this dull drama just for that alone. In episode 2, Joogun confronts Taeyang about why she thinks something or someone he can't let go is hovering around him. She admits she can see ghosts, and she saw the dead girl Hee Joo the last time they talked in the field when discussing the situation with the soccer star and his dead love. We see yet another lame and pointless ghost hanging around the roof as Taeyang and Joogun talk, and the ghost disappears the moment Taeyang touches Joogun, which confirms again for her that touching him gets rid of her affliction. He thinks she's crazy and tells her to stay away from him. Kang Woo learns that Joogun has major issues since he was kidnapped as a teenager and his girlfriend died in that kidnapping. Turns out he also has dyslexia, hence the jumbled letters in the last episode when he tried to read online articles. Kang Woo notices that Joogun appears to know Taeyang.
The ghost story of the episode centers around some high school girls and their dead classmate. They do a Ouija board séance to try to speak with her, and later three girls get a text with a picture they took at the Kingdom Mall in front of the central fountain and behind them is a female ghostly spectre. They think its their dead classmate haunting them. News gets out and the fountain becomes famous and everyone goes to take pictures there hoping to capture a ghost sighting. Joogun wants this resolved since its impacting his Mall's reputation negatively, even moreso when news reports claim the ghostly spectre is his dead girlfriend Hee Joo. He finds Taeyang working at the Mall as a cleaning lady and wants her to stop stalking him since she candidly admits she's working there to be close to him. She gets him to agree to let her stay if she can solve the ghost in the picture. The ghost is the high school girls dead classmate and Taeyang reveals that the dead girl was excluded from the cool girl's clique and died in a car accident after leaving the mall. But the girl isn't mad, and it was yet another classmate who saw the bullying who is sending the text messages to torment the mean girls. Taeyang gets the mean girls to acknowledge their fault and to hug it out and drink the beverages that the dead girl was bringing to them when she died. The dead girl completes her final wishes and disappears into the ether. I swear this entire ghost subplot was so terribly written I want compensation for being forced to watch it.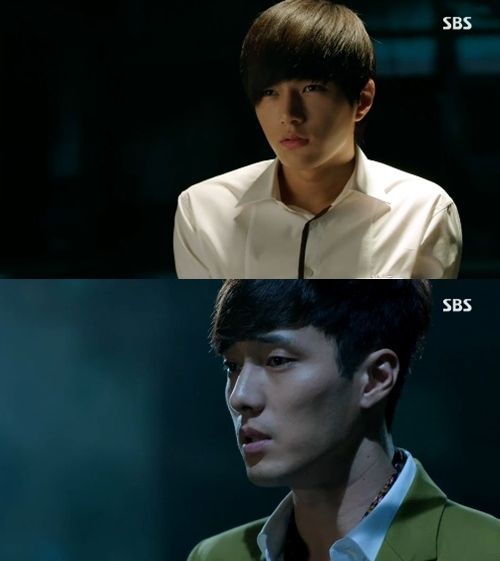 Turns out Joogun's childhood kidnapping had a twist, which one could see coming a mile away. He was kidnapped along with his girlfriend but it appears that she was actually part of the kidnapping scheme, whether actively or reluctantly. Joogun discovered it during the kidnapping but when she died he chose not to reveal her involvement to the police. So Joogun is not just mourning her, he is also supremely pissed at her. But her ghost seems to be hanging around Joogun still. At the end of the episode, Joogun tells Taeyang that if she sees the ghost of Hee Joo, to pass along a word from him. He wants to tell her "you bad woman" (or in modern speak, he called her a bint or a bitch). Yowsers. If only this episode was anywhere as interesting as the vitriol Joogun has for long-dead betrayer first love Hee Joo. I may or may not continue baby recaps for this drama but I seriously haven't been seen a drama with such potential (and fantastic promotional materials) fail to engage the emotional narrative. The ghost stories are not just trite and predictable, their presence in taking up large chunks of each episode hurts the drama because it takes time away from developing the backstory and journey forward for the main characters. The Hong sisters try by having Taeyang and Joogun always connected by the other ghosts stories, first with the soccer star fiancee and now with the dead school girl haunting the mall. On paper this might've seemed workable, but in reality it doesn't work. One can't substitute the leads observing other situations for experiencing their own forward narrative momentum.