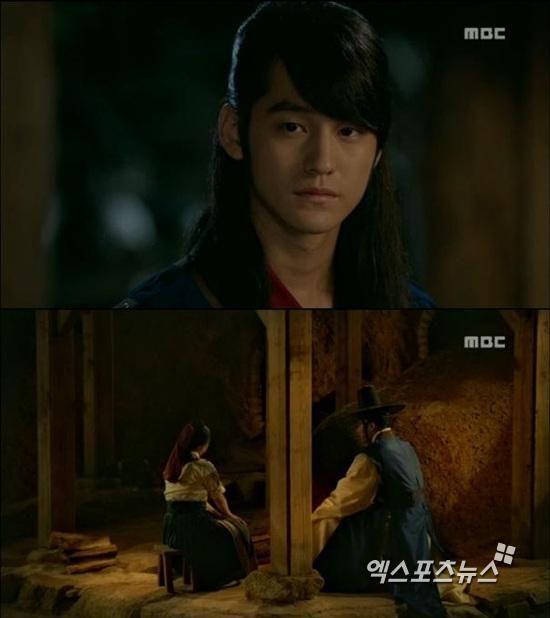 I can sound like a broken record saying how much Goddess of Fire sucks, but numbers don't lie. An MBC sageuk in the Mon-Tues slot with this cast, GoF's ratings have been middling from the get go but it's now dropped 1-2% an episode for the last 4 episodes straight. Ever since Gwanghaegun got more screen time and Tae Do less, and yes, that is an irrefutable correlation in my book. For an MBC sitcom to be pulling in 8% ratings on average, that is like getting the post-Super Bowl time slot and then getting ratings lower than the Puppy Bowl airing on Animal Planet. It's a double whammy of shame, and I feel terrible for the truly talented cast who I advocate going on a team strike and refusing to act if the screenwriter isn't sacked. Episode 16 involved really a really unappealling romantic development with Gwanghaegun falling for Jung Yi in ways that involve telling her to never leave his sight and then getting really turned on by her rosy lips and telling her to cover her mouth while talking. How about she bitch slap you with one hand and cover her mouth with the other, Gwanghaegun? Tae Do tells Jung Yi with a smile that he'll always be her orabeoni even she has no brain and turned down his proposal for her quest to become a potter extraordinaire.
The pottery competition ends up going to Jung Yi's team when they create a tea set that isn't as glazed and slippery hence easier to use, as opposed to when an official picks up team Yook Do's pretty cup and it slips and breaks. Ooops, and still so obvious in resolving an issue. Jung Yi's side chooses not to kick Kang Chun and Yook Do out of the pottery department because the more talent the better. Tae Do mans up and tells Hwa Ryung directly that he proposed to Jung Yi but she wants to become a potter first so he'll patiently wait for her, and apologizes to Hwa Ryung and tells her to give up on him. Tae Do – still the only person who thinks, talks, and acts like a smart rational adult in this drama. Yook Do hates Jung Yi now for beating him, and Hwa Ryung hates Jung Yi for always taking away what she loves (pottery, Tae Do), so she outs Jung Yi's real identity to Kang Chun. At this point, Jung Yi's general self-absorption and her stupid Tae Pyung ruse is so pathetic and aggravating I was cheering on Hwa Ryung all the way. I saw more Tae Do in the preview for episode 17, if he gets more screen time I may have no choice but to keep on this mind numbing endeavor to watch and discuss GoF.
I seriously was clapping like a baby seal when Hwa Ryung finally said enough is enough to every single time someone is asked to coddle Jung Yi and protect her and all she ever does is remain ever entitled to keep succeeding without realizing the number of people's she's stepping on. In many ways, Jung Yi really is Kang Chun's daughter, LOL, oh the irony. Even better when the drama says Kang Chun is the villain and Jung Yi the so-called heroine. Ugh. I'm still Team Tae Do in the sense that I want him to get what he wants, even if he wants Jung Yi. But I look at her (mildly mentally challenged) and compare her to Hwa Ryung (whip smart and competent and self-sufficient), and I wonder what the fuck Tae Do sees in Jung Yi.
Tae Do cuts from episode 16: