I don't know why I bothered, but over the Summer I read Dan Brown's latest Inferno and it was as painstakingly researched as his prior hits like The Da Vinci Code but equally as soulless as the follow up to that The Lost Symbol. The man is a talented gripping writer for sure, but he's sunk to the depths of what I call "milking it", the shallow tide pool of warm waters and lots of money where he applies the same formula with slightly different ingredients and churns out another carbon copy hit. As popcorn entertainment its light years ahead of the dreck written by less talented writers, but as a reader I'm struck by the sense of disillusionment and a feeling of mild manipulation. Am I really that easy to sell things to that I'll be offered a re-packaged same item and happily consume it? When episode 12 of The Master's Sun ended, that very same feeling came over me. I'm sticking with this drama because of So Ji Sub and Gong Hyo Jin, happy for their chance to work together, and pleased their hard work is garnering good ratings. But aside from them, TMS feels so empty to me – a sleek shell filled with re-packaged goods that are now stale from sitting too long on the shelf. The end of episode 12 might've worked better if it didn't simultaneously mash together very important turning point plot developments in three other dramas, namely Secret Garden, the Hong Sisters own Best Love, and let's not forget Who Are You just did it already. I fully understand TMS can be a very entertaining watch for viewers, and my issues are really with the Hong Sisters at this point and nothing else. I still think So Ji Sub and Gong Hyo Jin's chemistry is stuck at that sweet spot of just very good while their real life interactions seem to hint at the possibility for nuclear strike level heat. I almost wish I could stick the two of them in room and have them act out a one-act with no script and just the two of them ad-libbing a scene. In many respects, this coupling is turning out to be the redux of Hyun Bin and Ha Ji Won in SG – solid but not spectacular chemistry but stuck with very shallowly constructed characters and asked to spit out dialogue that is mostly noise-filler, with all that potential untapped for something truly heartwrenchingly good and not derivative emotional bait.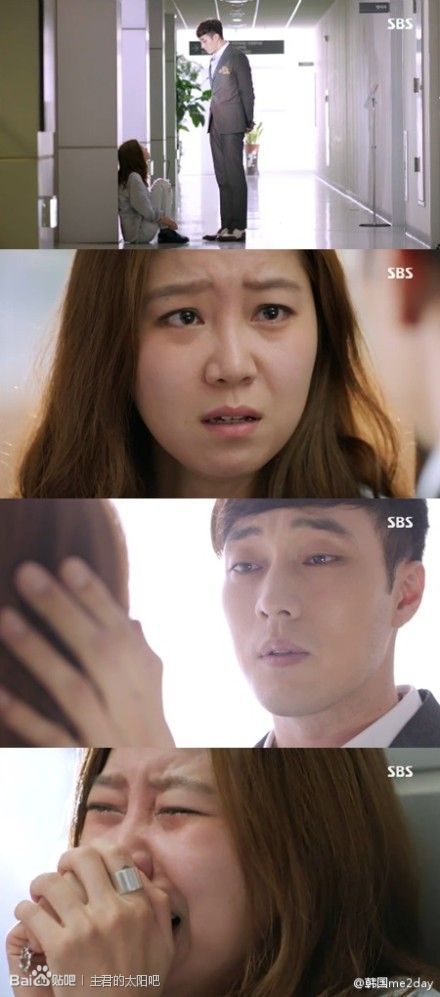 So at the end of episode 12 – Joogun takes a knife to the back to protect Taeyang and he's rushed to the hospital. As she waits in the corridor while he's in surgery, a shadow walks up to her and she raises her head to see Joogun. She gets up in shock and starts repeating "no, no no no…." Joogun calmly notes that she was right, she does shine brightly (to a ghost). He asks if he's dead, and says it's such a waste. But then he is pleased hat his woman can see him. And then Joogun says "I love you" to Taeyang. I wish this scene could make me cry, because narratively it was seamless within the context of a drama where the heroine can see ghosts. Yes, at some point having her see the ghost of the guy she likes is wonderfully poignant. But unlike in Who Are You, where the entire time the heroine (and us) really thought the ghost is dead, here TMS has already introduced the ghost of the comatose woman so we know Joogun doesn't have to be dead to spiritually appear before Taeyang. But it's also without any stakes because Joogun can hardly die for real since there is still four more episodes to go. Not to mention the stabbing was just so manufactured a scenario and could be substituted for any type of injury that could be potentially life threatening.
Despite having issues with both Secret Garden and Best Love, when the life-and-death moment came in those two dramas I was sobbing like a loon. In SG, I didn't necessarily think Joo Won would die in lieu of Ra Im, but I totally connected with his sacrifice to do so, the moment when he truly understood what it meant to love someone completely. The whole fairy dad hoodoo to undo it all was ridiculous, but the body switch in the convertible heading into the storm execution was incredible and absolutely gutwrenching. In Best Love, where Gong Hyo Jin already did her cry-while-my-guy-is-in-surgery bit, there really was the possibility that Dokko Jin would die. His heart condition was presented front and center since episode 1, and everything between led was predicated on it and led up to the big surgery. When she sat outside the hospital and sang for him while he was in surgery, I was sobbing and cursing the drama gods. That is a good execution of a high stakes moment, where even if the viewer knows that the lead can't possibly die, the drama has already built up all the emotional connection and investment that even watching it onscreen can trigger the natural tear ducts. I think the Hong Sisters could have delivered this twist better by not blatantly ripping off other works (and even their own), even if it was nicely performed by So Ji Sub and Gong Hyo Jin.