It's taken me a few weeks to get back to wanting to write about Empress Ki mostly due to the last few episodes being dull as beans for me. The drama continues to do well in ratings, dominating the Mon-Tues timeslot by a wide margin and recently broke 20% in ratings and will likely stay there if not continue to increase. The fast-paced action in the start was replaced by a bisected story line for leads Ha Ji Won as Seung Nyang and Joo Jin Mo as Wang Yoo. Seung Nyang is sent to the Yuan Palace as a serving girl while deposed Goryeo King Wang Yoo and his men are sent to the front lines of the Yuan dynasty war with the Turks. I don't necessarily think they need to be together for the story to be interesting, except both sets of action were predictable and annoying. On the Seung Nyang front, she's trying to survive in the Palace while Yuan Emperor Ta Hwan spends every single episode obsessing about her. First he thinks she looks like Seung Nyang, then he finds out she is Seung Nyang, then he tries to keep her by his side, and all of this pining is accompanied by whining and creepy staring that would make my hair stand up but for the fact that I think he's not a complete loser and because he likes Seung Nyang enough not to hurt her. Though he doesn't dispel her incorrect belief that Wang Yoo died in the battlefield, because apparently he can do whatever he wants to win the heart of the girl he likes even knowing she thinks he's lower than toe fungus. On the Wang Yoo front, he's off fighting a war for the Yuan so that he can get back to the Yuan Palace to find Seung Nyang, and the battle tactics and scenes are watchable but feel like filler since we know he'll succeed and get back to Seung Nyang. But episode 14 brought me back to attention in a good way. Wang Yoo makes a triumphant arrival at the Yuan Palace, Seung Nyang's heart is all aflutter, Ta Hwan's jealousy grows even more rampant (yes, it is possible), and the most hilarious development is Empress Tanashiri maybe developing a crush on Wang Yoo. Ahahaha, that is ridiculous but brilliant since this drama has zero semblance to history anyways. At least I can say bratty manipulative Tanashiri has good taste in men. Check out the best scene clips from the latest episodes and catch up on the story development with a boatload of drama stills.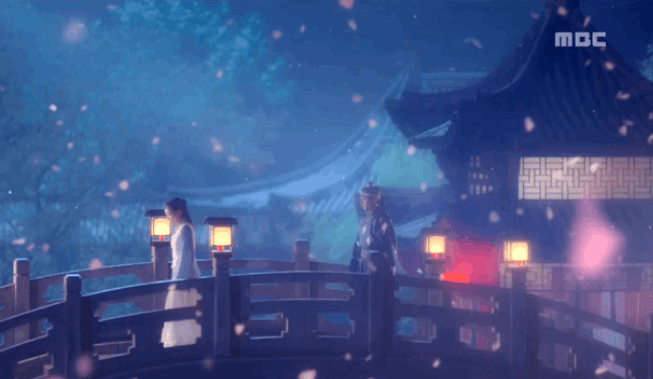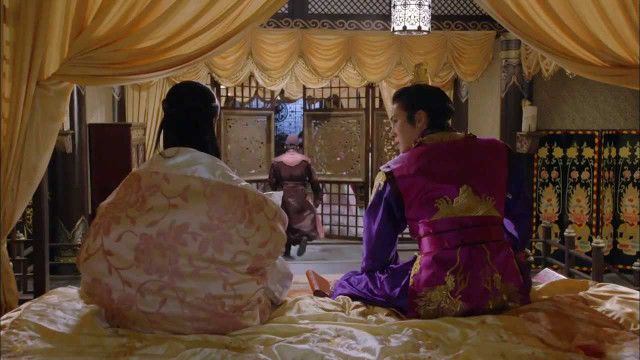 This drama is still so pretty to look at with all the glorious primary colors, though Ta Hwan's imperial robes need to tone down on the fuschia. I also think the supporting cast is still marvelous, everyone is doing their part and there are tons of great side characters I could gush over for how interesting they are. And that includes the villains as well.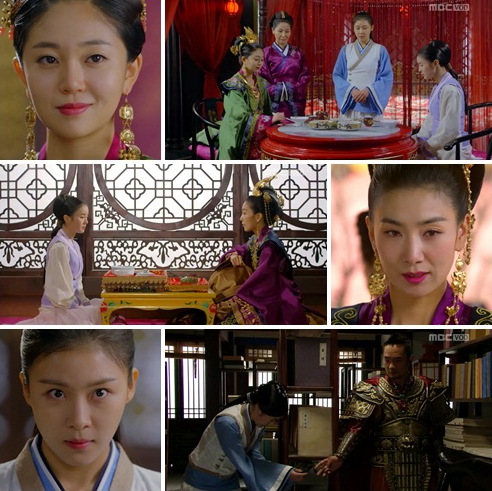 I seriously can't get over the randomness of Tanashiri taking a shining to Wang Yoo. Yes, he's hot and puts her in her place (when he didn't know who she was), but clearly this won't end well. The irony is strong though – the loser Yuan married couple of Ta Hwan and Tanashiri fall for the upstanding but can't be together Goryeo couple of Seung Nyang and Wang Yoo.
What I like about the characterization of Empress Ki is that the romance between the OTP actually makes me happy on multiple levels. Seung Nyang and Wang Yoo are equals in intelligence and courage, and they see that about each other. It's a welcome sight to have the leading lady fall for a good man, a decent man, a man who needs no saving from her but instead appreciates, admires, and wants her. To Seung Nyang, Wang Yoo is both her liege and a man she misses. There is no subtext but the greater conflicts of the world they live in keeping them apart. He's the deposed King of Goryeo, with no power to save himself much less her. But he has his mind and functioning limbs, and he uses both to fight his way back to her. He doesn't do it alone, he has the respect and support of the men who rally around him because he's their leader. He wears the mantle of both his pride and his shame proudly, he blames no one but rather faces the reality and does what needs to be done. That is also Seung Nyang and how she thinks, and it's lovely that when they were apart each would think of the other use that as strength and clarity. I'm happy the drama is veering so far from the novel because it feels fresh to watch because I don't know what to expect.
I really do need Ta Hwan to grow a pair of balls and get around to eliminating his enemies and ruling his dynasty. At this point, I vote to give the reigns of the Yuan to anyone BUT him because he's that useless. I have nothing against him liking Seung Nyang, but that is ALL he does. All day long, that and whine and feel sorry for himself about his sad sack life as a puppet emperor. Too bad the drama has done a good job of showing that the main characters suffer equally shitty fates in life and rise above it. It's even worse because his idea of "love" is the very definition I abhor. He sees love as possession, if he wants and needs Seung Nyang, then he will do anything to make her love him back. If he knew anything about her, he would probably win his affection (and my respect) if he turned his life purpose around to ruling his country with wisdom. If she saw him as a great Emperor who loved his people and also extended that love to the tributary nation of Goryeo, I could see her falling for him somewhere down the line. But the Ta Hwan right now is a giant douchebag still and I hope the drama turns him into a interesting character soon because anytime he shows up I just want to smack him. Ji Chang Wook is playing him wonderfully though, capturing the petulance, neediness, and self-pity perfectly.
Empress Ki Episode 9 Wang Yoo-Seung Nyang cuts:
[youtube id="uF3V3VzTAyo" w="625″ h="425″]
[youtube id="snpPJUbZi0c" w="625″ h="445″]
Episode 14 Wang Yoo-Seung Nyang cuts:
[youtube id="nuyd6ZPzXu0″ w="625″ h="445″]
[youtube id="RiOj1GkhtD8″ w="625″ h="445″]