I think the excitement over how awesome In A Good Way was right off the bat caused some delirium on my part and now I'm slowly talking myself down that high so that I can handle the long journey with this drama and not jump my own shark. Episode 5 continued the steady ratings increase by hitting 2.17 among the cable networks (last week netted 2.0), solidifying its cult hit turning to mainstream hit status in Taiwan. I actually felt that episode 5 was the meatiest episode yet, but narratively it lacked a central event as the cornerstone to tie all the kids together, be it a race or a treasure hunt. But conversely this episode started to show the ins-and-out of normal college life, and with it comes the stirrings of misunderstandings and ordinary conflicts. Liu Chuan's composed exterior is starting to crack around Jia En while he learns that she has quite a temper and a fast mouth on her when she's in a funk. Their fight (or fights?) in this episode mirrored the very conflicts friends have in the school days, with a bad mood leads to minor altercations over unrelated issues that results in an impasse for days. I know this drama is from Jia En's narrated point of view, but I'm still finding her less interesting than Liu Chuan, and even in a sense Ren Wei and Bai Xue.
The problem with Jia En is that she seems like a blank slate from when we met her, or at least she's a slate trying to start from scratch after disengaging herself from being a Ren Wei copycat. She goes around absorbing information and trying new things, but maybe her change is happening too slow for me because she isn't anywhere near finding herself. I both appreciate showing us how Jia En tries hard at everything she attempts, but at the same time the impetus for why she does something is always coming from others. I want Jia En to do something because she thought of it, she took the initiative, it's something unrelated to what others share with her. Liu Chuan continues to get his emotional axis jumbled when he's around Jia En, which is delicious to watch and I'm willing to give him plenty of room to figure things out on his own and then decide on what he wants to do about it. Even if he likes Jia En, what if he just has the capacity right now to be friends with her, unable or unwilling to attempt the messiness of romance when it's just not a priority. Or will he cop to the truth that somethings the heart wants what the heart wants and he has to let it take over when the time comes? Episode 5 is the clearest indication that Jia En is to him like no other girl in his life, but his life is a pretty well-structured thing and whether he wants it upended is still within his control.
Jia En's post on the campus BBS gets a response from 3631 about how memories form our journey and that intrigues her so she asks about his/her memories. She gets no immediate response because 3631, i.e. Liu Chuan, is not at the computer. Too bad Momo can't type. The next day, Jia En is hanging with Bai Xue and she finds out that Jia En has selected the ballroom dancing class as her PE elective which happens to be the same class Liu Chuan is in. Turns out he's prone to picking classes based on when its scheduled so he can have more days free. Ha, that was totally me in college. Tracy and Xiao En come by and is nice to see girls being friends and not bitchy towards each other. Tracy is dressed in a hot sexy outfit which turns out to be the album cover outfit of her idol Japanese pop star Namie Amuro. Talk turns to idols and Jia En is once again feeling sheepish that she has no idols of her own, in the past she liked what her friends liked.
Jia En is at the ballroom dancing class and she's paired with another girl student so she has to dance the male part. That student wants to hurry up and finish the test so won't switch parts with Jia En so she ends up only knowing how to dance the male steps. When the teacher asks which male student will help Jia En practice and retake the test, no one raises their hand and Liu Chuan sees it so he volunteers. Afterwards Jia En thanks him for taking time to help her and conversation turns to idols. Jia En wonders if he has an idol but Liu Chuan points out that idols are human beings as well so its rather silly to place them on a pedestal. He does admit that his idol would be someone who influenced him greatly.
Jia En comes back to the tea shop and finds Ren Wei hanging with his Men of Steel. She thinks they are reading books and studying for the upcoming midterms but instead they are reading books on how to woo women. So typical but endearing. Jia En rolls her eyes at the guys and tells them flat out that they will never get girls by following such lame advice. The books spout the usual gender stereotypes about the fairer sex, but one thing gets Ren Wei's attention. He reads that women are auditory creatures and he gets a brilliant idea. He sends a mixed tape to Bai Xue containing him crooning the popular love balled "Crazy for Love" by Rene Liu. Ren Wei also reminds Jia En that she has an idol, she used to love watching Taiwanese-American tennis wunderkind Michael Chang play.
The next day,Ren Wei actually takes a guitar and shows up outside the Treasure Hunting club to serenade her with the same song. An audience forms including Jia En, Liu Chuan, Ah Qing, and Ri Qi, watching in mild awe at Ren Wei's ballsy guts. Ren Wei's love ballad gets the crowd on his side chanting for her to accept him but of course she doesn't though she makes it clear he's welcome to join the club. Ren Wei announces that he's joining the club ASAP. After everyone disperses, Jia En claps for him and gives him a thumbs up for a really awesome performance. Their friendship really is so sweet.
While hanging at the club, Bai Xue hears that Jia En's idol is Michael Chang. Bai Xue is a member of the University Public Relations Squad consisting of female students selected to represent the school at public events around town. An upcoming event will include the attendance of Michael Chang so Bai Xue encourages Jia En to try out especially since all she needs is good English skills and being a Foreign Languages major Jia En has that ability covered. Liu Chuan overhears all this. Jia En goes home to practice her try out speech in English and she's pretty good. We also learn her English name is Joan (though the subtitles read Joan but she pronounces it Joanne). Jia En is practicing in empty classroom and Liu Chuan passes by and sees it. He goes off to play basketball with his guys but later when some bottled water is brought over he leaves them to go bring one to Jia En. She thanks him and asks if he'll stay and listen to her practice her speech. He does and stares at her rather proudly.
Jia En and Liu Chuan practice their jitterbug for the upcoming test retake and they are just adorable together. Bai Xue happens by and she greets them warmly. She asks Liu Chuan to come plan an upcoming Treasure Hunting event but he asks to do it later since he's practicing with Jia En. Bai Xue leaves with an understanding of Liu Chuan's priorities. Jia En goes to the try outs and notices all the other girls dressed very presentably whereas she's in her usual t-shirt and overalls. Her friends all come to support her including Bai Xue, Ren Wei, Xiao Wei, Tracy, and Liu Chuan. Okay, Jia En is a very beloved girl indeed. She comes out of the try outs feeling good about her effort, but she ends up not being selected. She's dejected and everyone tries to cheer her up to no avail.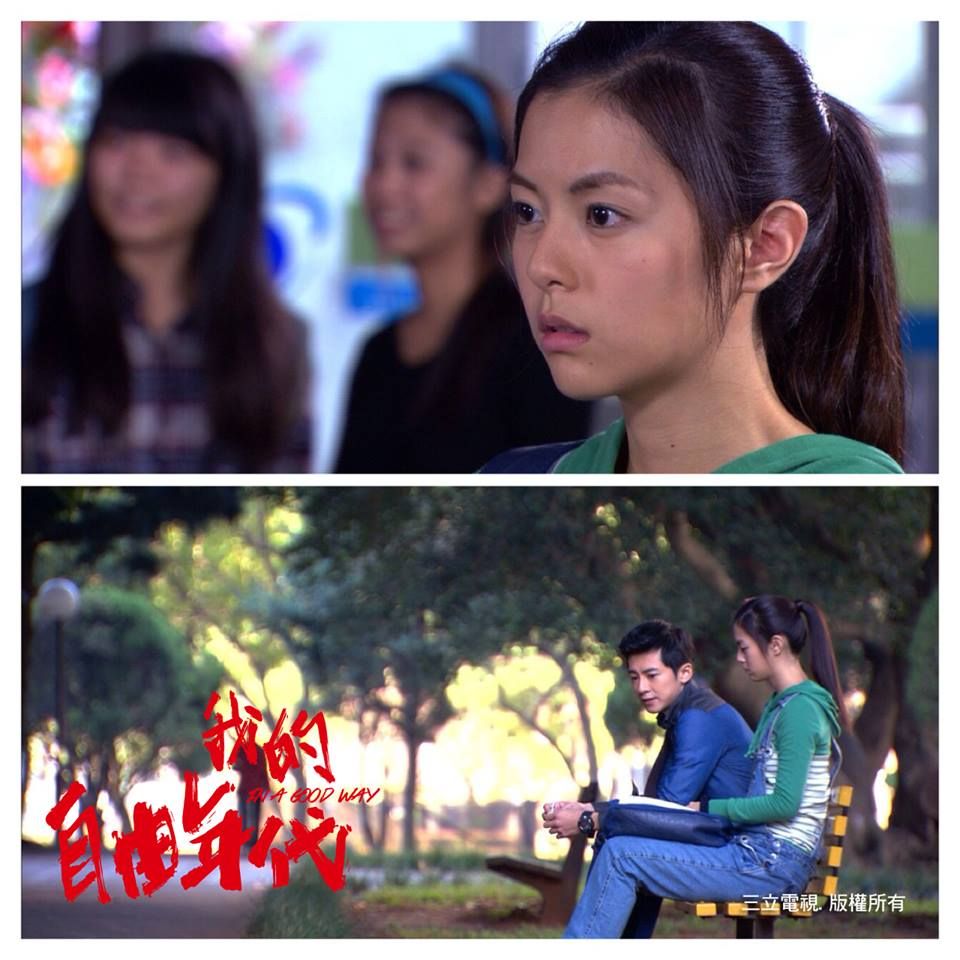 Jia En is moping on the park bench when Liu Chuan comes by with a lollipop that he dangles before her, explaining that he heard something sweet can cheer people up. Jia En is not in the mood and continues to obsess over why she wasn't selected. Liu Chuan doesn't know either but reminds her that the results are out of her control but as long as she did her best then she has nothing to be upset about. Jia En thinks her best was good enough but Liu Chuan doesn't placate her and instead says she doesn't know that, i.e. maybe the others are better than her. That rubs Jia En the wrong way and she asks if he's got something to say that he's holding back on. She is clearly venting her frustrations out on him and walks off angry. Later Jia En admits to Xiao Wei and Tracy that she got mad at Liu Chuan because she was so sensitive about not being selected and everything he said she took the wrong way. Tracy doesn't mince around and tells Jia En that she was dressed so dowdy while the other girls arrived dressed for the part so of course she's at a disadvantage.
The next day, Liu Chuan runs into his dad, who turns out to be a famous congressman and he's speaking at the university today. Liu Chuan purposes avoids his dad who clearly wants to talk with him. Jia En finds Liu Chuan at the club and asks to speak outside. She immediately apologizes for losing her temper with him the other day, it's all her fault because he did nothing wrong. She can sense Liu Chuan is in an off mood because he's so dismissive towards her and tries to get him to talk with her about what's bothering him. She asks him not to hide away his worries and if they are friends he can talk with her. That triggers Liu Chuan to unload on her – she's the one who has hidden away her feelings about not being selected and he can't even get inside, so who is she to tell him to share. He leaves her with the harsh parting words of "mind your own business." Ouch. After Jia En walks away, Liu Chuan wonders aloud why he can't maintain his usual self-control anytime he encounters Jia En. He's brooding later that night and even his two roommates can tell something is off with him.
At the ballroom dancing test re-take, Jia En looks around and Liu Chuan is a no-show. The teacher allows her to go last to wait for him to arrive but he's still not there by the time all the other students are done. Jia En asks to dance alone and she gives a good effort but naturally stumbles and misses steps. Liu Chuan arrives at the last minute and the teacher allows them to re-do the dance. They dance and are perfectly in sync, ending with a twirl and dip that leaves then holding the position for quite some time staring at each other. The teacher hilariously has to tell them twice that the dance is over. Jia En wants to talk with him afterwards but he gets a page and has to go off to return the call. Liu Chuan calls his dad back and reminds his dad that he promised him 4 years of freedom in college, which includes not letting people know his dad is a famous political bigwig. His dad confirms that arrangement but simply wants Liu Chuan to stop ignoring him like he's some criminal.
Jia En goes back home and gets on the campus BBS portal to write about how its hard to break an impasse and wonders if everyone has secrets they don't want to share? Liu Chuan has logged on as 3631 and replies that keeping secrets is a painful feeling. Jia En shares that its a friend keeping a secret and wonders what to do to relieve some of the tension. Liu Chuan suggests taking the newly open MRT Muzha line which is a very uplifting feeling especially when the train exits the tunnel and the sunlight filters in. Their BBS chat ends up going all night until the sun rises and Jia En asks for a recommendation of a famous Taipei breakfast place. Liu Chuan makes a suggestion and Jia En goes there later that morning. Liu Chuan is already there and he notices her. Liu Chuan is taking the MRT like he recommended to Jia En and at a later stop she gets on and sits across from him but they don't notice each other. After the train enters a tunnel and comes out on the other side is when they finally spot each other. Liu Chuan breaks the awkward mood and asks what she is doing here and hears that a BBS anonymous poster suggested to Jia En to take the MRT when she's in a bad mood.
Have a dance scene cut and the preview for episode 6:
[youtube id="M2NuUk83360″ w="625″ h="445″]
In the preview for episode 6, Ah Qing tries to get Liu Chuan to admit to something but Jia En plays the fierce protector and tells them to lay off. If they push Liu Chuan he'll get mad. Liu Chuan asks Ah Qing if he's ever fought with a girl but made up yet things are still weird between them? Ah Qing laughs about this problem since that he thought Liu Chuan could handle anything. Jia En asks Liu Chuan to find the BBS poster with the handle "3631", adding that she thinks his family has someone who is an elective representative. Liu Chuan types on BBS under the handle 3631 "Actually I am Liu Chuan" but we don't see if he pressed send.