Why is everyone either mopey or angry over the recent turn of events in Empress Ki? I'm thoroughly amused and having a blast. This reminds me of when Queen Seondeok went off the rails and had Deok Man love Bidam back. That was just….incredible to behold. Even fictionalizing history cannot come close to that level of mindfrak. Everyone was fine with it since Yooshin was just completely devoid of energy or chemistry with Deok Man anyways, might as well toss even the semblance of history to the wind and let the fanservice fly. EK is nowhere near the level of QSD's popularity (that drama broke 30s in rating by episode 14 and then into the 40s it went) and right now the silly in EK is still rather manageable. Deposed Goryeo King Wang Yoo and Seung Nyang have consummated their marriage and she's expecting a bouncing baby anytime soon, though delivering alone in a cave is not exactly the recipe for a safe birth. Empress Tanasiri somehow imagines she's pregnant with Ta Hwan's baby while Lady Park is having the longest baby-carrying term in biological history and still hasn't dropped her Ta Hwan baby. Tanasiri freaks out upon discovering she's not really pregnant and decides to get rid of Lady Park for good.
Seung Nyang escapes the attack but Lady Park is cut down, though Lady Park's baby is pretty much full term and we don't see if Lady Park dies immediately or somehow her baby can be delivered before she expires. The preview is out for episode 23 and its a doozy – both Ta Hwan and Wang Yoo are told that Seung Nyang is dead and both are understandably distraught, then we see Tanasiri with a chubby baby in her arms that she's going to pass off as her own. I have no clue whether she's holding Ta Hwan's baby with Lady Park or Wang Yoo's baby with Seung Nyang, but either way this drama is heading towards awesome delicious makjangness that I'm game to check out. Looks like MBC loves the steady ratings of EK and is asking the production to extend the drama by 10-episodes to end at 60 total so that its follow up drama Dae Jang Geum 2 has more time to prepare. It would appear that is a prudent move since Lee Young Ae has not signed up nor indicated she will do so for DJG2. Prudent for MBC though I'm sure the cast is hoping to be released from the crazy sooner rather than later. Since there are so many babies gestating in EK, below is also a screencap review of how the Wang Yoo-Seung Nyang baby got conceived. I'm fairly certain this time Seung Nyang didn't freak out when Wang Yoo touches her unlike back in episode 1, heh.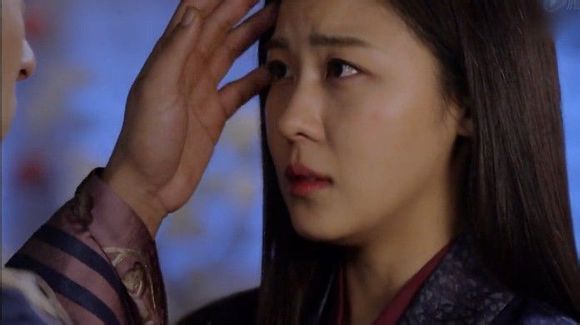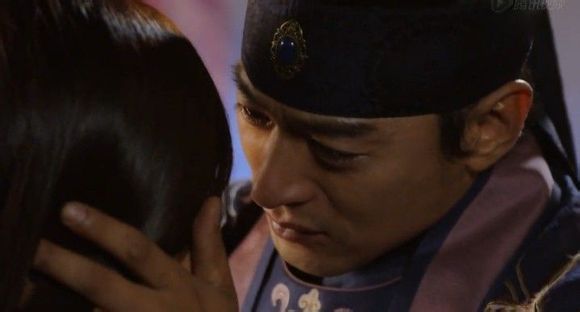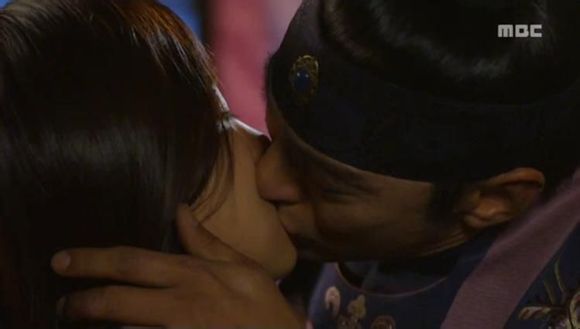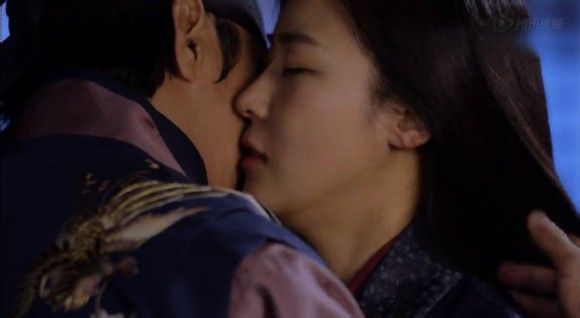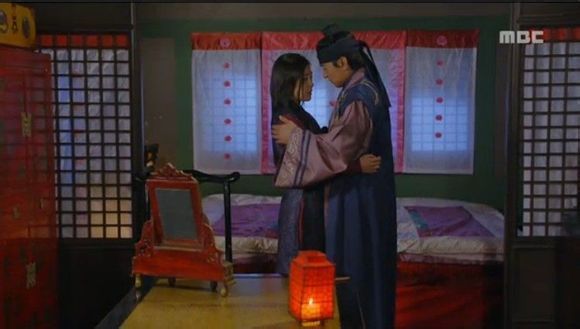 Episode 23 preview:
[tudou id="09oL90J538k" w="625″ h="445″]
Sadly my ship is still going to be separated based on the first scene in episode 1. And now we know they have a baby together. *sobs* So unfair! Curse you fate!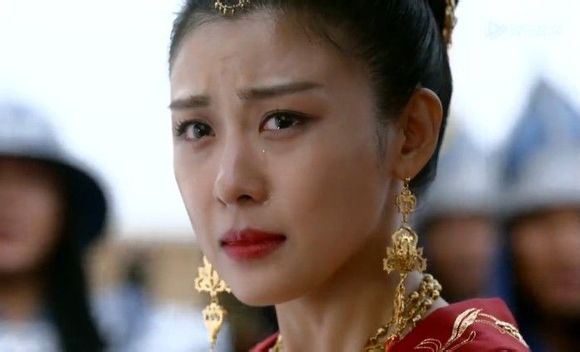 I'll chalk it up to Seung Nyang not having a mother to raise her into adulthood otherwise didn't your momma teach you not to cry on your wedding day? And definitely not to cry over a man who is not going to be your husband? Cuz if you're crying like that over the guy, then that's the guy you should be marrying instead. But I continue to console myself with the official character chart released by MBC showing the only mutual love line is between my King and his Seung Nyang.
I remember when I was reading Chinese writer Tong Hua's novel Yun Zhong Ge (Song in the Clouds) and she wrote three very fascinating male characters and the shipping was out of control there as well. When she finished the novel she ended up penning two open letters to her two male leads and in one letter to lead Liu Fu Ling (aka Emperor Zhou of Han), she wrote that his perfection should not be a reason for readers not to like him. I went back and re-read that section and thought it so apt to share for why I love Wang Yoo.
It's intelligence, an intelligence he was born with, giving him talent beyond what normal people possess. But it made him seem ephemeral, too ideal.

But this is not perfection, this is talent.

This is not ephemeral, this is insightfulness.

So I hope those readers who think Ling is too perfect to slowly and patiently appreciate his character. Don't use one word "perfect" and brush him aside. Perfect should not become his flaw, it should not be the reason readers don't like him.
Amen to that, sister! I feel that Wang Yoo has similar burdens to shoulder as Ta Hwan but he chooses to confront his foes with intelligence and that part of his character is what makes him so irresistible.