I've been following along with Age of Feeling (Inspiring Generation) intermittently. It's not a super bad drama but definitely super wonky what with the scriptwriter switch around episode 10 then second male lead Kim Jae Wook quitting as well as supporting actor Song Jae Rim getting written off for a few episodes and then brought back again. The story felt like Fight Club in Shanghai with a dash of war era machinations thrown in. Leading man Kim Hyun Joong acquitted himself admirably, but his leading lady Im Soo Hyang was all sorts of awful with her stiff face and even stiffer acting. Luckily the other female lead Jin Se Yeon added the dash of life to this mostly dull and lifeless plodding endeavor, with a character that was charming with a backbone of steel. She loved Kim Hyun Joong's character from beginning to end, and I almost cried hallelujah to have him love her back and be with her throughout the drama instead of pining away for his first teenage crush Im Soo Hyang's character since those two had zero chemistry whether in acting or character interactions.
But as the ending drew near I got a bit concerned. Jin Se Yeon made waves a few weeks ago in the K-news for taking on her next project Dr. Stranger for SBS which wasn't going to air until AoF ended but had already started filming due to an overseas shoot in Eastern Europe. Jin Se Yeon had to take a few days off AoF filming to jet overseas and the usual filming snafus delayed her return a few day later than she had anticipated. The AoF production was so pissed it actually aired its grievances to the media rather than keeping the dirty laundry in the house. Jin Se Yeon's agency countered that AoF had approved her days off to film for Dr. Stranger, and in fact she accepted Dr. Stranger before she even accepted and starred in AoF since she was a last minute replacement for Kim So Eun who dropped out. This week is the AoF finale and I was totally glued to the set this morning waiting for what I shall call "The Jin Se Yeon Wedding Curse" to arrive. Not only did it show up, it was so hilariously absurd the context and set up I was laughing until tears came out.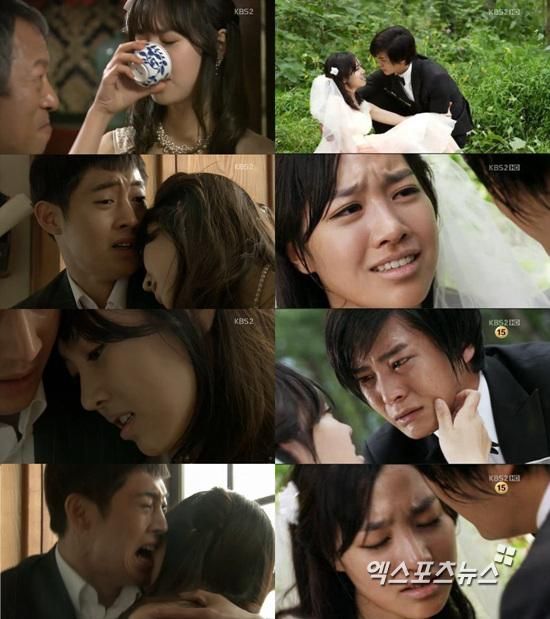 Ahahahaha, it totally showed up and it was glorious! Even the news media is digging up Jin Se Yeon's epic wedding death in the end of Gaksital (Bridal Mask) to show that girlfriend is never ever going to get an onscreen wedding night. In AoF, Ok Ryeon and Jung Tae got hitched and then she promptly got poisoned to death. The big baddie played by Choi Il Hwa was trying to poison Jung Tae but Ok Ryeon switched their teas and she gulped down the poison instead. This death, just like her death in Gaksital, is totally unnecessary for the narrative of the drama. At all. Once again it comes across like it's KBS retaliating against Jin Se Yeon for taking another drama while still filming its drama. In Gaksital, she stepped in at the last minute for Eunjung in SBS's Five Fingers and that caused friction in the production set because she had to film both dramas at once. KBS might as well distribute a memo – if you dare double book, your character gets killed off, thnxbai!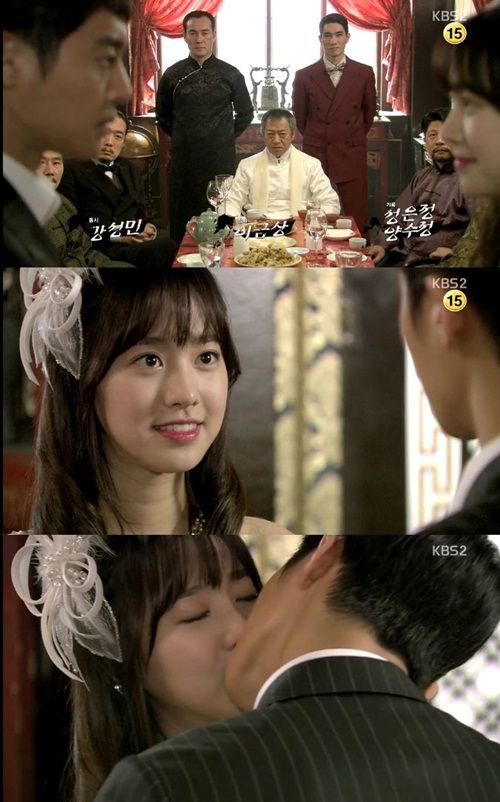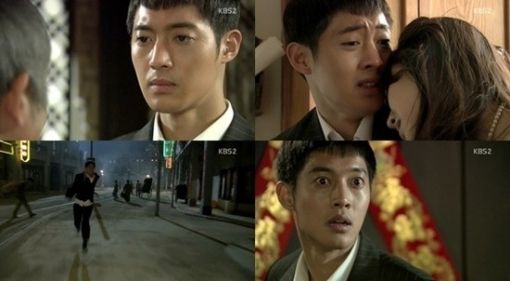 She died of a poisonous tea, but at least she got her wish and married her man. RIP Kim Ok Ryeon, thanks for making AoF mildly entertaining to watch.