I'm going to go out on a limb and say it's safe to watch Big Man airing on KBS Mon-Tues. The central premise is so ridiculous the entire drama almost sinks under it by the end of episode 1, but episode 2 turns it all around big time and suddenly all bets are off. It's such a delight to watch Kang Ji Hwan back in fine form playing a character I find interesting and promises to incorporate plenty of personal growth as the story goes on. His chemistry with second lead Jung So Min is tie die for, the stuff that can sustain a drama on its own, and here I am seriously setting up a shrine to pray for the screenwriter to get a clue and make them the OTP. The other two leads Daniel Choi and Lee Da Hee are serviceable and actually only come to life when they have a scene together. Daniel Choi's character disappears in the first few minutes of episode 1 as he collapses from a failing heart and thus far he's laid in a coma for the remainder of the first two episodes.
His impending demise is what leads his chaebol parents to hatch a plan to get a new heart for him using any means possible, which leads to head minion ordering a hit on Kang Ji Hwan's character to render him legally dead so a heart transplant can take place. Hilariously enough his character is tougher than a street rat and comes back to life on the operating table which ruins the heart stealing plan and leaves the chaebol family with a big problem on their hands. They had to legally register him as a family member so they could authorize him being declared dead and donating his heart to Daniel's character, so now that he's not dead and the news gets out, they suddenly have a long-lost son to deal with. What makes it work is how quickly Kang Ji Hwan cons on to the fact that he's being majorly conned and he's so bad-ass when it comes to being taken advantage of. It feels less like a David v. Goliath story as it is how a scrappy guy can go toe-to-toe with the rich and powerful based on guts and street smarts alone.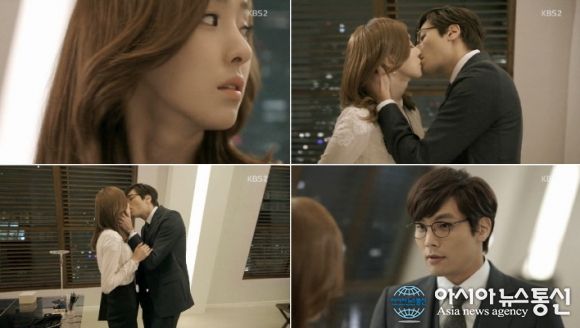 Lee Da Hee's character So Mi Ra is blander than soggy white rice and my brain glazes over anytime she shows up. Other than scenes with Daniel Choi's Kang Dong Seok, who appears quite ruthless and smirky in the few seconds I saw of him before his heart gave out. Theirs includes a cute childhood growing up together so I ship them no matter what. Mi Ra spent all of episode 1 wondering where the heck Dong Seok went after he called her out (to propose, but she doesn't know that) and then never showed up. She then spends all of episode 2 crying about Dong Seok being in a coma and vaguely contemplating offing Kang Ji Hwan's character Kim Ji Hyuk so that Dong Seok gets that heart transplant. She doesn't do it, of course, but ends up moping with looking very constipated in all her scenes.
Poor Dong Seok, I wonder if he would have approved Plan Steal a Heart if he was awake to learn about it. He does seem rather entitled and might think it's no big deal to just conk a man over the head and then inject him with heart stopping drugs just to swipe his heart. Or he might not, maybe only his parents are sociopaths. It's going to be sweet to watch Ji Hyuk get his revenge on them.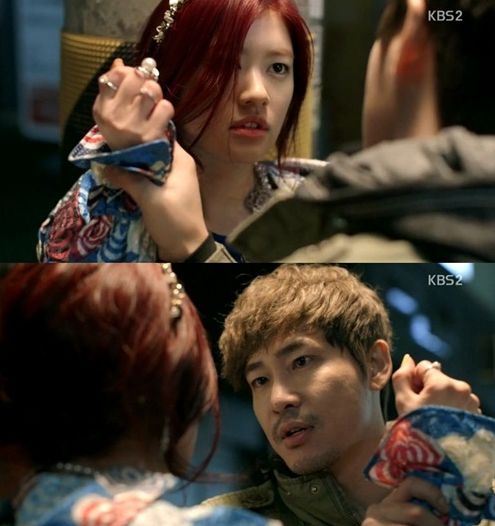 Kang Ji Hwan's character Ji Hyuk and Jung So Min's character Kang Jin Ah are amazing to watch together. Every second crackles with intensity and chemistry, plus Jin Ah is way more interesting a female character than Mi Ra. She's bitchy and angry and immediately intrigued by Ji Hyuk. Plus he's so gruff and tall while she's a tiny spitfire. I love them together so much already!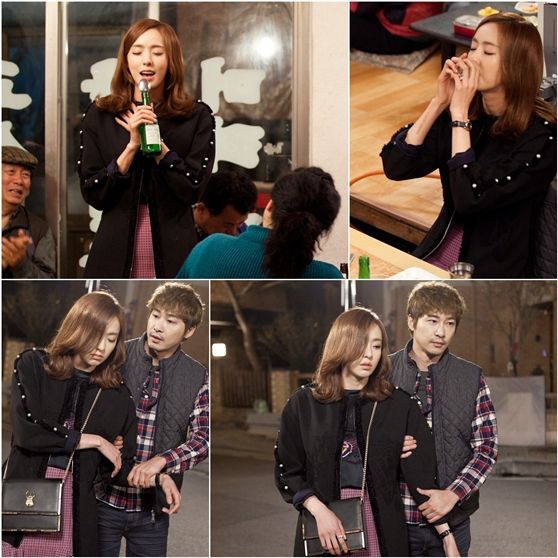 The directing is quite decent here and is amplified with an unexpected soundtrack and the juxtaposition of intense moments with quieter introspective fare. I don't have a single complaint on the acting from the leads to the supporting cast, everyone is doing their part though the entire drama rests on Ji Hyuk's shoulders. He's a fascinating character to watch and being played by Kang Ji Hwan is just icing on the cake. The ratings started off low at 6.0 but then dropped to 4.8 by the second episode so I'm not expecting this drama to really hook a lot of viewers. I wanted to recap but the two set up episodes don't provide a lot to write about other than doing its job of setting the stage of more exciting developments to come.
What really makes this crazy story work is that the baddies don't get away with their supremely evil plan and the hero finds out quickly that things are not what it seems. He may be an uneducated and uncouth street rat but he's not an idiot. The whole "welcome home son!" playacting on the part of the parents is hilarious for how fake it is and even better is knowing they are stuck with Ji Hyuk as their long-lost son until they can find a way to remove him with the entire world watching. Meanwhile Ji Hyuk is clearly going to make waves living in the world of the chaebols, especially with a fake little sister who already has an love-hate relationship with him. I'm watching for the sparks between Ji Hyuk and Jin Ah and to see where this wacky little story is headed. Wanna join me?
Click here to watch Big Man.