I'm thoroughly enjoying watching the SBS Mon-Tues melodrama Temptation. It's rounded the corner from the first half of its run and narratively everything is all shaken up. Whether a particular viewer likes the way things are unfolding depends on how one approaches Temptation. This is a story of four equally messed up adults, two very rich and two very poor, and a strange only-in-dramaland tempting game where all the elements are perfectly aligned. Female lead Choi Ji Woo's Se Young sees a married couple played by Kwon Sang Woo and Park Ha Sun who are financially at the end of their ropes. She is attracted to the husband Seok Hoon and is emotionally sociopathic in her thought process that she offers him a huge sum of money equal to the staggering debt he owes in exchange for three days of his life where his body belongs to her. It's sounds so sleazy and tawdry and the wife Hong Joo thinks so as well, but since she was planning to kill herself because of her husband's debt, he takes the offer even believing that Se Young wants him as a gigolo for three days.
Turns out Se Young wants to play mind games and merely keeps Seok Hoon around for chaste company, but the kicker is that she won't let him contact his wife Hong Joo who of course thinks her husband is providing sexual services. This three days turns everyone's emotional knockers upside down and despite paying off the debt Hong Joo and Seok Hoon fight to no end and end up divorcing. Even SBS knows this drama conceit is absurd so allows the two leads Se Young and Seok Hoon to actually be adorable and date now that he's divorced and she's way more fun for him to be around that his whiny now ex-wife. These new drama stills will make plenty of fans happy as the usually cold Se Young has thoroughly melted for Seok Hoon and he's finally able to act on his reciprocated attraction to her. There are also new stills that show the two second leads hugging as well, though it feels less romantic and more a comforting embrace.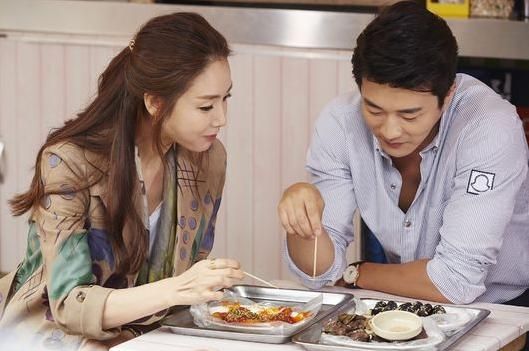 Over on the rich people side, second male lead Min Woo is a total playboy and has gotten close to angry Hong Joo who he hires to babysit his illegitimate son and he's also constantly battling with Se Young over business supremacy. Temptation has the annoying characters (Hong Joo and Min Woo) who have shit happen to them and refuse to let it go, thinking everyone else is at fault and then being vindictive about it afterwards. But it also has less annoying and way more interesting characters (Se Young and Seok Hoon) who suck as human beings by trying to rationalize away crossing the line little by little. Basically roles models this drama does not have.
I hate everyone in this show if I were to assess their thought process and decision making skills, but good lord is it fun to watch the bad behavior flag fly without shame every which way. I'm pretty sure Se Young will die in the end but until then imma going to enjoy the romance bits with her and Seok Hoon. I make no moral judgment about cheating, divorce, etc. when watching this particular drama because it's not the right drama for that. It's just a K-drama fantasy vehicle where impossible elements happen to reunite Choi Ji Woo and Kwon Sang Woo in a supposed adult and serious setting but is simply a less stupid framework than their Stairway to Heaven together
I think my sympathies lay more with Seok Hoon, ergo I'll be happy to support whatever he wants, simply because Hong Joo is so freaking mentally and emotionally childish she needs to wise up and realize the world does not revolve around her. Sure lots of shit happened to her and Se Young is a horrible bitch but then again, Hong Joo contributed her fair share to the eventual fall out of the marriage. If Hong Joo had pride then move on and stop wallowing in the past misery. The best revenge is to be better off afterwards. I wish I could cheer Hong Joo on but as a bitter divorcee she just makes me want to roll my eyes and tell her to buck up and come back to the real world party when she's put on her big girl panties. Since watching Hong Joo is so aggravating even if she ought to be the more sympathetic character, I'll just enjoy boarding the dramaland only non-judgment ship that is Seok Hoon-Se Young. At least the view is more fun over there.