After translating thirty-eight dense chapters and following the drama progress for over two years, I think I'm done writing about Da Mo Yao. At least done when it comes to having more opinions about the casting, struggle to get on air, and first peeks at the end product. The upcoming C-drama renamed Sound of the Desert is finally arriving on the small screen in a few days and I'll be ready whether or not I feel like it. Two years ago I would actually be so excited this blog would be a series of posts on just this drama. The fervor has died down but the goodwill remains, not to mention leads Liu Shi Shi and Hu Ge are two of my favorite young C-actors. The two attended the official drama press conference this week with the other lead Eddie Peng sending a video from Taiwan where he's currently busy on a project. Eddie has been mainly movies for the last few years so I'm sure his fans will appreciate his return to the small screen playing General Wei Wu Ji.
I'm watching for the reunion of Shi Shi as Xin Yue and Hu Ge as Jiu Ye in their umpteeth drama together but finally getting a straightforward love line. Those who have read the book know that their love one is the angsty one and during the press conference, Shi Shi playfully punched Hu Ge in the head to get him back for rejecting her so many times in the early parts of the drama and making her suffer. Oh sweetie, he's going to suffer wayyyyyyy more than you'll ever know just to make you happy. A furry Alaskan Mamalute bounded on the stage to join in the festivities, standing in for the drama's Brother Wolf and all the doggies who played wolves for the filming. As much as this press conference was for the drama, for the life of me I cannot take my eyes off new and improved Hu Ge. Who knew facial hair can transform this man from leading man handsome to oh-my-god-can-I-carry-your-child-please gorgeous. He's never allowed to shave that goatee off. EVER.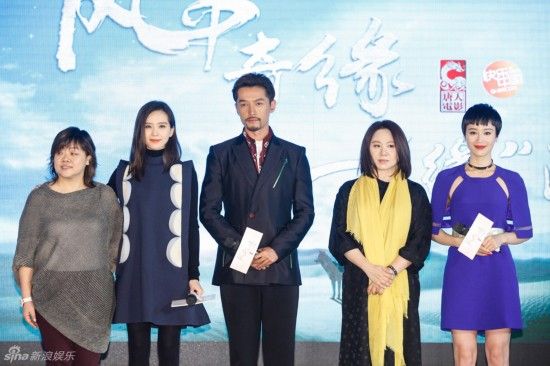 Even though Eddie couldn't make the press conference in person, he delivered a major laugh for everyone present when he weighed in on the question of which guy Shi Shi should be with (since this drama relies on a major love triangle) by making a succinct and final proclamation of "Shi Shi belongs to 4th Prince!" Good one, Eddie.