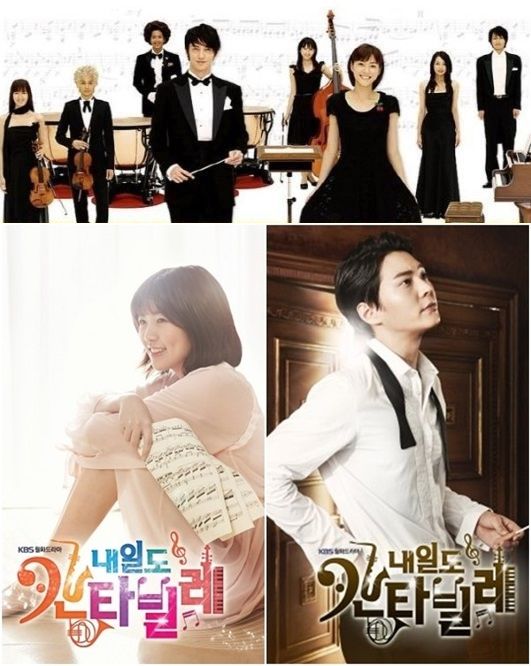 Hate to have to say this, but maybe K-dramas really shouldn't attempt another Japanese manga adaptation for the foreseeable future. Or at least hold off until it figures out how to delicately flesh out the source material in a Korean aesthetic without butchering it wholesale. I haven't written about Tomorrow's Cantabile (Naeil's Cantabile), the Korean adaptation of the shoujo manga Nodame Cantabile, since it premiered last week. I honestly don't have a single good thing to say about it after watching the first two episodes so refrained from piling on or raining on the parade of those who do like it. It's not for me doesn't mean it's not for somebody out there.
Sadly for production coming in with high expectations, it's now looking more and more like a whole lot of people may not find it a palatable either despite the big name stars and big budget. TC premiered on KBS with a decent 8.5% ABG rating for episode one but since then it's been on a fast track downward spiral, dropping to 7.4% in episode two and now to 5.8% with yesterday's episode three. Ouch. Every previous Joo Won drama on KBS has been a massive ratings hit from Baker King Kim Tak Goo, Ojakkyo Brothers, Gaksital, and Good Doctor but it looks like his KBS hit streak has finally come to an end.
Tomorrow's Cantabile's double-digit ratings drop is even more noticeable considering Mon-Tues have been a dead man's land in terms of quality dramas and ratings, the stupider than a sack of potatoes fantasy sageuk Records of a Night Watchman leads in the low teens ratings mostly by inertia of not having any competition. Discovery of Romance was too frustrating for most viewers while The Secret Door likely too dour and/or serious, TC really had a ratings chance but blew it by basically being a case study on how not to adapt a popular written source material.
I haven't watched a second of The Secret Door so I can't render any opinion on that sageuk drama, but Tomorrow's Cantabile is qualitatively a better drama than Records of a Night Watchman, a drama that basically makes zero sense wrapped in bad acting from most of the cast. But TC being better than another crappier drama means nothing, especially when TC exists as a different version of a story where a nearly universally beloved earlier drama adaptation already exists. If there wasn't the Tamaki Hiroshi–Ueno Juri version of Nodame Cantabile, then perhaps TC would be received better since it has nothing to stack up to. But the reality is that TC was always going to be judged both on its own merits and against the J-dorama, and knowing that the production still failed in all ways to grasp the source material.
Joo Won doesn't bring the condescending arrogance and pent-up frustration of Chiaki while Shim Eun Kyung turns Nodame from a weirdo into a straight up fool. Between the two of them, Joo Won is actually more bearable to watch, I basically cringed through every scene from Shim Eun Kyung in the first two episodes. She's doing a shockingly terrible interpretation of Nodame, whether it's her own take or she's being written/directed that way. Nodame is an oddball on campus, not the school buffoon, a 4D girl with a love of music and a lack of social graces. Shim Eun Kyung's Naeil is basically the campus idiot. So wrong, so much wrong I can't even.
K-Stresemann is dull without any zing to him and even the pitch perfect Milch Holstein joke fell flat when it was such a brilliant aside in the original. There are too many side characters in the K-version so that none of the main leads are given the proper development, and what passes for character development is glossed over rather than organically introduced. I'm not even going to touch the music but my classical musician drama friends have declared the K-version to be butchering the musical playing while at the J-version properly paid respect to the technique of the piano playing and the conducting.
Nodame Cantabile is nowhere near my favorite J-dorama, the first time around I enjoyed it and moved right along when it was done without any lingering attachment to the story. The K-version actually makes me appreciate the J-version more for so effortlessly bringing to life such a rich weird musical world without ever making it feel like a caricature. If the ratings for TC resurrects after hitting this new low then the production can heave a sigh of relief otherwise TC continues the multi-year ratings bombs of drama adapted from Japanese mangas.