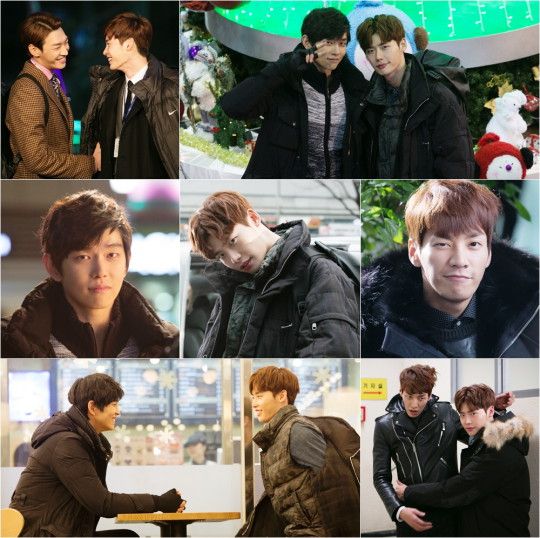 I know K-dramas have been on a flower boy roll for the last few years, but recently I've really started noticing that all the leading men in K-dramas have gotten progressively taller and taller. Early Hallyu had quite a few leading men who can be considered actor-short (i.e. Tom Cruise level height), not short compared to the average Asian man but visually on the height impaired side once they are onscreen. Nowadays almost all the leading and second lead men are basically tall and taller (not to be confused with dumb and dumber).
For two currently airing dramas, leading ladies Baek Jin Hee in Pride and Prejudice and Park Shin Hye in Pinocchio might need neck therapy after the drama ends. In Pinocchio, Yoon Kyun Sang is the tallest at 188 cm, actually making the already ridiculously tall Lee Jong Seok at 186 cm seem small, then toss in Kim Young Kwang at 187 cm and the three can dominate any pick up game at the court. In P&P, Lee Tae Hwan's towering height of 187 cm, coupled with healthy brawny physique, is even played as a joke in the drama with talk of what a well-fed strapping young lad he is. Normally Choi Jin Hyuk is the tallest in any drama he's in at 186 cm but he adorably has to look up at Lee Tae Hwan to pull the hyung card.
I totally have a thing for tall guys so this trend works for me. These next gen K-actors have what even plastic surgery craze in South Korea can't manufacture in height. Other notable new generation young super tall male actors off the top of my head: Kwang Soo (190 cm), Kim Woo Bin (188 cm) Sung Joon (187 cm), Park Seo Joon (185 cm), Lee Min Ho (186 cm). Just being tall doesn't mean much, what's awesome is this crop of tall actors pretty much rock in the onscreen charisma department as well.