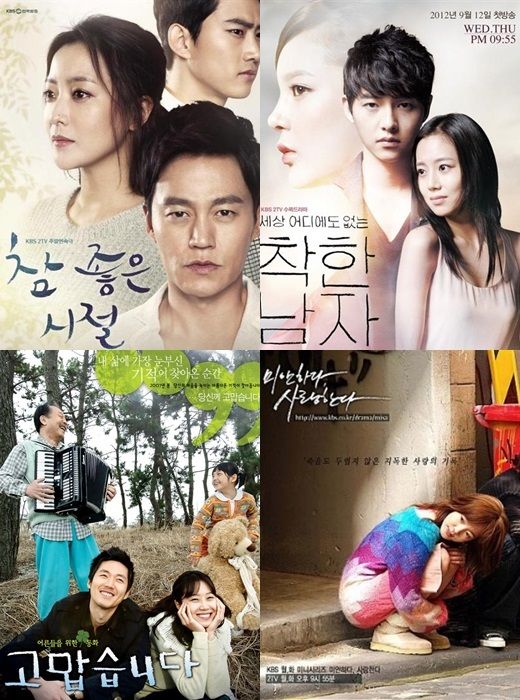 This rumored scheduling is too excellent not to share, not to mention highly probable to come true. MBC is lining up the remainder of the dramas this year and has a major trump card in hand for the fall season. Industry insiders are talking about famed screenwriter Lee Kyung Hee returning to MBC to air her new drama, with it being 8 years since she worked with the network as all her recent dramas have been on KBS or SBS. Lee Kyung Hee did Wonderful Days and Nice Guy for KBS and prior to that she worked with SBS on Will it Snow for Christmas.
Lee Kyung Hee's new drama is tentatively titled Liking is Just Like That and will be directed by PD Lee Jae Dong, who worked with her on Thank You back in 2007 on MBC. I love PD Lee's directing style and he's has been a busy bee after doing Thank You, more recently he directed My Spring Days, Missing You, and Hero. MBC is reportedly slotting this new Lee Kyung Hee drama for Wed-Thurs in early fall to follow after Scholar Who Walks the Night. The only info on this new drama is that resembles Thank You in narrative mood and is described as an adult fairy tale like romance.

Thank You is one of Lee Kyung Hee's non-melos, of which she's super famous for such as Nice Guy, A Love to Kill, MiSa (I'm Sorry, I Love You), or Will it Snow for Christmas. TY feels more like Sang Doo, Let's Go to School and Wonderful Days, this bucholic locale of a more simpler times hiding wells of pain and suffering made palatable by the strength and resolve of the leads in coping. Sang Doo is probably my personal fave Lee Kyung Hee drama with Nice Guy coming in a close second and Thank You rounding out the top three. She writes very resilient strong female leads and emotionally battered screwed up male leads, yet somehow makes it all come together in whatever narrative concoction she's conjured up.
She also is known for working multiple times with stars cast in her dramas – Gong Hyo Jin (Sang Doo, Thank You), Rain, (Sang Doo, ALTK), Song Joong Ki (Will it Snow, Nice Guy) – so I wouldn't be surprised to see a former Lee Kyung Hee alum potentially cast in this new drama. I so can't wait, other than feeling nervous with there being strong competition as Lee Kyung Hee's new drama will air in the same Wed-Thurs time slot a few weeks prior to the new Kim Eun Sook drama Descendants of the Sun. I'm so going to watch both even if my eyeballs fall out from exhaustion. MBC is clearly pulling out the big guns to go up against DotS on KBS while currently SBS hasn't scheduled that far out yet. Let the competition flag fly, ladies!