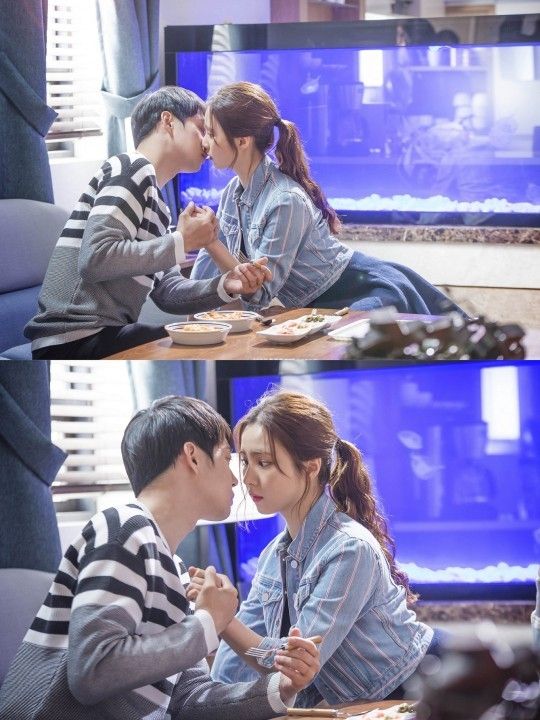 Tomorrow is Smelly Girl day and I couldn't be happier to associate hump days with The Girl Who Sees Smells for the remaining weeks of its run. Last week's episodes weren't as explosive as the week prior, mostly because the grand reveal of chef Jae Hee as the serial killer is a pretty hard high point to beat. Instead of gaspworthy reveals, last week's episode brought Moo Gak and Cho Rim together as a romantic couple. Cho Rim being worried sick for Moo Gak's safety and Moo Gak kissing Cho Rim is hard to argue that they are just platonic friends.
Sometimes a girl just needs a DTR (defining the relationship) talk, however obvious the skinship has progressed. That means Moo Gak needs to tell Cho Rim how he feels about her and boy is that going to be like pulling teeth. He's so emotionally withdrawn since losing his sister but Cho Rim has infused some life back into him so hopefully she'll given him the kick in the pants to just say how he feels to back up those kisses. On the investigation side, looks like the cops are about to get a major clue which bodes well for stopping Jae Hee from committing another murder even if it'll be hard to pin him down as of yet.
Written preview for episode 9:
Cho Rim tells Moo Gak that she sees the face of a woman in her mind. Moo Gak tries to help Cho Rim regain her memory so he makes a composite sketch of the woman Cho Rim sees in her mind. On the other hand, Jae Hee hires a private investigator to find out where Choi Eun Seol is now.
Preview for episode 9:
Cho Rim tells Ae Ri that she and Moo Gak aren't dating, and says the same thing to Detective Yeom, who wonders if Cho Rim is upset because Moo Gak hasn't made it clear they are a couple yet. Jae Hee explains to Cho Rim that he likes being a chef because of the process of assembling the ingredients into a final product. Moo Gak worries that the cops are at a disadvantage because the killer knows them and can watch their movies while they are in the dark about the killer. He wants to lure the killer to come to them. Moo Gak demands to know when Detective Yeom was certain Kwon Jae Hee is the bar code killer? She answers that she became certain after seeing him this afternoon.