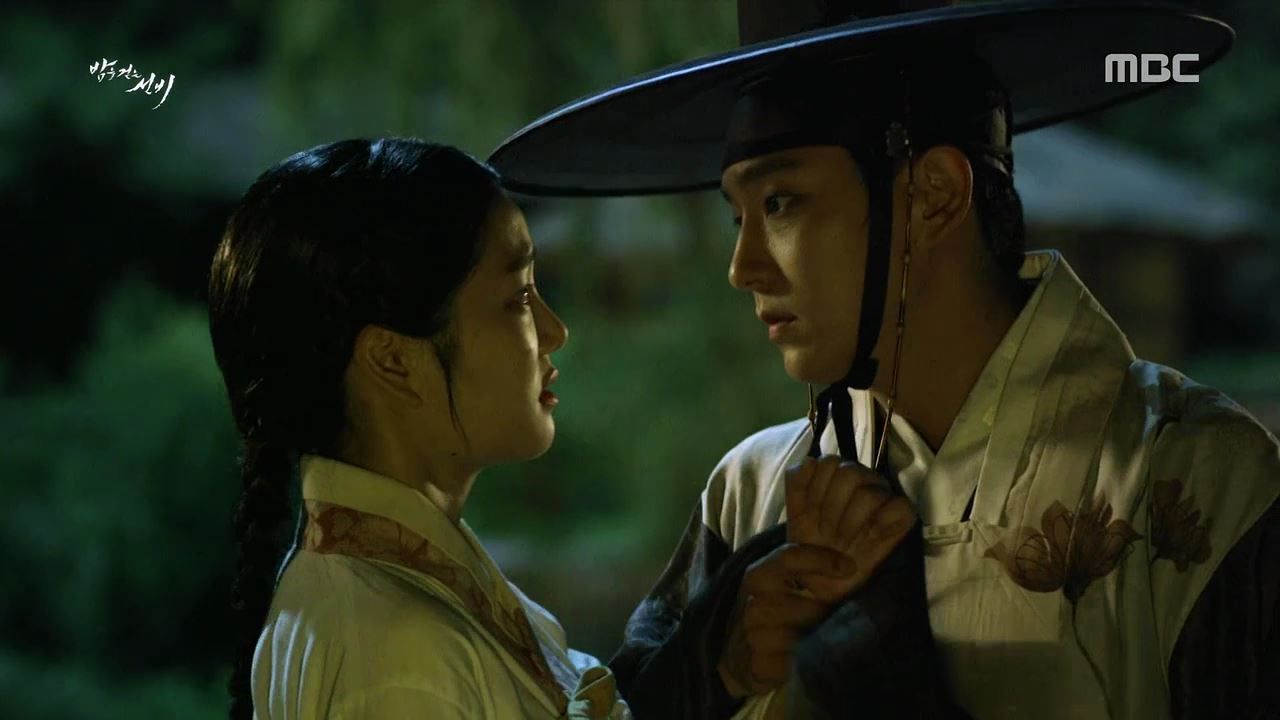 The shit hits the fan big time in episode 8 of Scholar Who Walks the Night, finally letting the romance take the backseat as Yoon's political plotting triggers major ramifications. Fortunately for our idealistic royal grandson, he avoids taking the fall for his own plot, but unfortunately for the people around him, there is plenty of fall to go around. Sung Yul is a very powerful and resourceful male lead but he continues to remain a reactive force in this drama, in action he gets things done but he never can get one step ahead of the big picture fight. He needs the memoir to defeat Gwi, maybe, and now he finds himself scrambling to save Yang Sun and co from the King's smart plan to sacrifice them to protect Yoon.
Yang Sun's role in this drama keeps growing along with her importance to the secrets and clues strewn around. But each time she takes one step forward, like confronting Sung Yul about his feelings for her, she takes two steps back, like mooning over him and getting nabbed when she has to go home to retrieve her shoes. I know the drama plot needs Yang Sun in danger, at least once per episode, but it would be great if her danger didn't happen because she's acting like an idiot to bring it around. Hye Ryung continues to be there and do nothing other than plot silently like a particularly baleful bitch, while Gwi has lost all luster for me by virtue of being so one-track minded in maintaining power since every decision he makes starts and ends with "kill them all!" All in all, Scholar remains watchable with a side of frustrating.
Episode 8 recap: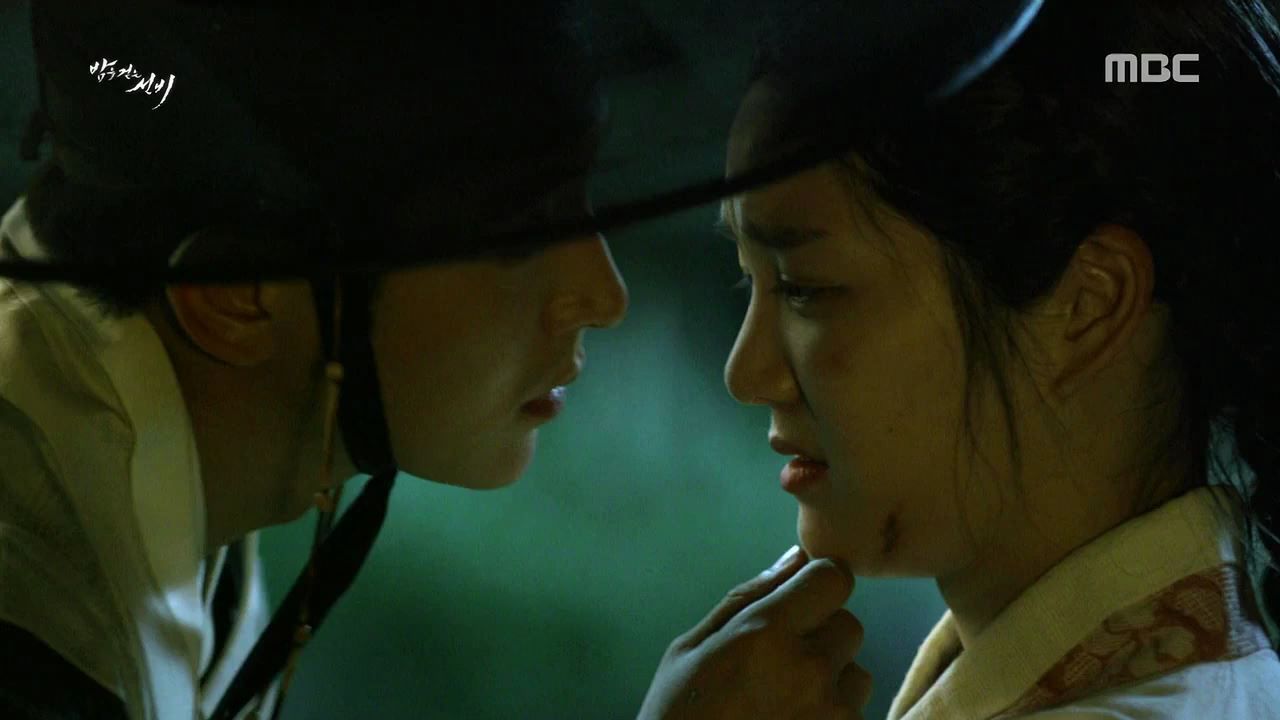 Yang Sun get up her courage to ask what Sung Yul really feels about her. He takes the "I'm going to be super mean and drive her away" approach in answering her question, getting up close and personal with her and asks if she can handle hearing what he really feels since it's just all play to him. Sung Yul moves in with a rude kiss attempt which Yang Sun rejects. He laughs at whether she thinks he'll fall in love with her?
Yang Sun says there is no need for Sung Yul to be so cold towards her, she can understand how he really feels well enough. She just felt terrible that she couldn't help him, handing over the medicine she brought to help his injury heal. She asks Sung Yul to accept it but he puts on an uninterested face until Yang Sun walks away dejectedly.
Yang Sun orders herself not to cry as she slowly walks away with her heart in little pieces. But that's not enough to keep the tears from coming and pretty soon she's crouched on the ground sobbing her guts out.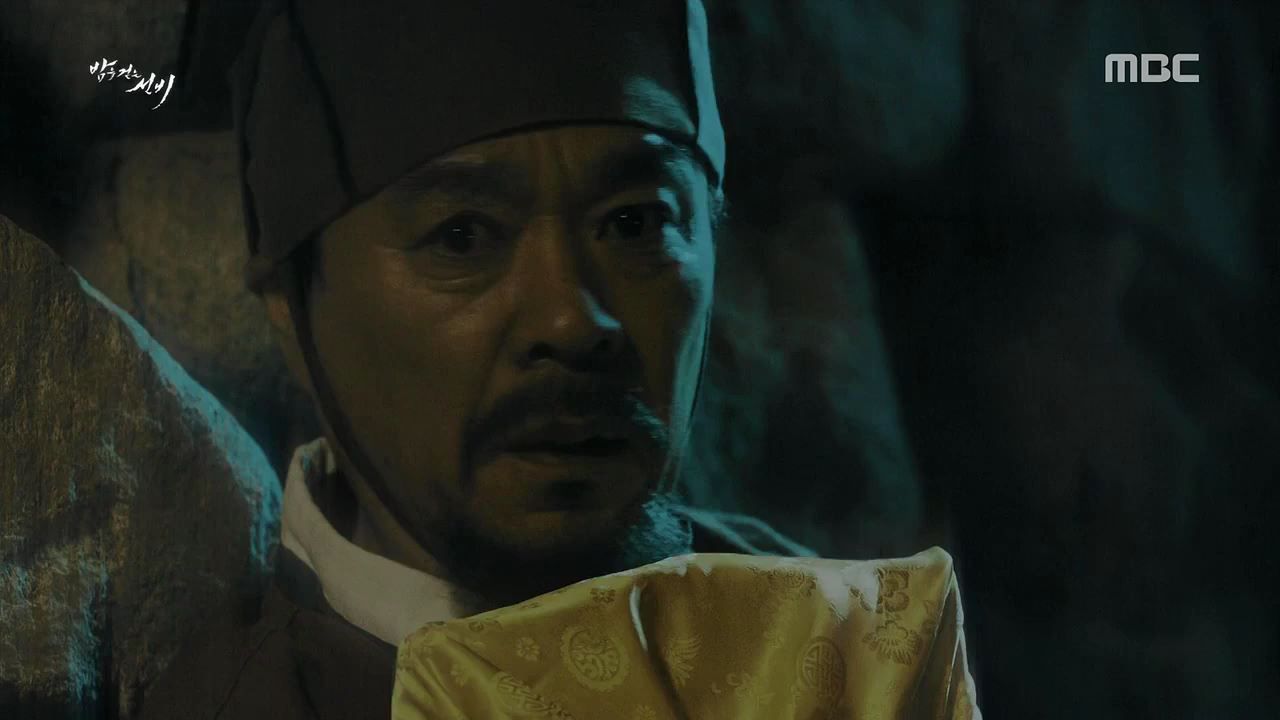 Yang Sun's adopted father is reeling over his sighting of Sung Yul with Yang Sun. Flashback shows that Gwi went to Teacher Seo's residence and sucked his blood while little Jin and the adopted father were hiding out of sight and could hear the screams of pain. When the screaming stopped, Jin came out of hiding and was promptly attacked by the now vampire Teacher Seo.
Jin gets bitten on the shoulder but is rescued by the arrival of Sung Yul who stakes Teacher Seo and puts him out of his vampire state. Yang Sun's adopted father witnesses this scene of Sung Yul staking Teacher Seo.
Yang Sun gets dragged home by her angry dad who hears that she was just with the Scholar, and he was the one hiring her lately to look for Prince Jonghyun's memoir. Dad immediately summons his wife to pack everything and they are leaving this very minute. The one-armed bookseller asks Sung Yul to allow him to return to see Lee Yoon.
Gwi cackles when he hears that Sung Yul saw Hye Ryung and she led him to the front of her house so he knows she's the daughter of the Prime Minister. Gwi marvels over how identical Hye Ryung looks to Myung Hee so there is no way Sung Yul will let the woman who died for him go. Gwi gets too close to Hye Ryung for comfort so she reminds him of their bargain. Gwi hasn't forgotten and the spot as the Crown Princess is waiting for her. Hye Ryung plans to lure Sung Yul to the place he used to live the next time she sees him.
The one-armed bookseller meets with Yoon and hands over important evidence in his possession, a list of the people who conspired to frame Crown Prince Sado ten years ago. The leader was Minister Ryu, who is now advising the King, and the grandfather to Yoon's good friend. He had the one-armed bookseller betray the Crown Prince in exchange for making him the diplomat to the Qing dynasty. Yoon is ready to set their plan in motion in two days.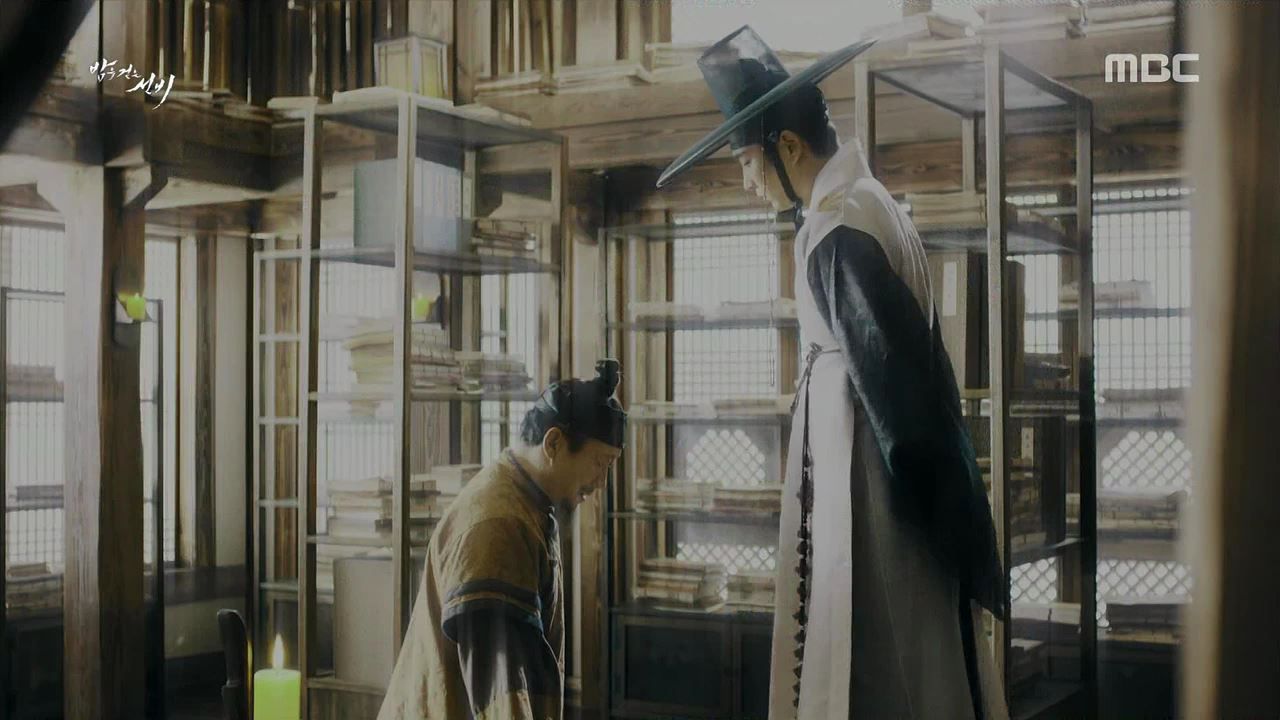 The one-armed bookseller remembers begging Sung Yul to let him live until he can repay the debt he owes for betraying the Crown Prince. Sung Yul asks the one-armed bookseller to keep his existence from Yoon until Sung Yul has a chance to tell Yoon personally.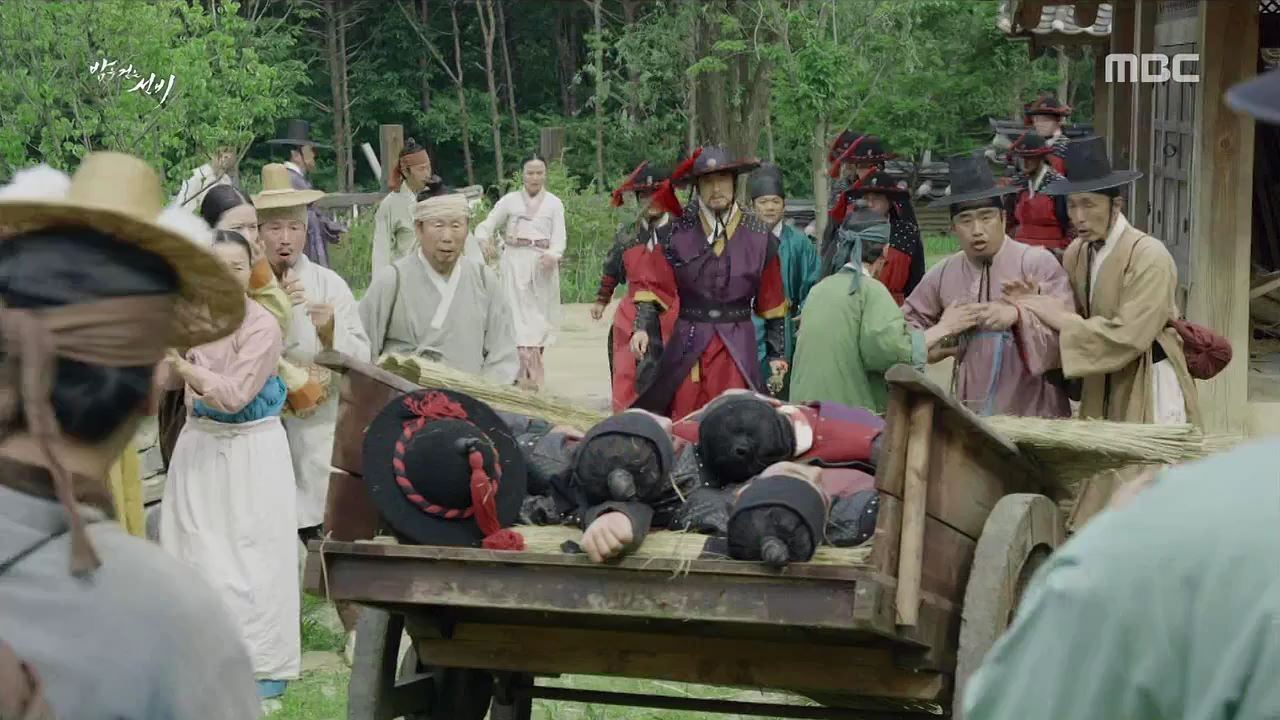 The dead guards killed by Gwi are set to be taken away and burned when the bodies are discovered missing. Sung Yul has stolen the bodies away, including the body of the dead consort.The dead bodies are left on a cart in the middle of the town square for the public to discover. The people naturally freak out seeing the dead bodies with bite marks on their necks.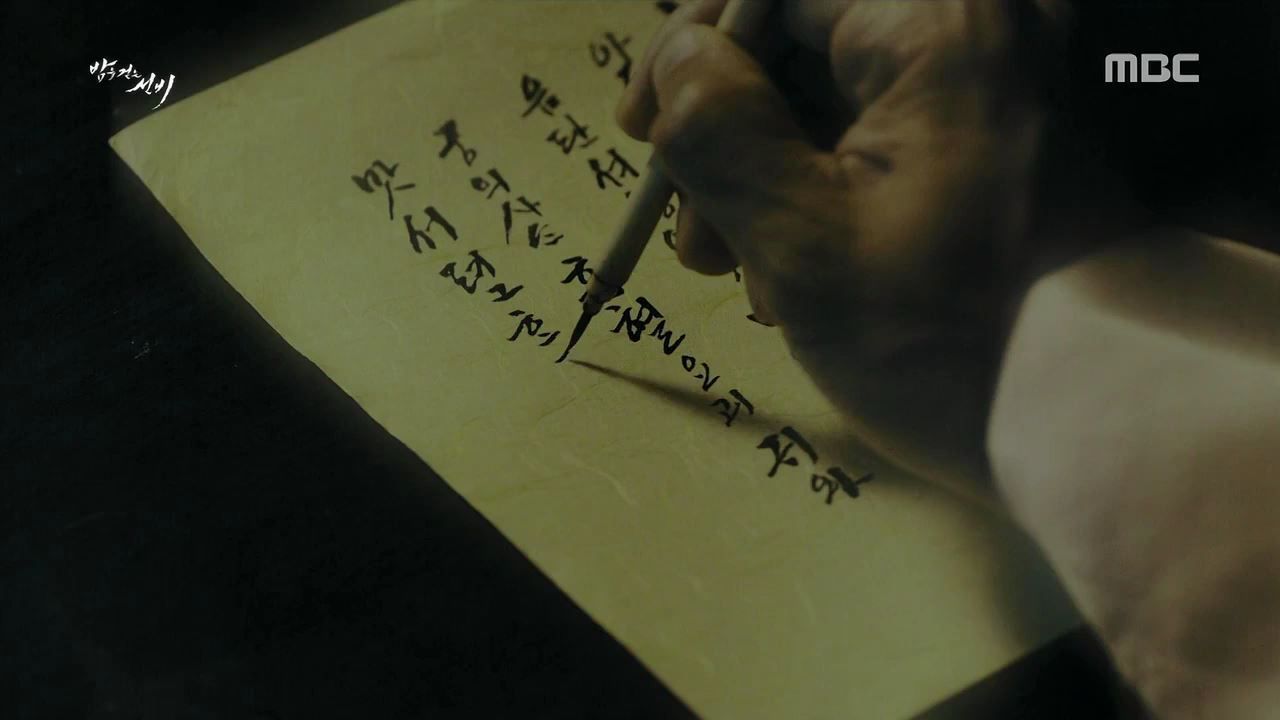 Sung Yul goes to Yoon's secret hideout and finds the new flyers he's preparing. Yoon identifies himself as the royal grandson and the Lecherous Scholar, vowing to battle the monster in the Palace for the sake of the people.
Sung Yul has kept the body of the consort and plans to awaken her to the vampire state when Yoon announces that he's the Lecherous Scholar. That way no one can doubt or deny the existence of vampires anymore. He plans to have the people see the vampire consort and then also see her turn to dust in the sun. Gwi can't stop it since the sun is out and he can't come out. Sung Yul then plans to reveal to Yoon that he has the same goal and work together to defeat Gwi.
The Prime Minister reports to Gwi that the public is starting to fully believe that Gwi exists. His response is to have everyone killed that discusses him. He tells the Prime Minister that if he brings Sung Yul to Gwi, then he will allow the King and royal grandson to be killed and the Prime Minister can be the next King. The King and Minister Ryu are discussing the push to expose Gwi to the public, with the King even more pressed to find the Lecherous Scholar and end this crisis.
Yoon pays his mother a visit the temple where she lives now praying for her dead husband and her son's wellbeing. She's begs Yoon not to do anything to put himself in danger as he's her only son. Hye Ryung arrives to summon Yoon's mom to dine and is introduced as keeping Yoon's mom company at the temple for the last year. Yoon thanks Hye Ryung for taking care of his mom but Hye Ryung believes she got better staying at the temple. Yoon remembers now crossing paths with Hye Ryung in the street.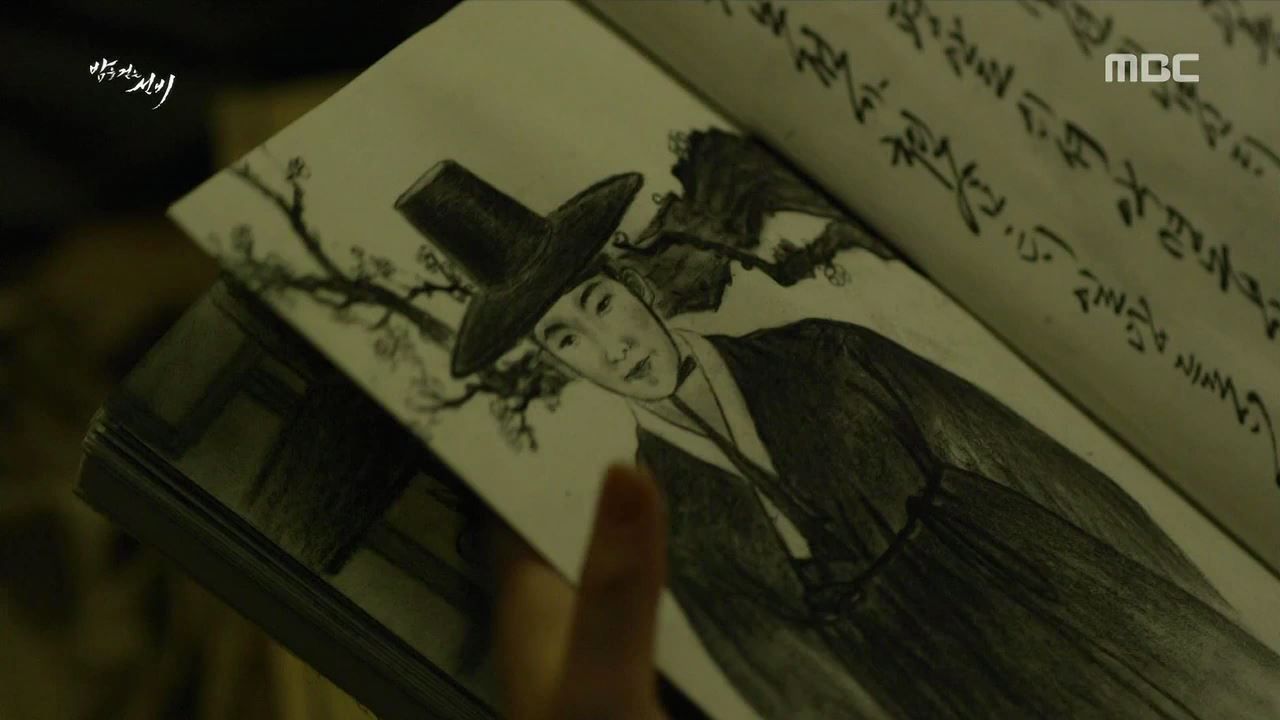 Yang Sun flips through the Scholar Who Walks the Night book and her little sister can tell that Yang Sun misses Sung Yul. Yang Sun puts on a brave face and plans to write a new book about the personal life of the Scholar. She narrates her own meeting with Sung Yul and all their interactions. In Yang Sun's telling, the Scholar fell for the girl, but she stops herself and calls it a dream so it's not interesting.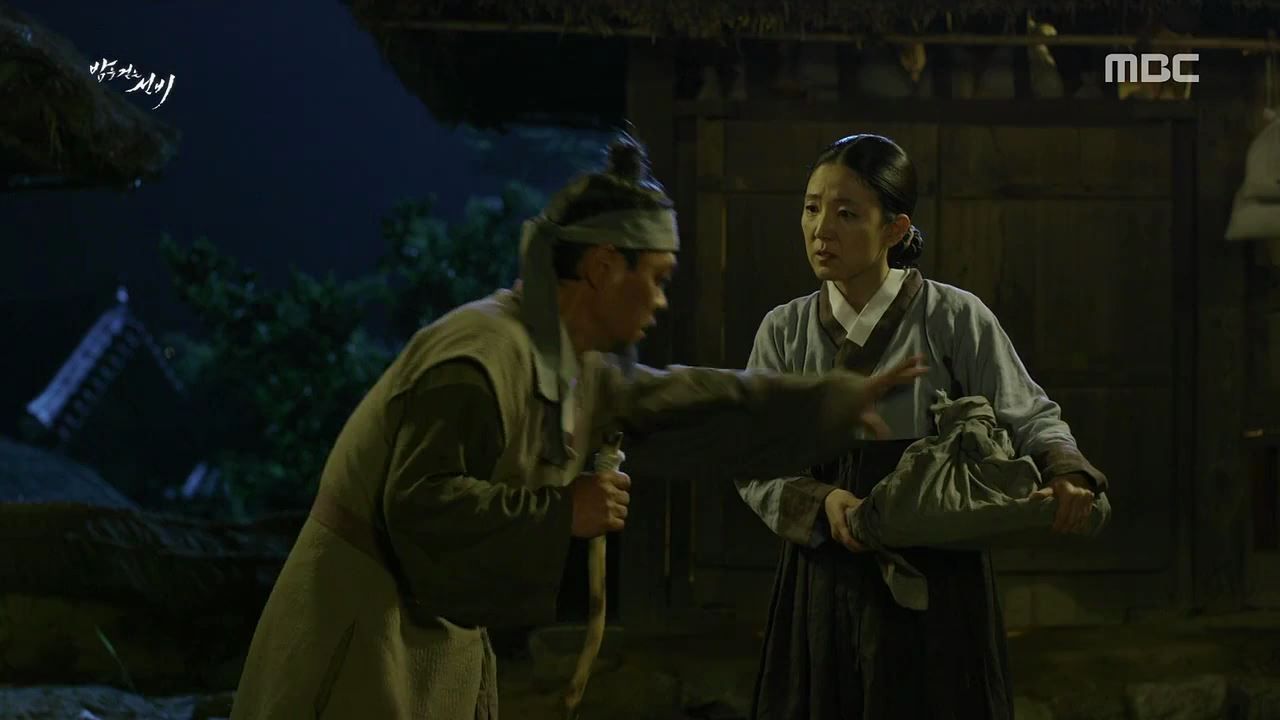 Yang Sun's adopted father is headed to the temple to pay his respects and his wife wonders who did her husband such a great favor that he's willing to go to such lengths even now. He goes to pray to the dead Crown Prince and asks what he should do with the memoir as it's too much burden for him to bear now.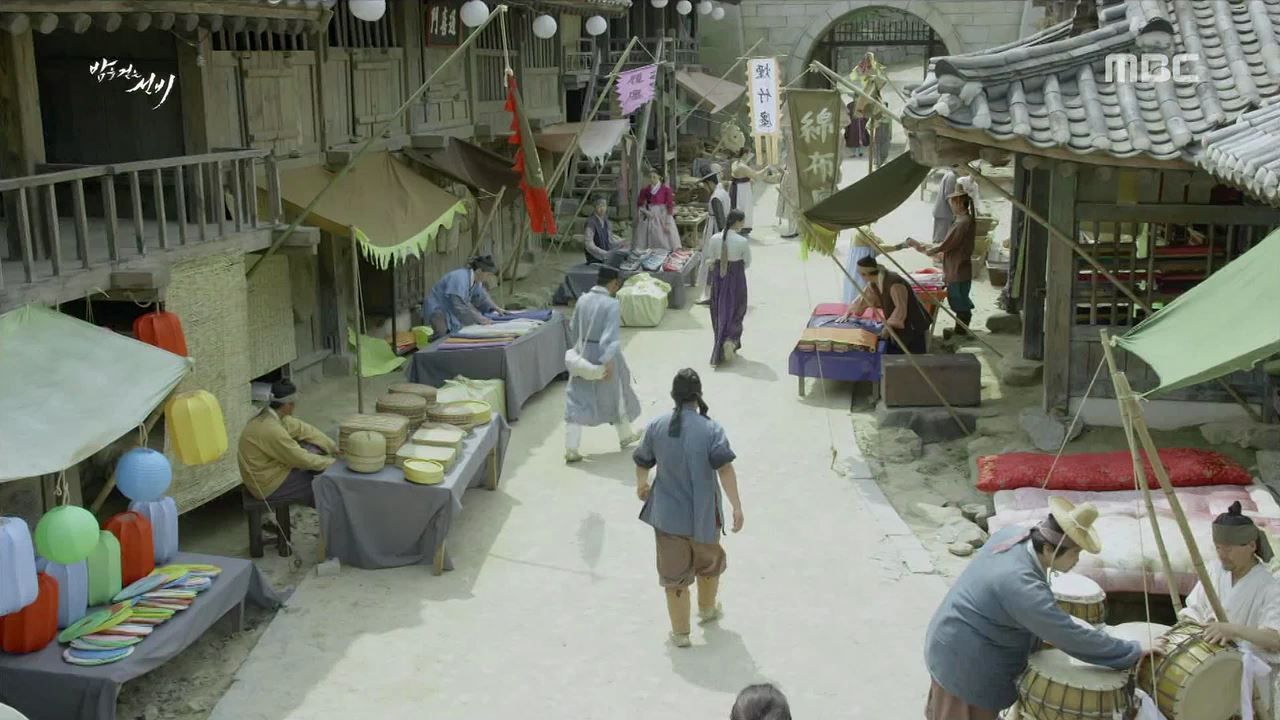 Sung Yul is heading out when his attention is caught by the night light Yang Sun gave him which suddenly cracks. Soo Hyang informs him that Yoon is getting ready to distribute the new Lecherous Scholar flyers. Ho Jin has set up a booth in the market with Soo Hyang and Sung Yul at the ready.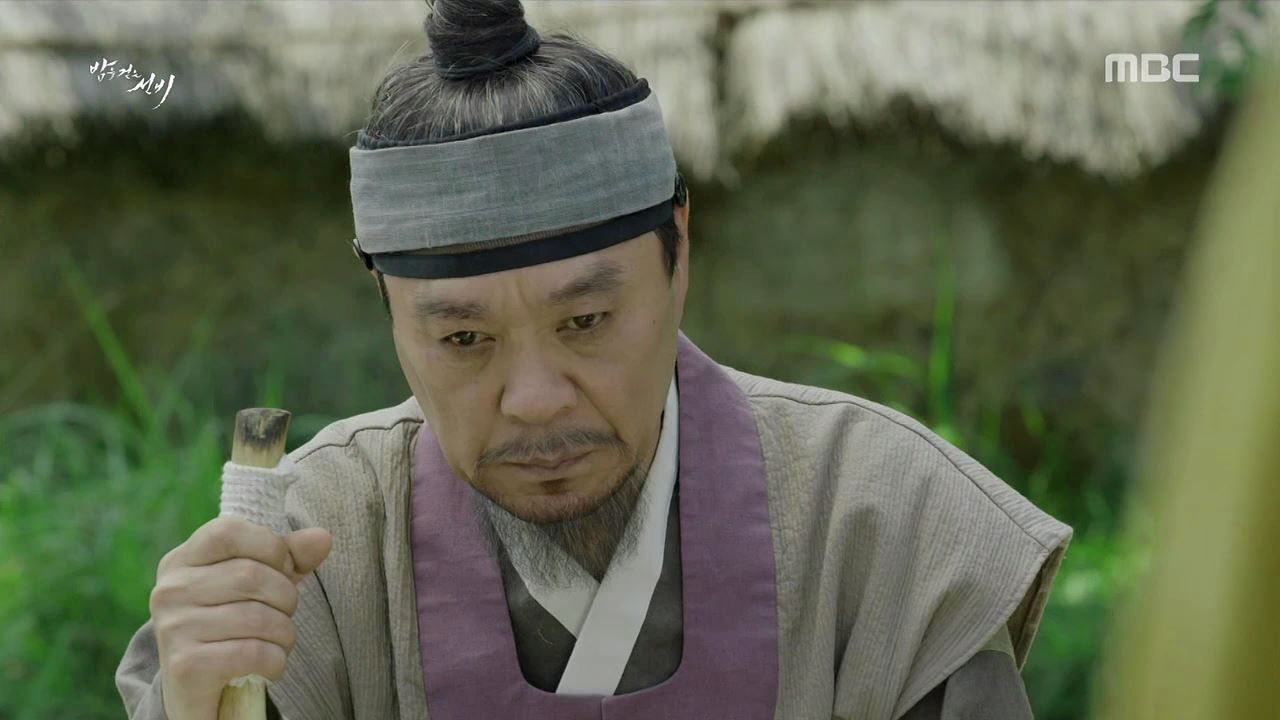 Yang Sun finishes packing and remembers her new shoes but can't find it. She asks to go back to their old house as she left something there but gets yelled at for behaving like this when they are in a rush and in danger. Yang Sun's dad allows her to go and accompanies her. Yoon's guard continues to follow Yang Sun.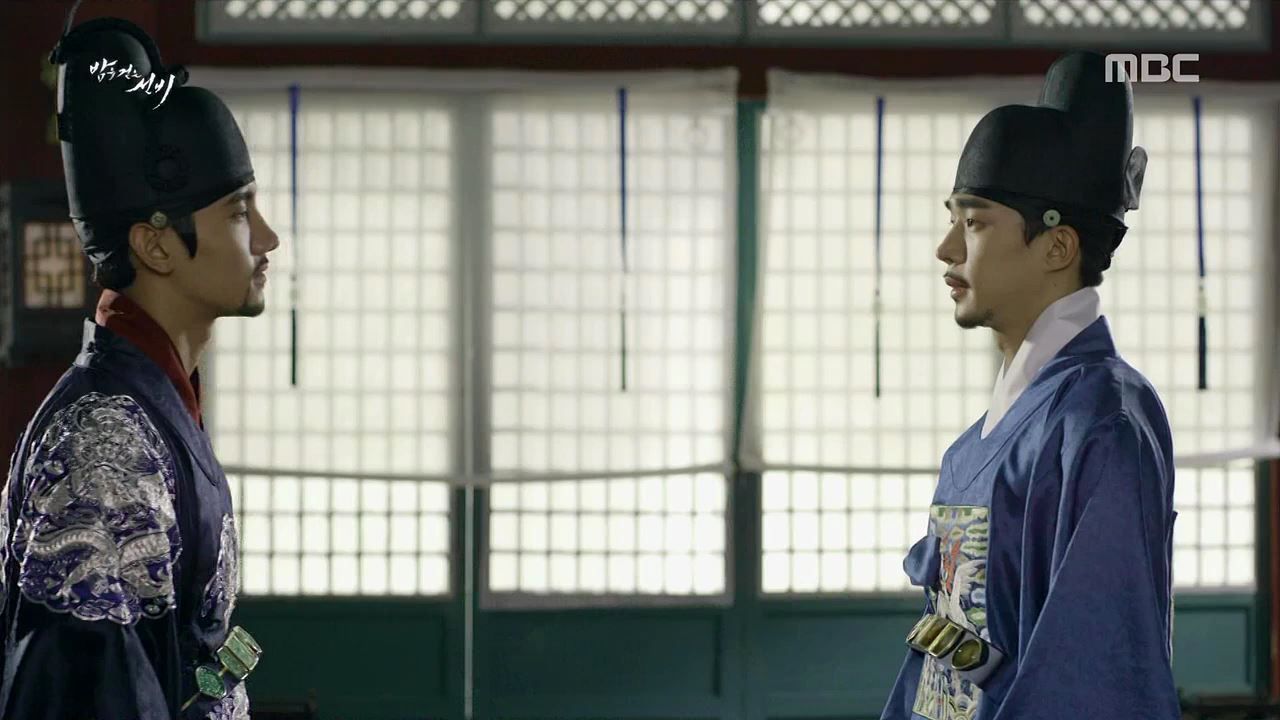 Yoon is in the palace and his friend begs one last time to be allowed to take on the mantle of the Lecherous Scholar in Yoon's stead. Yoon admits he's afraid of death but like the princes before him, there is no one who can take on what he needs to do. He asks his friend to bring the one-armed bookseller because his witness will be needed.
Yoon paces in the palace foyer and sense a presence join him. He demands to know who is there and Sung Yul, hiding behind the throne, tells Yoon that when the flyers go out today the dead body of the consort will be reanimated to corroborate the claims of vampires. Yoon demands to know who Sung Yul is but he only says that he is someone with the same goal as Yoon, to look for Prince Jonghyun's memoir and kill Gwi. Yoon wants to know who Sung Yul is that he knows the existence of Gwi. Sung Yul asks Yoon to trust him, then he will tell him everything. Yoon refuses, he wants to know everything first before deciding whether to trust.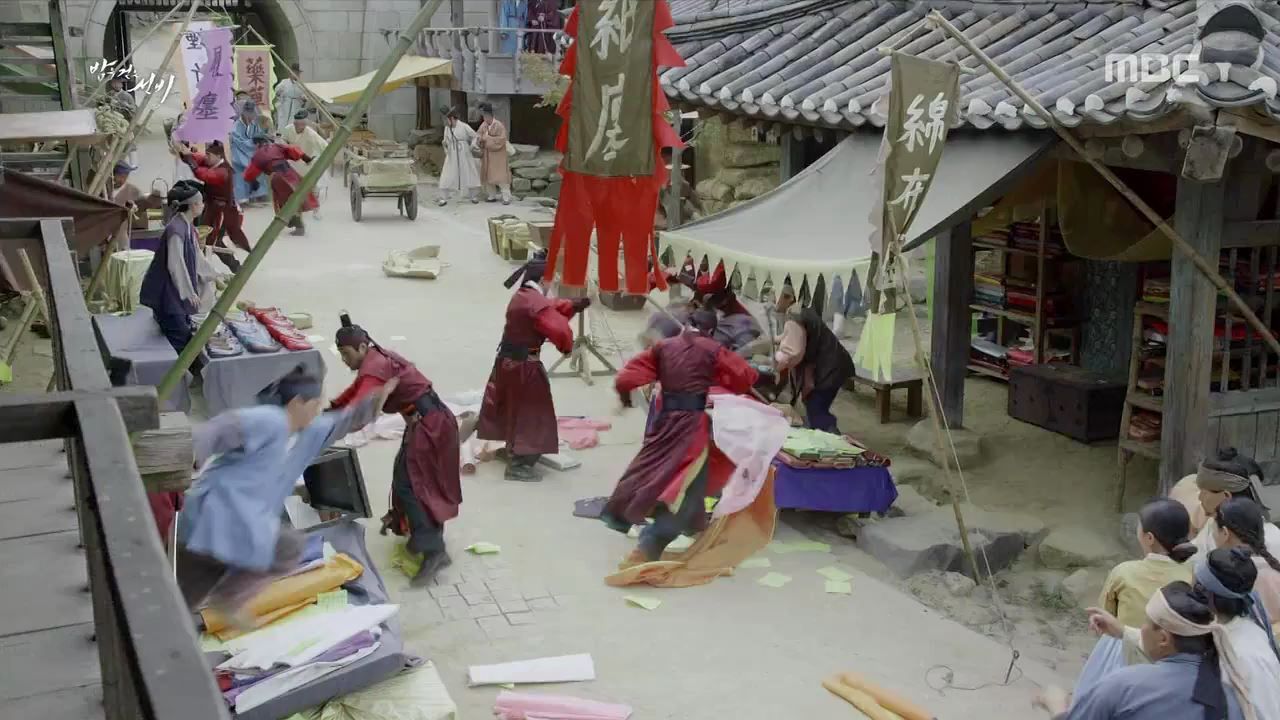 The King suddenly arrives to see Yoon. At the same time in the marketplace, all of Yoon's followers ready to distribute the flyer are suddenly killed or arrested by the King's guards. Yoon sees his guard standing behind the King and knows that he's been betrayed. The King announces how happy he is that today he gets to deal with the Lecherous Scholar. The one-armed bookseller is gravely injured by the King's men on his way to town.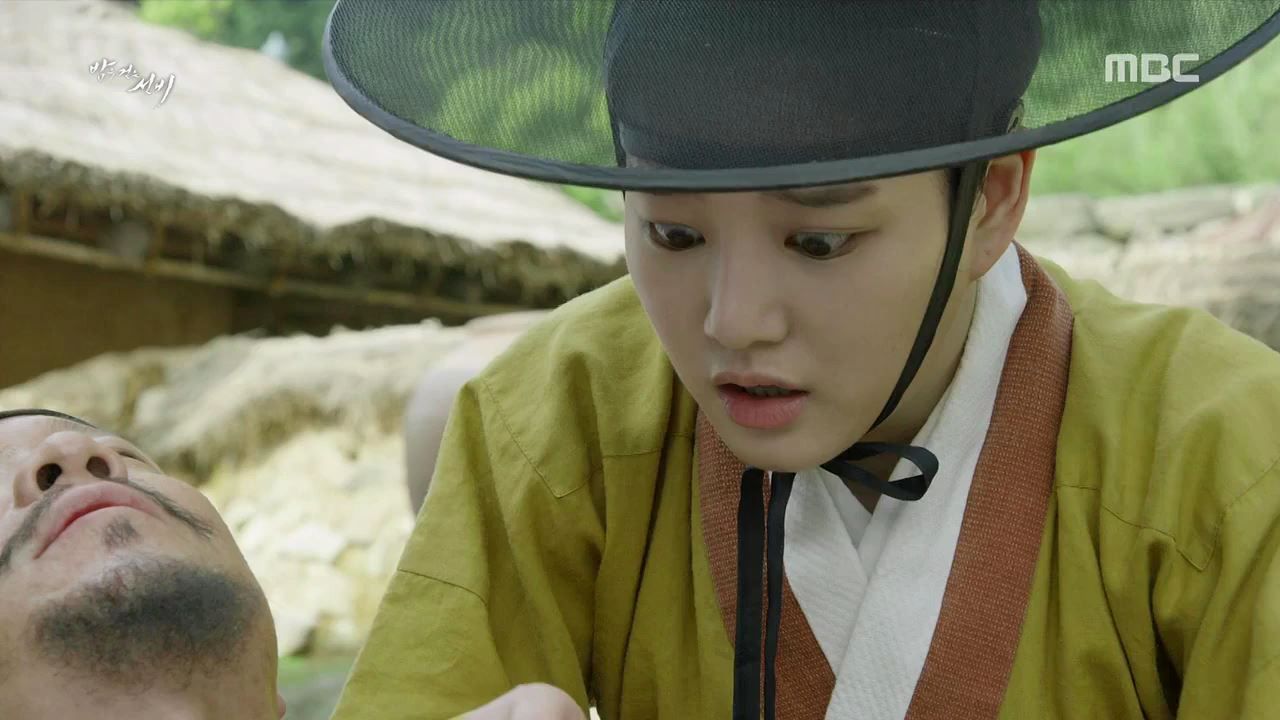 Yang Sun grabs her shoes at home and her dad tells her to put it on. Yang Sun puts on the shoes and promises to buy her dad a new pair when they get to Jeju and she makes money. The one-armed bookseller manages to make his way to the house and collapses in front of Yang Sun. The one-armed bookseller hands the betrayal document to Yang Sun and tells them that the Lecherous Scholar is the royal grandson. He dies and the King's soldiers arrive to arrest Yang Sun and her adopted father.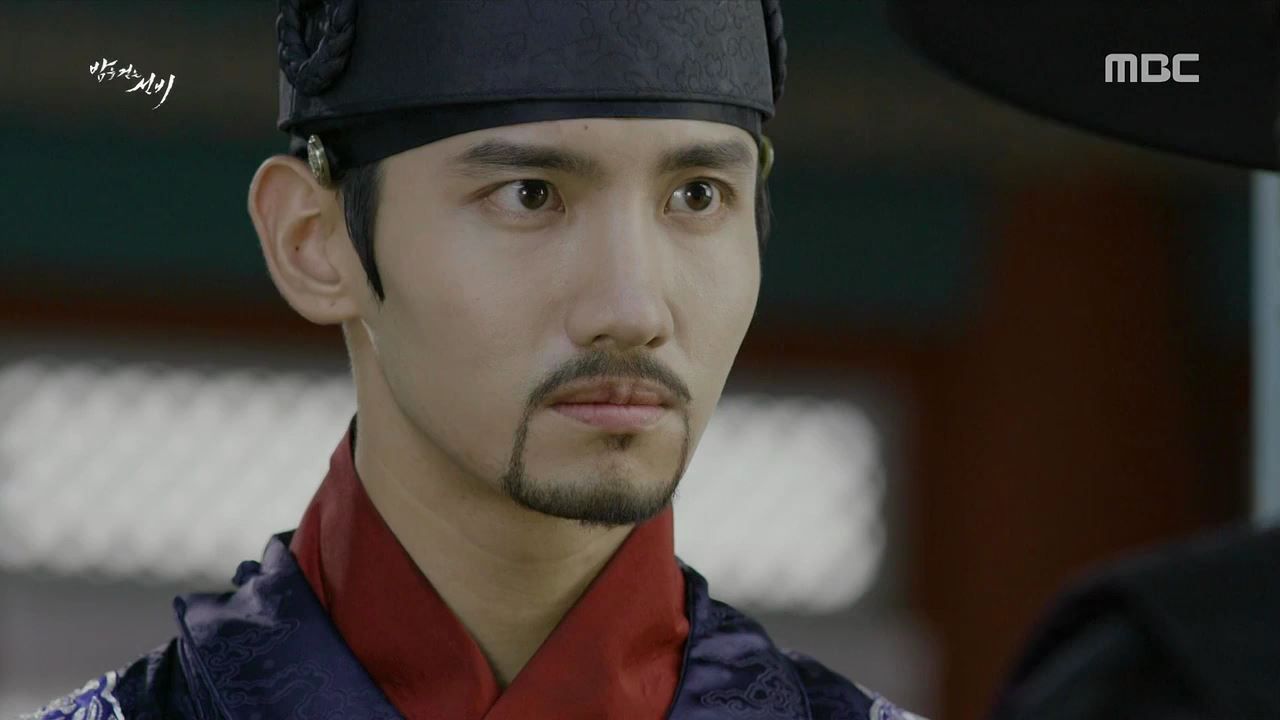 The King announces to Yoon, with Sung Yul listening on, that the Lecherous Scholar is a bookseller named Jo Yang Sun. He plans to have Yang Sun arrested and give this credit to Yoon. A search of their house turns up books and flyers.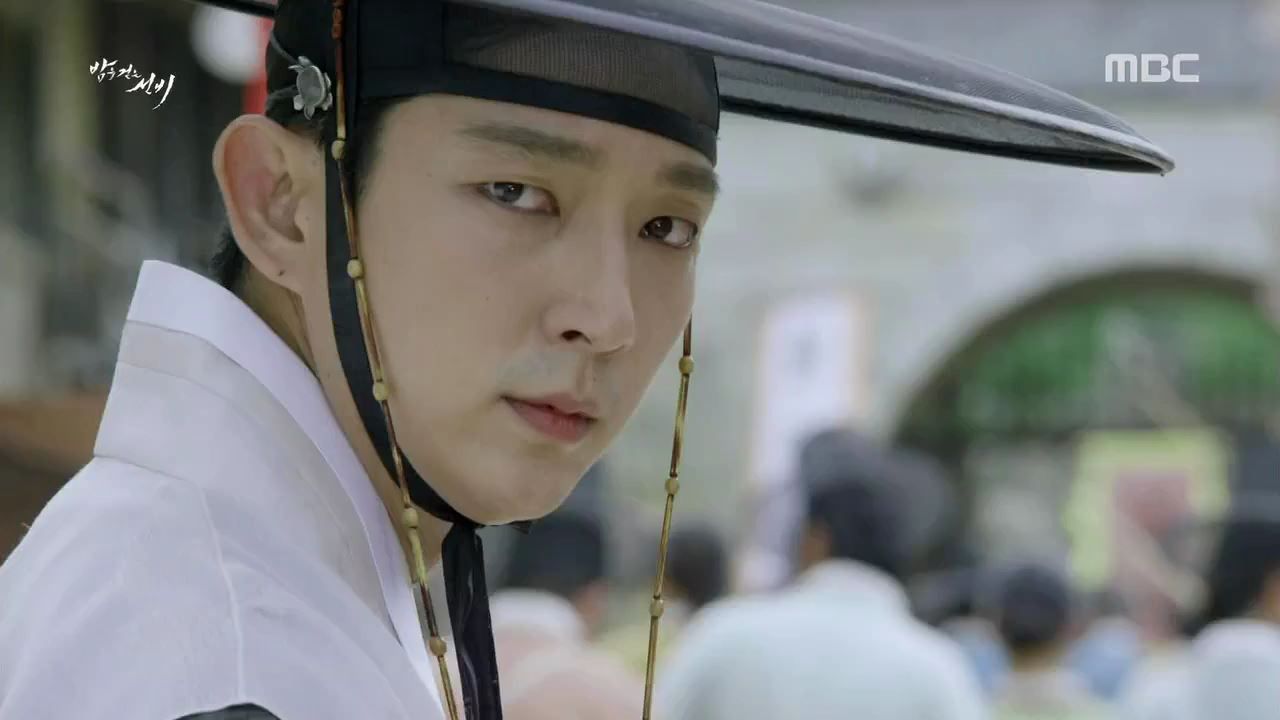 Sung Yul rushes to Yang Sun's house and finds her adopted mom and little sister waiting outside. He hears that Yang Sun went back to their old house to retrieve something. Sung Yul arrives to see the house being raided and hears from Soo Hyang that all of the Lecherous Scholar's associates have been arrested. She's moved the consort's body back to the gisaeng house and Sung Yul orders her to delay the ship for Jeju so that he can rescue Yang Sun and her adopted dad and get them on that ship.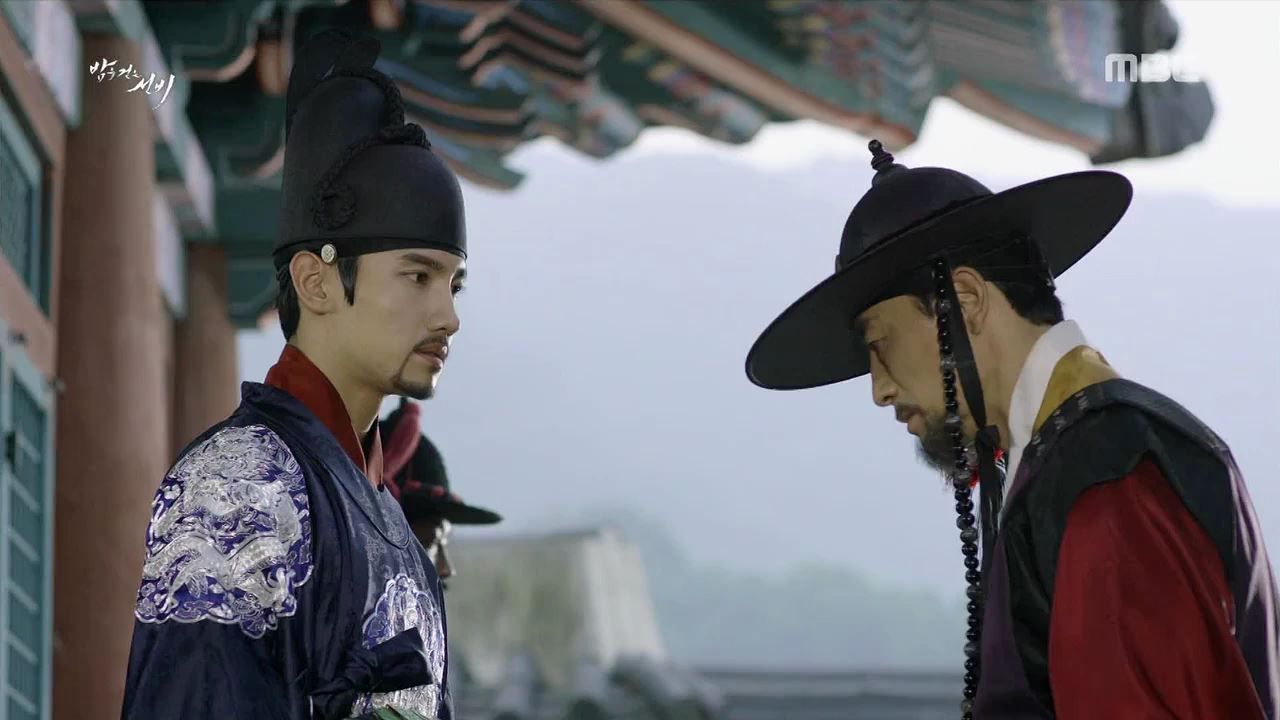 Yoon is being kept under house arrest and hears that his friend has also been arrested as a cohort of the Lecherous Scholar.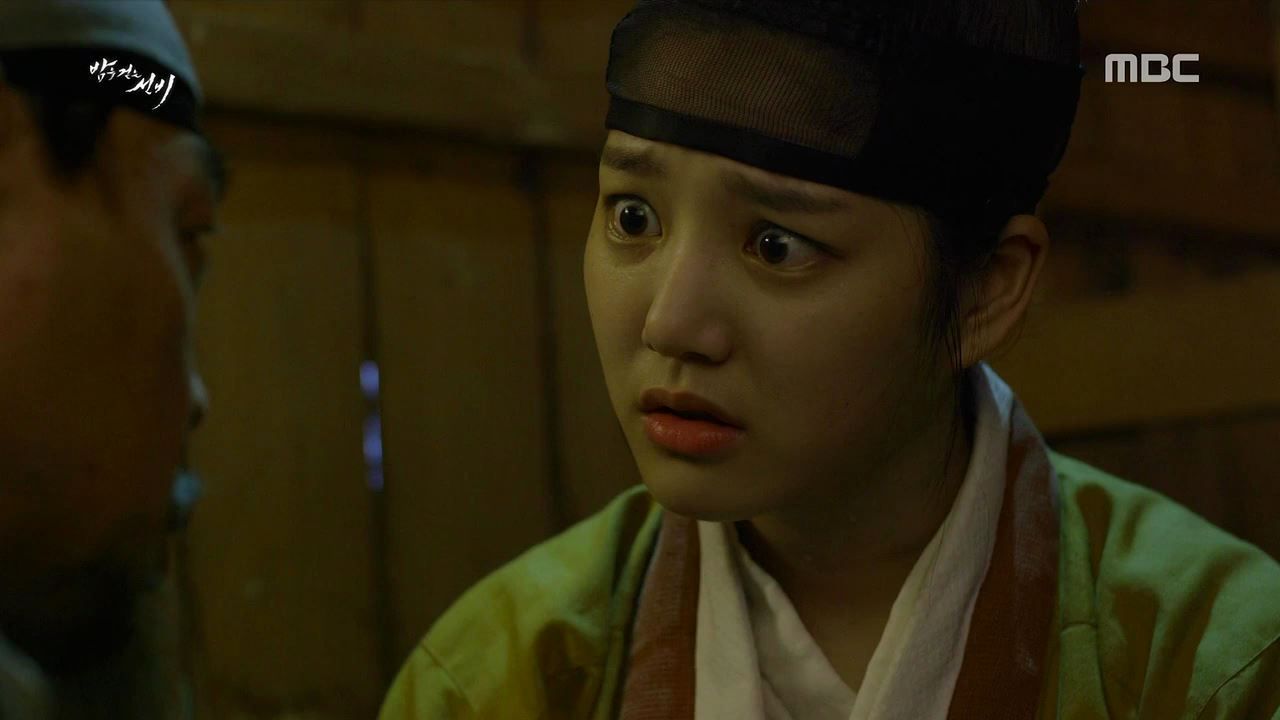 Yang Sun and her adopted dad are tossed in jail and she's warned by her dad not to reveal that the royal grandson is the Lecherous Scholar. They have to say that they know nothing.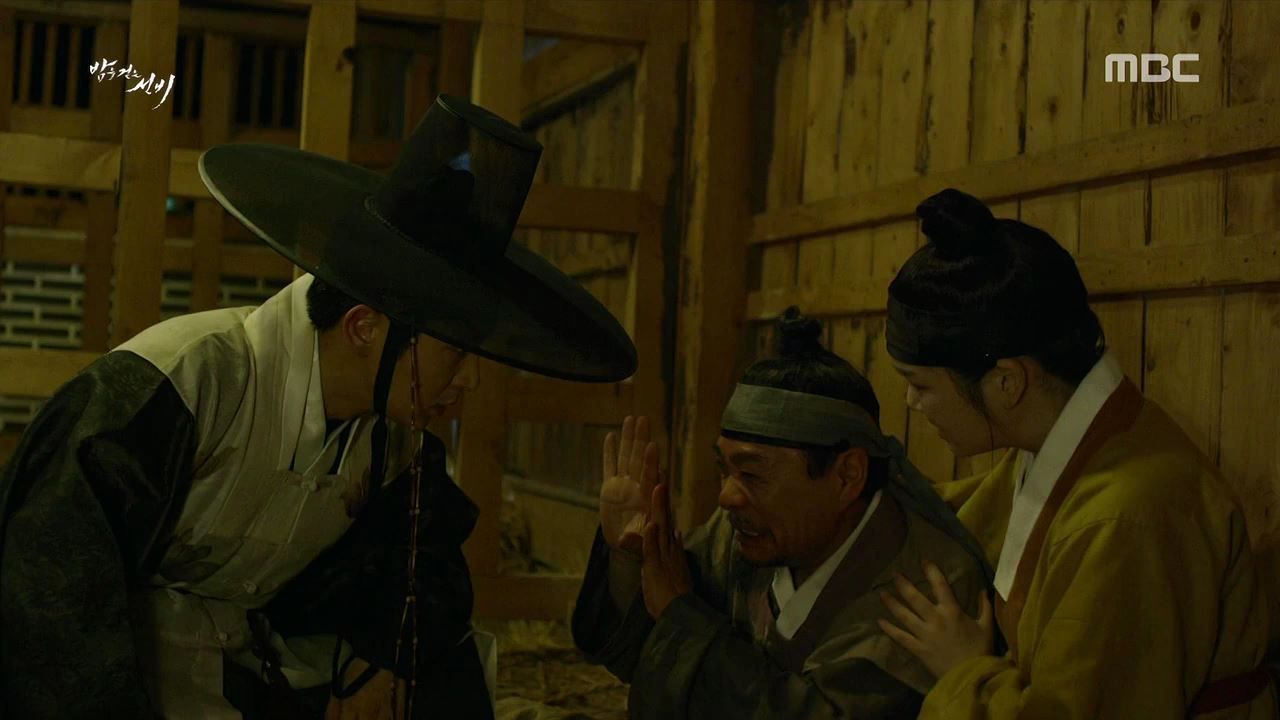 Sung Yul easily overpowers the jail guards and goes inside to rescue Yang Sun and her adopted dad. Yang Sun's dad starts screaming for help and cowering in front of Sung Yul, asking him not to harm his child Yang Sun. Sung Yul asks if the dad recognizes him? Yang Sun explains that her dad used to work for Crown Prince Sado before and warned her to stay away from Sung Yul. The idiot dad continues to scream for help.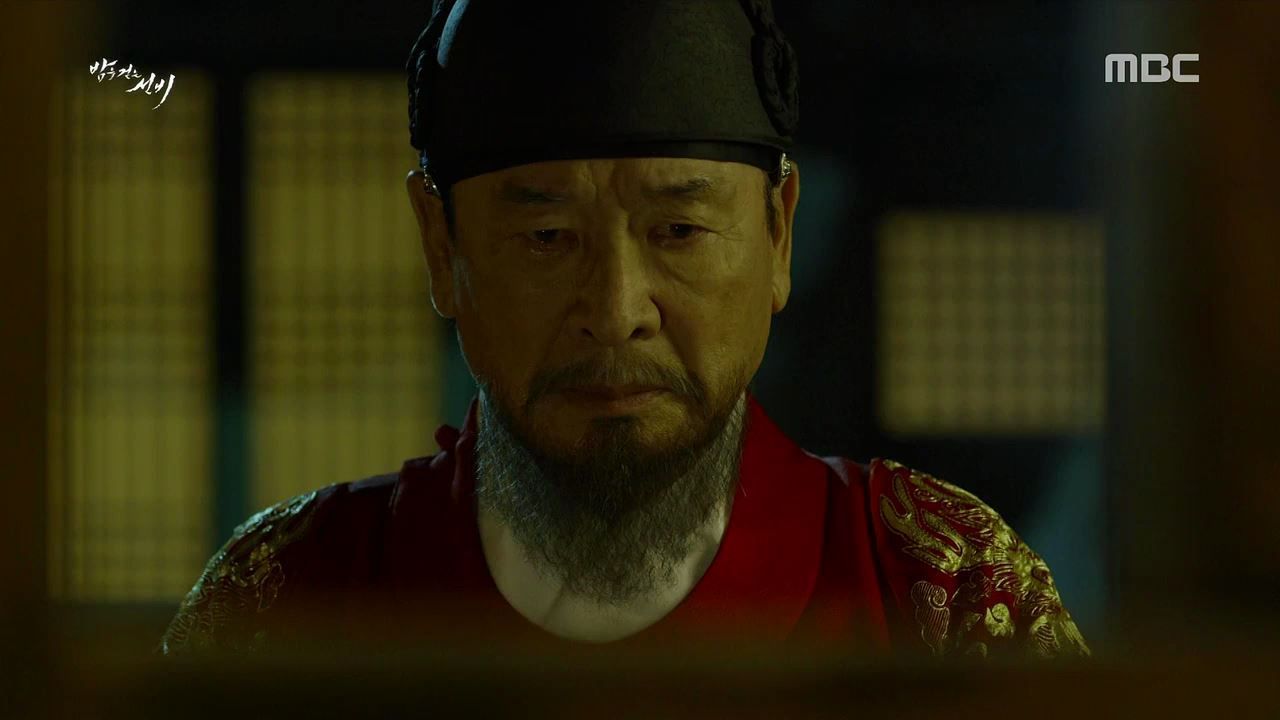 The King and his men arrive at the jail and Sung Yul has no choice but to leave first since Yang Sun's dad is delirious and refuses to be rescued by Sung Yul.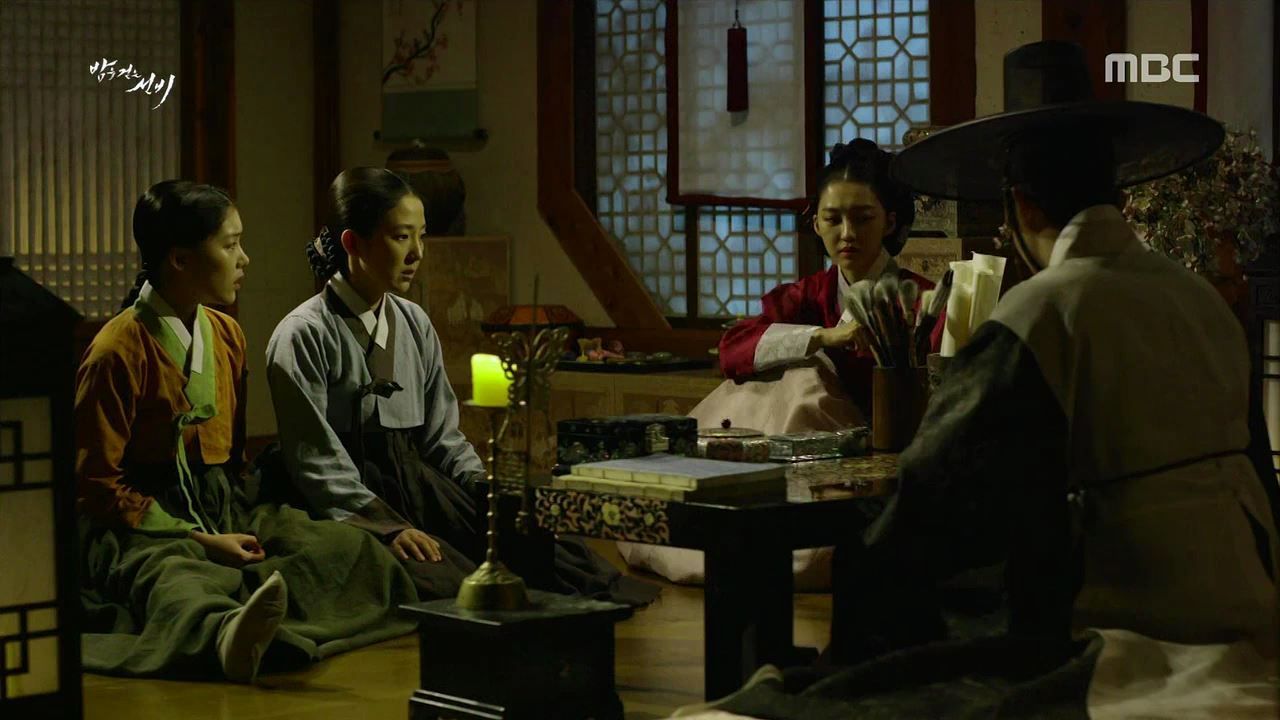 Sung Yul informs Yang Sun's adopted mom and little sister that the dad and Yang Sun have been arrested. They want to go explain that it's a mistake and get them out of jail. Sung Yul asks if they have seen Prince Jonghyun's memoir before? The adopted mother remembers something and Sung Yul asks her to draw it. The mom writes down Prince Jonghyun and says she knows where the item is, asking if Sung Yul can save her family if she gets it to him.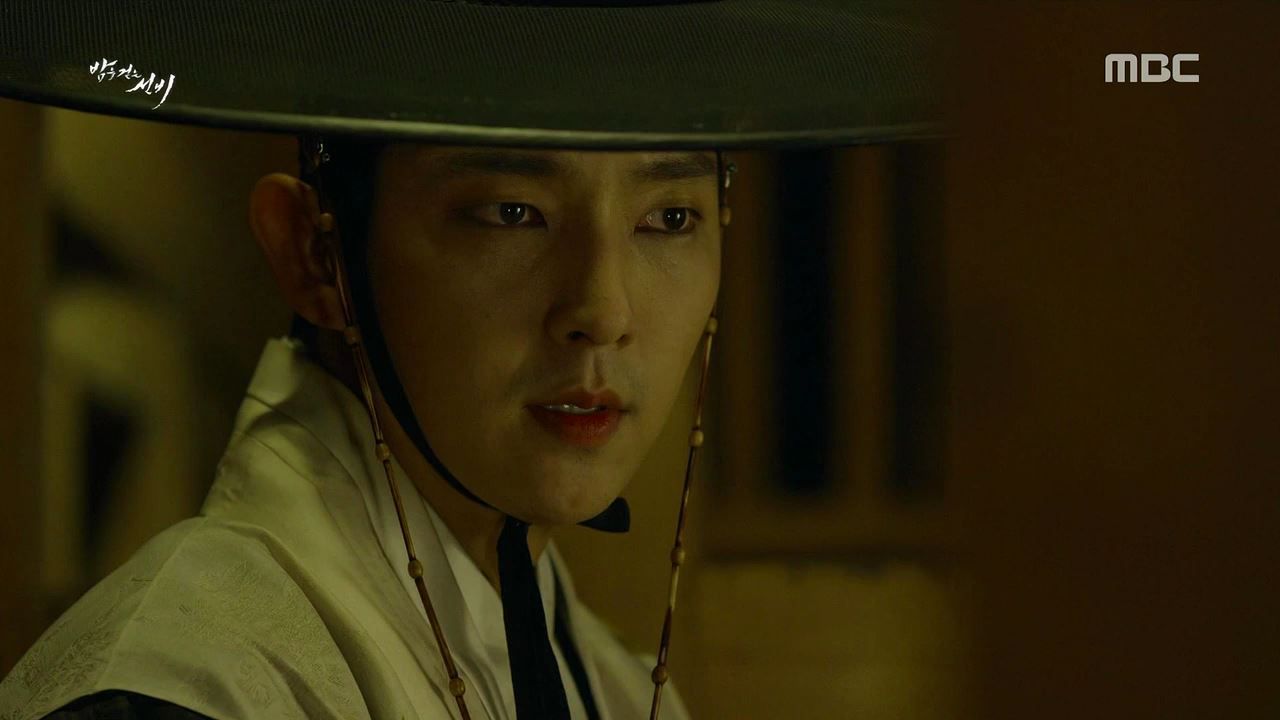 A search of all the items packed for the move to Jeju doesn't unearth the memoir. Ho Jin returns with even worse news, that all the folks just arrested have been moved from the jail. Sung Yul goes back to the jail and finds the cell empty, but manages to pick up one of Yang Sun's shoes that she dropped.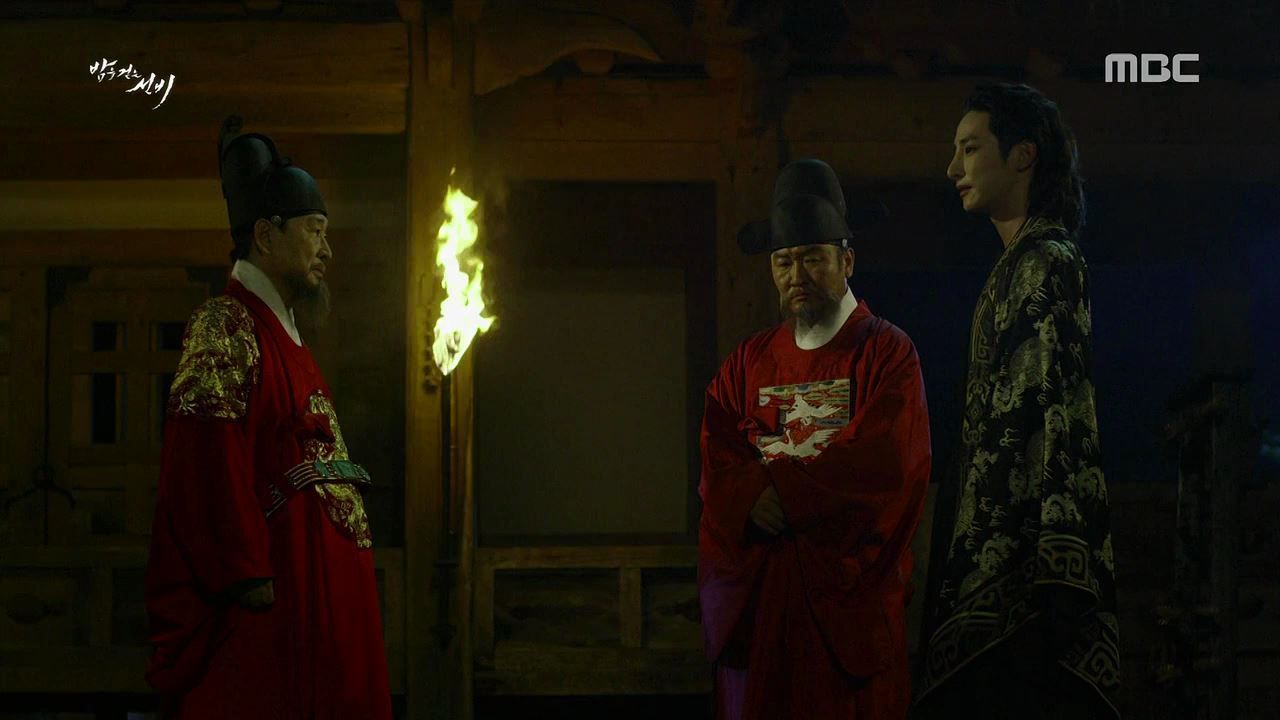 Gwi is upset at the King for refusing to tell him where the Lecherous Scholar is being kept. The King gives the credit to the royal grandson for the capture and explains that the other vampire was by to try and rescue the group. To keep the people under arrest until they can be interrogated, he's moved them to a new place and won't reveal where. He asks for a few days to interrogate them and if nothing comes of it then he will hand them over to Gwi.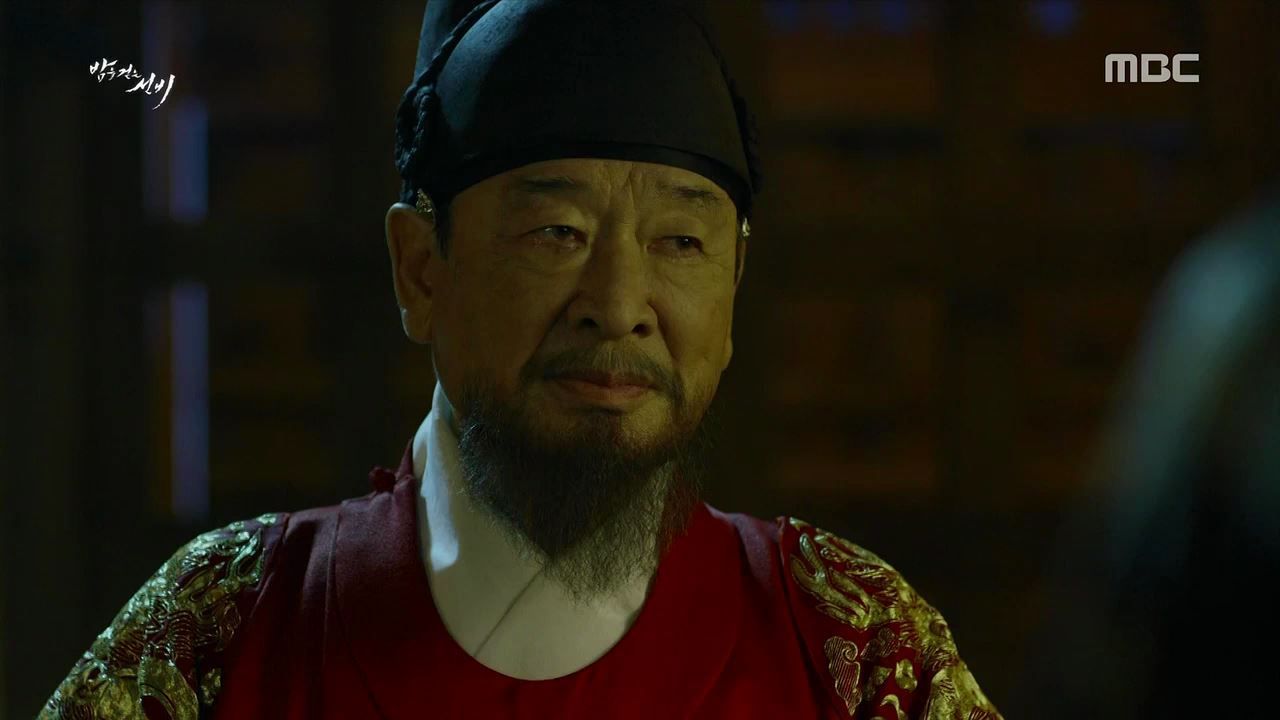 Gwi doesn't like hearing this so the King stakes the life of his grandson on getting this situation resolved to Gwi's approval. That placates Gwi for now but he warns the King that he only has two days to make good on his word. Sung Yul is in hiding and overhears this, going home to make plans on how to rescue the arrested folks.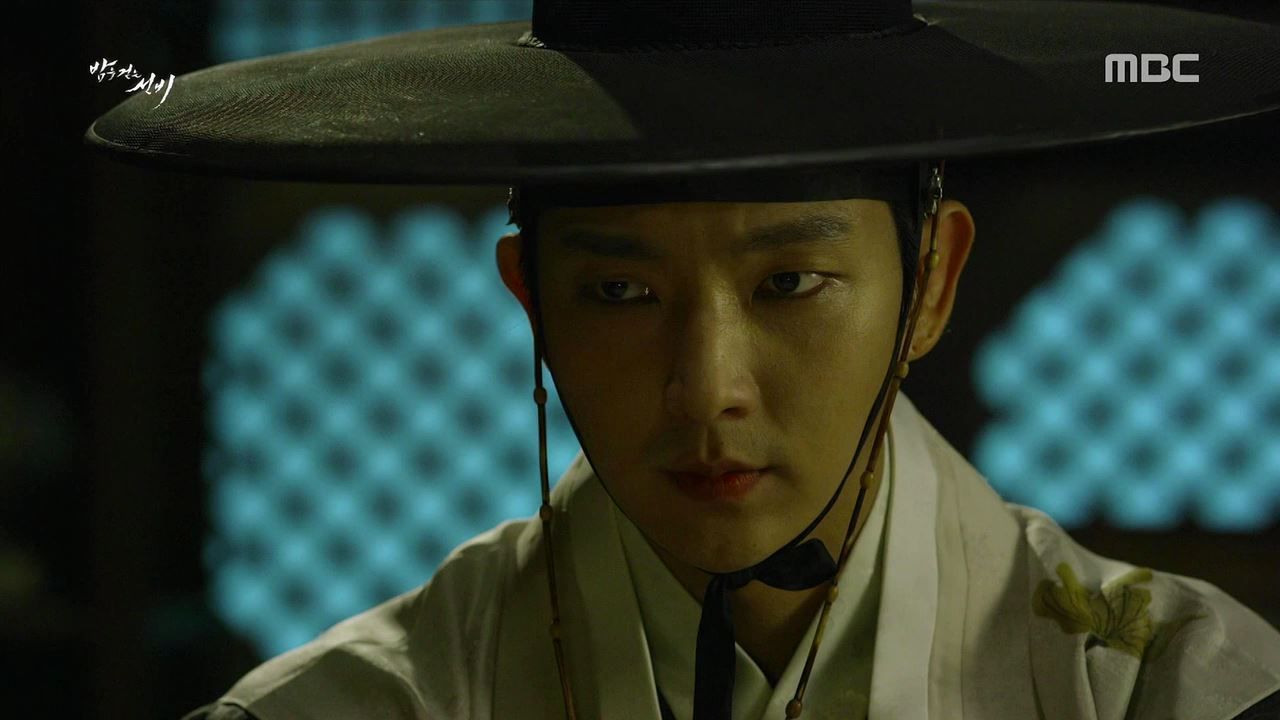 Sung Yul knows the King is very thorough and has the arrested people hidden away somewhere impossible to find. It's that very ability which has shielded Yoon for so long to act as the Lecherous Scholar and not be found out. Ho Jin is confused why the King would help his own grandson this whole time? Sung Yul isn't completely certain of the King's motivations but he is sure that the King will do everything to pin the Lecherous Scholar on Yang Sun in order to save Yoon.
Yang Sun tries to ask her dad why he acted that way when he saw Sung Yul back there? He was just coming to save them but her dad says Sung Yul has killed. They are interrupted by the arrival of more prisoners, including Yoon's friend.
Everyone is tied up for interrogation, with Yang Sun confronted with the books and flyers found in her home. She explains writing the books under the name of the Lecherous Scholar to earn a living, but she didn't write the flyers. She's asked about the document from the one-armed bookseller so her dad interjects that it was handed to them to pass along. Minister Ryu orders everyone beaten until they tell the truth.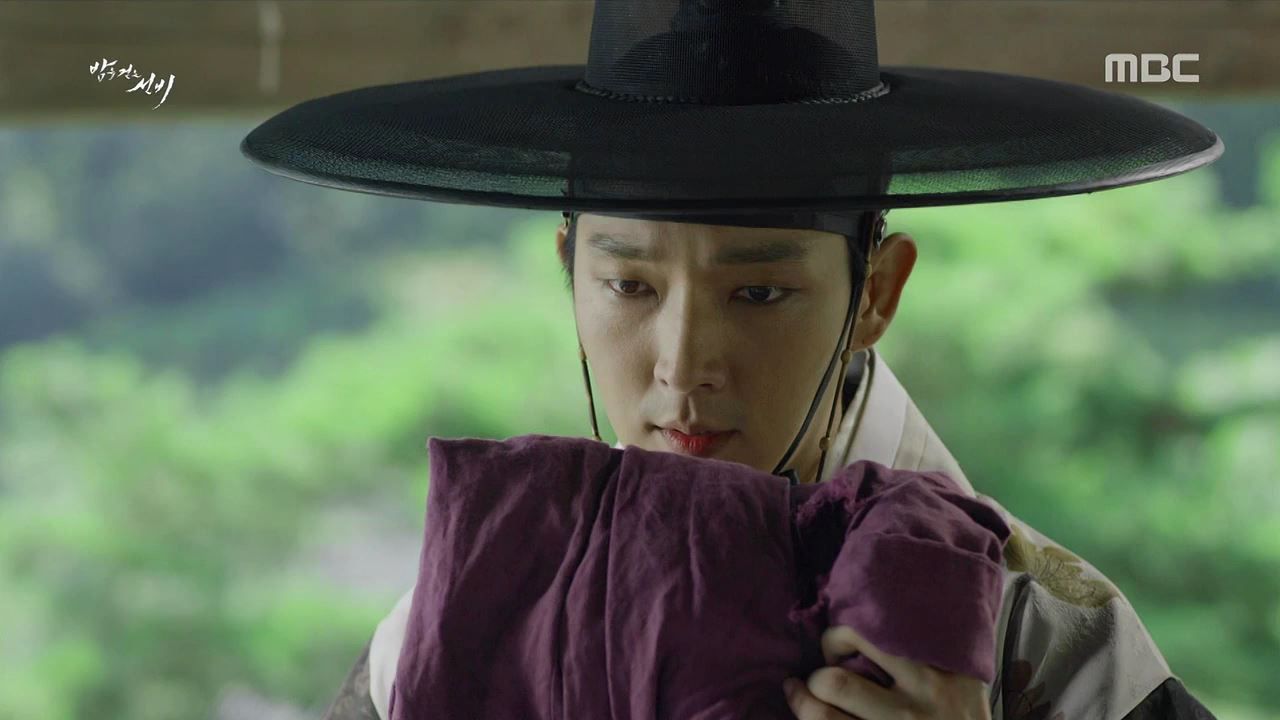 Sung Yul has taken to running around town looking for clues but finds nothing, not even when he sniffs Yang Sun's robe to use his vampire super scent to track her. Yang Sun's adopted mother reveals a new recollection of where the memoir could be right now. She saw her husband take it with him when he paid a visit to the temple a few days ago.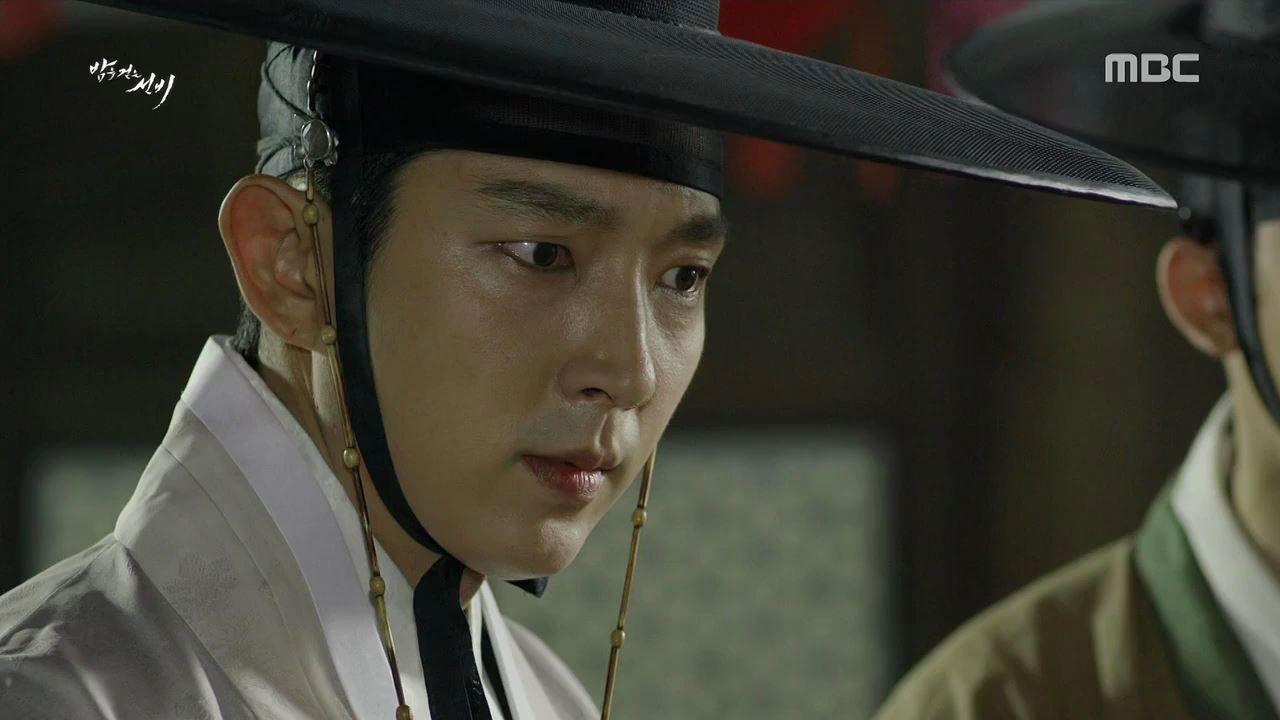 Sung Yul and Ho Jin go to the temple and see the memorial placard for Teacher Seo. Sung Yul remembers Teacher Seo turning into a vampire and staking him.
Minister Ryu finishes the first round of beatings and orders them to admit that Jo Yang Sun is the Lecherous Scholar, then the rest will be spared their life. Yang Sun insists that she is not the Lecherous Scholar. Minister Ryu wants to keep on beating her but Yoon's friend calls out his own grandfather for betraying the people to serve Gwi and maintain power.
Minister Ryu orders the torture escalated to hot branding. Yoon's friend attempts to call himself the Lecherous Scholar while Yang Sun's dad begs for mercy for Yang Sun, revealing that she is a girl.
Yoon tells his grandfather that he is the Lecherous Scholar and not Yang Sun. The King orders Yoon to shut up otherwise he will have him tossed in a well like he did with his father. The King reveals that he knows what Yoon has been doing all this time and shielded it from Gwi until now. He allowed it to continue so that Yoon would know what he was up against and willingly stop.
The King is informed that Yang Sun is a girl cross-dressing like a boy. He decides that she's contravened the social order and plans to have her severely punished even if she's not the Lecherous Scholar.
Soo Hyang explains that the King will personally interrogate the prisoners tomorrow and at that time everyone certainly be executed afterwards. Sung Yul decides to make a bargain with Yang Sun's dad for her life.
Thoughts of Mine:
Soo Hyang is currently my favorite character, half for how insanely gorgeous Jang Hee Jin looks in all her various hanboks, and half for how with it she is in a drama filled with people doing stuff for stupid reasons. She gets stuff done, never complains or allows petty jealousy to endanger the big picture, and puts Sung Yul's well being first and foremost. I wish she was the female lead, compared to tofu for brains Yang Sun and ice cold Hye Ryung. I don't dislike those two ladies but the drama plot makes them terrible hard to love. At least I can admire Soo Hyang for her efficiency and composure. Yang Sun basically deserves getting arrested, delaying time and again the family's departure for Jeju. It doesn't matter if she keeps having important reasons for her, but she never grasps the severity and ramifications of what is happening around her. If she believes there is a vampire in the palace per the Lecherous Scholar's flyer, then she needs to get the heck out of dodge because there is nothing the little people can do against a monster and the royal family power that shields his existence. Of course she needs to stay around since she's integral to the story, I just wish she made smarter choices and got caught regardless, rather than going home for a pair of freaking shoes and getting nabbed.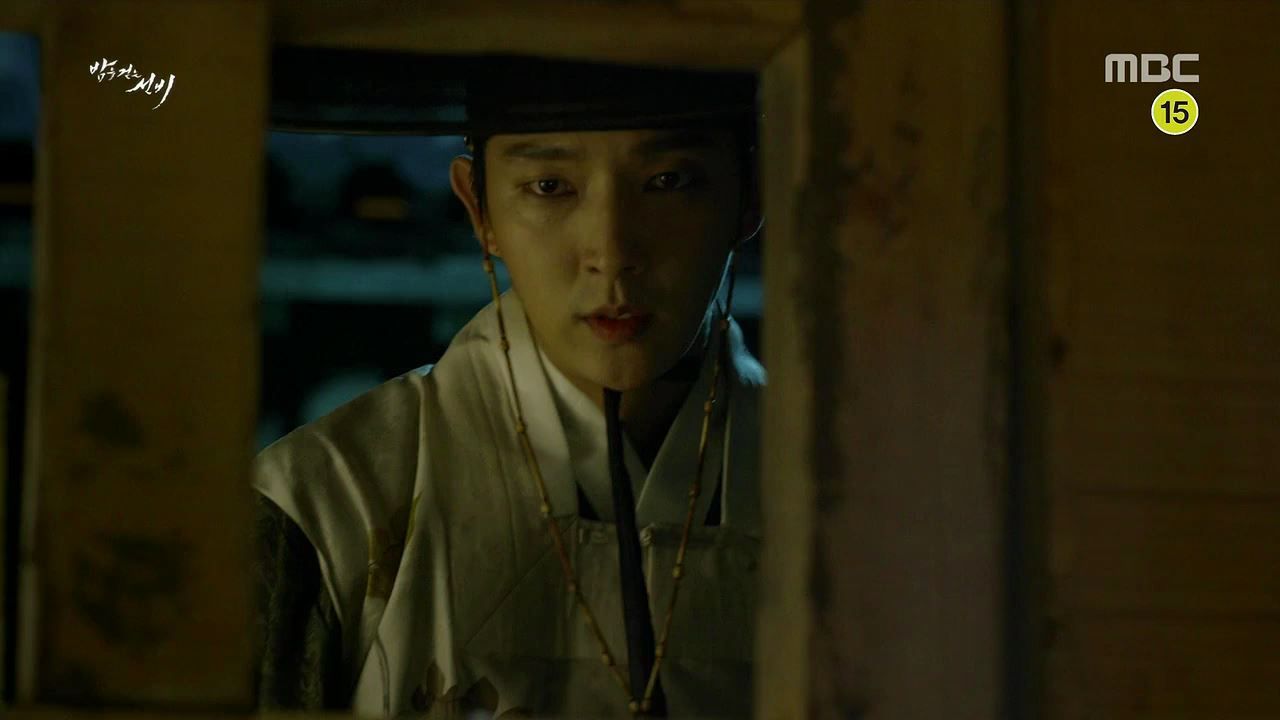 Yang Sun's dad also joins her in the pantheon of annoying plus stupid in this episode, when he was howling in the jail cell I just wanted Sung Yul to slap him silly and then cart him out of there. How the heck did he let the man yell so long that the guards had time to arrive? His jail break should be to swing both people across his should and fly out of there using his vampire skillz. Instead he leaves empty handed and now has to rescue Yang Sun the hard way. Yoon's big plan failed spectacularly but I'm not upset at him for trying. He did his best and planned properly, never letting his emotions get in the way and always being extra careful. Too bad he was always operating in the palm of the King's hand, rendering whatever he did almost like a monkey doing tricks but the monkey not realizing it. I'm not supposed to feel bad for the King, who sacrificed his own son to Gwi and all, but I do love Lee Sung Jae's performance for giving him so much depth and royal gravitas. He's definitely in a league of his own acting in this drama, when even Lee Jun Ki plays it like a manhwa while Lee Sung Jae is doing Shakespearean politics opposite a bloodsucking vampire who preens like a Ford model. Gwi is a laughable caricature at this point, when the killing has crossed the line into slapstick and his ever growl and threat sounds hollow when it's backed up a rocks fall down ending. How does he think to keep power when he is always vowing to eat everybody?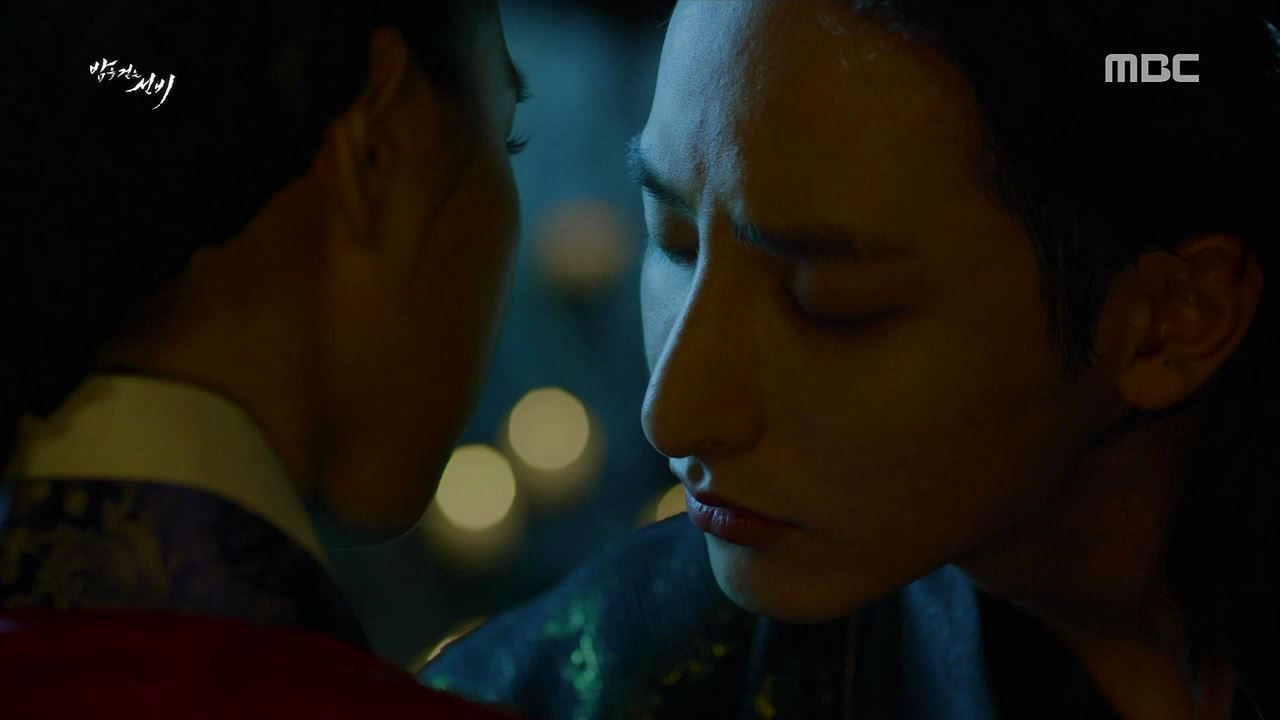 Hye Ryung's character is so wasted, from the way she's plotting to become the next crown princess to how she serves Gwi. She must know that every single wife or concubine of the royal family is on the menu for Gwi, so how does getting that position mean anything in the long run? She ought to also know that Gwi is one step from eating the royal family men as well, so marrying them is hardly a power play. If she wanted power then she might be better off seducing Gwi and being the power couple behind the royal family. Now that it's any safer for her, but honestly her motivations are flimsy without an explanation behind why she's so manipulative and conniving to achieve her own goals. Does she have revenge against her dad in mind? Becoming powerful so she can't be mistreated? Give me something to understand her, drama! This episode at least had a lot of action and important events happening, allowing for so much of the writing weakness to quickly pass in the hail of narrative progression. A RIP for the one-armed bookseller, whose passing I'm sad about only because he was way less annoying than Yang Sun's dad and between the two I would have rather kept him around. Hopefully this failure will strengthen Yoon's resolve and allow him to quickly align with Sung Yul for Plan B, but before then I'm certain they'll pair up to rescue Yang Sun first.
Click here to watch Scholar Who Walks the Night.