The K-media recently wrote an article crowning the four young kings of K-dramas, the ones who still bring in domestic ratings, buzz, and/or overseas appeal even in this age of low television ratings. On the list are Joo Won, Kim Soo Hyun, Lee Min Ho, and Lee Jong Seok, which will make their fans happy I'm sure, as well as create fodder for discussion and debate on whether their inclusion is merited and who might've been left off the list. I can't say I would disagree with this particular list, and the only other currently buzzy star Kim Woo Bin doesn't belong on this list since he doesn't do drama lately.
The article starts off by saying that in the early to middle Hallyu era, i.e. the heyday of K-dramas, the standard for a drama superstar is to have a drama hit 40% in ratings. That's not happened in years and right now the young actors and actresses trying to make their mark in dramas are residing in what the article calls "the graveyard of ratings". But even then there are a few that still manage to shine brightly in this dimmed environment, and the articles calls out Joo Won for bringing in domestic viewers, Lee Min Ho and Kim Soo Hyun for being unparallel overseas juggernauts, and Lee Jong Seok for garnering solid ratings and buzz with all his projects.
The article calls Joo Won the current top dog of K-drama ratings among the younger actors generation. Starting with his debut drama Baker King, Kim Tak Goo garnering over 50% ratings, he's gone on to deliver success ratings with weekend drama Ojakkyo Brothers, Good Doctor, and now Yongpal. He got solid ratings with Gaksital and his only two flops have been 7th Level Civil Servant and Tomorrow's Cantabile.
With Lee Min Ho, his drama successes have all come with overseas love as his dramas other than Boys Before Flowers have not attained good domestic ratings. But his overseas success is overwhelming as his dramas sell for top dollar overseas including Faith, City Hunter, and Heirs. Those dramas also receive top hits on overseas streaming sites or get broadcast success on overseas networks. Even his movie Gangnam 1970 got a lot of attention from his overseas fans.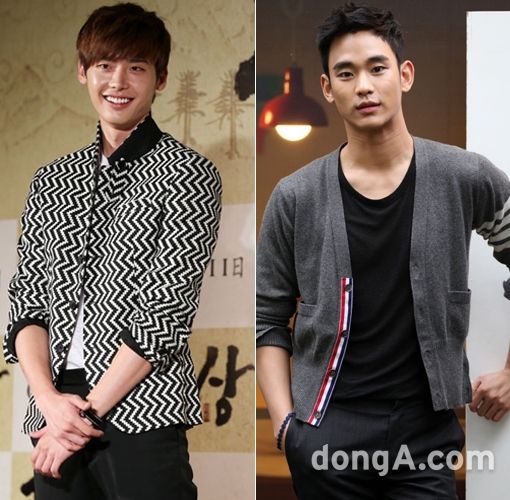 For Kim Soo Hyun, his success as the top ratings grabbing K-drama actor of his generation is hard to top as he gets both domestic ratings and overseas success. His drama The Moon Embraces the Sun got over 40% ratings and You From Another Star was the only prime time drama to get over 20% ratings in the last few years. Producer is the highest rated prime time drama so far in 2015. His movies Thieves and Covertly, Grandly were also huge box office hits.
Lee Jong Seok rounds out the list by delivering the same one-two punch as Kim Soo Hyun but not quite at his level yet. Lee Jong Seok's dramas have all done consistently solid ratings from School 2013 to I Hear Your Voice to Dr. Stranger and the most recent Pinocchio. Just as important for developing his Hallyu reach, his dramas are also very popular overseas and got high license sale prices and view counts. The article discusses how production companies are vying for his involvement in their upcoming dramas, and suggests Lee Jong Seok stick with dramas as his movie career so far hasn't taken off with Hot-Blooded Youth a decent success but No Breathing tanking at the box office.