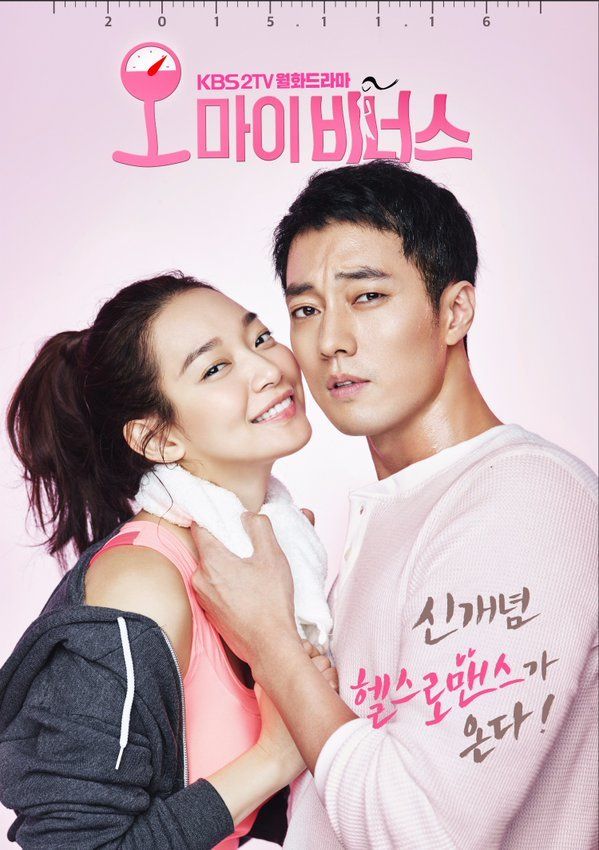 I feel like the discussion over visuals can be such a potential landmine. Unless the approach is tongue-in-cheek, any attempts to fatten up or uglify drama leads inevitably leads to some sort of comment backlash. I'll try hard not to offend anyone when I discuss the recently released new stills from upcoming KBS drama Oh My Venus that show a before and after weight loss picture of leading lady Shin Mina. The after picture is above in the form of a new drama poster, and in it Shin Mina basically looks just like herself.
That would be how I imagine she would look in real life after hitting the gym for a workout. So Ji Sub continues to look mildly out-of-place, I noticed in all his promo stuff there is a weird vibe that he seems not quite sure what to act out. The before picture of Shin Mina's character is below, four stills of the "fat" stage of her character, and by fat the drama production dropped actual stats – she weighs 77kg (around 170 lbs) – which is a relief to see the drama not go the way of making her obese, and if she's just chubby then then whole weight loss romance seems practical and attainable.
I actually find chubby Shin Mina absolutely adorable, a tad round in the face and figure but still so pretty. Apparently her fat makeup takes 3 hours to fully apply on her face and body.