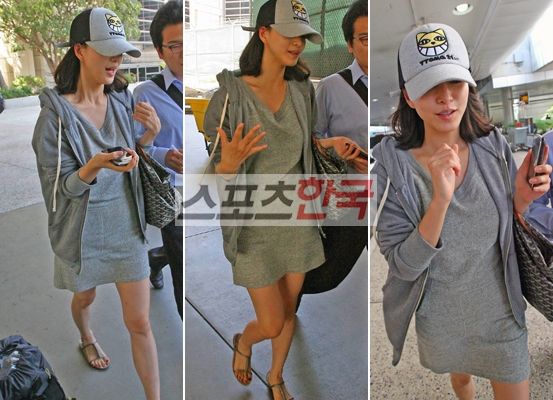 KBS has scheduled a press conference for 2 p.m. Seoul time August 16th to announce the future of Spy Myung Wol, though it's pretty much set that Han Ye Seul will be replaced (no news on whether the new actress will be playing Myung Wol or another character). While the Korean news media reported that Han Ye Seul left Seoul for Los Angeles, there had been no actual confirmation she got on the flight, other than a ticket was booked under her real name Leslie Kim. Thirteen hours later, the flight from Seoul landed in LA and Sports Chosun had a reporter on the ground that managed to snap some shots of her leaving the airport and got some sound bites.
The only reason I'm sharing these pictures is to show that she's okay, because her being MIA for a good day was starting to worry me. Fault, blame, professionalism, all of that aside, the safety and well-being of a person is paramount to me. KBS and Lee-Kim Productions can pursue legal action against her for taking off, but I did not want to see this story take a turn for any macabre or dangerous territory. Thankfully, Han Ye Seul appeared fine when she landed in LA. But the latest new twist is that her mom was actually on a flight from LA to Seoul that criss-crossed with her flight going the other direction. Her mom has now landed in Seoul and is supposedly speaking with Sidus HQ and the drama production right now.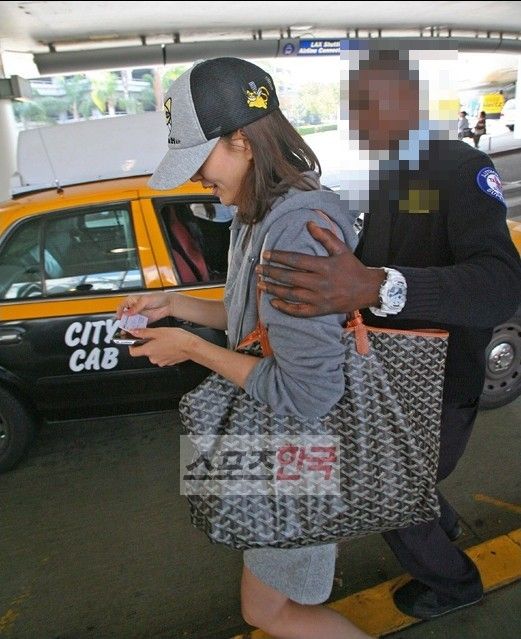 According to Sports Chosun, when asked to comment on what happened, Han Ye Seul said simply that she's given up everything because the working environment producing a live drama was just too much for her to handle. She downplayed any discord with PD Hwang and explained that she just wants to rest now. She hopes the physical toll of filming that happened to her won't ever happen to her hoobaes, implying that perhaps this will change the utterly insane and taxing work environment of producing a live drama in Korea.
I think we can stop sensationalizing what might have happened behind-the-scenes now, even if what did happen truly was brutal for an actress to film 20+ hours a day, performing lots of stunts, and bearing the lions share of air time because she played the title character. Maybe Han Ye Seul didn't know it would get this bad because the drama's lukewarm reception resulted in script rewrites and writer changes, which delayed it's live shoot even worse. I hope she gets the rest, mental, physical, and emotional, that she needs. And I hope the rest of the cast and crew of SMW can successfully complete their drama.
[Credit: Hankooki news,  Nate news, and pictures from Sports Chosun]