I was going to write a lighthearted Bu Bu Jing Xin post, but I don't think I'm ready for that just yet (though it'll be coming soon). I must clearly be a glutton for punishment because I rewatched the ending again, and am once again just blown away. I don't think my summary and screepcaps do it justice, because the scoring and acting raise the entire sequence a notch higher.
Below are some more BBJX-related goodies: (1) a recent interview with author Tong Hua, (2) a picspam of an indescribably poetic scene between Ruo Xi and 4th Prince towards the end of the drama that I didn't mention before, (3) I've embedded the video of the final 12 minutes of BBJX for everyone to watch, and (4) some OST songs are out so have a listen. Clearly it'll be a long time before the overwhelming sense of awe and heartache will dissipate from my heart.
Snippets from a recent interview with Tong Hua, the author of Bu Bu Jing Xin the novel:

1. Her favorite prince is 14th Prince. She doesn't like either 4th Prince or 8th Prince. She thinks neither would make a good husband. 4th Prince is too unbending and extreme, as a husband it would be exhausting living with him. She likes a man to be happy, enjoy life a little. She thinks 14th Prince is the perfect balance – honorable and courageous, and with the emotional intelligence to be able to let things go.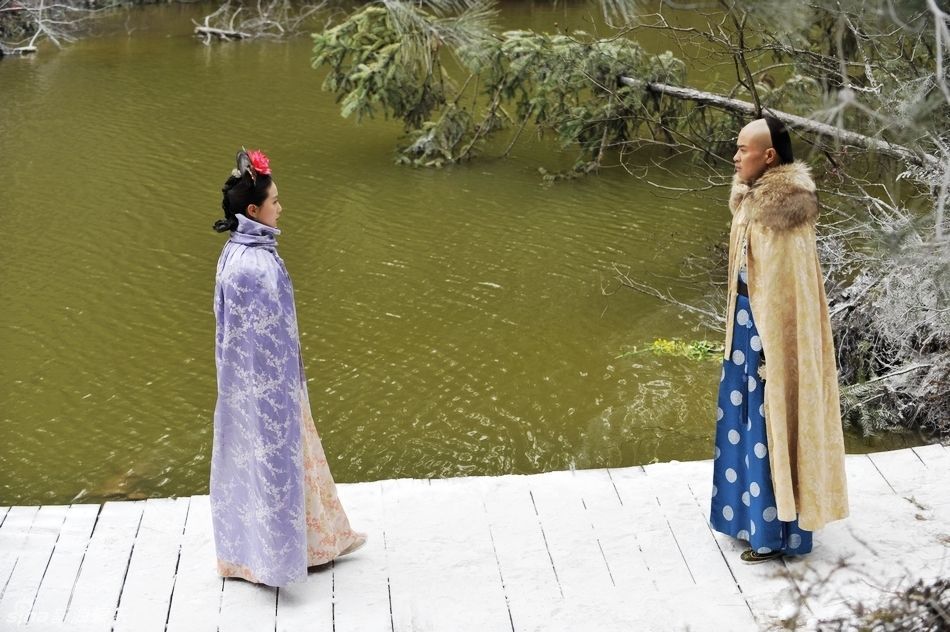 2. With respect to many people disliking Ruo Xi as a heroine, because a lot of the other female characters in the book appear to love more passionately than her, yet she's the one who keeps waffling and creating reasons not to be together. Tong Hua explained that viewers are forgetting Ruo Xi is really the soul of modern girl Zhang Xiao. And modern people are the ones who are practical, realistic, not the type to love and lose at such a grand gesture. Ruo Lan can mourn her first love for twenty some years, never once giving into a loving 8th Prince who adored her.
Ming Hui can love 8th Prince so much even when he's down and remain the backbone of the family, even giving her life for him in the end. Lu Wu begged to be allowed to join 13th Prince in house arrest in a dark and dank little hovel, which ended up being 10 years, and in the end she killed herself rather than let her existence shame him.
So in comparison, Ruo Xi's reluctance to love 8th Prince without reservation, her inability to stay with 4th Prince in the palace at the very end – all of her fears are very modern sensibilities which feels out-of-place in that era. But in the end Ruo Xi did throw all caution to the wind because she loved 4th Prince with her entire heart and soul, but she could never stop loving the other people she cared about as well. Ruo Xi actually loved too much, and not too little.
3. Tong Hua really buried a lot of meaning and significance in a lot of scenes and motifs in the drama. 8th Prince and Ruo Xi were often in the snow, their first walk hand-in-hand, their final break up, the coldness mixed with the beauty explains how their love could never be. 4th Prince and Ruo Xi were often seen around flowers and flora, their love as beautiful as the scenery, but ultimately would wither if not properly tended to.
The blood jade bracelet 8th Prince gave Ruo Xi symbolizes eternity, the circle shape neverending, and the bracelet a piece of jewelry a person never removes even in sleep or bathing (unlike necklace or earring). Ruo Xi's most treasured items from 4th Prince are the magnolia flower pin (beauty), the little dog snuff bottle (playful), and the arrow he took for her (sacrifice), which explains so much their love for each other. But in the end, when she died, she couldn't take it with her. She could only take the memories of him with her.
4. Tong Hua won't comment on the drama version of the ending, only saying that she treasures the ending she wrote for the novel.
BBJX is a story that was perfectly able to create two compelling love stories and neither felt insignificant or any less meaningful than the other. Ruo Xi and 8th Prince's love dominated the early part of the drama, but it's always been Ruo Xi and 4th Prince's soul-searing passion that turns me into a weepy sodden mess. I'll blog more about it later, but I neglected a beautiful scene in episode 34 that really encapsulates how they love each other, even after she's left the palace and married 14th Prince.
Ruo Xi practices her calligraphy every day, even she realizes that her handwriting is eerily identical to that of the Emperor, but she says it's just a copycat, not the real thing. The reason Ruo Xi writes so much is because writing calligraphy is 4th Prince's favorite thing to do in the world (one of the things she asked him about early on when she basically played 21 questions with him). She's adopted all his likes and dislikes, subconsciously, and as a way to stay close to him.
Afterwards, Ruo Xi sits outside and pours herself a cup of tea. As she's drinking the tea in solitude, she imagines 4th Prince is there with her. She thinks to herself, and her words rip my guts apart and then I cry for Ruo Xi and 4th Prince all over again.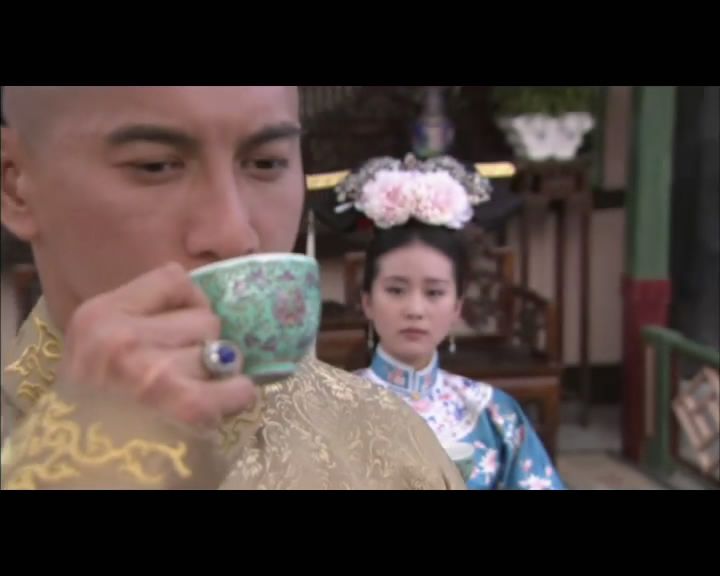 "In my heart, only he remains. What remains is only every little thing between him and me. One smile, one brush past, one sigh – I've selfishly forgotten everyone, so that what remains is only him and me. For the first time, no one can disturb us. For the first time, I have no fear and reservation, loving only him."
4th Prince walks through the empty chambers where he spent his days with Ruo Xi when she was in the palace and he could be with her finally. As he walks past, his mind drifts to the happy times they shared together, perhaps just a slice a Heaven that was too short, but nevertheless did happen. He looks at the magnolia tea cup she made for him, the magnolia being his favorite flower, and the flower that only means something between the two of them. He ultimately does not take a sip and puts the cup down. It's so devastating that Ruo Xi and 4th Prince could only let everything standing between them go when they have parted, but not when they are together.
There is just something about how Ruo Xi and 4th Prince miss each other the exact same way that KILLS me inside. The tea drinking, the solitude, the imagining each other – each is so deeply ingrained into each other's soul it's like they can almost reach out and touch each other, yet the real person is so far away.
Below I've embedded the last 12 minutes of BBJX. It's so beautiful you have to watch it. It starts with 8th Prince and 13th Prince saying farewell in prison, these brothers who have fought and hurt each other, yet in the end love and let go. The scene transitions to 13th Prince leaving, and finally 4th Prince passes and the last thing he sees is his imaginary Ruo Xi dancing for him under a shower of cherry blossoms. The final scene in modern times I've described before, but definitely stay for the heartwrenching closing theme song (sung by lead acress Liu Shi Shi herself) with a walk down memory lane with these character we have laughed with and wept for. Their story will live with me forever.
Watch the final 12 minutes of BBJX:
I sincerely believe the drama ending is a hopeful one, regardless of the fact that the modern 4th Prince didn't appear to recognize Zhang Xiao. He looked curious, and his discomfort when she cried is that tiny little detail that ties him back to 4th Prince. Remember that Zhang Xiao died as Ruo Xi believing 4th Prince hated her and still refused to see her. But we know it was just a misunderstanding, and he loved her until the day he died. I think the drama ending allows us to imagine they could get another chance at love. Because otherwise why would he happen to show up at the Qing exhibit the same moment she was there?
They are fated, which was alluded to as well in the drama. When Ruo Xi first meets 4th Prince, he's on the horse that almost runs her over. They look at each other and there is this frisson of energy between them. It is those who love the deepest, with so much regret, that makes it impossible to let go. Neither of them finished their love story, and I like to believe the fates will give them another chance now. That's my story and I'm sticking to it! Modern 4th Prince walked away to grab a tissue and came right back. Who could leave a beautiful woman weeping copious tears just standing there? Afterwards they went to have some tea.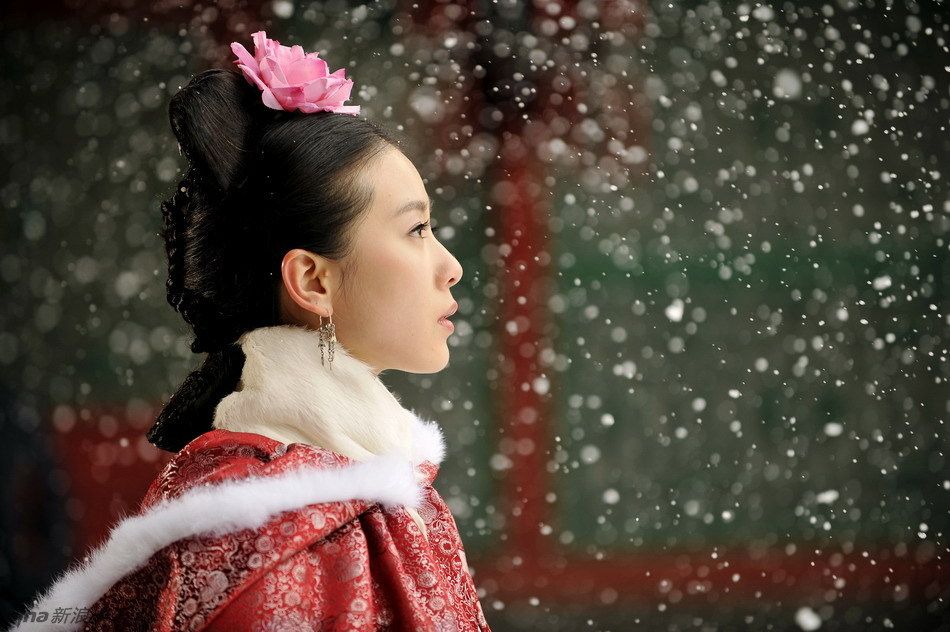 While Liu Shi Shi is an actress and not a singer at all (she was actually a ballerina before becoming an actress), her rendition of the sub-theme of the BBJX OST is quite lovely. It captures a rawness to the emotions, filled with melancholy and hope simultaneously.
Watch Liu Shi Shi singing "A Season of Waiting for You":
Lyrics to "A Season of Waiting"
Waiting for Summer, waiting for Autumn
Waiting for the next season
I have to wait until the moon is full again
Before you will return to my side
Shall we meet again?
Can't help it but missing you
Suddenly want to see your face
That familiar face
Holding hands is unnecessary
As we walk slowly through the snow and drift
Unable to see each other
And we still pine inside for each other
I only want you to know
I am doing just fine
A love for a lifetime, a passion for an eternity
I will wait for you until I grow old
I only want you to know
I can't let it go and I can't forget it
Your smile and your care
Is my warm support
The official MV is out for the theme song from BBJX "Three Feet of Heaven" by Ivy Yen:
http://www.youtube.com/watch?v=oEW-lPadUgo
Yeah, just hearing the refrain from this song makes me start sobbing. It's a Pavlovian reflex at this point.