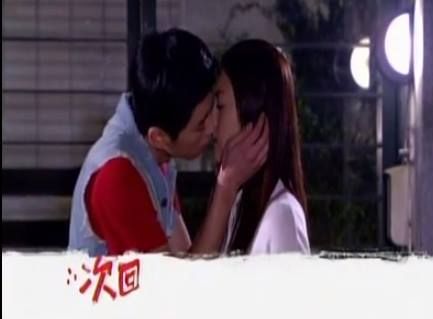 This Friday could not possible be any busier with the double dose of drama awesome in both In a Good Way and Bride of the Century. I can only tackle one at a time in terms of preview and recaps and taking breaks for squeeing and hoping I can mentally and emotionally survive until tomorrow. Episode 19 of In a Good Way was fantastic as always, and so meaty and dense we need a steak knife to dig into it. I loved every little moment and details, and once again the music was phenomenal in setting all the right moods. But before I discuss what happened in the recap, we're all going to need to spend the next seven days doing exercises with our heart to strengthen it because holy flying pandas THE KISS IS COMING. It's sorta a make up kiss (like I suspected), but who cares as long as it goes on forever and ever and the stupid camera doesn't pan away or do weird editing cuts like the K-dramas tend to do. Keep that lens steady and let those two kiss for us.
I'm going to die laughing if the kiss scene filming makes the next BTS because one can only guess what the heck Lego Lee and Kirsten Jen are doing behind the scenes between takes. Either goofing around or trying really hard to quell the blushing and squeeing. The preview for episode 19 actually contains tons of great narrative markers aside from the long awaited kiss. Ah Qing discovers the will left by Liu Chuan's grandfather, and combined with the treasure hunt clues left on the painting, might actually form a key and lock of sorts to help him discover what message his grandfather was trying to pass on to him. This drama has done such a fantastic job with the treasure hunting games actually imparting fun and meaningful takeaways, and I think Liu Chuan's grandfather's final gift for Liu Chuan is going to be a doozy. Tracy also unwitting helps resolve Liu Chuan and Jia En's little spat and current impasse by sharing a little personality test from a magazine that actually shines a light on how people think about their future. You are in a desert with a bag, a gorilla, a snake, and a bird. How will you travel the journey with those things? Of course it represents something and I'll share after the preview and translation below what it means. Have fun and think for yourself how you would choose to arrange these items.
Preview for episode 19:
[youtube id="qQAuTdeqA3U" w="625″ h="445″]
Tracy: There is a really fun personality test. You guys come take it as well. If you are alone walking through the desert and you have a bag, a snake, a gorilla, and a bird, how would you arrange those items?
Ah Qing's dad: Lawyers have a duty of confidentiality, whatever you read here cannot be divulged.
Ah Qing reads Liu Chuan's grandfather's will and Liu Chuan repeats it: "My thought process to Shong Heng; my treasure to Shan Feng, it can open up the path to freedom".
Liu Chuan: I will put the snake in the bag and then carry the bag on my back, hold the gorilla in my arms, and let the bird fly free.
____________________
The bag means responsibility, the gorilla is the spouse, the snake is money, and the bird is the offspring. So Liu Chuan is saying that he will earn a lot of money and put the responsibility of the family on his back, while holding tightly and protecting his future wife, and giving their children the freedom to choose their own path.