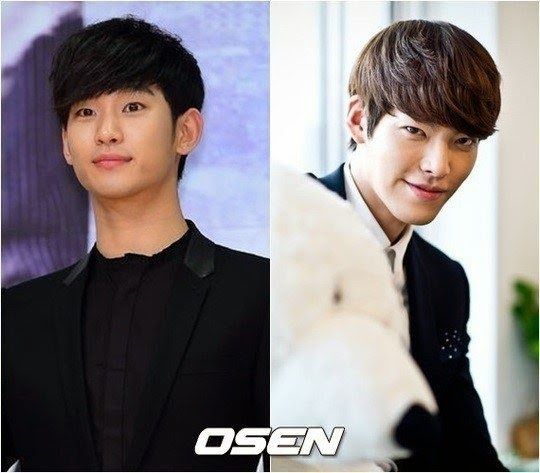 The Chinese media and fans love Kim Soo Hyun to the point where his every up and down to left and right needs to be covered. Last week he was snapped incognito in a NYC subway on a personal holiday and it made the landing page of the C-ent news portals. The even bigger news surrounding Kim Soo Hyun last week was the very thing I've been worried about with respect to his red hot career, that he's really so at the top of his game with his popularity in China that there is nowhere to go but down. It's the laws of physics people, what goes up must come down, and the higher the object the harder the fall.
A huge multi-million dollar ad campaign for a large Chinese home goods brand was one of the 35 Chinese CFs that have signed on Kim Soo Hyun as a spokesmodel in the last year due to his You From Another Star fame. The CF was just gearing up to shoot when the company nixed Kim Soo Hyun at the last minute and replaced him with Kim Woo Bin, reportedly due to the flap two months ago with Kim Soo Hyun showing up looking well fed and no longer bony thing. Poor guy can't catch a break, he finally makes so much money he can swim in it and is enjoying a few well deserved meals only to get flack for it.
I personally don't think Kim Soo Hyun being replaced with Kim Woo Bin in one of his countless Chinese CF deals is anything ominous. He certainly doesn't deserve to lose any CFs because he was sporting a rounder face for a few weeks. It also does not portend an imminent loss of his star power in China, for example, as the C-media is concerned about. The concern is legit since Kim Soo Hyun has been riding on his YFAS fame for this entire year without doing another acting project, and the general public's attention span is short and the next big IT BOY will surely show up soon.
But Kim Soo Hyun is considering Dr. Frankenstein and if he does that and it's live streamed over in China then his exposure will continue. With that said, he really ought to pick his next acting gig soon. Kim Woo Bin is being considered by the C-media as a good CF substitute since his Heirs appeal is still strong plus he has a big K-movie coming out at the end of the year called The Technicians. Below is the just released Chinese home goods brand CF still with Kim Woo Bin. I love the boy but he  looks way too dastardly and devilish to suit the all-white clean image of the CF.