Instead of sleeping like a good koala should have been doing, I nearly pulled an all-nighter re-reading my stash of 7 Seeds. Yes, it's that good. And no, I'm not exaggerating.
I thought I can make a comparison for those of you who love Sci-Fi stories: 7 Seeds is like a mix of Lost and Battlestar Galactica. Ah ha, two of my favorite American TV shows in the past decade. If the 90s were all about my love affair with Buffy the Vampire Slayer and Felicity, the 00s were about my fascination with apocalyptic wanderers and lost souls.
(Natsu, she's unassuming but she tries really hard, and she crushes on Arashi like mad – who wouldn't, he's an adorable boy)
7 Seeds combines the mood of Lost (strangers united in an unknown place, fighting for survival, using back to basic means, with some underlying mythology and hidden secrets) with the scope of Battlestar Galactic (the world as we know it has ended, how do the survivors build a new world order). Plus, there are star-crossed lovers and multiple potential sets of OTPs that are driving me nutty considering the possibilities.
Who we think are the bad guys are never straight out bad guys, and the good guys are hardly boy scouts. Everyone has issues, everyone has shades of gray. And the writer never skirts the darker subject matter, daring to go farther into exploring all the worst-case scenarios that can happen when the world has ended. If you want to read 7 Seeds, I'm providing a link to online scans.
For English translations (which are way behind, up to Chapter 35):
http://www.mangafox.com/manga/7_seeds/
For Chinese translations (which are completely up to date, up to Chapter 97 as of today):
http://www.bengou.com/080909/708090916/index.html
Some Speculations:
Normally I hate to speculate and toss out what-ifs, because I'm horrible at playing that game. I'm always wrong, and then I feel like a goat afterwards. However, I can't help myself with 7 Seeds – there are so many fascinating characters (it's a giant ensemble piece, like Lost and BG, so there are so many possibilities for pairings). Below, I'm going to explore some of the possible OTPs for the major characters (a lot of the other more minor characters have either paired up or I can see where it's headed, so I won't discuss below).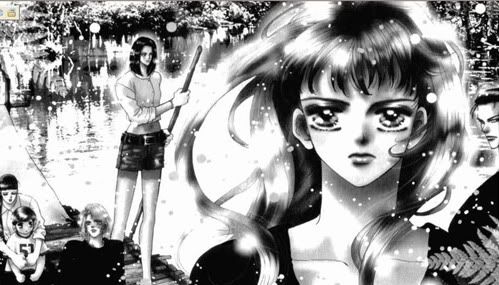 (Hana, leading the members of Spring Group – she even looks beautiful and a warrior princess in black & white)
Scenario 1 (the traditional Shoujo manga route):
1. Hana (Spring)/Arashi (Summer B) – childhood sweethearts, perfectly matched in looks and complementary in temperament (she's fierce and driven, he's laidback and considerate), woke up from cryo-freeze completely still in love and missing each other.
2. Natsu (Summer B)/Ango (Summer A) – she is shy and lacks self-confidence, he's one step away from turning into a psychopath, but she appears to be turning into his emotional and mental anchor, and he in turn spurs her to be more confident and careful. This might be a match made in dysfunctional heaven, yet so utterly makes perfect sense.
3. Takahiro (Winter)/Ayu (Summer A) – he's patient, thoughtful, resilient, she's stoic and wounded – last I left off, they've paired up and left the combined Group to set out and find the missing (presumed dead) Hana. This pairing would make my Takahiro less sad if Hana reunites with Adachi, and Takahiro is the only guy left worthy enough of being with Ayu, who is drop-dead gorgeous.
Scenario 2 (the door-busting route):

1. Hana (Spring)/Takahiro (Winter) – these two are my two favorite characters (Arashi is a close third), so I would not be crying if this happened. The romantic tension between them was growing exponentially right when Hana disappeared. But Takahiro is setting out to find her. Who will find Hana first, her boyfriend Arashi, or her closest friend in the new world Takahiro.
2. Natsu (Summer B)/Arashi (Summer B) – this would make Natsu's crush on Arashi justified and requited at the end. But to go down this route, it would require Arashi to see Natsu as someone more than a younger sister, which is not even a possibility at this time. This is only if Hana and Takahiro gets together.
3. Ango (Summer A)/Ayu (Summer A) – well, they know what hell each other went through to be selected as a member of Summer Group-A, and they are well-suited for each other in looks and temperament. But unless Ango gets over his rage and post-traumatic stress disorder beforehand, this ain't happening because Ayu hasn't got the patience to cure him.
In conclusion, I highly recommend 7 Seeds for anyone who loves epic stories with constructed with a grand imagination and infused with rich details and unexpected pathos. A good story is timeless and transcends its medium. Even if you have never read a manga before, give it a try if the story as I described it sounds interesting.