Park Shin Hye just visited Taiwan, where it was revealed that she has agreed to be the lead in GTV's latest idol manga-to-drama adaptation (this is the studio that brought everyone It Started With A Kiss) of Hayate the Combat Butler. The male lead will be American-born Taiwanese actor George Hu, who I first noticed as the second lead in the adorable period C-drama Love At First Fight with Miriam Yeung and Wallace Huo.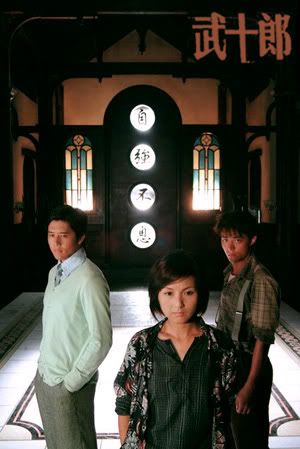 Link to newstory about the casting: http://udn.com/NEWS/ENTERTAINMENT/ENT7/5818867.shtml
Story of Hayate the Combat Butler (pulled from Wikipedia):
Hayate Ayasaki is an unlucky teenager who worked since childhood to make ends meet due to his parents' irresponsible behavior. One day he finds out that his parents were planning to sell his organs to the yakuza to make money, leaving behind a massive gambling debt on his shoulders. While running away from the debt collectors, he ends up meeting Nagi Sanzen'in, a young girl who is the sole heir of the wealthy Sanzen'in estate, and due to a misunderstanding, Nagi ends up falling in love with Hayate. After he rescues Nagi from some kidnappers, she hires Hayate as her new butler.
Aside from performing his ordinary duties as a butler, Hayate must fight to protect Nagi from harm, a difficult task since her life is always in danger because she is the target of other individuals coveting her family's fortune, and sometimes deal with some extravagant requests from her, oblivious to Nagi's true feelings for him. In the later story, Hayate has to deal with the feelings of several other girls, including the president of the student council of Nagi's school, Hinagiku. He is revealed to have had a romantic relationship with a female character some ten years previous, who is revealed to be a chairman for the board of the school.
Erm, I really have nothing more to say on this subject. It's intriguing to be sure, but it's still too early to say whether this will turn out to be a winning drama or a stinker. What this does mean is that GTV's long-planned adaptation of Skip Beat with Ariel Lin playing Kyoko is getting shelved, yet again. No wonder Ariel was seen leaving the offices of SETTV, if GTV keeps giving her the hand.
Park Shin Hye was on the TW variety show Super King, and I've embedded the first segment where she was introduced and she sang Lovely Day from the You're Beautiful OST. The Park Shin Hye segment starts at around the 3:45 mark.
Park Shin Hye on Super King:
http://www.youtube.com/watch?v=anFubfFlPuU