YamaPi (Yamashita Tomohisa of NEWS) and Jin (Akanishi Jin formerly of KAT-TUN), starring in the third series of my chronicling the ongoing saga of real life bromances, this time in J-entertainment.
Today our leading men are boys who met as boys, and became men together. Who, as the current rumors go, are no longer friends, much less BFFs. Let there be said that bros before hos does not extend to bros before Johnny.
And for those of you who don't follow J-pop, YamaPi is the one who looks like crooked-teeth Kim Hyun Joong and Jin is the one who strongly resembles a smutty Choi Si Won.
To be honest, of all the J-pop boys, I feel like Jin is the strongest vocalist of the bunch, and the wild child. It's for the best he pursues his own path, I just wish it weren't true that he and Pi don't talk anymore.
Even magazine spreads love to highlight their real life bromance: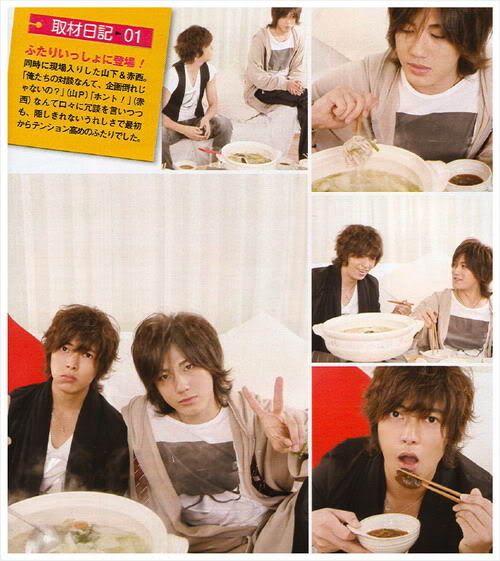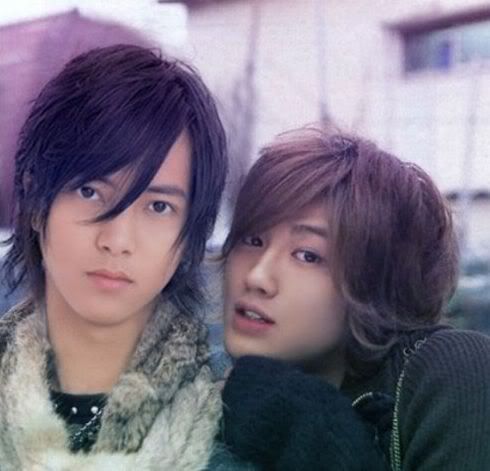 They show up for performances together and even crash each other's concerts:
They go carousing in Roppongi nightclubs together:
They get caught frolicking in the surf and vacationing together: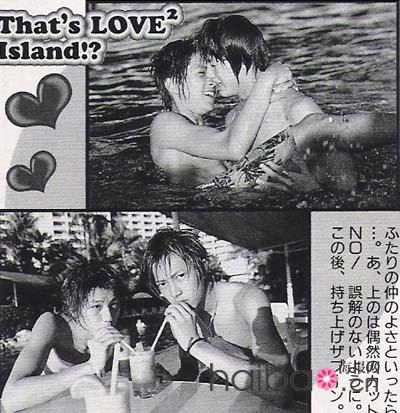 But there was always someone waiting in the wings, a perpetual third wheel who longed to have Pi all to himself, whose personality clashes with his own bandmate. Kame, who was the co-leader of KAT-TUN with Jin, and starred in Nobuta wo Produce with YamaPi and released a single Sesshun Amigo under the name Shuuji to Akira.
I mean, this picture says a thousand words by the simple placement of their faces:

But alas, all bromances must come to an end, usually when a woman comes between them. This time, it's a Kame+Johnny+fame+fortune. And this is what we have left to look forward to.
An MV of their playful days of being goofy together with a watermelon: