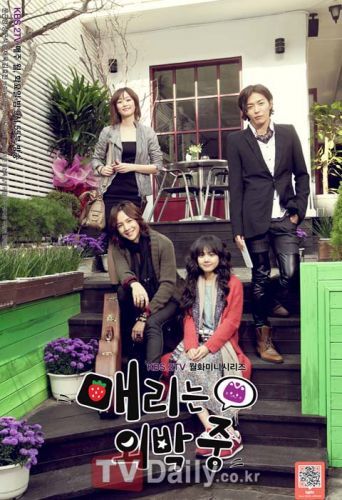 KBS has elected to go all alliteration on us. The official English title for the drama formerly known as Mary Stayed Out All Night (which is still the Korean title) is Marry Me, Mary! (complete with the exclamation point). I was debating whether to refer to it as Mary or MSOAN, and now I've got to contend with calling it MMM for short as well?
It's like KBS and the drama production wants to do everything in their power to make this drama seem as ridiculous and/or unpalatable as possible. Witness the head-to-toe get-up on everyone, the low-budget promotional posters, the blergh stills, and the threesome-Bride-of-Frankenstein wedding pictures.
I am actually VERY interested in the STORY (it sounds sooooo intriguing and rife with so many possibilities), so I hate it when all the bright fuschia gloss masks what is potentially a very addicting and well-made drama.
I'm assuming that I am in the minority on this one issue which is the more I look at Jang Geun Seok's stylings in this drama, the more it grows on me. I kinda like it now! I hope it's not because I'm going blind. He does look remarkably like the manhwa character.
Below are some pictures of a wedding picture shoot involving only Moon Geun Young and Jang Geun Seok. Thankfully, he's wearing what appears to be a normal tuxedo, and her dress is not nearly as weird.
[Credit: all pictures courtesy of the Baidu Mary Stayed Out All Night bar]