Breaking news: Jung Woo Sung was seriously injured on the set of Athena: Goddess of War, along with another co-star, and both were rushed to the emergency room. The van they were riding in while shooting an action sequence was involved in an accident, and my I Lub You suffered an injury to the leg while the other co-star Jung Chan Woo suffered an injury to the head.
Both injuries were deemed serious but non-life threatening. Athena is pretty much now on a live-shoot schedule, and the injury to the drama's main lead may necessitate the filming to stop and the broadcast of the drama to halt as well, depending on whether Jung Woo Sung can come back to work.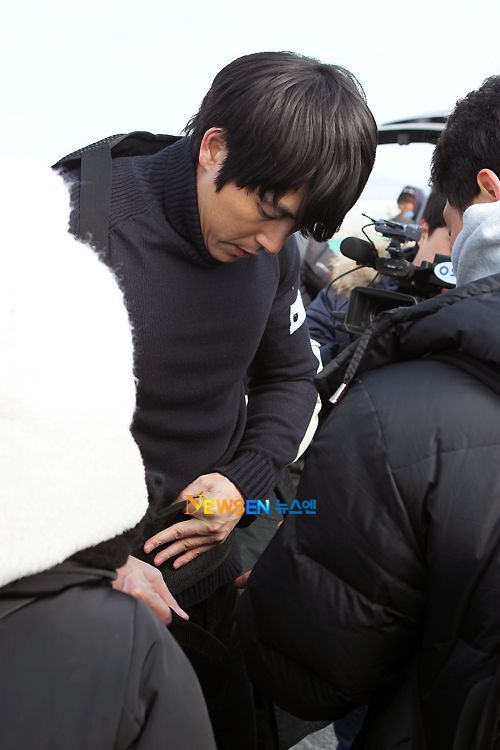 This is beyond dreadful news, for both injured actors, and the drama. Athena has now lost its ratings lead to both Queen of Reversals as well as Dream High. Its ratings have fallen by half since it's premiere, now hovering at just over 10%.
I never write about Athena because, frankly, the drama is terrible. To review it properly would make me angry. Suffice to say, the story and the characterizations have been weak and shoddy, leaving compelling actors acting out lame storylines and unrelatable emotional hooks. As much as I wasn't enamored of IRIS, it's by far the better drama of the two.
I wish a speedy recovered to both actors, and I really hope the injury doesn't cause any long-term repercussions for both guys. Sigh, what a waste of my I Lub You returning to the small screen for the first time in 15 years, just for a piece of crap drama like Athena. All hype, no substance. The entire cast of Athena is wasted actually. Thankfully I love most of the actors involved, and can see their talent shining through this mess, so this blip won't affect how I feel about any of them. I just am pissed at the waste of a golden opportunity to create a compelling and epic thriller drama.