The upcoming KBS Wed-Thurs drama The Thorn Birds released its first batch of drama poster and stills, and boy am I underwhelmed. I can't quite figure out what the drama is about just yet (something about a woman persevering through adversity and rising above the odds with her strong spirit), but I do know that the stylist who dressed both Han Hye Jin and Kim Min Jung needs to be fired, and the person who designed the poster shoot needs to be sacked.
Is it just me, or are you sick of photo shoots where the four leads just stand next to each other with different looks on their faces? Neither lead actors Joo Sang Wook nor Seo Do Young give me any impression about their characters or what to expect based on looking at these stills. It comes across as very bland – like they stuck the leads in front of a white screen and then started taking pictures. Oops, that appears to be exactly what they did.
Looking at the stills below, I can't help but bust out laughing at the expression on Kim Min Jung's face. Lordy, I love you girl, but your look of distaste is pricelessly wacky. Poor Min Jung has a look like she smelled a particularly nasty fart from her other two co-stars. I can imagine the photographer yelling "Min Jung-ahhh, imagine the smell is extra foul, so scrunch up your face even more!"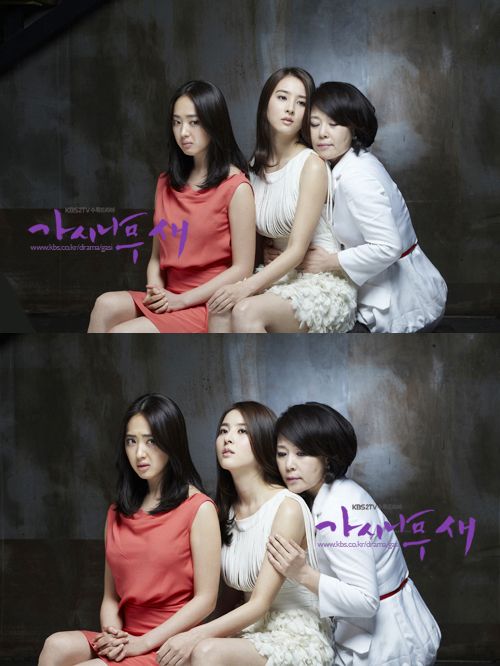 And the production couldn't even come up with a lead couple concept that wasn't directly carbon-copied off of Han Hye Jin's most iconic work Jumong. C'mon people, it's the same actress, so of course I am immediately going to make the connection. Soseono is cheating on her King of Gorgyureo hubby, so scandalous!
Stranger things have happened, and The Thorn Birds could be the next big thing for all I know. I just feel like the drama and its concepts feel so stale and inert. It would be even more of a shame if the story and execution turns out to be stellar, and it fails to find an audience because the promotional material doesn't interest any viewers.
The Thorn Birds premieres after President wraps its 24-episode run in three weeks.