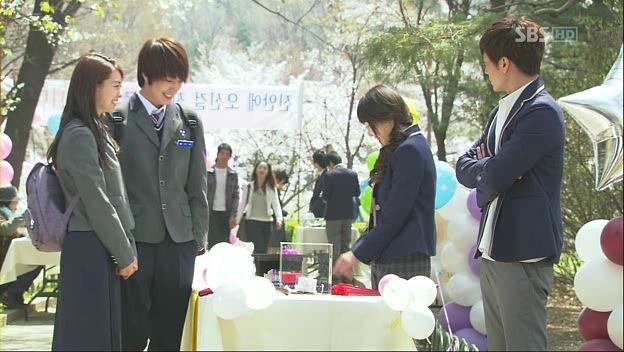 I find 49 Days to be curious drama, one that eschews more standard set ups, but also lacks the comfortable beats. I love how it's the opposite of makjang, and really very atmospheric, moody, and melancholy. I'm glad I stuck with it, though I stand by all my earlier critiques, because ultimately it's fixed the problems I had with it, and delivered in ways I appreciate.
We're eight more episodes until the end, and I think we've got plenty more story to tell, even with Kang the super sleuth having figured out pretty much ALL the secrets that everybody has been harboring in this drama. He'll totally be Ji Kyung's daddy long legs going forward (you know, the secret behind-the-scenes support for our intrepid heroine). This drama is really like an old-school locomotive, one that takes a while to get chugging and build up speed, but once it hit that break point, it's got a smooth and steady ride to the finish line.
Episode 12 Recap:
Min Ho bends down to assist Yi Kyung, who looks up at him with a stunned and confused expression. She asks him who he is, which leaves Min Ho confused at her question. Which is when In Jung, who is taking clingy-secret-girlfriend to new heights of clinginess, arrives at the pavilion right at 7 pm and sees this tableau. She calls out to Min Ho, demanding to know what he is doing with Song Yi Kyung?
Min Ho, who appears to have perfected a torn-between-two-women stance, looks between Yi Kyung and In Jung, before making up his mind and heads towards In Jung to explain. He tells Yi Kyung to hold on and he'll be right back. Dude, you are taking two-timing to new depths of sleaziness. Watching all this unfold is Kang, who for whatever reason headed back to the park after watching Ji Kyung walk away.
Kang approaches Yi Kyung, calling her name and telling her not to be scared of him. He asks if Yi Kyung remembers him, from their two encounters earlier outside her apartment and at the coffee shop. He tells her that he'll explain to her what happened. Yi Kyung looks at him and registers his presence, but she looks past Kang and sees that she is standing at the cherry blossom lane in Jin An. Her mind flashes back to when she strolled the lane with Yi Soo.
Scheduler appears before Ji Hyun, calling her a "troublemaker" and then dragging her away. Yi Kyung flashes back to a high school her and Yi Soo strolling the cherry blossom lane, both of them saying that they are going crazy because it's too beautiful here. Yi Kyung tells Yi Soo that their future pension should be surrounded by cherry blossoms. Back to the cheating-and-lying duo in the present, Min Ho brushes In Jung aside, promising to explain later, but rushes off because Yi Kyung has collapsed and needs him.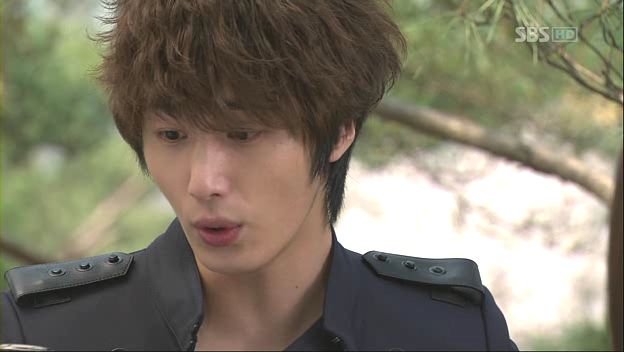 Scheduler is scolding Ji Hyun, and she doesn't know what to do, and how to get Yi Kyung's body back before midnight. She wonders if she'll be done for this time, but Scheduler says that it wasn't her fault that Yi Kyung just woke up suddenly. Scheduler checks his phone for instructions on what to do in this situation, and tells Ji Hyun that they will wipe Yi Kyung's memory so she will think today was just a dream, but Ji Hyun has to give up another day from her 49 days.
Yi Kyung is strolling down the lane, with her teenage self and Yi Soo walking ahead of her, and Kang following her. Ji Hyun and Scheduler catch up to them. Yi Kyung and Kang both look at a table set up by high school students, and they each flash back to high school. Ji Hyun and Kang were manning a table at the park, giving tarot card readings to earn money. Ji Hyun chides Kang for not helping her attract customers. She starts to sing to attract customers, and Kang tries to stop her, claiming it is embarrassing.
Yi Kyung and Yi Soo stop in front of the table and ask for a tarot card reading. Yi Soo pays, and when Ji Hyun accepts the money, she looks at Yi Kyung's hand and her student name badge for a minute. Yi Soo picks a card that reads The Lovers. Ji Hyun gets really quiet, and explains the two lovers mean unconditional love and marriage. Ji Hyun uses a magic trick to conjure up one pink rose for the lovers, explaining that pink roses are her favorite. Kang hears this and of course stores it away in his mind.
Scheduler looks at Ji Hyun, Yi Kyung, and Kang, seeing all three deep in thought. The scene flashes to Yi Kyung and Yi Soo sitting by the lake. Yi Soo takes the rose, and names their pension February's Love. He will build it for her in February, and plant cherry blossoms all around it. He gets up and kisses Yi Kyung on the forehead. The present day Yi Kyung collapses into Scheduler's arms as she thinks of this memory. She actually sees Scheduler's face before she faints, and Scheduler appears to have seen something as well, because he touches her face and looks confused.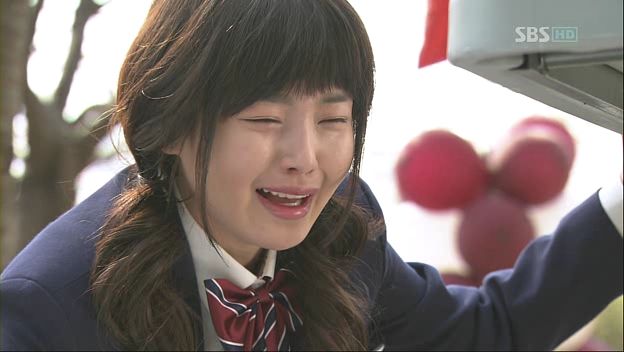 The scene flashes back to high school Ji Hyun and Kang after the tarot card reading. Kang chides Ji Hyun for giving a false reading, because the way The Lovers card was drawn by Yi Soo actually means eternal separation of the lovers. Ji Hyun says the couple looks so much in love, she doesn't want to tell what the card really means. She told them a white lie, but Kang refuses to have Ji Hyun determine what the couple wants to hear.
Ji Hyun mutters that Kang won't even drink his mother's seawood soup, why is he so worried about other people. Kang knocks all the tarot cards off the table, and when Ji Hyun tries to stop him, he pushes her accidentally and she falls over. The bracelet she was wearing falls off. Kang helps Ji Hyun up, but she's so angry that she tells him to leave. Kang leaves, and Ji Hyun starts to cry. Kang later comes back to the table, but Ji Hyun is gone. All he picks up is her bracelet.
Shortly afterwards, the class is informed that Ji Hyun is leaving for Seoul today, right when Kang comes into the classroom with a bouquet of pink roses likely to apologize to her. Kang runs outside and sees his mother waiting there with two packed suitcases. Kang is also getting shipped off to the US to study with his father.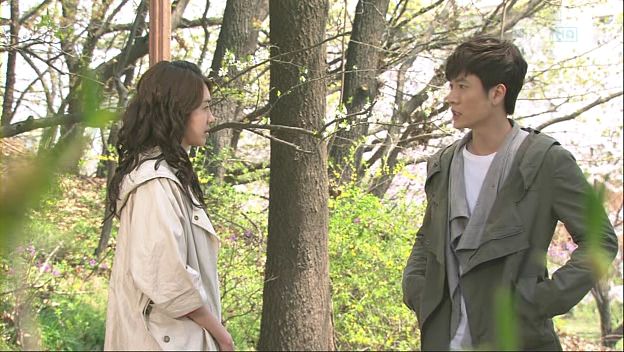 Kang snaps out of his reverie to find that Ji Kyung has returned. Ji Kyung yells out to Scheduler "what about this unni's part time job tonight!", which Kang hears. Min Ho rushes back to the pavilion but cannot find Yi Kyung. In Jung stands motionless in the park as people pass around her. Kang has taken Ji Kyung to have dinner, and we flash back to how he came to be at the pavilion when Ji Hyun's soul left Yi Kyung's body.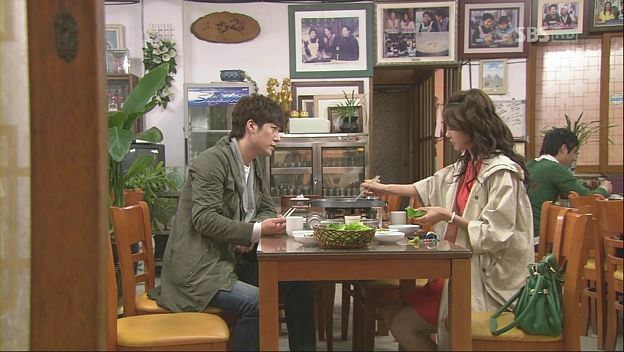 Turns out her followed Ji Kyung from right after he dropped her off, and he saw In Jung call Min Ho oppa, and Min Ho drag her off. Kang keeps looking at Ji Kyung as she scarfs down the food. He wants to order more food for her, but she's just curious as to his new attitude. She asks why he's not mad knowing she came her with Min Ho, who so happens to call right at that moment. Ji Kyung stands up to answer the phone, but Kang grabs it out of her hands and tells her not to answer, making an excuse that people should not talk during dinner.
Min Ho's call to Ji Kyung end up in voicemail, which leads him to assume she's fine now since she turned off her phone. He remembers leaving In Jung waiting, and he runs back only to find that she's gone as well. In Jung's walked to a poor area in Jin An, where she looks into a house wistfully. She turns around and Min Ho is standing there looking at her. In Jung get a call from Seo Woo, who has passed out drunk from being stood up at the restaurant by Kang. Min Ho cancels his trip and takes In Jung and Seo Woo back to Seoul.
Kang is driving Ji Kyung back to Seoul, and as she passes by a restaurant that her dad used to love. Kang hears her and pulls up in front of the restaurant. He pretends to buy soup for the manager, and uses that as an excuse for them to go inside to buy to go. Min Ho drives by the restaurant just as Kang and Ji Kyung walk out with their take out. He sees them but In Jung does not. Min Ho wonders why Kang is in Jin An?
Yi Kyung arrives at the coffee shop for her midnight shift, but her surly attitude immediately makes it very clear this is not the real Yi Kyung. It's of course our Scheduler pretending to be Yi Kyung. Two high school kids come by to ask for a favor, and Scheduler/Yi Kyung says that he won't buy cigarettes for them. Dr. Noh comes in, and Scheduler has returned to his original self. Dr. Noh asks where Yi Kyung is, and is told that she's not feeling well and home sick.
Min Ho carries Seo Woo back into her apartment, and goes to talk with In Jung inside her room. In Jung says that this is his first time at her apartment and inside her room, and she can't believe its under these circumstances. Before he dated Ji Hyun, he never came here because Ji Hyun lived here, after Seo Woo moved in, he couldn't come here because he was dating Ji Hyun at that time.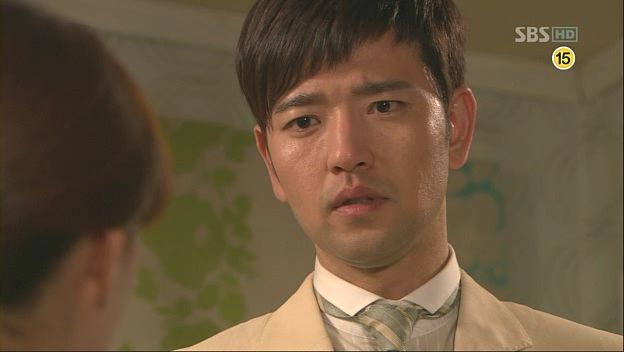 In Jung is furious that the normally unflappable Kang Min Ho is suddenly traveling with a woman he met less than one month ago. He confesses that he's attracted to her, and he's sorry it's happened. He tells her to wait for him, because he doesn't want to do anything Yi Kyung. In Jung yells that she's waited for him for five years, and he tells her to be quiet so that Seo Woo won't hear.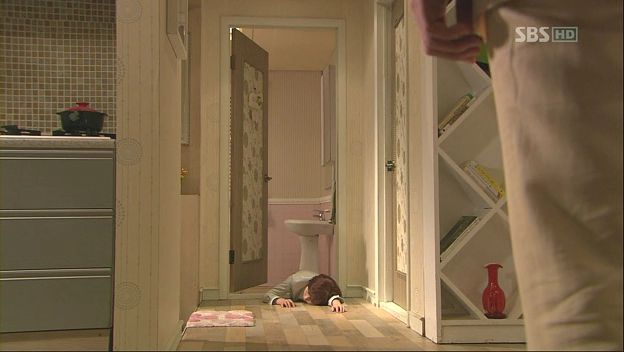 In Jung refuses to be quiet, and she's not afraid anymore of people finding out. Min Ho says that he hates being attracted to Yi Kyung, and he's working on resolving his feelings. Seo Woo goes to the bathroom to throw up, and she collapses on the floor afterwards. She sees a blurry Min Ho from the corner of her eye before she falls asleep again.
Kang walks Ji Kyung home. He wonders how Ji Kyung is fine after seeing Min Ho and In Jung together. He's put two-and-two together and realizes that when Ji Kyung told him when they first met that she caught her fiancée and her best friend together at the hotel, she was talking about Min Ho and In Jung. Ji Kyung lays down to rest, but her spirit doesn't pop out of the body, perhaps because Yi Kyung will be getting her memory of today wiped. Min Ho goes to see Kang at the restaurant, asking why he was in Jin An today, and how Yi Kyung is doing?
Kang drops his package and punches Min Ho in the face. Min Ho asks if the punch is for Yi Kyung, but Kang asks him how long he has been with In Jung. Kang punches him again, the punch on behalf of Ji Hyun. Min Ho tries to lie that his relationship with In Jung started after the accident, but Kang doesn't buy his lies. Kang tells Min Ho that if he likes In Jung, then he needs to just stick with In Jung, and leave Ji Kyung alone. Min Ho asks whether Kang likes Ji Kyung that much? Min Ho tells him to stop butting into the situation, it's up to Ji Kyung to decide what he wants.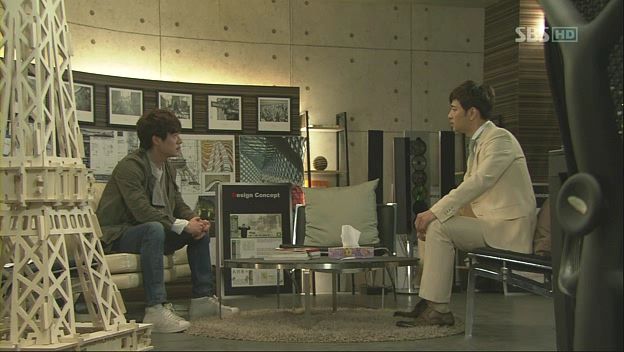 Kang wonders if the Kang Min No he knew and respected is really this kind of person. Min Ho wonders why Kang likes and respects him so much? Kang explains that he really admires Min Ho for his integrity and how he treats everyone with respect. Kang knows that Min Ho came from a poor background, and respects how Min Ho has accomplished so much. Min Ho says that Kang has no clue just exactly how poor Min Ho's background was. Min Ho tells Kang to put some medicine on his knuckles and gets up to leave. Kang warns him again to stay away from Ji Kyung.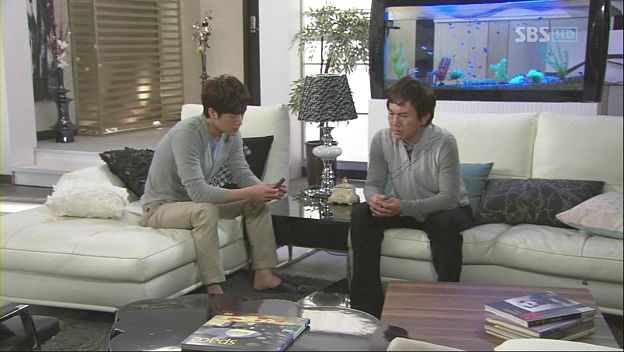 Kang goes back to his apartment and takes out Ji Hyun's seal, wondering why she's hiding this here. The next morning, Kang and the manager discuss the 49 days borrowing a body myth, and how it could be true. Kang calculates the days, and realizes that Ji Kyung showed up the day after Ji Hyun's accident, and asked to work for 48 days. He notes that every time he gets close to finding out Ji Kyung's real identity, she gets really scared, which means she can't be discovered. Kang says that Ji Kyung is looking for evidence of a person's real heart, but he doesn't know how to help her.
The manager notes that a seal is needed usually for sale of property. Kang wonders why Ji Kyung is still so fixated on Min Ho if she knows about his relationship with In Jung? He can't figure out everything that is going on with Ji Kyung, but he intends to help her. Ji Kyung wakes up the next morning, Ji Hyun's soul having slept the night away in Yi Kyung's body.
Ji Kyung takes the soup to the hospital room and gives it to her parents. Ji Hyun's mom recognizes Ji Kyung as the Ji Hyun's friend. She hands over the soup, explaining that Ji Hyun told her that her dad liked the soup at the restaurant in Jin An. Her dad is touched to know that Ji Hyun even told her friend about his likes.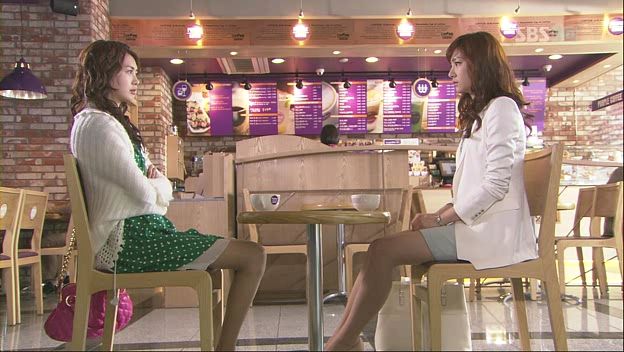 In Jung looks at the text she got yesterday, telling her to meet Min Ho at the pavilion at 7 pm. She wonders who sent it to her, and she calls back the number and reaches Ji Kyung's phone. The two ladies meet and discuss why Ji Kyung sent her the text. Ji Kyung tells In Jung that she promised to keep her secret, but she never promised not to meet with Min Ho. Ji Kyung says that In Jung is dating her friend's fiancée behind her back, implying that why can't she do it as well.
In Jung says that Min Ho was her man first, to which Ji Kyung asks if In Jung gave her man to her friend then? If In Jung did that to her friend, then Ji Kyung has no qualms about showing interest in Min Ho. Ji Kyung wonders why In Jung is so afraid of her, when she let her friend have her man for the past two years? In Jung tells her that Min Ho has no intention of breaking up with her, to which Ji Kyung says that since In Jung is Min Ho's spy at the company, of course he won't break up with her.
Kang meets with Seo Woo, apologizing for standing her up. He asks Seo Woo whether they knew Min Ho was also going to Jin An, which is the first that Seo Woo heard of that happening. Seo Woo mentions that she heard In Jung and Min Ho fighting yesterday, and talk that they had dated for 5 years. Seo Woo says that it's probably her drunk dream, and that while she's never met In Jung's boyfriend, Ji Kyung has met him. Kang finds out that In Jung asked Ji Kyung to keep her boyfriend's identity a secret. Seo Woo also tells Kang about Ji Hyun's father having a brain tumor and needing surgery, and having written a will giving everything to Min Ho.
Kang is driving back to the restaurant, realizing that if In Jung and Min Ho have been dating for the past 5 years, then Min Ho meeting Ji Kyung was all a conspiracy. Kang ties everything together, and realizes that Ji Kyung isn't hanging around Min Ho because she likes him, but because she knows about the conspiracy and is doing something about it. In Jung goes to see Min Ho and tells him that she is planning to tender her resignation today to Ji Hyun's dad.
In Jung goes to the hospital, where she finds Ji Hyun's mother and another of Ji Hyun's friend there. In Jung asks what the friend is doing here, and finds out that the friend had given an interview to a Park Jung Eun, so she thought of visiting Ji Hyun. Mom confirms that Park Jung Eun came by earlier to drop off soup for Ji Hyun's dad that she had brought back from visiting Jin An yesterday. In Jung wonders who this friend is?
Ji Kyung is waiting for Min Ho to call, wondering why he's not checking up on her. Her plan to split up Min Ho and In Jung needs to work. Min Ho is meeting with his cohort, and realizes that Ji Kyung is a potentially formidable foe. She used an unlisted number, and managed to send a text to In Jung to meet Min Ho. He asks that Ji Kyung be thoroughly investigated.
Kang comes back to the restaurant to find Ji Kyung sitting outside deep in thought. He thinks that Ji Kyung doesn't know that her father is sick and needs surgery. Kang is also keeping track of time, and he marks down that there are 23 more days left. Yi Kyung is at the coffee shop, and she flashes back to her fainting in the cherry blossom lane and looking up to find Yi Soo's blurry face staring down at her. She asks Yi Soo to please don't come to her even in her dreams.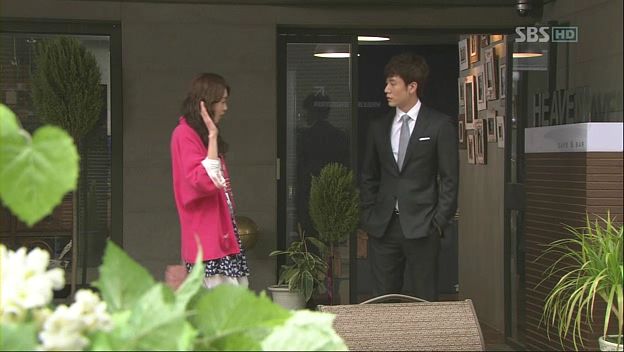 We're told there are twenty days left (Kang's calculation doesn't take into account Ji Kyung losing days because of rule violations). Yi Kyung wakes up right before Ji Hyun enters her body, and she actually sees Ji Hyun's soul. Ji Kyung arrives at work to see Kang dressed in a natty suit carrying a bouquet of pink roses. He tells her that he's headed to a date. Ji Kyung gets jealous that he's headed on a date, yet he's so nice to Song Yi Kyung.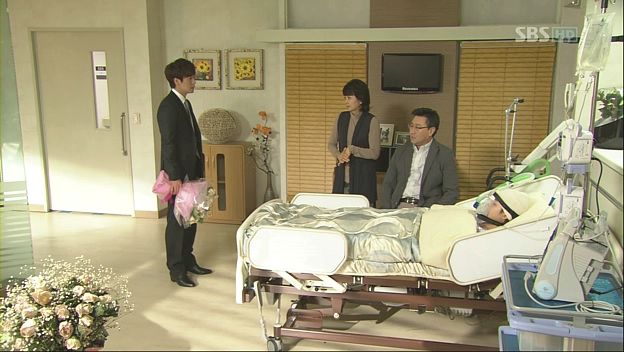 Kang goes to the hospital, where he tells Ji Hyun's father that he wants to keep designing the resort project. Ji Hyun's father brushes him off, telling him to not come back again. Ji Hyun's mom runs after Kang, apologizing for her husband's rudeness, explaining that he's not feeling well. Kang is understanding, and asks her what happened on the day of Ji Hyun's accident. He's told that Ji Hyun misplaced her seal, which was needed to close the sale of the island property.
Ji Kyung calls Min Ho out to discuss what happened at Jin An. She confesses to texting In Jung, and he asks why she did it. Min Ho asks her what she wants from him? She says perhaps she wants what he wants right now? Min Ho presses her on what she wants from him. Ji Kyung says that she is not someone he can figure out, and Min Ho tells her that he no longer has any interest in figuring her out. He gets up and walks away, leaving Ji Kyung worried about what she can do with her remaining 20 days.
A PI is secretly taking pictures of Ji Kyung. Kang is driving back to the restaurant, having realized that Min Ho cannot get his hands on the seal, and that Min Ho never had any intention of marrying Ji Hyun from the very beginning. His heart is hurting for all that Ji Kyung has endured for the past few weeks. He wonders what he can do to help her?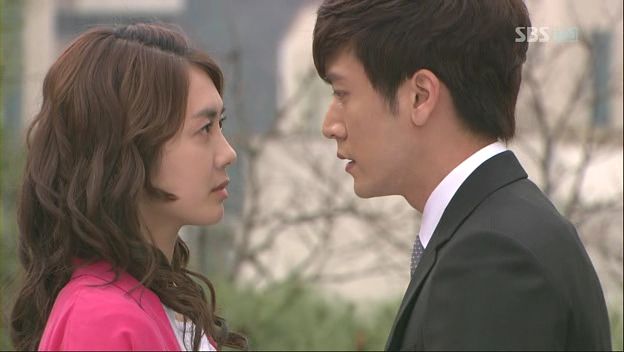 He drives past Ji Kyung, who is walking back to the restaurant while deep in thought. Kang stops the car and gets out, purposely striding towards her. He stops right in front of her, and grabs her for a tight embrace.
Thoughts of Mine:
Okay, even if 49 Days up until the end of this episode had sucked balls (which it didn't – this drama has been rocking it since episode 9), I would have considered it well-worth my time to watch it simply for the last scene alone. Oh My Lord, no one hugs like Jo Hyun Jae hugs. Kang-ahh, please hug me, too~ I swear, handsome Korean actors in suits cause my stomach to do little flip flops anytime I see it.
On a non-superficial level, this episode was so good I'm not sure where to start talking about it. Kang took his realization of Ji Hyun in Yi Kyung's body a hundred steps forward and pretty much figured everything else out (Min Ho and In Jung cheating on Ji Hyun, it all being a set up, Ji Hyun knows as well). Man, I'm going to have to start calling him Sherlock Kang from now on. I can't wait to see how this all unfolds further now that Kang is in the know, and the other folks are also realizing many of the secrets are out of the bag.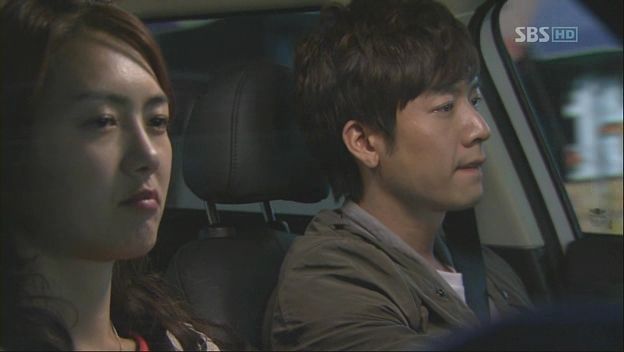 I'm not quite sure what type of victory Ji Hyun and her family gains if Min Ho and In Jung and the bankrupt the company scheme is thwarted, because Ji Hyun will die if she doesn't get her two more tears, and her father's high risk surgery pretty much ensures he's at death's mercy as well. It's like winning the battle, but losing the war. Not to say I don't want the takeover plot prevented, but I'm glad that the drama has stopped focused so much on it, and started moving into the more meaningful emotional threads of the story.
I'm fine with the revelation that teenage Yi Kyung and Yi Soo had a unique run-in with teenage Ji Hyun and Kang. It's a little too coincidental, but hey, this story is predicated on many elements of destiny and fantasy that I always knew the writer would tie in the two emotional arcs of the drama at some point. I'm still only feeling Kang's love for Ji Hyun and not much else from anyone else. Even the Yi Soo and Yi Kyung love story, however tragic, feels remote and told from a third-person narrative.
I can see Yi Kyung's emotional rudderless existence and loneliness, but I can't FEEL her feelings, and therefore I can't muster up sadness for her plight. Whereas in the last few episodes, Kang's feelings have totally taken over the story, and I understand his prickly relationship with Ji Hyun now. 49 Days might be the first drama where an OTP (Kang and Ji Hyun) gets together, but the entire courtship unfolding before us of another physical couple (Kang and the body of Yi Kyung). It's creating a rather weird visual dissonance for me, because I see the wonderful chemistry between Jo Hyun Jae and Lee Yo Won, but having to tell myself that it's likely not the end game.