It's here! Okay, more like it's coming in one week, and we get a sneak peak today! The cast of Best Love held its press conference today and my see-sawing heart took another giant somersault of joy when I saw them all together. I might as well tell you all now – I am only planning to recap one drama in May, and it's a toss-up between Best Love and Lie to Me. I'll probably recap the first two episodes of both, and then see which one I want to continue. Or maybe I'll go insane and recap both. Anyhoo, I've also linked to the third preview for Best Love below.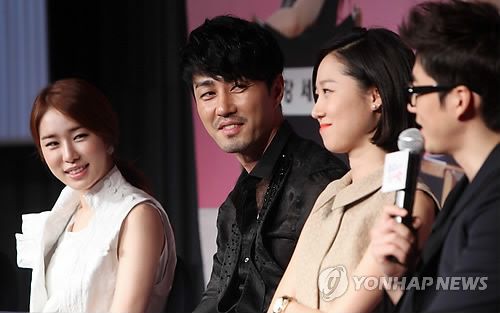 I have to say that everyone looks decent, though Cha Seung Won really rocks the all black, and Gong Hyo Jin I simply accept either looks stunning or frumpy depending on her mood, and she's probably in-character today based on what she chose to wear. I love the dorky specs on Yoon Kye Sang, and Yoo In Ah looks fabulously chic in black and white.
Third preview for Best Love:
I already glimpse a potential City Hall spoof in the last scene of this preview, so I am thrilled the Hong Sisters may wisely spoof some of Cha Seung Won or Gong Hyo Jin's most famous dramas. Please lord can I have a Thank You spoof with Cha Seung Won playing Dr. Min (Hyukkie won't mind).
[Credit: all pictures of the respective news agency as marked]