Next week two May dramas are premiering, and the first to arrive will be Baby-faced Beauty for KBS on Monday. The cast attended the customary press conference, and Jang Nara stood out like a spring flower with her oh-my-eyes-so-bright pink dress. Which frankly looks cute on her and probably no one else on this planet.
But her hair, which I initially liked in the early stills, I no longer like at all. It's freakishly identical to the hairdo Gu Hye Sun sported as Geum Jan Di in Boys Before Flowers, and I shudder whenever anything reminds me of Jan Di. *throws salt* Below are some pictures of the press conference, and a link to the preview for episode 1.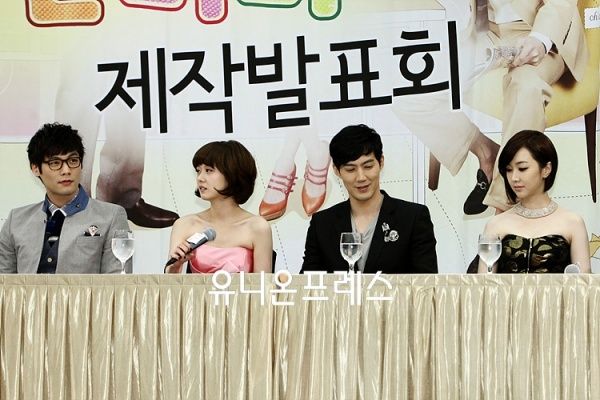 I have to say – I don't think I've ever seen such a mismatched cast at any press conference recently. And for a fashion-themed drama, no less! It's like everyone got dressed in the dark, and then showed up at the event to realize in horror how they all viciously clash with each other. Individually everyone is merely okay, but together, it's like an episode of What Not to Wear.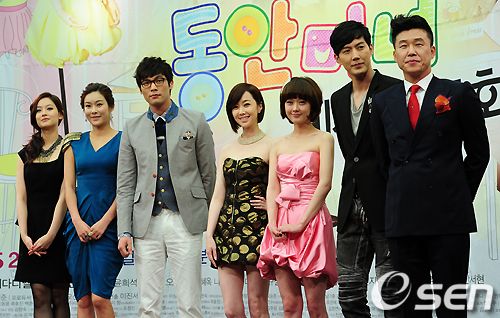 Preview for episode 1 of Baby-faced Beauty:
Honestly, other than the first adorable trailer, these rest of the previews haven't excited me at all. And this final trailer makes the entire drama seem way too OTT for my taste, especially Daniel Choi's character. But Jang Nara continues to give me good vibes with what I've seen of her. She seems to be doing a good job of balancing the steely go-getter attitude of her character with any OPW wiggle tendencies to be overly cute.
[Credit: all pictures of the respective news agency as marked]