Apparently it is possible to write a recap when one's eyes are nearly swollen shut from all that sobbing and wailing. Good to know. But I wonder what'll happen tomorrow, when I'll probably burst a tear duct or something like that. Whatever comes will come, and today's recap is solely about episode 19 of 49 Days. The production of 49 Days has been on a lockdown this past week to keep spoilers to a minimum, which also fanned the flames of rampant speculation that the story was going for another huge plot twist to end it. Why else for the secrecy, right?
All I know is that today's episode was both a pay-off and a set-up. It paid off one set of OTP, and set-up another set of OTP. I have no clue what will befall the characters of 49 Days, but since I'm fine with either of the two most likely endings (a conventional happy ending or a shocking reversal of love lines), this just leaves me soaking in the amazing storytelling that has become the hallmark of this drama.
Episode 19 Recap: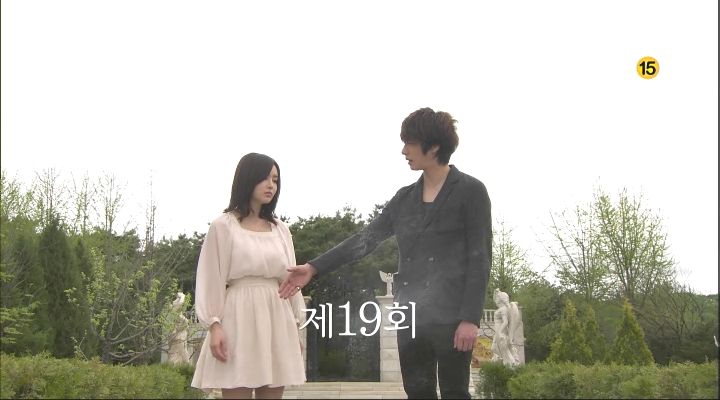 Just as Scheduler is about to ship Ji Hyun off on the Great Elevator To the Sky, her necklace glows and in plops two more tears to join the first one. Ji Hyun is stunned, and needs Scheduler to confirm for her that, yep, she got her three tears. With technically about 7 hours to spare, too.
Ji Hyun wonders from whom those tears came from? She doesn't think she had anyone left willing to cry pure tears for her. Scheduler remarks that it appears Ji Hyun did live a good life, one that touched people. He congratulates her. Ji Hyun asks Scheduler not to reveal the identity of the two people who cried for her. If she knew, maybe she'd live her entire life just loving those three people only. Ji Hyun's soul fades, and Scheduler's face gets blurry, as she returns to her body.
In the hospital, right as Seo Woo and Ji Hyun's parents are sobbing over the doctor's latest prognosis that Ji Hyun will likely never regain consciousness…..Ji Hyun regains consciousness. This would be funny in an ironic medical malpractice sort of way, but here it's super fitting and uber touching. Seo Woo notices Ji Hyun's eyes are open, and the doctor is summoned as the parents are shocked and wildly happy with this reversal of fortune.
Yi Kyung has packed her meager belongings, plus the extra gift box of presents from Ji Hyun, and is getting reading to leave Heaven. The manager comes to summon her to eat but is instead told that Yi Kyung is leaving because there is no more reason for her to remain here. She thanks the manager and leaves. The manager calls Kang and tells him that perhaps they calculated the days wrong, because Yi Kyung just left and said that there was no more reason for her to stay. Kang frets whether this means Ji Hyun is dead?
The doctor is dumbstruck to see this miracle happen. Everyone worries whether Ji Hyun has full mental capacity, and she easily identifies her parents and Seo Woo. Whew, thank god she didn't come back a 5 year old. Kang is back from the US and driving back to Heaven when he gets a call that Ji Hyun has woken up from her coma.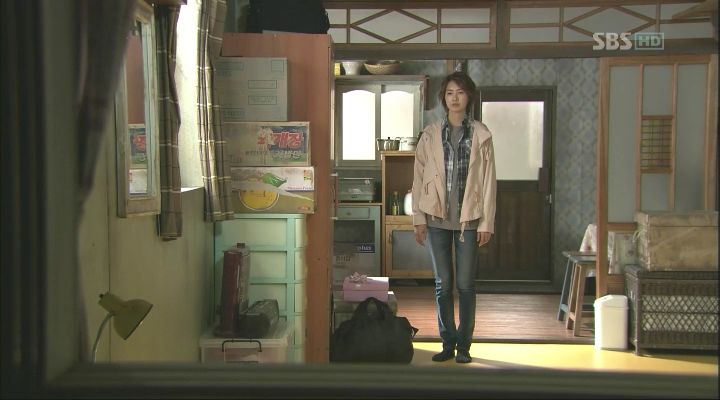 Yi Kyung goes back to her apartment, looking around at the shabby environs and the emptiness of the place. She sits down in her usual position on her bed mat, with her back against the wall. She looks up and imagines Ji Hyun crouched facing her, chatting away in her usual cheery way.
Kang rushes to the hospital to see Ji Hyun, who is currently getting a follow up medical scan. Ji Hyun's dad is told that Kang's dad reviewed the Haemi Island proposal and has decided to invest, a decision made strictly on business terms and not out of sympathy or kindness. Kang congratulates Ji Hyun's dad on getting Ji Hyun back.
The doctor meets with Kang and Ji Hyun's dad to discuss Ji Hyun's recovery. She needs extensive physical therapy for her atrophied muscles, and there may be further problems since the doctor doesn't understand medically how Ji Hyun could have awoken. He says this is simply a miracle. Ji Hyun's dad doesn't care, he's willing to take a miracle if it means he gets his Ji Hyun back.
Kang heads to see Ji Hyun (finally!), who is currently getting fed some porridge by Seo Woo . Ji Hyun hugs her mom and Seo Woo, grateful to have them in her life, and they are also thankful to have her back. When Kang comes into the room, Ji Hyun greets him cordially and asks if he's visiting because he heard the news that she woke up? She says that they haven't seen each other in some time (which is a very casual and somewhat distant way to greet an acquaintance).
Ji Hyun's mom wants to explain all that Kang did for Ji Hyun during her coma, but suddenly Ji Hyun asks why Min Ho and In Jung have not come to visit her. Mom lies that Min Ho is in Europe on a business trip, and In Jung hasn't been told of Ji Hyun's awakening yet. Mom takes Kang and Seo Woo outside and asks them to keep what happened recently from Ji Hyun, who she worries cannot handle the shocking revelations in her current weakened state. Kang realizes now that Ji Hyun came back only with her memories prior to the accident.
At the office, Min Ho gets strange looks from co-workers, and is finally told that his fiancée woke up from her coma. Min Ho goes to see Yi Kyung, walking into her apartment using her key that he got from the landlord. Yi Kyung informs Min Ho that Ji Hyun is awake and never going to be back here again, and Min Ho responds that he already knows. He's here to give her back the key, and tell her that he paid for the rent and the lease is under her name. Yi Kyung tells Min Ho to leave and never be confused again because she is not Ji Hyun.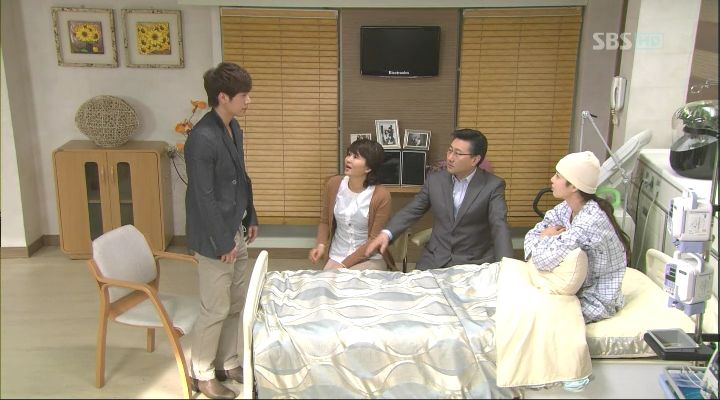 Ji Hyun is bonding with her parents at the hospital, hearing that they have stayed by her side during her entire ordeal. She wonders why Kang is still hanging around and not leaving yet. Her parents explain that Kang did a lot for them while she was unconscious, such as bringing her fresh flowers and paying a lot of attention to her. Ji Hyun thanks Kang, but wonders why he suddenly changed. Isn't it that a person changes suddenly only when they are about to die?
Kang reveals to the manager that Ji Hyun doesn't remember him or what happened during the past 49 days. While the manager worries this means Kang's back to his unrequited love again, Kang is simply grateful that Ji Hyun woke up. But when he is alone and thinks back to what happened in the past 49 days, Kang can't help but ask of Ji Hyun "how can you not remember?"
Yi Kyung is sitting in her apartment, waiting for Yi Soo to come as he promised, asking him to hurry. Yi Soo sits next to her but she can't see him. Kang comes to see Yi Kyung, telling her that Ji Hyun woke up. Yi Kyung is genuinely happy. Kang offers her a job to keep working at Heaven. Yi Kyung suddenly remembers and goes to grab the bracelet. Yi Kyung hands the bracelet back to Kang, telling him that it belonged to Kang's mom, and Ji Hyun asked Yi Kyung to make sure Kang got it back. Kang wants to know how Ji Hyun got it, but Yi Kyung doesn't know.
Min Ho receives news from his cohort that their take-over scheme is not going accordingly to plan. Min Ho goes to see his supposed spy waiter from Heaven and finds out that Kang went to his dad and got a back-up investment capital for the project. Min Ho demands to know why he wasn't told, and the waiter was clearly a pretend spy because he tells Min Ho to buzz off.
In Jung had texted Min Ho to come and eat with her, but he's too overwhelmed dealing with his scheme unraveling that he doesn't join her. In Jung goes by herself to the small restaurant that Min Ho's mom loved, and she eats by herself, crying and chewing, as the world continues to pass her by. Min Ho goes to a bar with his lackey, Ji Hyun's dad's driver, and commiserate over how everything just fell apart at the end.
In Jung goes to Min Ho's apartment to tell him that she is planning to leave Seoul. He's not happy to see her, but tells her that she can call him if she ever needs him. She apologizes to him. At the hospital, Ji Hyun is demanding that In Jung be told, because she would come immediately if she knew Ji Hyun was awake. Her mom tries to stall, which is when Kang arrives bearing cake and flowers. Kang takes Ji Hyun down to her physical therapy.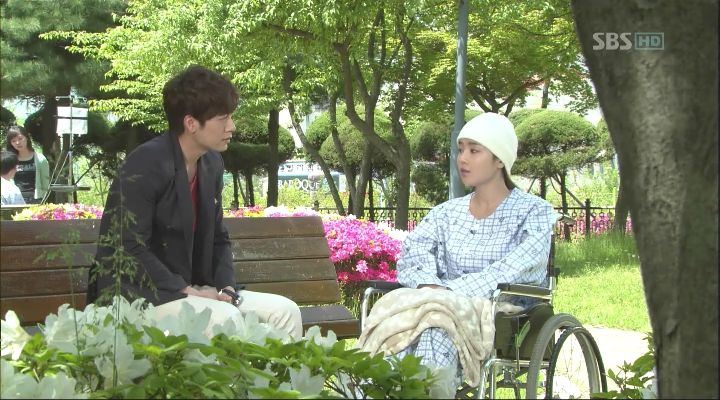 Ji Hyun tells Kang that she's not comfortable with him hanging around her so much. Kang asks her what it feels like to come back to life, and Ji Hyun confesses it feels great. Kang's happy that she's back as well. Kang tries to dig further, asking Ji Hyun if she remembers anything during her coma state. Did she dream? Was Kang ever in her dreams? Ji Hyun begs exhaustion and wants to go back and rest. Min Ho the perpetual lurker hides and watches Kang push Ji Hyun back inside the hospital.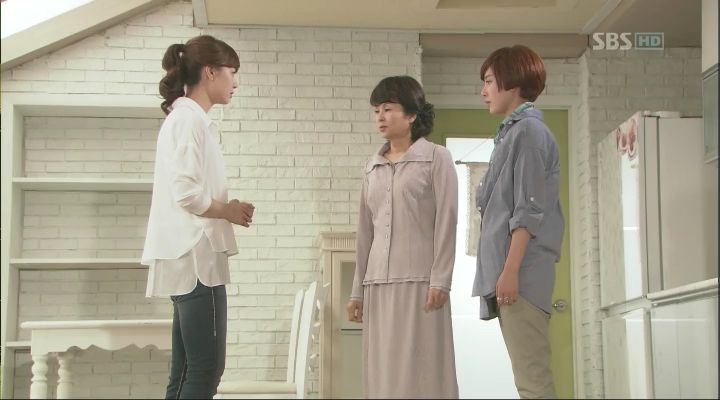 Ji Hyun's mom and Seo Woo go to bring In Jung to see Ji Hyun. In Jung begs that she can't go, but Ji Hyun's mom and Seo Woo are unmoving – they tell In Jung that Ji Hyun doesn't know anything about Min Ho and In Jung, so she needs to go visit Ji Hyun now as her best friend. When In Jung arrives, Ji Hyun asks to speak with her alone.
Ji Hyun tells In Jung that she's been asleep for so long, and dreamt quite a bit. One dream was about her engagement day, and how In Jung took off her own shoes and gave it to Ji Hyun when Ji Hyun broke her own heel. A woman's shoes are her pride, and In Jung easily gave up her pride that day for a friend in need. Ji Hyun closes her eyes and tears fall. She says she is tired and asks In Jung to leave for now. In Jung goes home and sobs her guts out.
Yi Soo is watching Yi Kyung pace her bedroom, and he's bemoaning the fact that he got stuck with another week of penalty duty. Suddenly his Scheduler sunbae calls him and he zips off to meet Grandma Scheduler. Grandma chides him for being peevish now that his term is almost up. Yi Soo wonders how he can be calm, now that his memory is back and Yi Kyung is right before him, he can't see her yet because of the one week penalty. Grandma tells him to read the fine print – he got one extra week of duty, but she never said his end-of-term request to see Yi Kyung would also be pushed out one extra week? This means Yi Soo can see Yi Kyung today!
Yi Kyung is looking through her box of memories from Yi Soo when suddenly an invitation pops up out of nowhere. It's an invitation from Yi Soo, and Yi Kyung primps and styles herself before she heads out to meet him.
Yi Soo is waiting for her at the park, and when she sees him, they walk towards each other. Yi Soo tells her "Song Yi Kyung, it's been a long time, and yet you haven't changed one bit". Yi Kyung touches his face, and asking him if it's true that he's really here? She hugs him and starts to cry.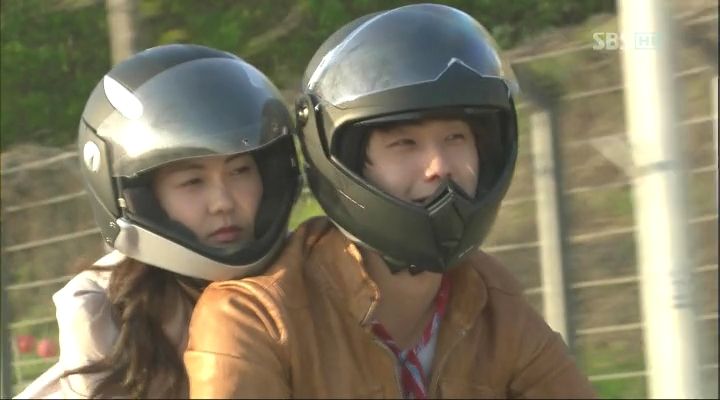 Yi Kyung has so many questions, wondering how this is possible, and why he waited so long to come now? Yi Soo only can tell her he came as soon as it was possible. He takes her away and tells her to do whatever he says for the day. Yi Soo takes Yi Kyung on a ride on his motorcycle, and the first place they go is the very location where he died.
Yi Soo finally speaks his heart – he felt constrained and so he turned to music to seek freedom and change, always believing that Yi Kyung was his home and he could always go back to her even if he fooled around with other girls casually. Yi Soo tells Yi Kyung that he didn't know how to tell her what he really felt in his heart, so that day he bought a ring to express his love for her. He pulls out the ring and puts it on her finger, and he pulls out the matching ring and puts it on his finger.
Their next stop is an amusement park, a place they never could go because they had no money. Yi Soo remembers promising to take Yi Kyung here on her birthday, so this is a belated wish come true. They go on rides and buy matching bunny ears and take a picture of wearing it. Afterwards, Yi Kyung once again asks where they are headed next, which makes Yi Soo smile that she is ever the same, always asking what is next. He tells her to just do what he tells her.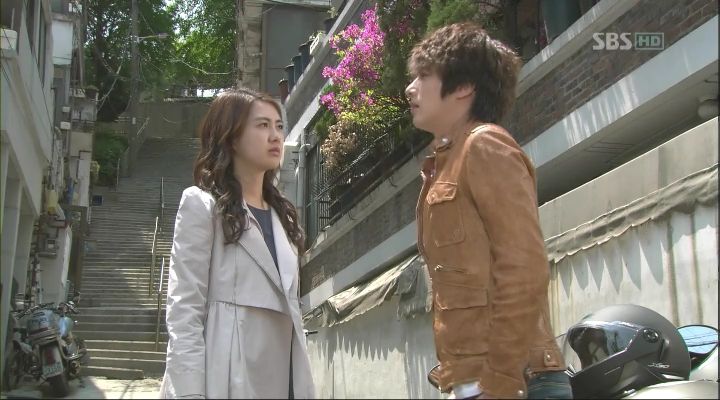 They head back to Yi Kyung's apartment, and Yi Soo asks her to go grocery shopping because he wants to eat a meal that she made. She's worried that he wants her to go buy food alone, and he promises that this time he will not leave without telling her. He simply has something he needs to do while she goes shopping, and he'll be done by the time she gets back.
Yi Soo is renovating Yi Kyung's dingy apartment when Dr. Noh arrives. Dr. Noh asks if Yi Kyung has moved, and is told she's still living here, the place is just getting renovated. Yi Soo is dismissive of Dr. Noh, and tells him to leave otherwise Yi Soo won't convey to Yi Kyung that Dr. Noh came by. After Dr. Noh leaves, Yi Soo accuses him of liking Yi Kyung because she's so pretty, which explains why he keeps coming around.
Yi Kyung comes back with the groceries and can see the entire room renovated. Yi Soo shows himself again and is quite pleased with his handiwork. Yi Kyung wonders why he did this when he's taking her with him. Yi Soo demurs that even if they stay in this room for one night only, he wants to stay someplace clean. He chides her for living like she did, especially when she used to be a neat freak. That night they lay in bed together, and Yi Soo cannot sleep so he keeps looking at Yi Kyung. He reaches out to caress her face when she awakens.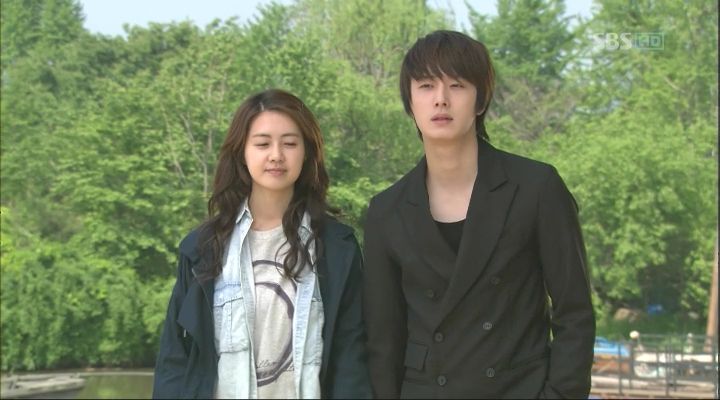 They decide to go for a walk. Yi Kyung wonders how this can be, when it's sunny outside and yet she can see and touch Yi Soo, who spend the last day and night with her. He tells her that he is still dead, and he had to wait 5 years to have this chance to see her again.
Yi Soo confesses that he wanted to marry her, that he's only loved her and no one else. That was what he wanted to say to her before he died. But now what he wants to say has changed. He asks Yi Kyung to let go of him and forget him. Yi Soo tells Yi Kyung that even if she died to be with him, they still can't be together, because that is what death means.
Yi Kyung cries that it's too hard for her to be alone, to live like this. Yi Soo asks her to endure for his sake, because he needs to be able to let her go so that he can have another chance to have a happy life again. If Yi Kyung is miserable and wallowing in misery, then Yi Soo cannot be at peace and move on. Yi Soo tells Yi Kyung to throw away the ring now, because it no longer means anything. He wanted to give it to her so that she knew that he loved her when he was alive, so now it's served its purpose.
Yi Soo takes off his ring and throws it in the lake. Now Yi Kyung knows how precious she was to Yi Soo, and that he did not abandon her. He tells Yi Kyung that she will become someone equally as special to another person. He makes her promise to be happy for his sake, so that he can leave without any further regrets and pain. Yi Kyung tells Yi Soo that she wants him to be happy for her sake as well, and Yi Soo takes off her ring and tosses it in the lake.
Yi Kyung apologizes for leaving her life's future and happiness up to him, and never paying him back for all that he's done for her. Yi Soo asks her to pay back her love to the next person she loves. To give everything she has to that person. Yi Kyung sobs and Yi Soo steps forward and kisses her. He breaks the kiss and turns around to walk away. Yi Kyung takes a few steps to follow him, but she stops herself. Yi Soo starts to cry as he continues walking, until finally he disappears from Yi Kyung's view.
Min Ho goes to visit his mom at the hospital, thinking to himself that all he wanted was to succeed so that he can take his mom away from here. Detectives are here to arrest Min Ho, and he begs for a chance to say goodbye to his mom. Min Ho's mom's memory is spotty, but she speak to him and believes that he has become successful. She hugs him, thanking him for not becoming the kind of man his father way. Min Ho's heart breaks and he starts to cry. His mom watches from the window as Min Ho is led away, but he tries to hid his handcuffed hands from her view.
Yi Kyung lies in bed, despondent but thinking back to what Yi Soo asked of her, and also what Ji Hyun told her about continuing to live her life. Yi Kyung gets up and goes to the hospital. She's standing in front of Ji Hyun's hospital room, but ultimately decides not to go in. As Yi Kyung is turning around to leave, suddenly she hears someone calling her Yi Kyung-unni. She turns back to see Ji Hyun has come out of her room. Ji Hyun walks up to Yi Kyung and hugs her, and Yi Kyung returns the hug.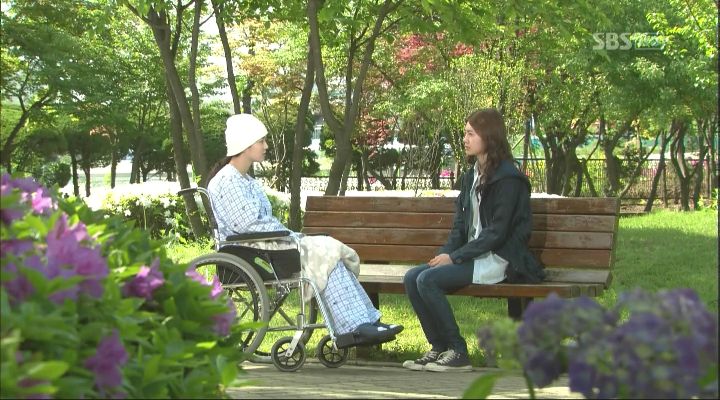 Yi Kyung and Ji Hyun are sitting in the courtyard, and Yi Kyung asks Ji Hyun about her memories. If Ji Hyun remembers Yi Kyung, then why doesn't she remember Kang? Yi Kyung realizes that Ji Hyun remembers everything, so she asks Ji Hyun why the pretense of not remembering Kang? Ji Hyun looks at Yi Kyung and calmly tells her "because I am going to die soon." Yi Kyung stares at her in shock.
Thoughts of Mine:
*Is speechless* Well, okay, I guess I ought to try and write something about what I think. The writer has outdone herself once again, taking us up to new heights and then plunging us back to new depths of uncertainty. Do you believe Ji Hyun will die in the final episode? I have no clue. Ji Hyun either believes she's going to die because she retained the memories of her 49 days, or this is just another feint.
First things first – this episode saw the definitive ending between Yi Soo and Yi Kyung. That's it for the cutest and most fate-thwarted couple in this drama. I'm not being a spoil sport, but even the most tender of love stories reaches its conclusion, and for these two, the conclusion is a bittersweet one. All those who wonder if Yi Kyung was going to die to join Yi Soo, or Yi Soo was going to resurrect in either his miraculous produced body or take over another person's body, I'm sorry to say that it's just not narratively consistent.
Yi Kyung and Yi Soo's story was always about the clearing up of misunderstandings, the process of saying a proper farewell, and the learning of how to let go. It was never about them getting a miraculous second chance to be a happy couple on earth or in Heaven. I'm glad Yi Soo told Yi Kyung that even if she died, it doesn't mean she'll get to be with him. That is not how life and death works. Hallelujah for speaking some hard to accept truths.
It was nevertheless a sob-fest here at Casa de Koala. My crying has reached new dimensions of how much tears can come out of my eyes per second. From the moment Yi Kyung and Yi Soo got their day together, I cried non-stop, smiling and crying because I was so so happy they got to spend the day together. It was both the realization of the final wish between Yi Kyung and Yi Soo, and I'm glad to hear Yi Soo speak the truths that are so difficult to accept.
It was time for both of them to move on – her to keep living, him to get another chance at life. If her purgatory for the last five years was to be a walking corpse, his was to be the Scheduler with no memory of her. They've paid their dues, and Yi Kyung needs to know that what kept her from grieving properly for Yi Soo (the misunderstanding that he didn't love her and abandoned her) has been resolved. Now she can grieve losing Yi Soo, a man who loved her and wanted the best for her. Now she can move on.
Ji Hyun and Kang, sigh, I have no freaking clue what is going to happen between them. If Ji Hyun doesn't die then these two are going to be together, no question about it. I'm good with that, they've earned it. But maybe these two are the counterpart to Yi Kyung and Yi Soo. Maybe Ji Hyun was always supposed to die, and her 49 day quest was akin to Yi Soo's – she gets to finish unfinished business and help Kang move on……to Yi Kyung. Meaning that Yi Soo and Ji Hyun's quests are two sides of getting the two people who are not fated to die (Kang and Yi Kyung) together because neither of those two have been able to move on from a love that could never be.
I bet if that happens, Yi Kyung and Kang are the end game, though one that will only happen after a considerable time jump in the final episode. I've always wondered what the true purpose of the 49 days quest was, and tomorrow's episode will answer my question once and for all. If Ji Hyun does die, after she comes back to life, it'll be a mindblowing plot twist, but one that follows the one adage about mortality that defines the very unfairness of it all.
It would mean that Ji Hyun was always supposed to die, and the accident simply sped up her date with destiny, ergo she got another 49 days to put things back in order, but her time was up nevertheless. Maybe my conjecture is all wrong, and maybe it's partially right. That doesn't matter. What matters is how incredibly moving 49 Days has become, making me feel, think, and reflect in the most genuine of ways.