The final episode of Taiwan's airing of Sunny Happiness is this Sunday night. I haven't been keeping up with the TW-airing of SH since I've watched the darn drama three times now. I know there were cut scenes from the China airing that were added back for the TW-airing, most notably the entire wedding night scene, but now its been revealed that the final episode will contain a proposal scene that was shot at a helipad.
Apparently the proposal scene was supposedly to take place on a helicopter, which was scrapped because bad weather and permitting problems prevented the helicopter from taking off. Instead the scene was filmed next to the helicopter (see above where the lovebirds stare into each others eyes all wistfully), leading both Mike He and Janine Chang to pout because they were all excited to act lovey dovey in the air.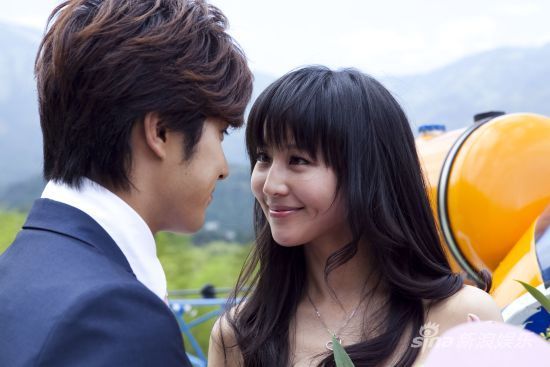 Raise your hands if you miss Yong Yong and Yun Jie. *memememe* I'm totally watching the final episode of SH tomorrow. Sadly I can't add this cut scene to my completed recap. Or can I? *ponders*
Jeez these two are so perfect together. Never in a million years would I imagine hot-blooded Mike He circa Devil Beside You and Why Why Love would be a match-made-in-Heaven with cool and composed Janine Chang circa The Hospital and Black and White.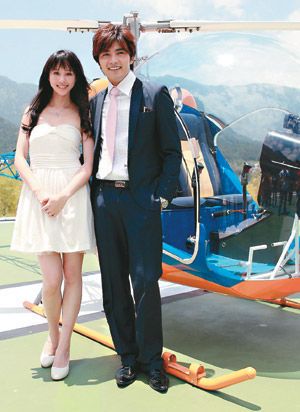 Sunny Happiness will bow with respectable and steady ratings. It led the Sunday night pack during the early half of its run, and only relinquished the crown when Drunken to Love You premiered. Looks like round 1 of Rainie Yang vs. Mike He goes to the little lady. For those of who not familiar with TW-dramas, Rainie and Mike are one of the most iconic couplings, akin to Joe Cheng and Ariel Lin.
Sunny Happiness will be followed by Love Keeps Going, which will star Mike and Cyndi Wang. I think round 2 of Raine vs. Mike will also go to Rainie. Heh, Mike won't mind, he's such a gracious gentleman. SH is the drama that Lie to Me could still be, if only that writer understood how to develop a believable romantic relationship between two leads in a contract marriage.