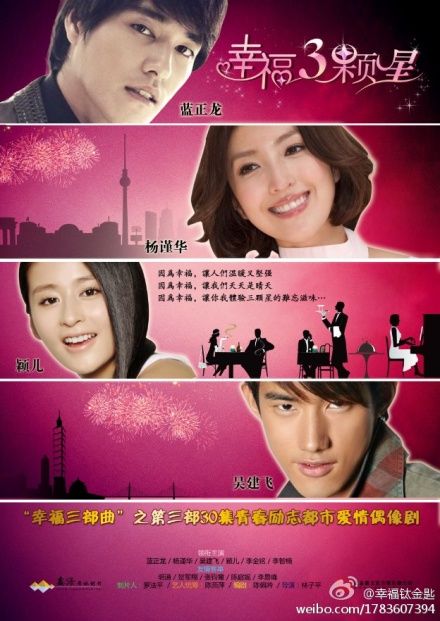 Wow, was not expecting this. A seven-minute sneak preview of Happy Michelin Kitchen (Chinese title Happy Three Stars) is out. First off, the English title is exceedingly dorky, I much prefer the literal translation of the title as Happy Three Stars. Second, I'm not partial to the leads' looks – Blue Lan with his weird moppy hair in some scenes, and Cheryl Yang pulling a mannish asexual pretense. That said, the drama actually looks good, and the leads chemistry is pretty fricken incredible.
Which is hilarious because word on the street is that the leads hated each other prior to filming (becaue Blue apparently badmouthed Cheryl years ago as being horse-faced and not his type and she's hated him ever since – see TW-gossip is pretty juvenile, isn't it?). Supposedly Blue has apologized profusely to Cheryl, but it actually took them filming their first intense kiss scene that made Cheryl melt and broke the ice between them. She complimented Blue as being quite a kisser, and this from the lady who made out with Ethan Ruan all over My Queen. The preview after the jump.
Click here to watch the seven-minute preview on Sina video.
The upside is that my boy Li Yi Feng is back as Xian Yun Chao in a guest-starring role. The music is cute with a very peppy cinematography. Not surprising, it's Cheryl that has me riveted to the screen, once again displaying absolutely pitch-perfect and effortless acting. The various disguises she dons to help Blue get rid of unwanted matchmaking dates may have been done before in other dramas, but was still pretty darn funny here with Cheryl's impeccable comedic timing.
Now for the downside – this drama looks to be an exact Coffee Prince remake with some slight variations, swapping out the coffee shop for a restaurant, and changing the secondary leads relationship vis-a-vis the leads. Blue is going to be the only person who doesn't know Cheryl is a woman and looks to continue that way for quite a few episodes until he wises up. This is just a teaser, so I'll remain cautiously optimistic until the drama airs in February 2012. What do you guys think?