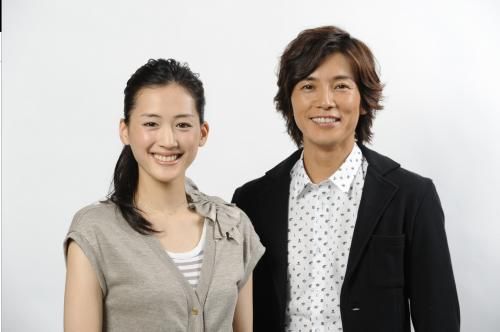 I can't believe I'm actually excited about this, but for some reason I think it would be a fitting ending for the couple and might wash away some of the residual bitterness that Season 2 left in my mouth. NTV has announced that it's about to commence filming on Hotaru no Hikari, the Movie.
After a brilliant drama adaptation of the manga same name, starring Ayase Haruka and Fujiki Naohito as Hotaru and Buchou, respectively, the drama waited three years before doing a Season 2 last Summer that almost completely turned me off the perfect OTP.
The first four episodes were great, and Mukai Osamu very nearly stole the show, but the remaining episodes completely butchered any character and relationship development and forced the couple to go in circles to generate plot.
Hopefully a two hour movie will perfectly bring this couple to a satisfying conclusion and finally allow me the closure with this story I need to feel content. The movie will be set 2 years after the end of Season 2, and Hotaru and Buchou will visit Rome because she knows it's a place he's always dreamed about going with the person he loves.
The movie commences filming next month and will be completely shot on location in Rome. o___O Location porn + Hotaru and Buchou? Alright, count me in! The movie is scheduled to be released in 2012. Ayase Haruka will need to get in as many projects before the end of 2012, as she has been tapped as the leading lady for NHK's 2013 Taiga Yae no Sakura.
It's quite an honor to anchor a Taiga, especially as a woman and so young an age. Which also means she's pretty much out of commission for all of 2013. For now, the thought of Hotaru and Buchou bumbling their way through Rome fills me with glee.
[Credit: Cinema Cafe]