My sane decision to drop watching and recapping the increasingly bizarre (storywise) Spy Myung Wol came up against the (real life) insanity of the drama's behind-the-scenes spectacle this past weekend, leaving me feeling a sense of compassion for this beleaguered drama and everyone involved with it. I watched episode 11 to see how the heck the story was going to proceed in light of so much uncertainty. This story continues to be 55 minutes of circular plot movement, with the last 5 minutes actually moving the story forward.
At this point, if Han Ye Seul does return (as she has expressed her intention to do so), then the story is in a good place with respect to the OTP. SMW will never regain any momentum with me since the middle episodes were so plodding, but at least it looks like it might be able to salvage what remains and produce something entertaining for the remainder of its run. As for me, Eric baby, I still adore you, but your character sucks and I'm pretty much building a brick house in Team Ryu.
Episode 11 baby recap:
Myung Wol confesses that how she behaved towards Kang Woo was genuine during their time together, and then shoots herself in the head with her prop gun and falls to the ground. Kang Woo grabs her and cries in agony. The PD calls cut.
In Ah prances over to chide Myung Wol for changing the script by herself. The PD feels otherwise, deciding to use that scene because the emotions felt real to him, he'll just cut out the moment when Kang Woo called her by her real name.
Kang Woo's taken off in his car, muttering to himself that he must be going crazy as he wipes the residual tears from his eyes. Myung Wol is still dazed from the emotion of that scene, and when Ryu finds her, she leans her head on his shoulder, asking to just let her remain like this. Yes, Ryu, I second that motion wholeheartedly.
The spy parents are informed by Dae Kang about the very emotional scene that was just filmed. Ryu is off brooding when he gets a text from Myung Wol asking if the mission must be continued. He texts her to forget about it today, and then goes to jog around a track to relieve his own frustration. He thinks to himself that in the future, he'll treat even Myung Wol's tears as a form of betrayal.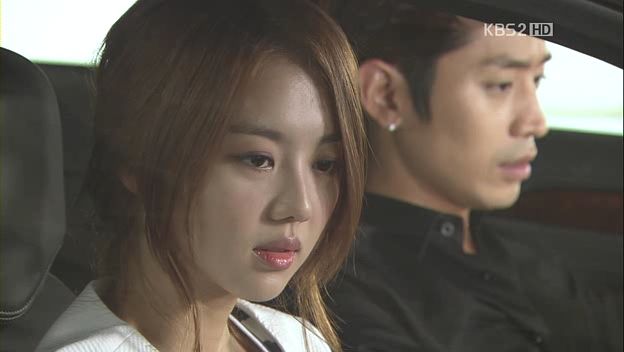 Kang Woo asks In Ah to just beat him up to relieve her anger towards him so they can end it. And he's willing to let her use him. In Ah correctly surmises that he's doing this for Han Myung Wol. Kang Woo threatens to go public, but of course will take the fall for everything. In Ah warns him things won't go according to his wishes.
In In cries to her granddaddy, who goes to ask Kang Woo what the hell happened. Kang Woo apologizes and said he told In Ah the truth that he didn't love her. The Chairman wants Kang Woo to pretend this didn't happen, but Kang Woo is determined to end it. The Chairman threatens Myung Wol's future in the entertainment industry, forcing Kang Woo's to agree to continue dating In Ah.
Kang Woo informs In Ah that he will do as she wishes and stay by her side, so In Ah needs to leave Myung Wol alone. In Ah is even more pissed that Kang Woo would sacrifice himself for Myung Wol, who In Ah still suspects is very fishy, what with always hanging around Kang Woo, now wanting to be an actress, and even showing up at his Singapore showcase. In Ah tells Kang Woo he needs to end it with Myung Wol, which Kang Woo agrees, if for Myung Wol's sake.
Myung Wol gets the lead in the drama, which pleases her and Agent Kyung, who was surprised to find a hidden talent like Myung Wol. Kang Woo asks Myung Wol be moved out into her own agency apartment. Kang Woo and In Ah go on a public date at a coffee shop where all their fans can see them put on a couple drinking coffee show. Choi Ryu gets more leads on the Four Books, which point to a mysterious figure called The Goblin.
Kang Woo goes home and tries to eliminate all traces of Myung Wol from his apartment. He ends up going to her new apartment, but can't bring himself to ring the doorbell and ends up leaving. Kang Woo and Myung Wol film for their drama. In Ah finds out that CFs have replaced her with Han Myung Wol. LOL, this must be the most meteoric rise to popularity in Korean entertainment history.
Myung Wol walks into the dressing room where In Ah and Kang Woo are already getting primped. In Ah chides Myung Wol for arriving later than her sunbae In Ah, and for not greeting her with the proper level of respect. In Ah starts trash talking Myung Wol, and even Kang Woo throws in a few digs at her. Myung Wol walks outside to prep herself. Ryu finds her and puts up a screen and stands guard over her as she applies her makeup.
Kang Woo and Myung Wol film a CF where they are totally awkward with each other and have to be coached to act more loving towards each other. Myung Wol looks very subdued and she confesses that she's exhausted. In Ah comes by and gets annoyed with Myung Wol (as usual) and tries to get slap-happy again (as always).
Ryu goes to Myung Wol's apartment to leave her some food, talking to the door as if it's Myung Wol, telling her to be strong and not cry anymore. He sees Myung Wol coming home and fainting outside. [Or, he sees part of a head from around the corner fainting which looks like Myung Wol]
Kang Woo can't get a hold of Myung Wol so goes to her apartment. He finds Ryu walking out, who informs Kang Woo that Myung Wol is resting and not feeling well. He tells Kang Woo not to let Myung Wol hurt anymore. Kang Woo tells him to move aside, and Ryu says there are things one cannot move aside for. The men stare down. After Choi Ryu leaves, Kang Woo crouches outside Myung Wol's apartment.
Kang Woo is informed by the Chairman that he's invited potential overseas entertainment honchos to attend his showcase tomorrow. Kang Woo is warned not to let this prime opportunity, which he has worked towards, to pass him by because of one woman. In Ah tells Myung Wol to scram, as her presence is the cause of Kang Woo potentially flushing his career down the toilet.
Kang Woo goes drinking to consider his options. Myung Wol thinks about her current situation. Drunk Kang Woo runs into Choi Ryu, who asks Kang Woo not to keep behaving like this because it'll make Myung Wol feel worse. Drunk Kang Woo tries to punch Choi Ryu, who easy deflects. Choi Ryu advises Kang Woo to look at what his heart truly wants. Kang Woo throws the same words back at Choi Ryu, who concedes it but says not everyone loves the same way. There is nothing Choi Ryu can do for Myung Wol, but that is not the case with Kang Woo.
Kang Woo goes home and takes out his precious daddy baseball and appears to make up his mind. Agent Kyung and Dae Kang can't locate either Kang Woo or Myung Wol. Choi Ryu asks Hee Bok to find a person, nicknamed The Goblin. Hee Bok thinks about it and finally connects it to the same person Kang Woo asked him to look for. Ok Soon says she got a text from Myung Wol saying "I'm sorry" and now she can't reach Myung Wol. Choi Ryu runs to her apartment, which is empty, save for a note from Myung Wol apologizing for leaving.
Kang Woo finally shows up at the showcase. He stands before the media interviewing him before the performance starts. Kang Woo informs the media his background given in the past are all just lies. He takes out his daddy baseball, which he brought here today to give him the courage to be honest. His dad is not a doctor, and he's not some heir to a chaebol. He's just an orphan living a false life.
But he doesn't want to do that anymore. Kang Woo goes further and says that his relationship with Joo In Ah is also a lie. He takes off his sunglasses, saying that he doesn't want to lie to his heart anymore. Kang Woo addresses Myung Wol, asking if she's watching. He tells her "Han Myung Wol-shhi, I love you."