A housekeeping item first – I won't be going back and doing full recaps for episodes 7/8 of Protect the Boss. I want to, but a lack of time and the feeling like it's homework after my vacation makes me elect to enjoy watching this drama more than feel like I have unfinished business with it. So onwards to episode 9, which picks up right where Ji Heon planted a kisser on Eun Seol to help her confirm her feelings for him (man or child).
I so appreciate that what makes PTB so moving isn't just about the romance, but the drama deftly weaves all the emotions that are present in our everyday lives and remind us that love isn't the only feeling in the universe. The friendships and the familial affection move me just as much, and make me care even more about all the characters. Our four leads are getting more involved in each other's lives, reaching out to each other in ways big and small, and I couldn't be happier.
Episode 9 recap:
Eun Seol confesses that he's also in her mind, but she doesn't know what that means. Ji Heon surprises Eun Seol with a sudden kiss as his brilliant way for her to ascertain the nature of her feelings towards him. Does she see him as a man or as her child/burden? Eun Seol pushes Ji Heon away after a few moments, both of them quietly assessing the situation.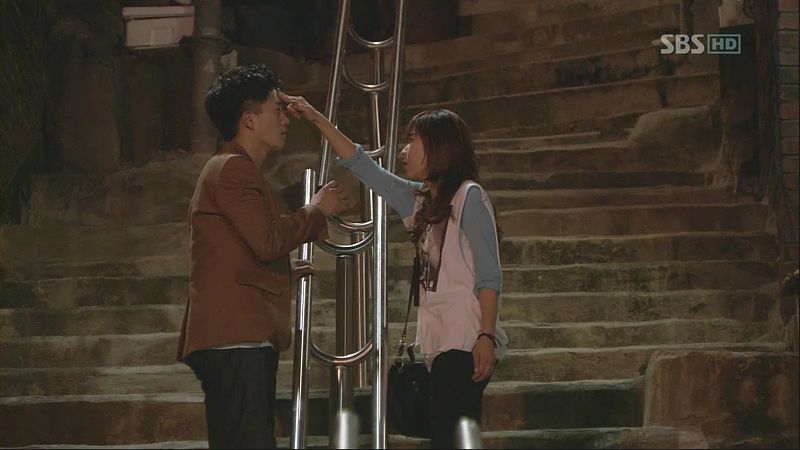 He asks if she's certain now that she sees him as a guy? She says it's not that easy to figure out. He thinks if she's not sure, they can keep doing it (kiss) until she's sure. She uses her finger to push his head away, telling him if he keeps doing it, it'll just confuse her more.
Ji Heon notices her heart is beating fast. Eun Seol's brain may be trying to confuse herself, but her physical reaction to Ji Heon doesn't lie. He takes her hand and tells her to feel her own rapid heartbeat. She doesn't think that means anything, and she doesn't want to confirm anything right now.
She's got a hurricane inside her right now, and she doesn't know what to do. He asks if she intends to run away from all this. She apologizes but she can't continue this conversation. Ji Heon is fine with calling it a day, since they made a lot of progress already. He doesn't know if tomorrow they can make as much progress, but each day he'll keep pushing forward with Eun Seol. For as long he's lived, he's never learned patience. But now he's summoning all the patience he has for Eun Seol. It doesn't matter if Eun Seol is confused or trying to run away, he's never been happier than right now with her. He's planning to savor this happiness.
Ji Heon asks Eun Seol for a good night kiss before she leaves. Of course she's about to say no way but then he grabs her hand since he just wanted to kiss her hand. He gently places a kiss on the back of her hand in a gentlemanly way, before walking away with a jaunty step. He turns and tells Eun Seol that he hopes one day she will like him more than she likes her employee badge. He uses his hands to flash her a heart symbol before leaving.
Ji Heon happily drives home, telling himself he's gotten so much already, he shouldn't be anxious for more. He starts humming a song with the lyrics "Isn't she lovely, isn't she wonderful, isn't she precious…." When he sees the security guards outside the house, he shakes their hand, and then he grabs them each for a hug. What a huge breakthrough for formerly OCD Ji Heon who couldn't standing any form of physical contact.
The Cha elders are having an awkward dinner. Grandma asks if eating dinner with her is like dying, what with the painful expressions on their faces. HAHAHA, I love you, Grandma. The Chairman makes the excuse that he's tired from working and doing community service today. Moo Won's mom thinks it's not fair the kids get excused but they have to eat with her. Grandma tells her to zip it, she wants them to have dinner with her. She gets called away to answer the phone, reminding the two old kids not to fight.
The Chairman asks Seok Hee why she looks so wan? She doesn't think he looks so hot either. He sighs and asks if it's because of Moo Won? He concedes that because she's a mom raising a child, so that's why she's so worried lately. She bemoans her Moo Won never once giving her a headache until recently, acting just like his Ji Heon. She wonders how the Chairman dealt with it all these years, having a problem child like Ji Heon to deal with? The Chairman sighs and says it's not anything he can express with words. They both offer each other more food.
Ji Heon comes bounding home all happy from his encounter with Eun Seol. Ji Heon's so visibly happy that his dad immediately suspects something happened because Ji Heon is so weird. He figures out that it must involved Eun Seol and chases Ji Heon to demand to know what happened. Moo Won's mom overhears and is happy that her Moo Won "lost" already. But then she shakes her head, wondering if Eun Seol needs to get her eyes checked because she picked Ji Heon over her Moo Won. LOL forever!
Moo Won and Na Yoon are having dinner. She wonders why she helped Eun Seol, and now she can't go home because her mom will kill her. Moo Won gets ready to leave, telling Na Yoon to be stronger and get used to being alone from now on. Starting from finishing her dinner by herself.
Eun Seol is sitting in her room, thinking about how she told Moo Won that she plans to dump both Cha boys. She bemoans her situation to best friend Myung Ran, feeling really guilty towards Moo Won. And she feels guilty towards Ji Heon as well, not being able to like only him. He heart is so confused. Myung Ran says the heart has two chambers, so she can like two guys. Eun Seol laughs at Myung Ran's odd attempt to cheer her up.
Eun Seol has already promised the Chairman, plus she doesn't want to get involved into the whole Cha family mess, getting yelled at by the moms as well. She wants to have a simple romance, not get involved in a relationship that comes with so much baggage and complications like succession of a company. Myung Ran tells Eun Seol to clear her head and start over from scratch. Eun Seol has tears in her eyes as she wonders if it's as easily done.
Moo Won calls Eun Seol out to meet with him on the stairs. He's come to apologize for what the moms did to her. She tells him not to apologize. He immediately senses that she's upset right now not because of the moms, but because of something else. And his instinct tells him it involved Ji Heon. She confirms it, but there are other things as well. He asks if she's being squeezed too tight between the two guys? If so, he apologizes, and will go warn Ji Heon to give her some space. Eun Seol tells him not to do it. Moo Won laughs at being chastised by Eun Seol, confessing that every time he sees Eun Seol chastise Ji Heon, he gets envious. He takes off before she has a chance to say anything more.
Na Yoon tries to sneak home and immediately gets chewed out by her mom. Her mom is pissed Na Yoon berated her. Mom thinks Na Yoon is a mess – dumping Moo Won who likes her, pining for Ji Heon who doesn't like her, and getting drunk on the street with "that girl". Na Yoon doesn't think she got drunk on the street. Mom raises her hand to Na Yoon, who reminds mom that violence is bad manners. Mom confiscates Na Yoon's car keys and says she's under surveillance from now on.
Na Yoon sticks with her principles and pride and decides she's running away from home rather than live like this. Poor mom gets pushed off Na Yoon, who takes off her high heels and fights her way out of the house. Mom hilariously tries to remind Na Yoon of her upbringing and good manners. Na Yoon runs away as her mom tells the security guards to get her back. Na Yoon checks into the hotel but realizes that the concierge is in contact with her mom and calling her mom. Na Yoon refuses to stay at the hotel. She goes shopping for clothes and calls Moo Won who doesn't hear the phone ring.
Moo Won's mom comes to tells her son that Ji Heon and Eun Seol are moving forward so Moo Won needs to halt his pursuit of Eun Seol. Moo Won says he doesn't care, he doesn't want a loveless marriage like what his parents had. He will do his best to win Eun Seol, and he doesn't think she's that easy to win her over. He likes Eun Seol for her liveliness and honesty. Moo Won tries to get his mom to divulge exactly what Ji Heon and Eun Seol did?
Eun Seol comes to the rescue of Na Yoon, taking her home like a little lost kitten after Na Yoon explains that she ran away from home because she was standing up for Eun Seol. Na Yoon bought tons of stuff since she doesn't know when her credit card will be cancelled. Na Yoon is all fine in front of Eun Seol and Myung Ran, until she overhears from Myung Ran that Ji Heon and Eun Seol have kissed.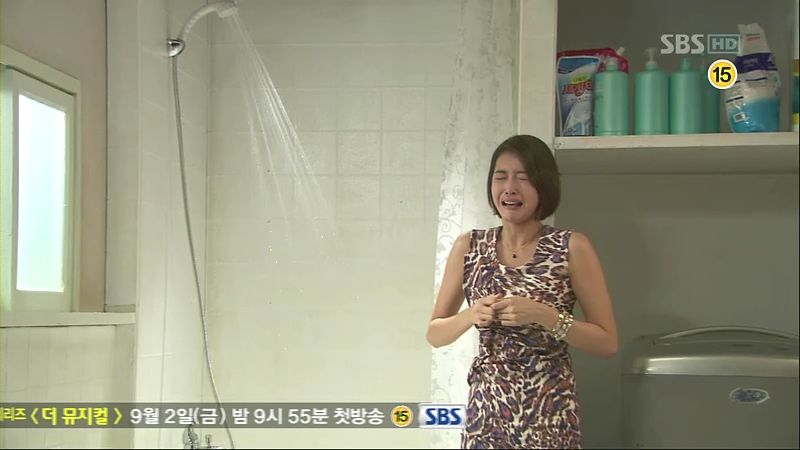 She then runs off to the bathroom to cry with the shower turned on to drown out her sobs. She calls Ji Heon a bad guy and Eun Seol a bad girl. Awwwww, Na Yoon, you are just so adorable in your pain. Suddenly she realizes that the shower water turns hot and cold alternatively. She cries some more, wondering why even THE WATER is mistreating her this way. I dies. Ji Heon sits at his desk and thinks back to Moo Won saying he also like Eun Seol. He sighs and thinks that there was once a chance his relationship could get better with Moo Won.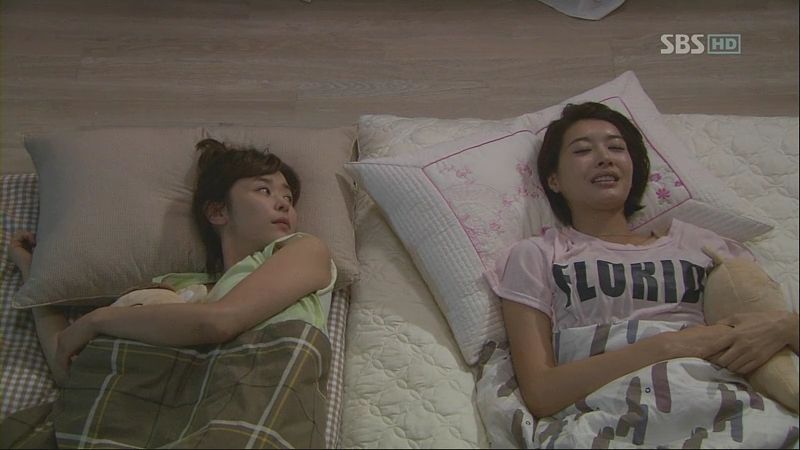 Na Yoon and Eun Seol lay in their beds and have some girl bonding talk. Na Yoon asks if Eun Seol likes Ji Heon back, so maybe Na Yoon needs to give up Ji Heon now. Eun Seol says she doesn't know. Na Yoon huffs that Eun Seol is making it seem like she's giving up Ji Heon for Na Yoon's sake. Eun Seol says that's not it, so much is going on and she's just so confused. Na Yoon says she knows what that feels like, a long time ago two guys also liked her at the same time. Rather than now when both guys dislike her, she liked it so much more when both of them liked her.
Na Yoon changes the subject and is happy that she gets to sleep over at a friend's house, something she's always wanted to do. Eun Seol is surprised Na Yoon has never done it before. Na Yoon says it's pretty cramped here, but she likes it. It reminds her of going camping when she was young. Myung Ran is upset Na Yoon is comparing her apartment to the size of a tent. Eun Seol shushes Myung Ran.
Eun Seol goes to Ji Heon's house to pick him up for work, and the Chairman watches her go upstairs to get Ji Heon. He won't wake up and instead pulls Eun Seol down for a hug. She's trying to break free when the Chairman opens the door and catches them. They immediately break apart. Everyone drives to work together, with the Chairman making a concerted and uncomfortable effort to sit between Ji Heon and Eun Seol.
Moo Won runs into the entire gang in the lobby and everyone gets into the elevator together. The Chairman looks between his son and nephew with a concerned expression on his face. He tells his secretary to hurry up and finalize Eun Seol's transfer to another office. His secretary wonders why the Chairman doesn't look so happy, and the Chairman yells back "what's to be happy about, when I'm forcibly breaking up my son and the woman he likes!" Oh Chairman, I lovelovelove you for being such a practical yet decent person.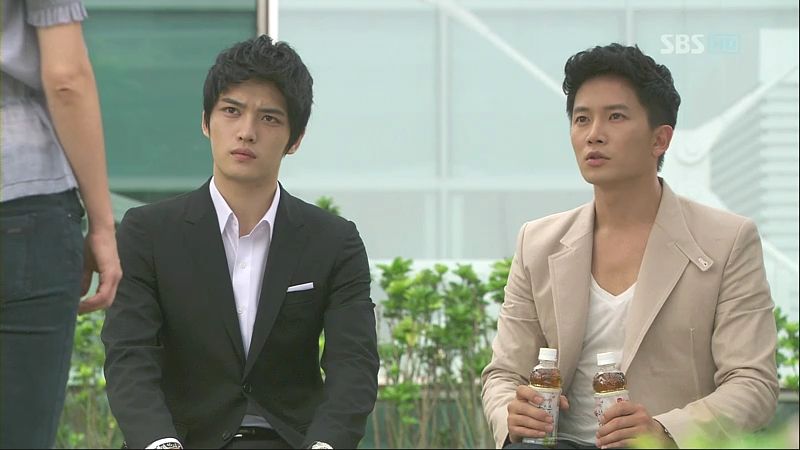 Ji Heon and Moo Won are surprised to find each other at the bench when they thought they would be meeting with Eun Seol alone. Eun Seol meets with both Ji Heon and Moo Won and tells them her decision. She thought all night, and her decision is to be with someone ugly and lowly ranked at the company. Moo Won immediately understands what she is purposely saying.
Ji Heon says Eun Seol confesses he was in her mind already. Eun Seol hits her head a few times and tells Ji Heon that she just punted him out. Ji Heon asks if she's going to be so mean about it. She says yes and then walks away. Moo Won chides Ji Heon for causing this by pursuing Eun Seol too hard, while Ji Heon thinks it's Moo Won's fault for interjecting himself into this courtship. Eun Seol jumps back and tells them to stop fighting.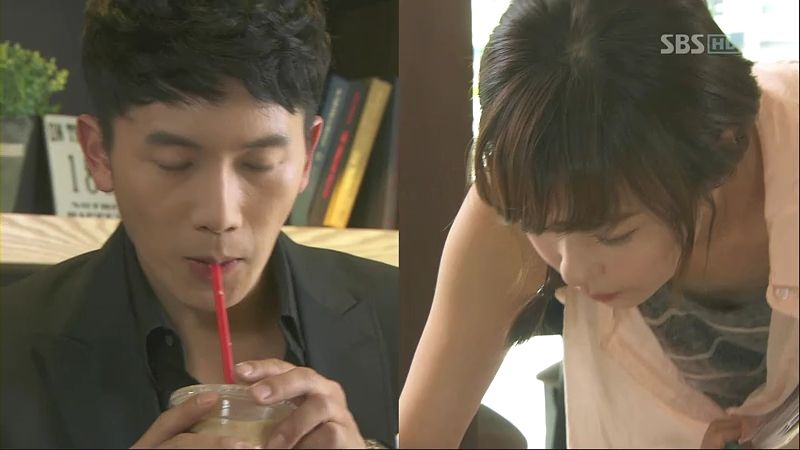 Ji Heon and Eun Seol head off to work, sampling coffee as part of Ji Heon's new project. Ji Heon tells Eun Seol that he's going to pretend that he didn't hear what she just said, because he knows what inside her heart. When Eun Seol goes to pick up Ji Heon the next day, he's wearing a sexy all black suit and has gotten a new hair style. He asks if she thinks the new look is more manly? She refuses to answer and just hurries him.
At the coffee and food tasting, Eun Seol just chows down on the food in big bites. Ji Heon thinks other girls eat daintily but Eun Seol takes big bites like the food is so delicious. He loves seeing her do that. He notices other men speaking with their girlfriends in banmal, and he goes to the bathroom to practice calling her Eun Seol-ahhh. On the drive back to the office, Eun Seol keeps talking about work and Ji Heon can tell she's using avoidance. He asks her to go somewhere with him and he'll tell her how his phobia started.
The Chairman tells the two-timing Director that he doesn't want to do anything to Moo Won's mom at this time. He understands why she's been working so hard for her Moo Won, and as a parent to another parent, he'll let what she did slide. He tells the director to provide assistance if Moo Won and his mom need anything. The Chairman asks the secretary about Ji Heon's medical records, and it's clear the secretary forgot. The Chairman yells at his secretary for forgetting something so important.
Moo Won's mom comes to work and runs into Eun Seol's dad outside the office. She recognizes him and tries to run away, dropping her cell phone in the process, which he picks up to try and return. She tells the guards to stop that man, and Eun Seol's dad ends up subduing the guards easily. She runs into the elevator and grabs onto Moo Won, confessing that she doesn't know why she's scared or running away. The Chairman comes down to see all the commotion, and the two dads finally meet. Yay!
Ji Heon's dad and Eun Seol's dad sit down and have some daddy discussion time. The Chairman asks why he's here to meet him? Eun Seol's dad says he's not here to meet the Chairman, he's here to see his daughter. The Chairman assumes he heard about Ji Heon liking Eun Seol, which is news to Eun Seol's dad, who immediately says he won't allow it since he does not approve of the Chairman's son.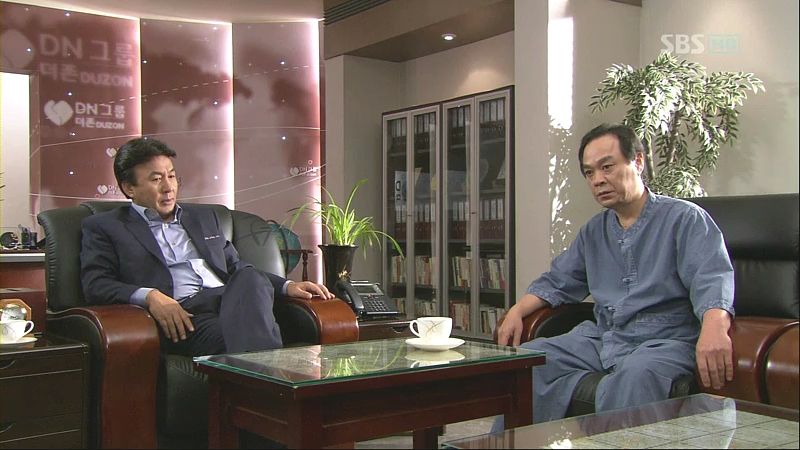 Eun Seol dad says that no parent in the world will accept the son of a gangster chairman, apologizing for being so blunt. The Chairman says if anyone ought to object, it ought to be him. Eun Seol's dad is incensed, it's not just Ji Heon that is precious, his Eun Seol is precious, too! He wants her to marry into a family that loves and appreciates her true worth. The Chairman mutters that Eun Seol was a former little delinquent herself, to which her dad says Ji Heon is a well known loser chaebol heir daddy's boy.
The Chairman thinks Eun Seol's dad needs to temper his words, since he's the man running the company that employs Eun Seol. Her dad thinks she works hard for her employment. When she went to visit him not long after starting work, she was so skinny she lost half the fat in her cheeks. Clearly the job is sucking her blood dry. Eun Seol's dad takes out a hankerchief manufactured by the DN Group and says he's paying for her job anyway by buying DN products. He puts down Moo Won's mom's dropped cell phone and leaves. The Chairman realizes that Eun Seol got her stubborn temper from her dad.
Suddenly Moo Won's mom's cell phone rings and the Chairman answers it. It's the director, who thinks he's speaking with Moo Won's mom. The director tells her to just listen to him, and reveals the Chairman isn't going to do anything to her prior to her buying up more shares of DN Group (to orchestrate a takeover attempt).
Eun Seol's dad runs into Moo Won and his mom in the lobby. He tries to approach her about her cell phone, but she mistakes his overture for trying to cozy up to her as a potential in-law just because her son likes his daughter. Which is also news to Eun Seol's dad, who asks if another guy likes Eun Seol as well? Once Moo Won finds out the man is Eun Seol's dad, he's immediately polite and respectful towards his hopeful future father-in-law, announcing that he likes Eun Seol. Which is when Ji Heon and Eun Seol walk into the lobby and she recognizes her dad.
Dad sits down with both Cha boys and gives them the once over. He directly asks both guys what it will take for them to leave his daughter alone? Neither guy answers. Na Yoon's mom finds out that her errant daughter is crashing with Eun Seol and didn't even go to work today. Na Yoon and Myung Ran are doing face masks in the bedroom. Myung Ran asks ice-cream girl when she's planning to leave.
Eun Seol comes home with her dad and yells at her dad for interfering. He yells at her for getting involved with those chaebol heirs. She yells back that she works with them, and this is the job she's worked so hard to get. Eun Seol's dad apologizes a bit for that and is worried that she might have gotten fired. Myung Ran and Na Yoon come out, still wearing face masks, and say hi to Eun Seol's dad. Na Yoon's mom arrives and starts chasing Na Yoon. Eun Seol's dad stops her, saying this is not the right way to treat one's child.
The Chairman meets with the traitor director. Once the director leaves, the Chairman yells at himself for getting old and not even realizing when his subordinate has betrayed him. He asks his secretary never to betray him. If he did, then the Chairman will have no one left around him. The secretary says he'll never do that, and then gives the Chairman Ji Heon's medical records. The Chairman reads it and learns that Ji Heon has a phobia.
The Chairman runs home and starts yelling at his mom, demanding to know if she knew all along that Ji Heon had a phobia? Grandma's face answers his question. He wants to find the best hospital for Ji Heon. Grandma says Ji Heon is working hard to overcome it, which is why she didn't tell her son because she doesn't want him to overreact. The Chairman starts to sniffle. Grandma says Ji Heon has done well so far, and will continue to do better. They have to believe in him. She pulls her son in for a hug, and my heart just burst. What a caring family.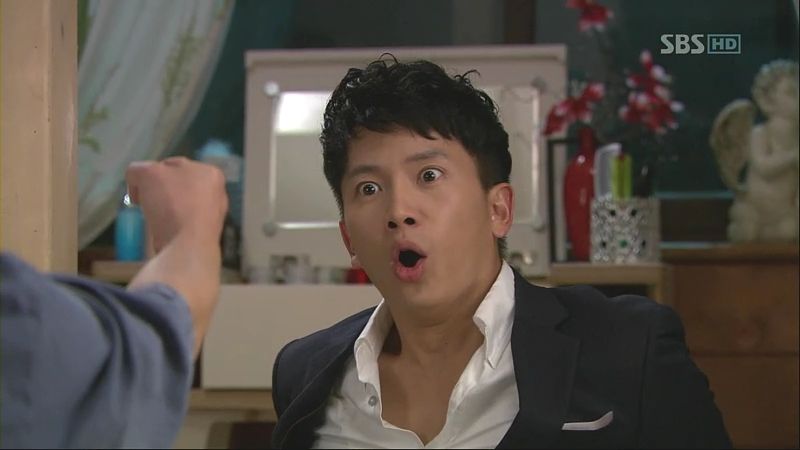 Eun Seol sits at home and reads about her impending transfer. She thinks about calling him but doesn't. Suddenly she hears Ji Heon calling for her. He calls "Eun Seol! Rock!" She opens the door and he comes in bearing a present for her dad. Ji Heon sits across from Eun Seol's dad and proffers the present. Her dad suddenly makes a fist at Ji Heon, who reacts in shock. Her dad thinks Ji Heon's reflexes are slow and weak. Eun Seol chides him for treating a guest poorly.
Eun Seol's dad says another reason he doesn't like Ji Heon is because of Ji Heon's dad. Ji Heon thinks that a lame reason. Eun Seol says the Chairman's a great guy and her dad just needs to get to know him better. Eun Seol's dad asks her if she's planning to marry this guy then! Eun Seol says that's so far-fetched, to which Ji Heon says he does plan to marry Eun Seol.
Eun Seol suddenly gets a call from the Chairman, who knows Ji Heon is at her place, but calls her out to meet with him privately. Eun Seol lies and runs out to meet her friend "Uncle Bong". The Chairman quietly asks Eun Seol to sit down, and asks if she can explain to him more about Ji Heon's phobia. Eun Seol is quiet for a few moments, and then starts with Ji Heon explaining that when he was small, one day his mom ran away. So little Ji Heon ran out after his mom, looking for her. He ended up alone at the park, surrounded by people passing by him.
It likely started from then, his fear of crowds and gatherings of people. The person who knew about his condition and always stayed by his side was his older brother so the condition remained under control. When his brother died, Ji Heon fainted in public. He believes that his brother's death was caused by him, so he now feels extreme guilt, and his condition has come back in full force.
The Chairman tells her to stop now. He can't believe he never knew any of this. He apologizes to Eun Seol for changing his mind, and asks if she can stay by Ji Heon for longer. He asks if she can do this? If perhaps she can help him conquer his condition. Eun Seol confesses that she really wants to do this, but she's already promised that she won't return Ji Heon's feelings. The Chairman holds back his tears and gruffly says this issue can be discussed at a later time. He turns and walks away.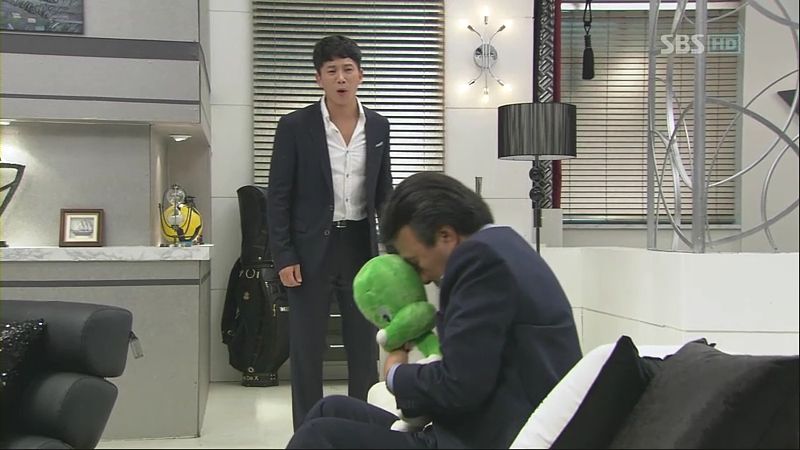 Ji Heon comes home to find his dad sitting in his room hugging his stuffed animal Dooly. Ji Heon is shocked, asking why his dad snuck in all quiet. The Chairman gets up and walks out, apologizing and says he won't do it ever again. Ji Heon wonders why his dad is so docile all of a sudden. The Chairman tells him to sleep since it's so late. Ji Heon grabs his Dooly and wonders why it's so wet. He thinks his dad drooled on Dooly when he fell asleep on the couch. The Chairman stands outside Ji Heon's room and keeps choking back tears.
Eun Seol sits in her room and thinks about what the Chairman said, asking her to stay by Ji Heon for awhile longer and help him. Eun Seol researches a TV program called Undercover Boss which has bosses working in secret with employees. The Chairman has the traitorous director's phone tapped. He tells the secretary to start working on acquiring all of Moo Won's mom's stock in the company. From now on, anyone who poses any threat to his Ji Heon, the Chairman will not let it slide.
Ji Heon wonders why Eun Seol's dad doesn't like him. He says he'll working hard on changing himself. Eun Seol suggests he continue changing, and tells him about doing an Undercover Boss type assignment by working part time at a coffee shop. Moo Won watches Eun Seol drag Ji Heon off on their new project together. Eun Seol thinks it's a great opportunity – Ji Heon can serve guests and learn how to earn money with physical labor. He agrees – even though Eun Seol keeps avoiding confronting their emotional situation, he's agreed to keep changing for her, so he'll do it. He asks for an encouragement kiss, to which she blows him off.
Ji Heon gets turned down from coffee shop after coffee shop for being too old and having too much education. They decide to have him working part time at one of the company coffee shops incognito. Ji Heon puts on his uniform and is welcomed by another employee. Turns out it's the same guy who was working at the amusement park, that Eun Seol asked to hold Ji Heon's hand when she went on the ride. Love the continuation of even this small detail.
Moo Won's mom bemoans their lack of funds to buy more stock, and worries they will lose the battle for succession. She tells him to be nicer to Na Yoon, who apparently has been going on mat-seons (matchmaking dates) lately. Moo Won meets with Na Yoon, who bemoans none of the men match up to either Cha. Moo Won wishes Eun Seol could think the same way, to which Na Yoon yells at him for once again being so dismissive of her.
Her mom has placed Na Yoon under tight surveillance and she reluctantly gets up to leave because her free time is over. Moo Won walks her out and she gets into the car and looks at him all sad and mopey. Moo Won sighs and drives after Na Yoon. He calls her, asking if she wants to make a jailbreak? She says of course! He tells her to jailbreak the Na Yoon way, by getting out of the car like a lady and getting into another car like a lady.
Na Yoon gets out of her car and into Moo Won's car and they take off. Moo Won hands Na Yoon his credit card to help her hide for the time being. She thinks she'll get captured soon again. Moo Won says she can keep escaping each time she gets captured. Eventually her mom will give up. He wonders if all women like surprises? Na Yoon says she likes it, but she doesn't know if Noh Eun Seol likes it.
Moo Won does research in his room. His mom wants him to help at the hotel tomorrow but he cuts her off. Tomorrow is his day off. He's worked like a dog all week and tomorrow he's taking a day for himself no matter what his mom says. He pushes his mom out the room. HAHAHAHA, I love new and improved Moo Won.
The Chairman finds Ji Heon leaving the house early on a weekend and asks where he's going? Ji Heon says he's going on a part time job, per Eun Seol's suggestion. The Chairman tells Ji Heon to work hard then. He wonders what's going on with his dad's sudden change in personality. Is it because he's sick? The Chairman yells, asking if Ji Heon is cursing him to die early! He tells Ji Heon to just accept if he wants to treat his own son better.
Eun Seol calls to make sure Ji Heon is headed to work at the coffee shop. He mutters that he is, but if he is unhappy he might ditch work. Eun Seol tells Ji Heon that he better be at work, because she's headed to check on him. On her walk down the street, one street vendor after another stops her to give her completely free gifts like sunglasses, flowers, and a teddy bear. Eun Seol gets upset, thinking Ji Heon ditched work and did all this to make her happy.
She takes off running to look for him. Suddenly Moo Won walks out from behind a wall and smiles at Eun Seol. Oh my squeeeee. I approve. It's time for this cutie pie to get his day with Eun Seol.
Thoughts of Mine:
This drama does such a magnificent job of humanizing every character, and creating moments where any one character can shine and make me care about him/her. Ji Heon and Moo Won's pursuit of Eun Seol is open, decent towards each other, and ultimately always done in a positive way. It's not about undermining the other person to get the girl, it's always proving to the girl why each is the man for her. Which is plenty drama enough, as Moo Won's gesture at the end of this episode proves. Totally swoon worthy, yet ultimately completely too late already. Because the first thing that popped into Eun Seol's mind was that the gesture was from Ji Heon.
I'm glad the drama is making Eun Seol and Na Yoon friends, developing their connections little by little. And even Myung Ran gets in on the fun, spending a dad beautifying with ice-cream girl. It's clear that Na Yoon is upset she lost both men, but not vindictive, bitter, or insane about it. She's dealing more with her controlling mom, and trying to find some happiness of her own. Which includes finding friends as well, since she's so lonely. In my perfect ending, Ji Heon marries Eun Seol and Moo Won marries Na Yoon. And both ladies ditch the kids at home with the two dads and run off with Myung Ran for girls night out on a regular basis.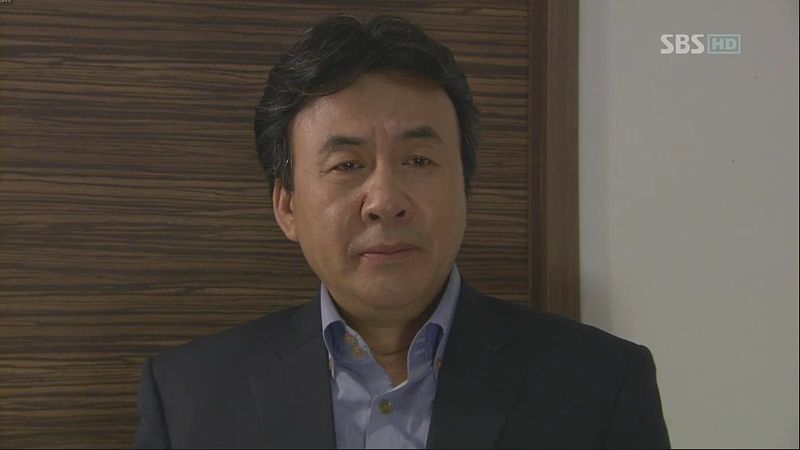 The Chairman owned this episode, I must say. His sadness at finding out his beloved son suffers from a debilitating mental condition, and his guilt at never realizing it until it was pointed out to him. When he cried in front of his mom, I think my heart swelled until it felt like bursting. And then he continued with the awesome by asking Eun Seol to stay awhile longer besides Ji Heon, and then crying into Ji Heon's beloved Dooly stuffed animal. I love how much he loves his son, a love that is not about spoiling Ji Heon, but about doing everything he can to make Ji Heon succeed in life.
This drama makes all the characters and their interactions so vivid I can almost see a world after the story ends. Like the two fighting dads getting to hang out after Ji Heon and Eun Seol get married, maybe with weekend in the mountain hunting wild boar together and getting into sparring contests. The world of PTB feels complete in a way very few dramas manage to do, and I simply can't find any weakness in this drama. The directing remains excellent – brisk and lively, with very gorgeous cinematography that alternates light and dark scenes with dexterity. The OST keeps dropping one beautiful song after another. If this drama continues to be this brilliant, I worry that PTB just might spoil me for future K-dramas for a long time to come.