For a drama based on a manga I don't like, I'm ridiculously excited about the upcoming Skip Beat live-action adaption. Airing on GTV following In Time With You (LOL, never thought I would actually be excited for ITWY to finish airing), SB stars Ivy Chen with Super Junior's Choi Siwon and Lee Donghae. The drama is scheduled to premiere in late December, but the promotional machine is starting to awaken, with the first three posters revealed that make me fairly salivate with glee.
Siwon and Donghae will be dubbed, which is currently happening right now in post-production. Funny aside is that Siwon's dub will be performed by former boyband Energy member Kun Da (also known as Penny), who has been Ivy's gossip magazine boyfriend for the past two years. No word yet on who will be doing Donghae's dub. For those of you curious about the story itself, the most kick-ass fanmade trailer for the Japanese version of SB (which doesn't exist) gives a great explanation of the set up.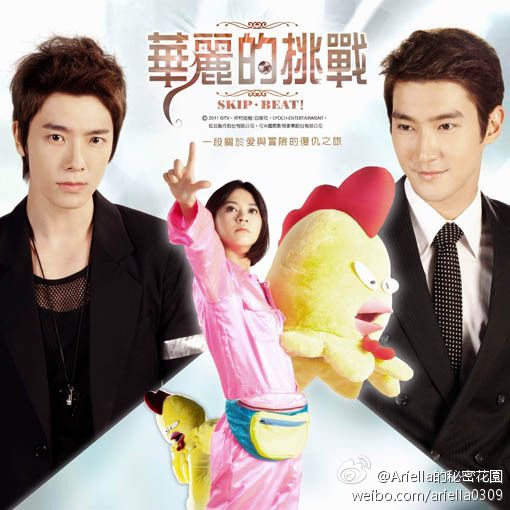 I just love love love all three posters, with the same dynamic between the three leads but different sensations coming from Ivy, at times pensive, at times challenging, and always focused on her goal.
Brilliant fanmade nonexistent Japan version of Skip Beat starring Maki (Kyoko), Toma (Sho), and Shun (Ren) – with English and Chinese subs:
First teaser trailer for real TW-Skip Beat released back in June 2011 – with English subs: