Hey! I've gotten very few entitled and whiny comments about why the Man of Honor episode 12 recap isn't up yet. Probably cuz not many people are following this drama, but I like to think folks are getting more polite and thoughtful as a general rule. I was traveling all day, and then had to go dining and boozing (so hard, I know) after I landed, when really all I wanted to do was recap this episode. I kid a little. I did want to stay in, but recapping this episode wasn't high on my to-do list. My patience is really starting to wear thin with this drama, so if it doesn't get it's act in shape in the next episode or two, I am considering dropping it as a recapping project. As cute as Jae In and Young Kwang are, I'm really needing more decent and hardhitting plot from them to keep my interest alive.
Episode 12 recap:
Young Kwang leans in, seemingly to kiss Jae In, but she turns her head at the last moment and avoids him. Young Kwang releases his hand from her face and concedes that it must stop here. If he goes even a step further, he's just a piece of garbage. Jae In has no response for him, so Young Kwang just scoots back and rests his head on her lap. He asks her to endure this from him, because today he's truly very upset. Jae In, with unshed tears in her eyes, raises her hand to touch Young Kwang's hair, but in the end she cannot. The camera pulls back and we see eldest sister Kyung Joo peering into the room, having witnessed this moment.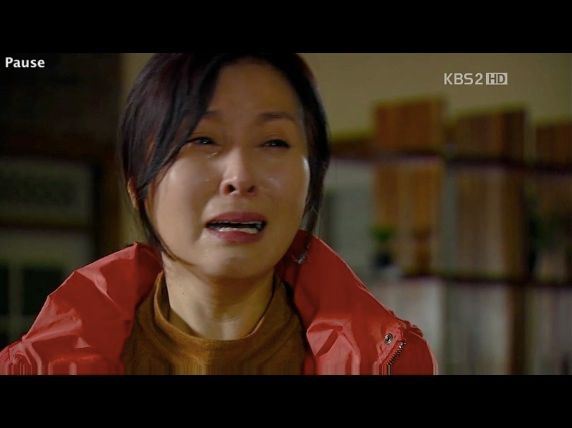 Young Kwang's mom walks home and thinks about what she learned from Jae In's mom. She walks into the restaurant and touches the furniture. She recalls seeing the sudden wad of cash from her husband, and how he said it was money for his grudging compliance. Mom realizes that dad traded Jae In for the money to open the restaurant, and their family had been fed and clothed on Jae In's suffering, She wonders how her husband could be so despicable.
Suddenly Mom sees dead daddy before her, apologizing for what he did. Mom asks how he could have done such a thing. The man she knew could have never done something like this? Mom is shaking in her fury and rage, asking dead daddy's spirit how he could pray for the happiness of their children after doing something like this to someone else's child. She asks how he can turn the entire family into accessories in ruining Jae In's life? Mom falls on the ground and asks how she can possibly tell Jae In that her husband was not her father, but instead was the mom who destroyed her life? How can she say it? Mom sits there sobbing, as we see Young Kwang sleeping on Jae In's lap, as Jae In sleeps with her head on his bed.
Hong Joo, dressed like Catwoman, sneaks into the Geodae warehouse and rifles through boxes full of samples. She smiles to find a box containing a red parka. Jae In wakes up in her own bed, leading her to wonder how she got there. She goes to Young Kwang's room but wonders where he went? He walks up behind her and says he's right here. She's startled to see him and they jump apart. She explains her reaction to what happened yesterday, to which he apologizes, because yesterday he was just piss drunk. He claims he can't remember anything. Jae In asks if he doesn't remember who brought him home, that being Seo In Woo. Young Kwang claims not to recall that either. When Young Kwang presses if anytbing else happened, Jae In smiles and says nothing else happened.
After Jae In leaves, Young Kwang's smile leaves his face and he flops down on his bed in frustration. Jae In talks to herself as she walks down the stairs, convincing herself that Young Kwang was just drunk last night. Grandma welcomes Jae In to breakfast, and calls the other kids down to eat. Everyone goes down and Young Kwang is thrilled Grandma made him bean sprout soup for his hangover. Grandma tells him not to drink so much. Jin Joo, who admired In Woo last night, asks if her oppa knows Seo In Woo. Young Kwang says he's not close to the guy and doesn't know why In Woo took him home last night.
Young Kwang happily drinks his soup while Kyung Joo looks at him pointedly. They hear Mom left for the restaurant already claiming not to be hungry, which is out of character for her. Kyung Joo notes Mom also came home late last night. Jin Joo pipes up that it's probably stress from the restaurant situation, and the landlady is about to take it away from them. Everyone looks worried. Grandma tells everyone to eat and not be stressed so early in the morning.
Mom sits in the restaurant and broods. Jae In comes by with a lunchbox since Mom didn't eat breakfast, and tries to take Mom's temperature in case Mom is sick. Mom says she's just got worries on her mind, to which Jae In apologizes for being the cause of it, what with her promising to pay a higher rent. Mom doesn't explain and just shoos Jae In away, telling her to go to work. After Jae In leaves, Mom looks at the lunchbox and thinks she's going to go crazy.
Young Kwang is getting dressed for work when Kyung Joo comes in asking how he's doing. He fine, but Kyung Joo wasn't talking about his hangover. She tells Young Kwang not to give his heart to just anyone. In the end, he will be the only one hurt. Young Kwang pretends to not know what she is talking about. Young Kwang continues to play dumb, saying that all he has on his mind is how to pass the second test and beat the Chairman. He rushes off and Kyung Joo continues to look concerned. Young Kwang mutters to himself that he knows that it cannot be.
It's the final day of the test, and so far only one person has received the code to the locker. It's gangster lackey based on his smug look. Everyone wonders who passed, thinking it must be In Woo who didn't bother showing up this morning. Everyone gets until 7 pm to sell their product. Hong Joo looks concerned, and turns out she talked with Young Do about how unfair it is for Young Kwang, when the Chairman is all about belittling him now. Young Do warns Hong Joo not to do anything for Young Kwang.
Hong Joo finds Young Kwang resting on a table, asking why he has the time to relax when it's the last day. She cutely snerks that he should have been nicer to her and she would have bought his item. Plus they could have made a nice memory together. That would have been too easy for Young Kwang, who remembers his dad selling cheap noodles to raise his three kids. He took it for granted, yet it was a backbreaking and difficult job.
Hong Joo doesn't think this is like Young Kwang to complain, wondering if he's calling it quits. He's not, especially after enduring the ridicule of last night. Hong Joo wishes him luck, since he's her classmate and her first kiss. He reminds her it was an accident. Young Kwang purposely strides off to his task, while Hong Joo murmurs that she won't let him get eliminated if she can help it. I bet she swiped the other sample parka.
Jae In hears that the company will be holding a new product launch party today at 4 pm, which means there will be new products displayed there. Turns out Young Do wanted Jae In to know about this event. Jae In is offered a chance to go help out at the launch party, but she has to dress like a bunny mascot. Everyone arrives at the party, including In Woo and his mom, but In Woo looks nervous and drops his medication in the car as he gets out. Jae In encourages herself to do her best, as this is her final chance.
In Woo starts to get disoriented and heads to the restroom, Jae In circulates amongst the attendees, and In Woo's dad hears that the mascot is quite popular in China so was added to this event. He asks where In Woo is, and his wife rushes over to explain In Woo is in the restaurant. They compliment each other on looking quite lovely today. Then In Woo's dad tells In Chul to find In Woo because he's needed to make introductions.
In Woo is in the restroom and starts to have an attack, He reaches for his medication but can't find it, which worsens his condition. He locks himself in a stall and tries to calm himself down. In Woo's mom looks around nervously and sees In Chul summoning people to follow him. She follows and hears In Woo had a breakdown. Jae In overhears this. In Chul asks In Woo to open the stall door, and he does so, revealing him to be in a state of sweaty nervous twitching.
In Woo's mom walks into the bathroom to see her son so distressed. In Woo's dad wonders where he went? Mom wants In Woo covered and taken away, while In Chul goes to obtain the medication anyway he can. Jae In sees In Woo being assisted out of the bathroom. She looks concerned, but then reminds her it has nothing to do with her. In Woo's dad asks that In Woo and his wife be located immediately. Which is when Young Kwang purposefully strides into the launch party and approaches In Woo's dad, announcing that he is here to make him laugh.
The driver finds In Chul and hands him In Woo's medicine he recovered from the backseat. In Chul promises to deliver it, and then looks at it. In Chul returns and tells In Woo's mom he can't find the medicine and needs more time to locate it. In Woo's mom warns everyone not to let the Chairman find out about this. She screams at In Chul, wondering if he's going to keep standing there staring at the distressed In Woo instead of finding the medicine.
Jae In arrives and is allowed in. She asks In Woo's mom to stop screaming, as In Woo needs quiet right now. Jae In calls In Woo's doctors and asks for assistance. The doctor has her put a plastic bag around In Woo's mouth to steady his breathing. In Woo starts to calm down, and Jae In asks him to think of a good memory. He closes his eyes, and thinks back to a happy or peaceful memory. In Woo thinks back to Jae In, finally calming down and just staring at her.
Back the launch party, Young Kwang reminds In Woo's dad that he asked to become the buyer target, so he has to give Young Kwang until the end of today to accomplish his task. Young Kwang gets five minutes from In Woo's dad, so he proceeds to use it to insult In Woo's dad using Chinese proverbs about how he's a horrible and unreasonable boss. Dae Sung realizes what he's doing and is amazed with an "oh my god!" Everyone looks confused by what is happening. In Woo's dad is perturbed but not shaken, asking if this is all he has?
Young Kwang smiles and says he has one final proverb to use to win. In Woo's dad tries to brush it aside, but Young Kwang reminds him that he's conceding it's all true then. When asked why he came today, Young Kwang says he was so humiliated that as a man he couldn't accept it. When In Woo's dad wants him dragged out, Young Kwang asks if he's so afraid of him? In Woo's dad starts laughing at this absurdity of him being afraid of Young Kwang.
In Woo's dad suddenly realizes everyone is looking at him in silence. Hong Joo counts down the final seconds until 5 minutes. Young Kwang did make In Woo's dad laugh, so everyone in attendance claps and chants for In Woo's dad to buy the parka. In Woo confirms he's alright to his mom before they all head back to the party. Suddenly his dad rushes out in rage, holding the parka in his hand. In Woo peers inside and sees everyone clapping for Young Kwang. In Woo's dad rushes to his office and vows to not let Young Kwang get away with this. Kyung Joo sees the parka tossed on the floor and secretly smiles.
Young Kwang tells Jae In the good news that he sold the park. They hug and he twirls her bunny self around, but quickly letting go of each other. They happily give each other high fives and does a victory dance, which is what In Woo sees. Poor woobie, I feel for you. Young Do asks Hong Joo if she knows why the sample parka in the warehouse went missing, which would require the Chairman to buy Young Kwang's parka in time for the launch party. Hong Joo feigns ignorance. Young Do warns Hong Joo not to let these coincidences happen in the future in Young Kwang's favor.
Turns out Jae In could have snatched one of the other samples, but she doesn't, and instead sells Hong Joo a design of the product. Hong Joo isn't interested in buying even if Jae In has the shoes, because she doesn't care what Jae In's relationship to Young Kwang is. She likes Young Kwang no matter what. She's happy Jae In will be eliminated. But the other chubby Team member buys the nonexistent shoe from her, because he saw how she did all her research right in selling the product.
In Woo tries to sell his show to Dae Sung, who wonders why he should buy it when In Woo has shown no interest in selling it before. In Woo says he just got interested in passing the test an hour ago. Dae Sung gets up to leave, but In Woo stops him by saying his father is Chairman Seo and he will inherit this company in the future.
The applicants assemble while Young Do announces the four who have passed: Jae In, Young Kwang, lackey, and In Woo. These four will face the final test. The final test is that they have one month to solve a riddle. Jae In and Young Kwang continue to be all congratulating each other, while In Woo watches.
Jae In heads to the restaurant to find Young Kwang's mom. Jae In asks Mom for 1000 won, which she is taking as payment for the shoes she bought mom, since she heard giving someone shoes as a gift means that person will leave. Mom is upset and pretends to chide Jae In for buying something she didn't ask for. She tells Jae In to go home, she's in a bad mood. Before leaving, Jae In tells Mom that she will help Mom with the rent issue going forward.
Jae In leaves the restaurant and In Woo drives up to see her. Young Kwang walks into the room of lockers and uses the code to open his locker. He takes out a box inside and opens it to find his father's watch. He looks stunned and cries out for his dad. Young Do arrives and watched this moment.
In Woo tells a shocked Jae In that he is here to apologize to her for all the mean and hurtful things he said to her in the past. He asks her, sincerely and earnestly, to take care of him again. Jae In looks stunned to hear this. Mom hugs the shoes Jae In gave her and cries, asking herself what she is to do. Young Kwang looks at his dad's watch and has a very determined expression. In Woo's dad holds the parka and rages that a mere son of a driver could dare do this to him.
Thoughts of Mine:
Sorry this recap lacked my usual chipmunky enthusiasm. I'm exhausted and this episode bored me to tears. It was boring when I watched it first thing this morning, and just as boring when I watched it 15 hours later to recap it. Across time zones and exhaustion, I'm also getting fed up with the ham-handed plot reveals that are dragging so much by now. We're halfway through the drama and I feel like nothing substantial has happened other than: Jae In finds her faux-family, she meets Young Kwang and In Woo and they both start liking her, and the three musketeers apply for a job at Geodae. The rest of the ancillary plot developments aren't making any headway either. Sigh. Drama, please don't let me down. Imma wait for next week to see if you redeem yourself.