And…..it's a wrap, folks! At over six months long in filming, Office Girls is one of the longest running TW idol dramas in recent memory, and is also the longest live-aired drama I've followed. The start date for Love Forward has been moved back one week, thereby finalizing the last episode of OG at 25. Based on the preview for episode 24, I was a bit alarmed at how the drama intended to squeeze so much into wrapping everything up, but am thrilled with an extra episode for me to savor the delicious cuteness of Xing Ren and Zi Qi now that they have pretty much crossed every major bump in the road.
The cast recently wrapped filming and held the obligatory lets-get-drunk wrap party. There were tears aplenty, and a general sadness all around about moving on for such a tight knit drama production. Roy Qiu and Alice Ke posed prettily for the cameras, and confirms for me yet again that they are the top of my list of most unexpectedly successful OTP coupling in recent memory. I'll miss them so much! *pouts* Read on for the previews for episode 24., where a certain beeyotch finally gets her just desserts.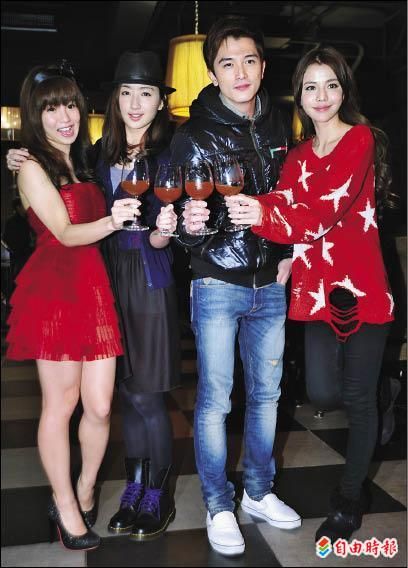 Written preview for episode 24:
Zi Qi and Xing Ren's love story finally gets its breakthrough, having been given the blessing by Zi Qi's mom. An untried in high society Xing Ren experiences her first taste of the difficulties to come. How will Zi Qi accompany Xing Ren to cross each of these hurdles? The VP of HR finds Kai Er, armed with a stack of documentation about Kai Er's misdeeds. But what else is there?
Will Kai Er finally have a conscience and confess, or will she stick to her guns and refuse to admit her mistakes. A ring is a man's promise to a woman. Long Long wants to make a promise to Le Le so he hides a ring in a box of love chocolates. Will Le Le use this opportunity to accept Stallone's love, or will another truly gut-busting comical misunderstanding arise?
Previews for episode 24:
The VP of HR calls Kai Er in for a talk. Zi Qi's mom confronts Kai Er, calling her a gold digger. Even though Xing Ren isn't all that presentable, but at least she's honest. Kai Er is just a calculating woman who has sold out her dignity.
Zi Qi's mom tells Xing Ren to get used to this world if she wants to be with Xing Ren. Co workers think Xing Ren knew about Zi Qi's identity beforehand. Xing Ren asks Zi Qi if he is serious about giving up his succession of the company. Zi Qi is, because he can make his own fortune. But love is something hard to come by, it doesn't just require hard work, it also requires luck in finding the right person.