The upcoming K-drama season is going to be littered with Kings and Princes, as if the current runaway hit The Moon that Embraces the Sun didn't already have enough of an angsty King plus and angsty Prince. I remember K-dramas always trending the same topics, whether it was a slew of sports, medical, or music dramas in short order. While only a tiny trifle about a young man time traveling to win his first love back is the sole drama I'm eagerly looking forward to, I'm keeping an eye out for Rooftop Prince with Micky Yoochun and Han Ji Min, as well as Fashion King with Yoo Ah In and Shin Se Kyung. I like the concept of the former (a Joseon Prince time traveling forward with his entourage when he loses his beloved Princess), and I like the latter hot smirky dude that is Yoo Ah In even if I find fashion themed K-dramas mostly a dud. With the except of Fashion 70s, which was really a period makjang birth secrets drama with a super hot PIE masquerading as a fashion drama. Have first look at RP and FK, both of which are in the early stages of filming.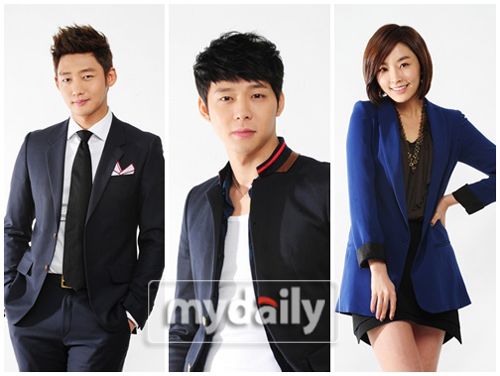 Also in RP is Lee Tae Sung (adore him!) and Jung Yumi (adore her!). Of course they are playing the second leads, but I find both of them refreshingly sincere in their acting, always making a character more interesting than initially written on paper.
I'm loving the so-called "new" Joseon F4, after the now "old" Joseon F4 which comprised the four youngsters in the childhood portion of MoonSun. Lee Min Ho has the honor being a member of both entourages. The other two rounding out the RP F4 set is Jung Seok Won and Choi Woo Sik. I'm the first to admit I do not (yet) get the appeal of Yoochun. I have a few drama friends who luuuurve him to pieces, so I'm always curious about what makes him mesmerizing, because IMO I think he's the least attractive member of JYJ. He's definitely the best actor in the trio, but perhaps RP will clue me into the Yoochun mania, because I didn't feel him AT ALL in Sungkyunkwan Scandal.
Below is the first look at cast of Fashion King, most notably leading man Yoo Ah In performing a building leaping stunt. The second leads for the drama are Lee Je Hoon and Yuri of SNSD, with a story that revolves around up-and-coming designers in Dongdaemun (trendy market area in Seoul). While both leading ladies leave me rather cold, I'm also curious to check out FK for Lee Je Hoon, who is really making a splash in movies (The Front Line and he's also in the upcoming Introduction to Architecture with Han Ga In and Uhm Tae Woong). I do wonder why Yoo Ah In's character has to leap off a building since he plays a fashion designer. But what do I know? Maybe he's secretly a spy who aspires to be a designer. It's good to see his playful smirk back in action.