This drama hurts so good. I wish I didn't start it so I could marathon it when it's all over, but then again, I do love an obsession. The King 2 Hearts is currently number 1 in my heart and for good reason. The chemistry is off-the-charts between Ha Ji Won and Lee Seung Gi, I am fascinated by all the major secondary characters who are well fleshed out (my absolute fave is awesomer than awesome King Jae Kang), and the story deftly toggles humor and intensity like you wouldn't believe. It doesn't shy away from the seriousness of North-South conflict, yet it posits that this bridge could potentially be bridged. Still traveling, still overwhelmed with work, so I wasn't able to write any sort of recap for episode 4. Though if I didn't watch that episode like 5 times in a row, maybe I would have written something. Episode 4 was brilliant, everything I want in a drama and then some. It starts off with a fight, leading towards a test and a misunderstood betrayal, and ends with our leading man finally testing his own mettle. I'm so proud of Jae Ha.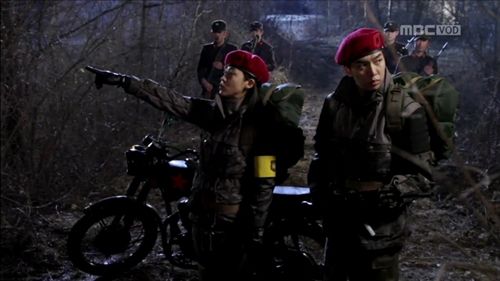 There is no way the combined North-South WOC team could and should compete if the team members cannot trust or rely on each other. But with 60 years of political and cultural divide between them, it was a stunning move for Jae Kang to devise a simulation war game to see if the team members could trust their personal camaraderie built up from training together to overcome their suspicion of each other. It was devastating to see Jae Kang so disappointed that it was his own brother, the Prince no less, who failed the test of all the team members. It was even more devastating for Jae Ha, who has never been asked to rise above his own limitations, to feel like he disappointed his beloved hyung.  So in the end, Jae Ha running the 60 km race in 10 hours was a stunning achievement, and one which meant so much other than as a plot device. I was totally misty eyed.
This drama moves so fast I'm shocked at how much they can squeeze into one measly hour. The joint WOC training is now complete and our intrepid team members will soon return to their own regular lives before the actual competition in a few months. But with the crazy villain lurking around, I suspect shit will hit the fan long before then. Watching the preview for episode 5, we have Hang Ah missing Jae Ha, and the latter declaring before the news reporters that he's fallen in love with Kim Hang Ah, followed by what looks like an upcoming engagement. I'm on pins and needles to see how the writer will maneuver them into a marriage, because it's clear they are already having some feelings for each other. I know this is one volatile relationship and I can't wait to watch them navigate the treacherous waters of romance mixed with politics. Have an awesome MV to commemorate the first four rollicking episodes of TH2H.
The King 2 Hearts MV (eps 1-4):