The awesome that will be the Rurouni Kenshin movie knows no bounds. The final two-minute long movie trailer has just been released and sometime between dinner and now I scraped my jaw off the floor to write up this post. Check out my post on the teaser trailer here from a few months ago, because this tops that and then some. The production also released a slew of movie posters that ratchets up the pretty to new heights, all of which confirm without a doubt that lead Sato Takeru is Kenshin. He is Kenshin so perfectly that I have no words to describe how he turned a three-dimensional unforgettable amazing Edo swordsman into a living, breathing specimen beyond what I imagined. He rocks the red hair and the criss-cross scar effortlessly, and toggles between easy going Kenshin and unmatched Battosai in the blink of an eye.
The production looks stellar and all the secondary actors appears to be spot on in rocking some outlandishly memorable villains and sidekicks. I'm still worried about Takei Emi as Kaoru, but I've heard great things about her most recent twin performance in W no Higeki, so perhaps she's upped her game. I think even if she's just okay, everyone else appears to be bringing their A-game, and lordy am I salivating over the end product. Manga-to-screen adaptations are notoriously hit-or-miss, and the most recent ones like Paradise Kiss have atrociously butchered a great source material. I hold Rurouni Kenshin in the highest regard, so this movie might just be the holy grail of Shonen samurai manga adaptations. Can I just finish by pointing out how smoking hot Takeru has turned out after going through his quirky goofy stage.
Check out the various posters below.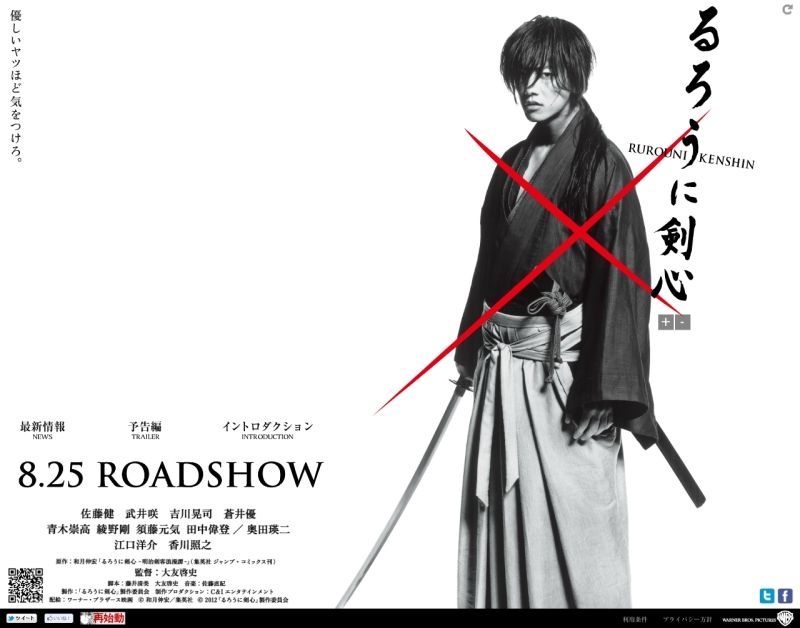 Here's the character chart for the movie. Look's like the movie covers the first arc, which makes sense since it's only got a two hour running time. The movie opens on August 25th, so those lucky enough to be in Japan must let me know if it's as good as the trailers look.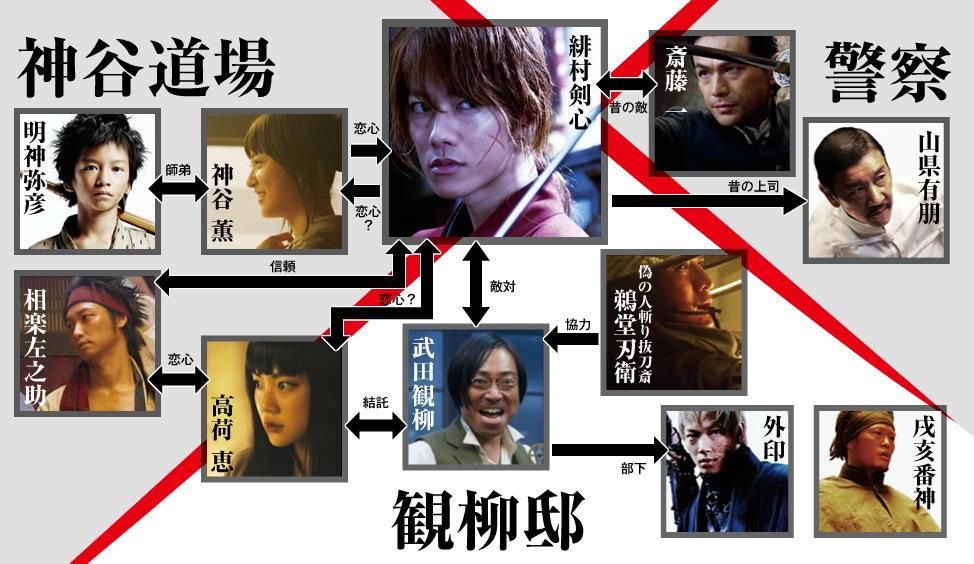 If this trailer doesn't make your knees go weak from want, then you're not a real Kenshin fan. LOL, just kidding. But not really. 😛 We're so lucky, the production team from this movie did the recently highly rated Taiga Ryomaden.
Long trailer for Rurouni Kenshin movie: