Mind maps of drama characters have been quite popular for a few years now, as fans of a drama take the time write up what our beloved characters have rattling around in their fictional brains. For Big, this mind map might actually be useful because this is one drama that causes a lot of consternation over what Da Ran and Kyung Jae are thinking and feeling. I think it's cute to compile all the little things from the drama so far and wedge it into Da Ran and Kyung Jae's pretty little brains. Maybe this will add some clarity? Or maybe not. I've also linked to the latest official MV for the drama which accompanies the most recent OST release which is Noel's "If its Love".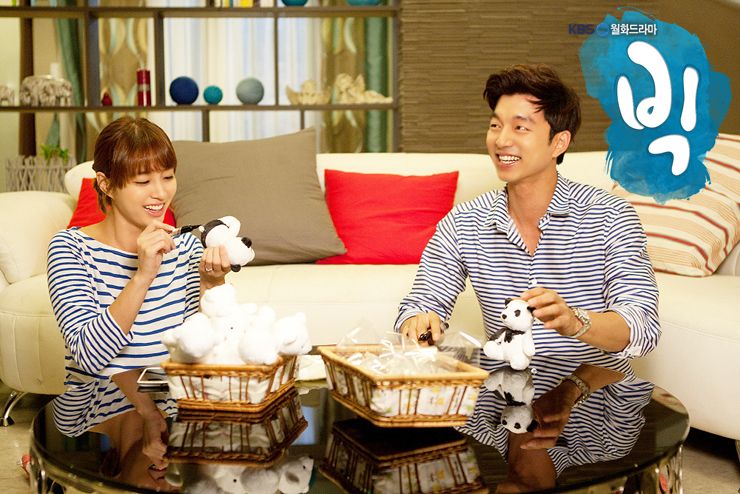 Gil Da Ran's head that has Gil Da Ran's soul:
Big heart shaped portion in the middle – Seo Yoon Jae? Kang Kyung Joon?
The rest are:
Kang Kyung Joon speak to me in jeondaemal.
The ring.
I won, Lee Se Young.
Yoon Jae-shhhi's hands are so warm.
Tame Choong Shik.
Gil family mandoo zzang.
Kyung Joon and Mari
How could there be a switch…….
My heart feels so weird.
My honeymoon trip.
Yoon Jae shhi.
Gil Da Ran bread.
So tired.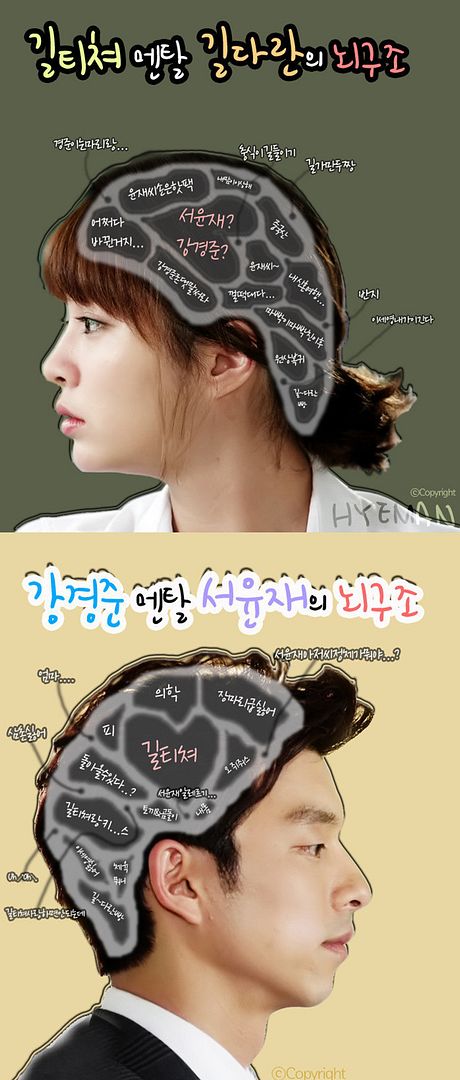 Seo Yoon Jae's head that has Kang Kyung Joon's soul.
Big heart shaped portion in the middle – Gil Teacher.
The rest are:
Allergic to Seo Yoon Jae.
My body.
What is Seo Yoon Jae's true nature?
Studying medicine.
Blood.
Mom.
Don't like uncle.
Can I go switch back yet?
Kissing Gil Teacher.
Rabbit and Teddy Bear.
Really don't like Jang Mari.
Cannot fall in love with Gil Teacher.
Dislike Lee Se Young.
Gil Da Ran bread.
Theoretically I understand why some viewers (1) want Yoon Jae's soul to come back, and/or (2) want to hear Yoon Jae's side of the story. But emotionally I'm flummoxed by this, because all we've ever seen of Yoon Jae is as this spectral presence hovering over the story proper. I feel compelled to point out that since the linear drama time line started, from the moment Da Ran got on that bus, she and Yoon Jae have not interacted once. Zero, nada, zip, zilch. Their first meeting which starts the drama is in the past, and every subsequent remembrance of time spent together is also the past. I think the Hong Sisters have been crystal clear since the very beginning that Yoon Jae is Da Ran's past while Kyung Joon is her future.
You can say that from the moment Da Ran and Kyung Joon met on the bus and stepped off together, her "connection" with Yoon Jae ended. Flowing from that, Yoon Jae repeatedly brushed her off and missed three (3!) consecutive dates with her. And the one time he was driving to meet her, magic pink shooting star comes by and sends both guys into the murky depths of the lake of soul swaps. If a drama makes me feel like an OTP is fated to be, as the tingling sensation I got when Da Ran met Kyung Joon, then similarly Yoon Jae and Da Ran give me the opposite feeling of not-meant-to-be. Hence I could care less what Yoon Jae thinks. Oh, I feel bad for the guy (got sick again, quite possibly loves his fiancee but too scared to marry her because he's sick), but feeling sympathy for him doesn't extend to needing any closure from him. That would require I connect with his character but that's not possible when he's merely projected onto the screen as a serious of memories.
I can't say THS has ever been that original with any of their stories, though they did add fresh spins to many dramas that were premised on homages to well known works. Couple or Trouble was inspired by Overboard, and now Big is a combination of Big the movie and While You Were Sleeping. But when I watch Big, I'm never comparing to earlier works since this drama has a decidedly unique vibe. It lacks the typical K-drama "hooks" and instead relies on the actors to develop the characters and bring them to life. I think Lee Min Jung and Gong Yoo have done an outstanding job in making Da Ran and Kyung Jae wholly sympathetic and understandable. From the moment this drama started, Kyung Joon (body and soul) was always holding Da Ran's hand. How could THS consider anything other than to give my babies a happily ever after?
A fifth song off the OST has been released, check out the official MV below. This song is without a doubt Kyung Jae and Da Ran's love story.
Official MV for Noel's "If it's Love":