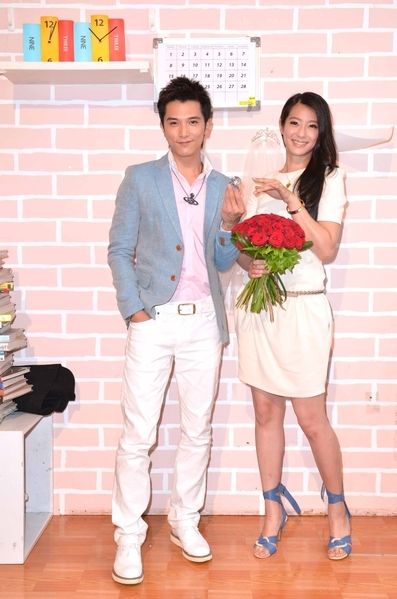 It's not often that a drama catches me off guard, since prior to airing I've read up on the characters and the story so I know what to expect. To say episode 2 of Miss Rose literally tossed me under a bus and then rolled over me a few more times for good measure would be an understatement. Once the light switch flipped on a few minutes into episode 2, I literally screeched out loud and fell off the sofa. I am not exaggerating. Episode 1 was cute and appeared to be a copy of Office Girls in set up and execution, but episode 2 revealed its true colors. MR is……..a remake of my favorite K-drama of all time City Hall. No, I am not joking nor am I high as a kite.
Substitute Inju City Hall for Guang Qiang LED Company, the government politics for corporate politics, a few minor tweaks in characters, and then voila! MR didn't mention CH at all as an inspiration, and if I didn't know that drama like the back of my hand, it may have taken me even longer to make the connection. As is, Roy Qiu is playing Cha Seung Won's Jo Gook as a corporate management genius rather than political prodigy, and Megan Lai transforms Kim Sun Ah's Shin Mi Rae into an on-the-shelf capable corporate secretary. Episode 2 was fantastic, plus armed with this new knowledge, I'm now officially in love.

The light switch flipped on for me in episode 2 when Roy's Cheng Kuan goes to the golf course with President Jiang, who manages to appoint him as the Deputy General Manager of the LED Company. Coupled with the fact that Roy's character had a chilly and reluctant dinner with his fiancee Vivian Jiang, the daughter of President Jiang, I realized that she's playing Go Go Hae. President Jiang is BB, this time not the father of the hero, but the father of the fiancee character. Paul Hsu's assistant character is Lee Joon Hyuk's Soo In, and here his chemistry with Roy is as perfect as Lee Joon Hyuk had with Cha Seung Won.
Cheng Kuan complained about being sent to the boondocks company to be the Deputy General Manager just like Jo Gook complained and resisted being sent to the provincial Inju to be the Deputy Mayor. Both guys are being sent to secretly gather information to oust the corrupt and useless General Manager in MR and Mayor in CH. Megan Lai's Luo Si Yi is a competent secretary just like Kim Sun Ah's Shin Mi Rae really kept things running around Inju city hall as a 10th level civil servant. So far I've noticed some situations from CH getting lifted wholesale into MR, while other aspects are tweaked around. The meet cute between Cheng Kuan and Si Yi in MR is very different than Jo Gook and Mi Rae, but their bickering chemistry is very much the same. Roy is really doing a fantastic job and giving off Cha Seung Won vibes left and right as the masterfully arrogant management whiz being confounded by a lowly secretary.
Tia Li's best friend character Xiao Ke is a stand in for Boo Mi, with a twist that she doesn't work at the same company. The preview for episode 3 even has the dip, turn, pretend kiss from episode 4 of CH as well as when Jo Gook pretends to be Mi Rae's boyfriend to save her embarrassment from a man who is demeaning her. I've let out a sigh of relief at discovering that MR is tweaked remake of CH, because that means there will be tons of good angst coming up that really was nonexistent in Office Girls. I can't wait to see Cheng Kuan fall for Si Yi and then have his life future challenged because of it. I'm so happy I decided to recap this sucker. There are actually many more CH elements in the first two episodes of MR than I mentioned here, and as I recap I foresee myself making the connection out of familiarity and to place it in context.
Preview for episode 3 plus pretty ending credits:
Opening credits: