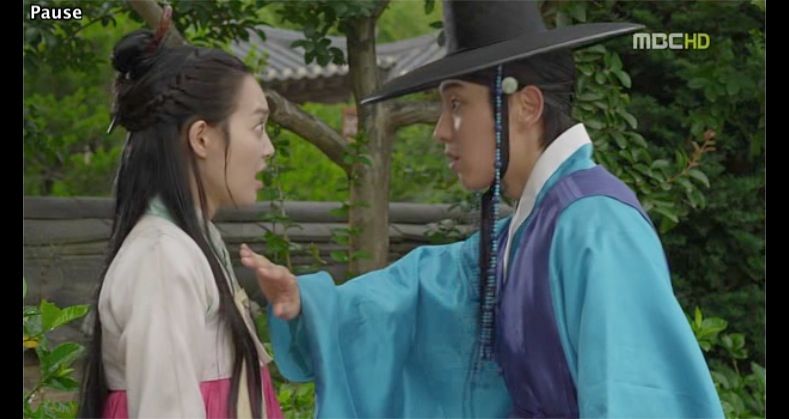 Do you feel your heart thumping? That is an indication that one is alive. My heart thumps, pumps, and freaking goes berserk when I watch Arang and the Magistrate. This drama is perfectly amazing, so funny and thrilling that I find myself holding my breath at times. I'm invested in both the overarching narrative (the mystery of Arang's identity plus Eun Oh's mommy search) and the little interactions that move the narrative along. I find the world of AatM to be utterly enchanting, despite its macabre concept of ghosts roaming the world amongst humans. The drama doesn't demonize the dead, instead making them simply otherworldly. Aside from Arang wandering the land of the living, one wonders why there are so many other ghosts around. The drama starts by telling us the barriers between the living and the dead have broken down, leaving me to wonder if there is a bigger reason for all of this. Is the Jade Emperor doing something behind the scenes, or is this outside his control and he's taking a back seat waiting to see how it will all shake out. I'm liking how the likely villain Joo Wol is slowing revealing his creepy ways, though I'm not quite ready to pin Arang's death on his head. What's so arresting is watching Arang and Eun Oh bicker and sass each other while trying to solve a mystery. They have the most incredible chemistry, one that completely obliterates their living-dead. I find myself laughing and swooning simultaneously, and wanting each episode never to end. 
Episode 2 recap:
Eun Oh sweeps (swoon!) Arang off her feet and onto his horse, then taking off like the devil is behind him. Which is kinda the case, since Moo Young the Soul Reaper is turning on the hyper speed to catch up to a galloping horse. Arang tosses some peach blossoms to slow down Moo Young, which succeeds in allowing her and Eun Oh to escape. Phew!
Eun Oh rides to the edge of a lake and then gets off the horse. He pulls Arang off and then grabs the hair pin from her head, examining it to confirm that it is indeed the very same hair pin he gave his mother. He asks where she got it, but she claims its hers since she awoke into the life of a ghost wearing that hair pin. Eun Oh realizes this means Arang must've met his mom before she died, but her having no memory of her life before death poses a problem in tracking down said missing mom.
Arang thanks Eun Oh for saving her and then walks off. Eun Oh makes a decision to help her find out who she was, knowing that this will help him find his mom. Arang breaks into a wild smile, calling him a nice guy despite pretending to be so cool. Eun Oh helps her back on his horse and they ride off. Since she doesn't know who she is, he decides to call her "amnesia."
Back on Heaven, Moo Young goes to inform the Jade Emperor that he's failed to retrieve Arang. The Jade Emperor isn't fretting, saying in a zen way that things have a time and place and will work out. He touches some flowers which are colorful and turns them all white, then touching them again which returns it to its original form.
It's back to raining in the mortal realm and Dol Swe sucks under an awning to escape the rain. Eun Oh arrives and informs his trusty servant that he intends to assume the mantle of magistrate of this village after all. Dol Swe thinks the three government officials must've done something to turn his normally carefee young lord into someone wanting to serve the people. He runs off to beat up the Three Stooges.
The Three Stooges are discussing how best to handle their "no magistrate" situation when Dol Swe arrives to beat them up. Eun Oh follows and stops the beat down, informing the Three Stooges that he will be their magistrate. The Three Stooges goes to inform Lord Choi that they have another magistrate at last.
When Lord Choi asks what the new magistrate is doing, he's informed that the new magistrate is obsessed with a woman. We see Eun Oh trying to draw Arang to show her picture around town and find out who she is. Eun Oh's first attempt, which he holds up proudly, elicits a "I look like that?!?" reaction from Arang. Eun Oh tears up the picture and begins anew.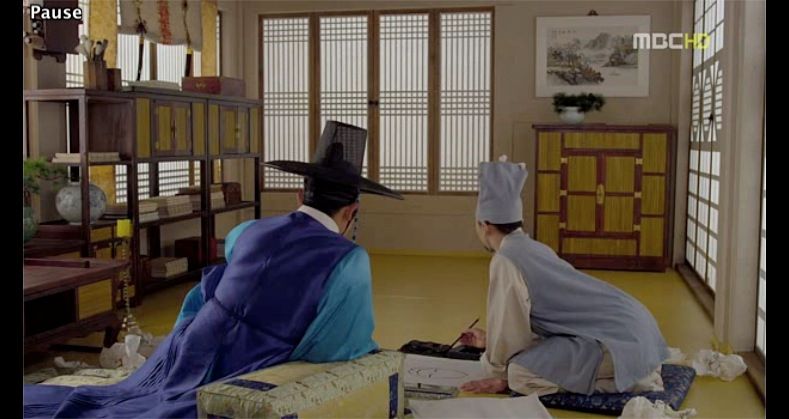 Eun Oh ends up commissioning a painter to draw Arang, but requires that he describe her to the painter, who sees no one in the room and looks at Eun Oh like he's crazy.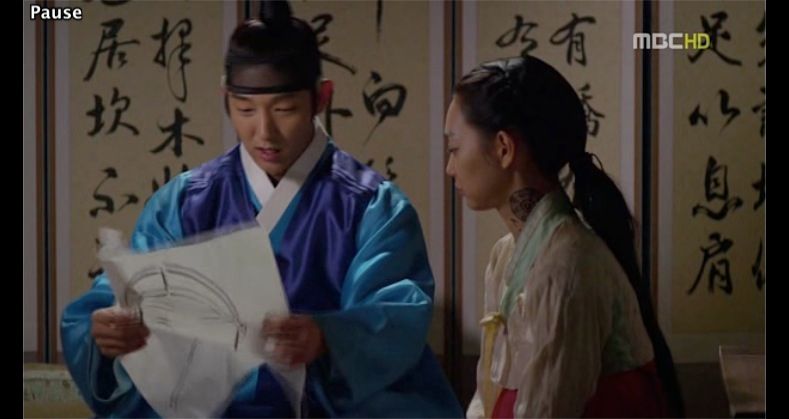 Later than night, Arang looks at the picture drawn by the painter, while Eun Oh lounges on the ground. Since the portraits are so lacking, Eun Oh asks where Arang might've died so they can start there. But she doesn't know either, having woken up dead and following the Soul Reaper. Though she does occasionally have pain on her left side of her chest. Eun Oh is frustrated she didn't mention that earlier, which leads to them huffing annoyingly at each other.
The next day, Eun Oh goes to review the local crime registry to see if there are any suspicious deaths in three years ago. All he sees are crimes of passion, turning up nothing that might be Arang. She thinks he's being insensitive to her plight, that she might be an unclaimed corpse rotting somewere. She storms out.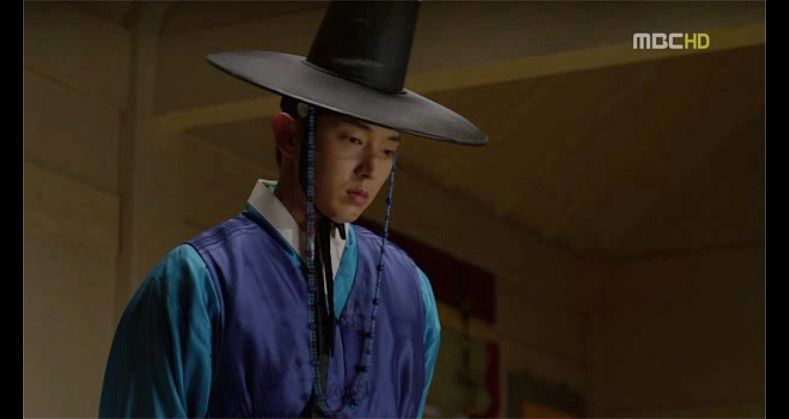 Eun Oh goes out later that night and he sees a residence that is dark and sealed off. He scales the walls and goes inside. He walks into what appears to be a lady's room, which remains intact with all the cosmetics and items strewn everywhere. He is about to leave when he hears a ghostly sound which makes him turn around.
Arang walks around and notices ghosts gathering outside a house and finds out they are waiting for the memorial service food to be left for ghosts. This leads Arang to flashback to her early days as a ghost. She was starving and an older man ghost have her a rice ball that sated her appetite. He finds out that she has no name since she has no memory, so he tells her that Arang is the name used by maidenly ghosts. He also teaches her than ghosts can only eat the food left outside to appease hungry spirits.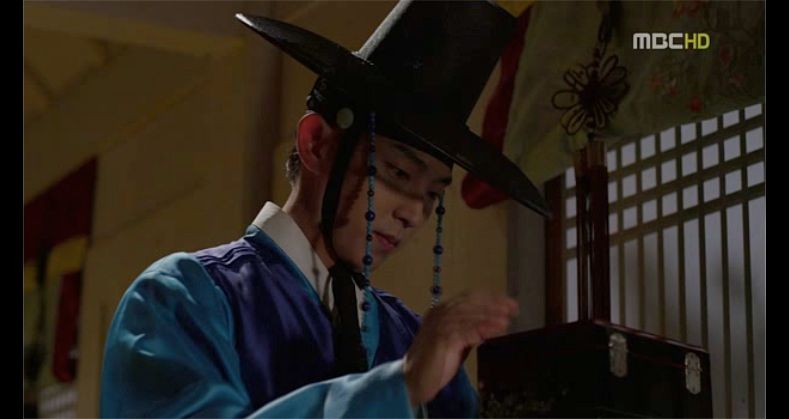 Eun Oh looks around the room until a woman spots him inside. He introduces himself as the new magistrate and asks what happened to the owner of this room. The woman reveals that the room housed the daughter of the former magistrate, who has been missing for the past three years. Her father gave up everything to find her but died without locating her. Eun Oh thinks he's found out who Arang is.
Arang jostles with the other ghosts for the rice to be left outside for the spirits. Once the rice is placed outside, all the ghosts charge towards it and engage in an all-out brawl. Arang gets tossed aside but in the pell mell the rice is taken by another ghost while Arang is blamed.
Eun Oh paces impatiently as he waits for Arang. He's shocked when she returns, because she's so disheveled from fighting with the other ghosts. He drags her off to see her old room, telling her that her real name was Lee Seo Rim. Arang has no recollection, though the butterfly on her hanbok matches the butterfly on the cloth being embroidered in the room.
Eun Oh asks the Three Stooges about Lee Seo Rim and finds out that the world thinks she didn't disappear, everyone assumes she ran away with another man. Eun Oh learns that no one has seen Seo Rim before, as she was extremely sheltered and live her life hidden in her room. But she did have a fiancee.
Arang remains glum despite learning all this new knowledge, because she still has no memory. She wants to meet with her fiancee to ask about her past life, but that's a problem since he won't be able to see her. She asks Eun Oh for help but he's not about to reveal he can see dead people. When Arang sighs and moves to leave, Eun Oh relents since he knows he needs her memory back to reveal her meeting with his mother.
Arang and Eun Oh walk to the house of Lord Choi, revealing that the fiancee in question is Lord Choi's son Joo Wol, who is currently sitting in the garden pavilion drawing. Arang sees him and clutches her frantically beating heart. Eun Oh is disbelieving that a ghost can get heart palpitations, and he hilariously tries to touch her chest to confirm, which causes Arang to be all outraged. Heh.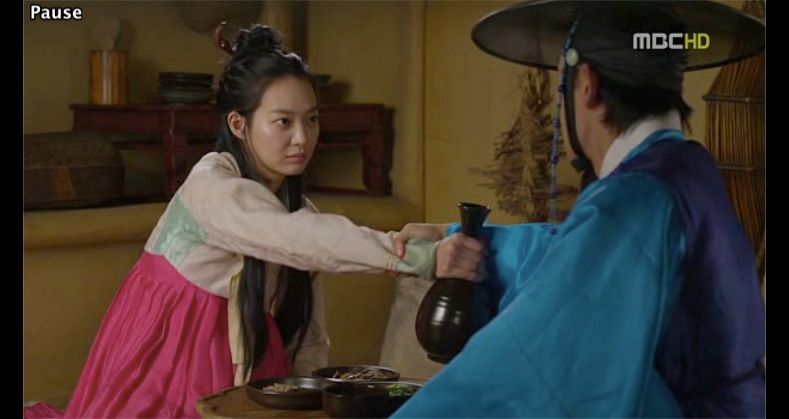 Since Arang is so emotionally confused, she doesn't want to go today to see Joo Wol and drags Eun Oh off. It's adorable that to the rest of the world, Eun Oh appears to be a crazy person dragging himself off. Eun Oh and Arang go to an restaurant and she tries to drown her sorrows in alcohol, chalking up her reaction to Joo Wol to mean she really loved the guy.
Arang doesn't want to see him until she can appear before him all pretty and cleaned up, despite Eun Oh pointing out the pointlessness of that since Joo Wol won't be able to see her regardless. Arang pouts and cries that she'll have to go to the other world all sad like this, leaving Eun Oh exasperated knowing that he'll have to help her out. Again.
Eun Oh piggybacks a drunken Arang, which is probably a K-drama first. She's heavy and he staggers with her dead weight on his back. He pauses when her faces brushes his. On the bridge, he drops her when a passerby stares at him staggering by himself. He picks her back up and continues on his journey.
Joo Wol visits a gisaeng house, which is a first for him. He rents out the entire place for the night but doesn't find what he's looking for despite checking out all the gisaengs. Joo Wol walks out of the gisaeng house and wonders why he came in the first place, he's not going to find what he's looking for here. As he leaves, one gisaeng follows him to flirt and he pushes her up against a tree and presses a dagger to her neck. Totally not surprised that he's a crazy MoFo. He lets the gisaeng go and leaves.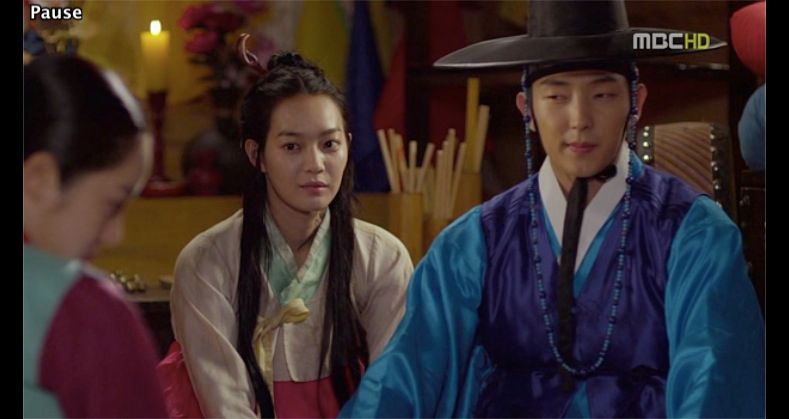 Eun Oh arrives at Bang Wool's house still carrying Arang on his back, which is when she "awakens" and reveals she was actually sobered up awhile back. Eun Oh makes his usual exasperated expression towards Arang. Poor Bang Wool is annoyed that Arang has returned, especially when she's asked to pretty up Arang again. Unlike last time when she was asked to shop lift, this time Eun Oh is paying for the new outfit.
Eun Oh needs to take Arang's measurements since Bang Wool can't see her. Arang measures her own bust because of her maidenly ghostly modesty, but Eun Oh gets close to take the rest of her measurements. This moment is thrumming with palpable chemistry between then, which both of them feel. Arang's measurements confirm for Bang Wool that she has a lovely figure, except she still has a bad temper.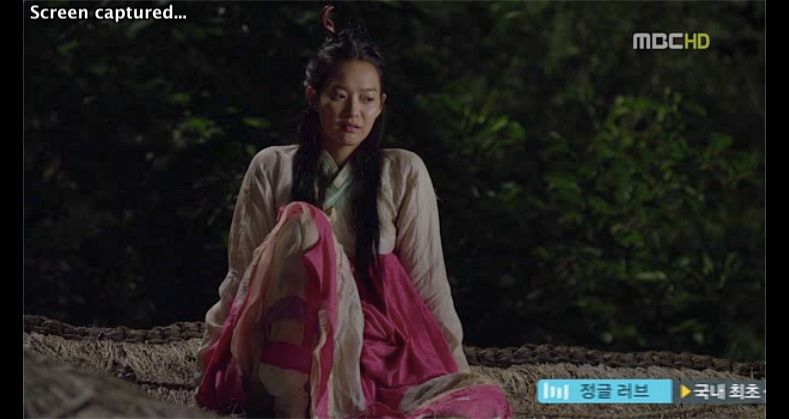 Arang rushes off to escape the moment, while Bang Wool begs Eun Oh to find out how he can see ghosts. Eun Oh warns Bang Wool to keep this knowledge to herself and he hurries off as well. He tries to shake some sense into himself after that heart pumping moment with Arang. She's watching him from the roof and smiles at herself, saying that Eun Oh is a good guy indeed.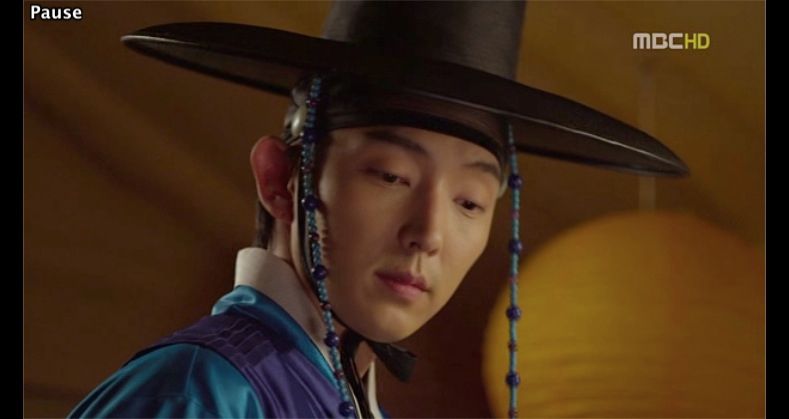 Lord Choi hears that his son was at a gisaeng house which is out of character, and he asks how many days until the crescent moon. Joo Wol stands outside staring at the full moon and fingering his ring, before walking away. He passes by Eun On on the bridge, and while he doesn't recognize Eun Oh, the latter snerks at what Arang sees in this guy?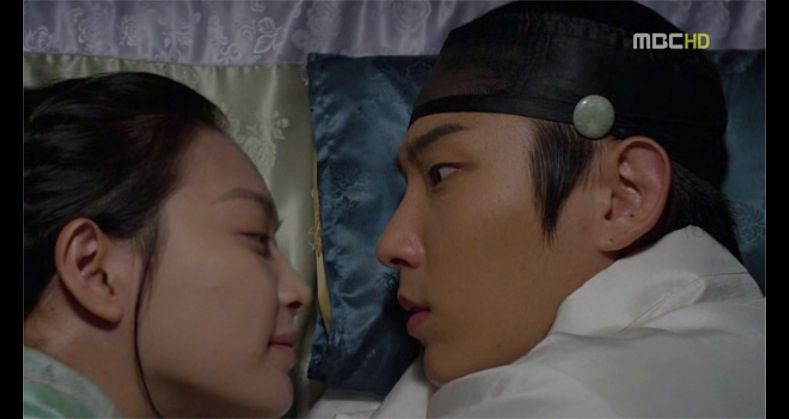 Later in the night, Eun Oh is sleeping when he awakens to find Arang lying across from him. She softly asks if he knows what ghosts might be regretful about? Eun Oh thinks she's sad about wearing the same outfit for the last three years. Arang shakes her head and explains that she's sad about dying without ever kissing a man. Which is when she leans in close to Eun Oh and he stares at her.